If you're a mountain biker who's been in the market for a gravel bike lately, there's a good chance you'll have been eyeing off the Santa Cruz Stigmata. The only drop-bar bike from the Californian brand, the Stigmata debuted in 2007 as an alloy cyclocross bike. It received a carbon fibre rebirth in 2015, before it then morphed into a sleek all-road gravel bike in 2019.
Time marches on however, and the gravel scene continues to evolve rapidly. To keep up with the pace the 2024 the Stigmata has undergone its next generation revamp. Featuring a brand new carbon frame with integrated storage, MTB-inspired geometry and the ability to accommodate a new-school gravel suspension fork, the Santa Cruz Stigmata is said to be ready for everything from gravel racing through to off-road bikepacking.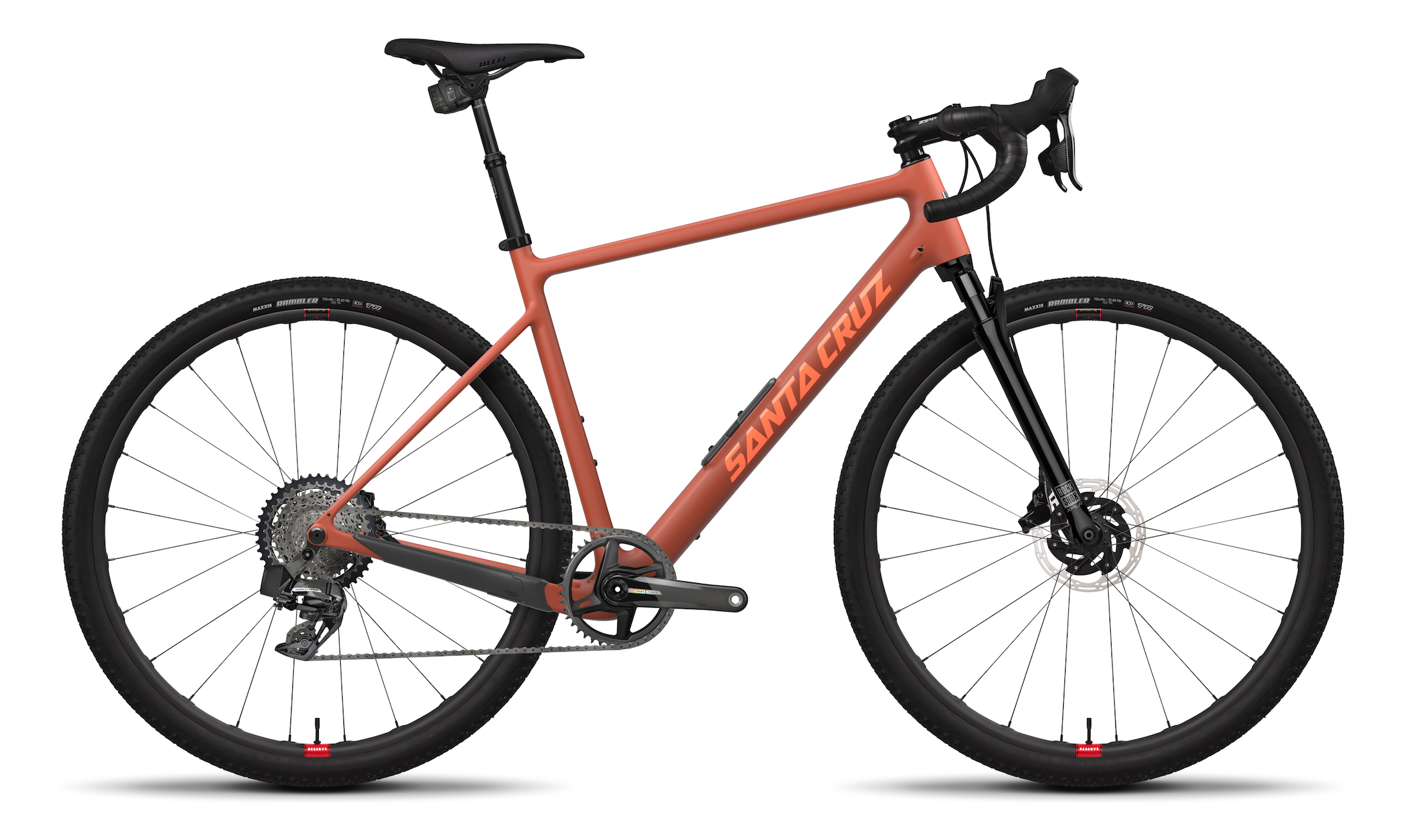 An overview of the Santa Cruz Stigmata
The Santa Cruz Stigmata is built exclusively around a premium CC full carbon frame. Unlike its predecessor, it's now designed to handle a 40mm travel suspension fork like the RockShox Rudy and Fox 32 TC. Not convinced by suspension on your gravel bike? Santa Cruz has also developed a rigid carbon fork that is suspension-corrected to maintain similar geo.
Tyre clearance increases over the old frame, with room for up to 50mm wide rubber. It's compatible with 1x and 2x drivetrains of both the electronic and mechanical variety, and it sticks to a trusty threaded bottom bracket shell. Home mechanics will also be pleased to see a regular IS headset on the Stigmata, with Santa Cruz mercifully avoiding the trend of routing the lines through the upper headset bearing.
Like the latest Tallboy and Megatower, the Stigmata now features in-built storage via the Glovebox compartment. There are hidden fender mounts, room to fit up to three bottles, and the option to run a 27.2mm dropper post.
Out back you'll notice the Stigmata has updated to UDH dropouts. This makes it easier to source a replacement derailleur hanger, though it also means it's compatible with the latest SRAM Transmission.
Santa Cruz Stigmata geometry & size chart
The Santa Cruz Stigmata is produced in five frame sizes, each featuring a long reach that's designed to pair up with a short-for-a-gravel-bike 70mm stem.
Geometry isn't too far different from an XC hardtail with a 69.5° head angle and a 74° seat angle. The BB does sit significantly lower however, with the aim of maximising stability at high speeds.
Santa Cruz Stigmata price & specs
There will be five models available in the Santa Cruz Stigmata lineup for 2024, with prices starting at $5,999 AUD for the Rival 1x build.
All models utilise the same CC carbon frame and are spec'd with 45mm wide Maxxis Rambler tyres. The top-end model features a RockShox Rudy fork and a Reverb AXS dropper post for maximum shreddability, while the rest of the range sticks to rigid forks and seatposts.
For those who have something more custom in mind, you'll also be able to get a frameset with the rigid fork for $4,499 AUD.
We'll have a Santa Cruz Stigmata test bike arriving soon, and we're eager to see just what it can do. In the meantime, read on for the specs and prices of the bikes coming into Australia this year.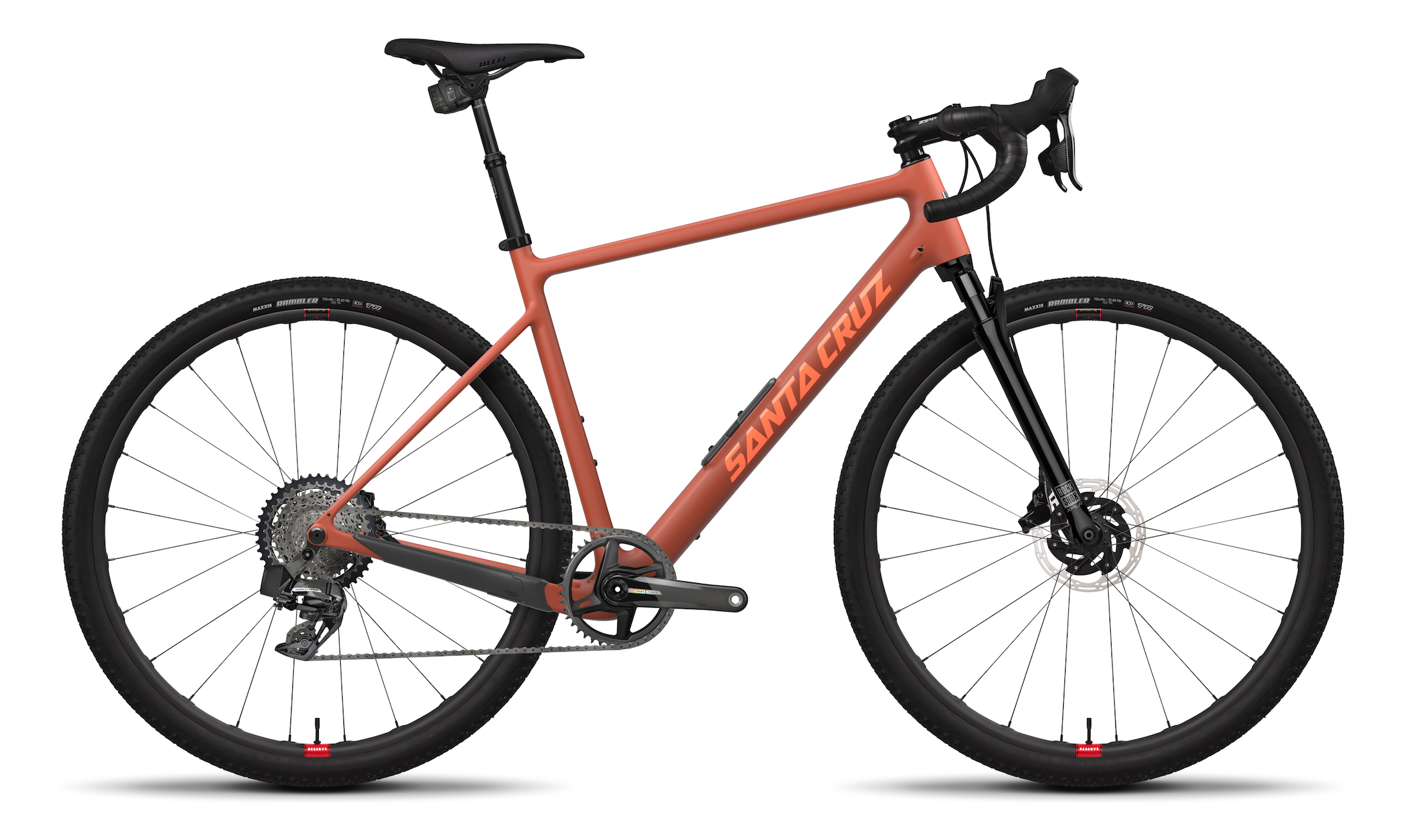 Santa Cruz Stigmata CC Force 1x AXS RSV
Frame | CC Carbon
Fork | RockShox Rudy Ultimate, 40mm Travel
Wheels | Reserve 25 GR, Carbon Rims, 25mm Inner Width
Tyres | Maxxis Rambler EXO 45C
Drivetrain | SRAM Force AXS XPLR 1×12 w/40T Crankset & 10-44T Cassette
Brakes | SRAM Force 2-Piston w/160mm Rotors
Seatpost | RockShox Reverb AXS XPLR, 27.2mm Diameter, 75mm Travel
RRP | $10,999 AUD
Santa Cruz Stigmata CC Force 2x AXS RSV
Frame | CC Carbon
Fork | Santa Cruz Carbon Rigid
Wheels | Reserve 25 GR, Carbon Rims, 25mm Inner Width
Tyres | Maxxis Rambler EXO 45C
Drivetrain | SRAM Force AXS 2×12, 43/30T Crankset & 10-36T Cassette
Brakes | SRAM Force 2-Piston w/160mm Rotors
Seatpost | Easton EC70, Carbon, 27.2mm Diameter
RRP | $10,499 AUD
Santa Cruz Stigmata CC Rival 2x AXS
Frame | CC Carbon
Fork | Santa Cruz Carbon Rigid
Wheels | DT Swiss 370 Hubs & Race Face ARC Alloy Rims, 25mm Inner Width
Tyres | Maxxis Rambler EXO 45C
Drivetrain | SRAM Rival AXS 2×12, 43/30T Crankset & 10-36T Cassette
Brakes | SRAM Rival 2-Piston w/160mm Rotors
Seatpost | Easton EC70, Carbon, 27.2mm Diameter
RRP | $7,499 AUD
Santa Cruz Stigmata CC Rival 1x AXS
Frame | CC Carbon
Fork | Santa Cruz Carbon Rigid
Wheels | DT Swiss 370 Hubs & Race Face ARC Alloy Rims, 25mm Inner Width
Tyres | Maxxis Rambler EXO 45C
Drivetrain | SRAM Rival AXS XPLR 1×12, w/40T Crankset & 10-44T Cassette
Brakes | SRAM Rival 2-Piston w/160mm Rotors
Seatpost | Easton EC70, Carbon, 27.2mm Diameter
RRP | $7,199 AUD
Santa Cruz Stigmata CC Apex 1x
Frame | CC Carbon
Fork | Santa Cruz Carbon Rigid
Wheels | DT Swiss 370 Hubs & WTB EZR i23 Alloy Rims, 23mm Inner Width
Tyres | Maxxis Rambler EXO 45C
Drivetrain | SRAM Apex XPLR 1×12, w/40T Crankset & 10-44T Cassette
Brakes | SRAM Apex 2-Piston w/160mm Rotors
Seatpost | Zipp Service Course, Alloy, 27.2mm Diameter
RRP | $5,999 AUD