The brief was simple; find a practical, lightweight bike with a reliable build kit for weekend adventures and the occasional race.
Enter, the gravel obsession
Gravel is most certainly taking the bike world by storm right now, with just about every manufacturer jumping on the bandwagon of promoting bikes with flared handlebars and provisions for bento boxes. Our team aren't immune to this storm either, with Jono developing an addiction to champagne gravel at the Beechworth Granite Classic. With plenty more gravel rides and races on the horizon, the Open Cycle U.P. seemed like a good fit as a versatile gravel bike upgrade.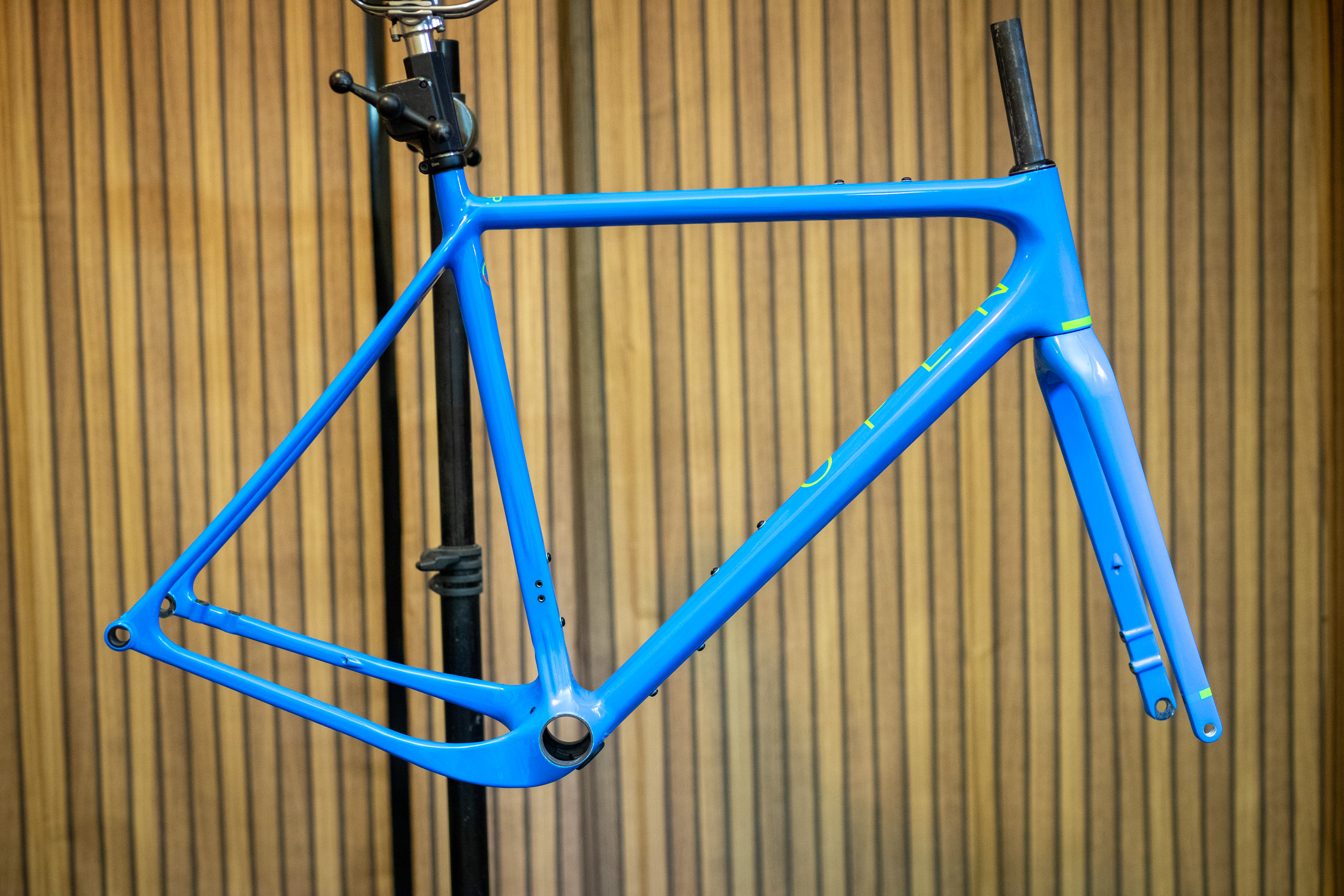 For those not familiar with Open, the company hails from Switzerland and are heavily focused on both gravel and road bikes. Open is the brainchild of the former CEO of BMC in combination with a former engineer from Cervelo.
At $4,500 AUD for the frameset, the U.P. is the more affordable of the two models that Open produce in this geometry. The U.P.P.E.R. is also available which cuts down even further on weight while pushing the price tag to an eye-watering RRP of $6,499 AUD.
Even as the more affordable option, the U.P still features a respectably light frame and fork, coming in at a combined weight of just 1,430g. The lightweight frame features short stays and a steeper head angle, it definitely seemed to have some good starting ingredients to build a svelt gravel racer. When compared to Mick's already quite aggressive Specialized Crux, the Open had a head tube angle that is about half a degree steeper and marginally shorter chainstay.
The head tube angle measures in at 72.5 degrees when compared with the the 72 degree head angle of the Crux, while the chainstays measured at 420mm when compared to the 425mm chainstays on the same size Crux. The wheelbase on the U.P. also measures in at 20mm shorter than the Crux. With all these elements combined we were eager to see if the bike felt too racy and aggressive, or if it'd be comfortable for all-day missions.
With a big mixture of adventures and rides planned for the Open, Jono opted to keep the drivetrain battery-free with a focus on reliability and durability, or could it be because he's worried he'll forget to charge batteries?
Why the U.P.?
Besides the weight, the Open looked to have a lot of bases covered when it came to versatility. There's the option to run 650b tyres up to 2.1in in width, or up to 700 x 40mm rubber. Coupled with the ample tyre clearance, there's also a number of bottle and accessory mounts on the top tube, downtube and seat tube. The weight and geometry also make it quite feasible to have a different set of wheels to build the bike up as a road bike.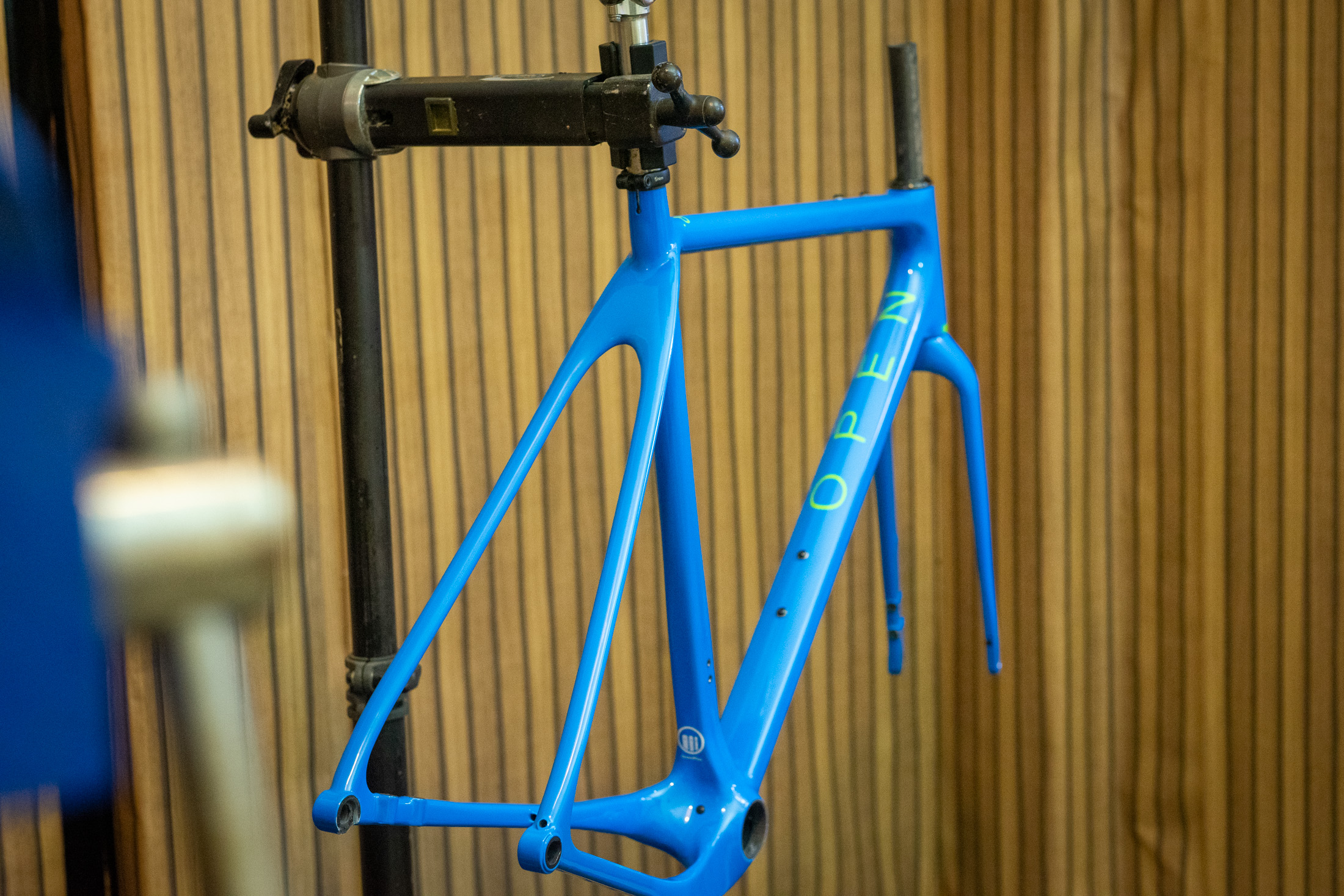 With no overnight trips or bikepacking planned, fork mounts and pannier mounts weren't necessary, although this could be added later by selecting an alternative fork. The U.P. delivers almost entirely all the benefits of the higher modulus U.P.P.E.R. without the hefty price tag.
The aesthetic definitely played into the decision to choose the U.P. Although the drop chainstays can be polarising, the flat top tube and vibrant blue definitely won us over.
Build time!
With a variety of carefully selected parts en route, keeping this frame looking beautiful was the first priority. To do this, a tailored Ride Wrap kit was installed. Installing these kits isn't for the faint of heart, it can be done at home, but we can't stress enough to make sure that your workspace is to be clean and well-lit. Even after previous experience installing the kit, Jono still managed to find a dog hair trapped underneath the kit that'd floated in during application, courtesy of fluffy intern Winston.
After hours of patiently scraping out bubbles and removing any rogue dog hairs, followed by a moment to de-stress, the build continued.
With durability as the focus for this project, a Wheels Manufacturing bottom bracket was selected. The threaded/press-fit combination bottom bracket allows the two sides of a press-fit bottom bracket to thread into each other. This eliminates the chances of cups developing any creaks or groans.
Next up was the groupset, although this build came together prior to the launch of the new 12-speed Shimano GRX, the 11-speed GRX 800 series would offer plenty of range and a suitable level of performance for the build. With the 11-speed GRX kit, we used the 8100 series GRX derailleur, shifters and crankset. This was mated to a XT 11-40 and a 42t chainring, providing a range of 364% which should hopefully be wide enough for the wide variety of terrain this bike will be tackling.
Coupled to the GRX drivetrain are the 8100 series GRX callipers and levers. The hoods on the hoods have a nice grooved rubber pattern to them, and the lever blades are treated in a non-slip coating borrowed from the fishing side of Shimano's business which combine to offer plenty of grip when they're wet or on technical descents.
For the cockpit we opted to try out Easton's AX range carbon bars and a lightweight alloy stem and seaatpost. As one of the early adopters of gravel, and renowned for their no-nonsense reliable componentry, Easton seemed like a good fit.
The flair of the EC70 handlebars was instantly comfortable, and the carbon construction quieted some harshness and vibrations from the ground. There isn't too much to be said about the EA90 SL stem, it's simple, doesn't creak and the titanium bolts are a nice touch to shave off additional grams. One issue we've had to resolve is creaking from the EA90 seatpost when shifting weight on the saddle, this was done by greasing up the internals of the clamping mechanism and it's been silent ever since.
To get things rolling, we fitted some Reserve Gravel 25 wheels. We've had a few of the Reserve carbon wheels on test and thought it'd be a good opportunity to test out their gravel offerings. The 25 in the name represents their internal width, meaning we'd have the ability to run anywhere from a 28-40c tyre size.
Laced up to DT Swiss 350 hubs using 24 bladed spokes front and rear, we've found the Reserve wheels to be comfortable, lightweight and offer a punchy feeling when putting down the power. At under 1400g, the Reserve GR 25 wheels are suitably lightweight for our speedy gravel build.
Wrapping up these lightweight hoops, we decided to test out some rubber that hasn't frequented Flow HQ much of late. With a new gravel casing, we fitted some Kenda Alluvium Pro tyres in 700x40c.
With almost 500km of test riding done on these tyres, Jono has acquired only one puncture thanks to a nasty chunky of glass. Grip has been predictable, although when cornering on bitumen at higher speeds, the chunkier side knobs can make handling feel quite vague.
It's also worth noting that the Alluvium tyres measured much wider than the 40c claimed width, coming in at 45mm wide from our measurement.
Finishing touches
To tidy off our build, contact points needed to be settled upon – what bartape and saddle should we pick? In an attempt to match the organge on the frame, Jono boldly opted for Fizik's Vento Microtex bar tape. The jury is still out on the aesthetics of this one with the build, it's been a divisive subject amongst the Flow team to say the least.
We have noticed that the glossy finish on the Fizik tape has been grippy when dry but can tend to get a little slippery when your palms get sweaty. We'd be keen to try out something more textured next time, potentially something like Fizik's Solocush tape.
Atop the Easton seatpost, we fitted a Fabric Scoop Titanium saddle. A trusted favourite of Jono that could confidently be selected without fear of the dreaded saddle sores.
Shimano XT XC pedals were chosen as they're relatively lightweight and rebuildable. Finally, we added a pair of Syncros Coupe plastic bottle cages and One-Up's 70cc EDC pump that conveniently houses a multitool, chainbreaker and tyre lever inside of it.
Build Specs
| | |
| --- | --- |
| Frame | Open Cycle U.P. 56cm |
| Fork | Carbon 12×100, tapered steerer |
| Wheelset | Reserve GR 25 |
| Derailleur | Shimano GRX812 11 Speed |
| Crankset | Shimano GRX810 172.5mm 42t |
| Chain | Shimano Dura-Ace 9100 11 speed |
| Cassette | Shimano M8000 XT 11-40 |
| Shifters | Shimano GRX 800 |
| Calipers | Shimano GRX 800 |
| Rotors | Shimano XT 160mm |
| Handlebars | Easton EC70 AX 460mm |
| Stem | Easton EA90 SL 100mm |
| Seatpost | Easton EA90 27.2mm |
| Saddle | Fabric Scoop Titanium |
| Tyres | Kenda Alluvium Pro 700x40c |
| Bartape | Fizik Vento Microtex |
| Valves | Peaty's 60mm |
| Weight | 8.55kg (with pedals & cages) |