Wil Reviews the 2021 Canyon Exceed
Being the year of new XC bike releases, Canyon has busted down the door of the spandex-party with a complete overhaul of its thoroughbred race whippet; the Exceed. Sitting alongside the fully-suspended Lux (a bike we know very well, having spent a load of time on it last summer), the Exceed is essentially the hardtail equivalent. It's a 100% red-blooded, KOM-hunting XC race bike, featuring a stiff and lightweight carbon fibre frame, 29in wheels, angry geometry, and a 100mm travel fork with a remote lockout. Untethered by the rear shock, pivots and linkages found on the Lux, the Exceed offers lower weight, cleaner lines and a highly responsive ride that, over the past two months of testing, has proven to be thoroughly engaging on the trail.
---
Watch our video review of the Canyon Exceed here!
---
Canyon Exceed overview
Although the Exceed may appear to be just another carbon hardtail, there's actually a load of interesting engineering details beneath its glossy white exterior. If you haven't seen our first look story, be sure to check it out for a full rundown of the development and tech behind the new platform.
In short, the big news with the Exceed this year is its brand-spanking new frame. Of course it's lighter and the geometry has been updated, but there's also been a lot of focus placed on boosting strength and stiffness in order to make the new bike even more responsive on the trail.
As well as reducing the need to drill ugly ports in the frame, the new routing style also allows for shorter cables. It's all very slick.
Visually speaking, the new Exceed gets sharper lines and more aggressive tube shapes, while the addition of an integrated seat clamp, flat-mount rear brake calliper and the Quixle rear axle keeps it super clean front to back. There's also a new low-profile IPU (Impact Protection Unit) headset, and Canyon has cleverly routed the cables through the upper headset bearing and top cap. As well as reducing the need to drill ugly ports in the frame, the new routing style also allows for shorter cables. It's all very slick.
Though all Exceed frames use the same moulds, there are actually three levels of carbon used throughout the range. Weight decreases as you go up the pecking order – there's the CF (1,312g claimed), the SLX (1,105g claimed) and the CFR (835g claimed). To hit that 835g weight figure, the top-end CFR option makes use of a special new type of carbon fibre from Toray called M40X, which we'll be going into more detail on in a future tech feature.
Why a hardtail in 2020?
That's a really good question, and one I was asking myself before swinging a leg over our Exceed CFR Team test bike. Full suspension bikes, including Canyon's own Lux, have gotten so good these days that it's making the decision to give up rear suspension a lot harder. Why wouldn't you want the extra comfort and traction from having both wheels suspended?
Well for a start, hardtails are simply cheaper to buy in the first place, so there's that. They're also simpler overall and they're easier to maintain. There are no pivots or linkages to worry about, and there's no rear shock to service, so ongoing maintenance costs are lower too. For high-mileage year-round riders, that's very appealing.
Cost and simplicity aside, weight is perhaps the biggest reason you'd choose a hardtail, which are typically a kilo lighter than an equivalent full suspension bike. Take Canyon's own Lux CF SLX, which is one of the lightest full suspension frames on the market with a claimed weight of just 1,986g. Even then, it's still over double the weight of the Exceed CFR.
Sure, a kilo might not sound like much in the grand scheme of things, but when we're talking 10% of the total bike weight, it's actually a lot. And the more climbing and accelerating you do throughout a race, the more you'll notice and appreciate that weight advantage.
After weight, aspects like pedalling efficiency and handling response come into the equation. Of course, not all trails out there necessarily warrant a full suspension bike either, and certainly for more experienced bike handlers, a hardtail can potentially make short work of those same trails, while adding a little more excitement to proceedings too.
Is that enough to give up the comfort and control of a full suspension bike though? Well if you asked that question to Pauline Ferrand-Prévot, who took her Canyon Exceed to victory in the most important race of the year – the XCO World Championships in Leogang – I suspect she'd say 'oui'.
But what about us mere mortals who aren't competing at World Cup level, who don't have the luxury to choose their race bike depending on the terrain? Can a hardtail still be a genuine standalone option? When the new Canyon Exceed turned up at my doorstep, we figured now would be as good a time as any to find out.
Testing the Team edition
There are nine models available in the 2021 Canyon Exceed lineup, with prices starting at $2,799 AUD for the Exceed CF 5, and going up to $10,199 AUD for the Exceed CFR LTD. Despite there being three grades of carbon fibre, all models use the same moulds, so geometry and sizing is identical through the lineup.
For the past two months, I've been testing the second-tier option; the Exceed CFR Team, which happens to be the same spec that Mathieu van der Poel races on. It uses the top-end CFR frame, but the white paint job adds on around 60g, giving it a slightly heavier 895g claimed frame weight.
It is the only high-end model in the Exceed lineup to skip the dropper post though, which does mean it's the lightest complete option. Out of the box with the supplied Tubolito inner tubes, our test bike weighs in at a eye-bulging 8.84kg. That's damn impressive, especially when you consider that it still comes with tool-free axles, lock-on grips, a fairly porky seatpost, and new-school 30mm inner width rims. For the hardcore weight weenies out there, there's of course potential here to go even lighter.
2021 Canyon Exceed CFR Team price & specs
Frame | CFR Carbon Fibre
Fork | Fox 32 Step-Cast, Factory Series, 44mm Offset, Remote Lockout, 100mm Travel
Wheels | DT Swiss XRC 1200, Carbon Rims, 30mm Inner Width
Tyres | Maxxis Ikon EXO 3C MaxxSpeed 2.35in Front & Aspen EXO 2.25in Rear
Drivetrain | Shimano XTR M9100 1×12 w/Race Face Next SL 34T Carbon Crankset & 10-51T Cassette
Brakes | Shimano XTR M9100 Race 2-Piston, 180mm Front & 160mm Rear Ice Tech Rotors
Bar | Canyon CP0008 XC Cockpit, Carbon, 7° Backsweep, 740mm Wide
Stem | Canyon CP0008 XC Cockpit, Carbon, 6° Drop, 80mm Long
Grips | Ergon GA20 Lock-On
Seatpost | Canyon VCLS 2.0 Carbon, 30.9mm Diameter
Saddle | Selle Italia SLR Boost Carbonio
Confirmed Weight | 8.84kg
RRP | $9,099 AUD
Canyon Exceed sizing & fit
With Canyon adding an XS option to the Exceed range, there are now five sizes to choose from, covering rider heights from 158cm up to 192cm. All frame sizes will fit two water bottles inside the mainframe, which is good news for long distance riders – especially shorter folks who aren't always guaranteed such clearances.
There is a little less standover clearance compared to the old Exceed though – the top tube is actually higher and more horizontal, and that gives it a fairly square shape with less seatpost extension. It does mean that there's masses of room inside the mainframe (speed-packing anyone?) and it also mirrors the design language found in Canyon's Inflite, Grail and Ultimate drop-bar bikes.
At 175cm tall, Canyon's online size calculator says I should be on a Small frame, when most other brands would recommend a Medium for a rider of my height. Going off of past experience, and the fact that Canyon mountain bikes tend to have cockpits on the shorter side, I ignored that advice and elected to ride a Medium, which features a fairly standard (for XC) 435mm reach measurement. That's 10mm longer than the previous generation Exceed – a bike I've had a lot of experience with.
Certainly for folks out there who are on the fence between sizes, I'd highly recommend taking a closer look at the Exceed's geometry chart, specifically the reach figure, and considering the larger option of the two. There's a 20mm jump between each size, and there's no way I'd be putting myself on the Small frame with its itty-bitty 415mm reach.
Setting up
As with all other Canyon bikes I've tested, the Exceed CFR Team turned up at my house inside a well-padded cardboard box, with minimal assembly required to get it ready for the trails. Bolt on the stem, fit the seatpost, front wheel and your pedals, and it's ready to roll.
Worth noting is that while the wheels and tyres are tubeless ready, the Exceed comes with inner tubes fitted and no valves are included. According to Canyon, the majority of its customers are still hesitant about the tubeless thing, so it prefers to leave that as an option. Unfortunately it's an add-on option though, even on our $9K+ test bike. I'd love to see Canyon include valves and some sealant in the box, so at least customers could choose to go tubeless if they so desired.
Tubeless grumbles aside, the Exceed is relatively simple to setup. The Fox 32 Step-Cast is a brilliant fork (see our separate long-term review here), and using the setup guide on the back of the fork lowers is a great starting point. For my 68kg riding weight, I ran 80psi in the air spring with a single volume spacer, and rebound damping set 10 clicks off the slowest setting (10/18).
The fork lockout is remote activated, and it has an absurdly light action thanks to the push-to-unlock configuration. It does mean that the fork will revert to locked-out if the cable is damaged, though I'm thankfully yet to encounter such an issue. Given how neat the rest of the cockpit is, it'd be great to see the lockout remote mount directly to the left hand brake lever, just to tidy things up further.
As per usual, setting lever reach on the XTR Race brakes is fiddly – you'll need a fairly short 2mm hex key to get in there.
Likewise, adjusting the Exceed's seatpost clamp is a bit awkward. A small 3mm hex key is required to tighten the internal wedge down on the carbon seatpost, which is a bit nerve wracking, especially when it exhibits some frightening popping sounds as you reach the 4Nm torque rating. It can be a little unnerving to do on the side of the trail with a multi-tool. I also found the post would creak if the clamp was under-tightened.
Not helping things during setup, the post will also push out of the frame slightly as you tighten the wedge, so there's a little bit of trial and error required to get the right post height. My advice is to get your saddle height dialled in the workshop, and use a proper torque wrench to get it snug before hitting the trails.
Hammerhead handlebars
To go along with the Exceed, Canyon has also developed a new one-piece bar and stem. The creatively-named 'CP0008 XC Cockpit' integrates the handlebar and stem into the single carbon fibre structure, giving the front of the bike the mean appearance of a hammerhead shark. Each Exceed model and frame size comes with the same profile – the bar is 740mm wide, with an 80mm stem length.
The one-piece design isn't as light as you might think – the bar weighs in at 333g on our scales. That's heavier than the Syncros Fraser iC SL one-piece cockpit I've previously tested (226g), and it's also heavier than Canyon's own V14 stem and H21 carbon flat bar combo (321g).
Weight isn't strictly the reason that Canyon went down this path though. By eliminating the traditional stem face plate, the CP0008 XC Cockpit removes a few bolts in the process, and omits the need to overbuild the handlebar to cope with those clamping forces. It also allows for a more striking T-bar profile that aims to maximise strength and stiffness with a massively box-shaped stem. The bar then forms into a flared teardrop shape on either side, which provides a comfortable perch for aerotuck sprint attacks.
Obviously there's less adjustability here – you can't alter bar roll, and changing stem lengths isn't as easy or cheap as it is with a conventional setup. Personally I found the bar shape to be fine, and I like that each frame size is designed specifically around the same bar and stem size to keep steering consistent. I also like that there are a few less bolts to worry about, which minimises the potential for slipping or cracking.
Knowing the intended audience, Canyon have kindly included a Garmin GPS mount with the bars, and you can also get a Wahoo converter chip, which I used to fit my ELMNT Roam head unit. Unless your front light uses a flexible rubber strap though, mounting lights with a rigid bracket is trickier. The bar maintains a round diameter for about 40mm on the inside of each brake lever, but you won't be able to mount the bracket any closer to the stem.
Lean & mean
Climbing aboard the Exceed for the first time, you're greeted with a 'we're here to do business, ok?' vibe. Geometry has been tweaked over the old model – the head angle is half a degree slacker (69°), and the reach is 10mm longer. But if you were hoping for Mondraker-style Forward Geometry, then this isn't the bike for you. The Exceed is still very much a pure XC bike, designed with speed, efficiency and precision in mind.
The head tube on our Medium frame is quite short at 95mm, and combined with the aggressive 75° seat tube angle, your weight is pushed forwards to form a powerful pedalling position on the climbs. Furthermore, the bars angle downwards by 6°, and their profile is fairly square with a 7° backsweep and just 3.5° upsweep. The result is quite an aggressive riding position, and overall the Exceed feels long, low and lean.
I did find the effective cockpit length a touch long out of the box, which is partly due to the stock 25mm offset on the VCLS 2.0 seatpost. Other Exceed models come with a DT Swiss dropper that has a 0mm offset, so in comparison, the effective cockpit length is notably longer on the CFR Team model. The good news is that the head can be easily flipped around to reduce the offset to 13mm, which helped to bring my knees further over the pedals to improve power, while also reducing lower back stretch.
Ready, steady, attack!
From the very first pedal stroke, there's no denying that the Exceed is an unapologetic race machine. This bike is sharp, snappy and direct, with very little lost in translation between your contact points and the trail beneath you. Having spent a tonne of time on bigger suspension bikes of late, it took me a few test loops to recalibrate my brain between trail riding and braille riding.
That's par for the course with a carbon hardtail, and Canyon has made it very clear that there are few concessions for comfort in the Exceed. Indeed the new frame is actually less compliant than the old model. The seatstays are a little larger in size, the chainstays are boxier, and the seat tube cluster is higher, resulting in a firmer ride overall. Whereas other brands like Trek are trying to build as much comfort into their hardtails as possible, Canyon is doubling down on the Exceed's stiffness-to-weight ratio, compliance be damned. The Germans figure that if you're giving up rear suspension, you're doing it for a reason.
And on the trail it shows. The stiff chassis delivers rapid acceleration, with a powerful surge following each pedal stroke. The low overall weight certainly helps when you need to get things moving, and so too does the whippy DT Swiss XRC 1200 wheelset. Coming in at a confirmed 1,517g, this is a lightweight set of hoops given the broad 30mm inner rim width. The taut build and carbon rims are an excellent match for the Exceed's unambiguous personality, while pickup from the 36T Ratchet EXP freehub mechanism feels solid underfoot. We've tested these wheels separately and came away thoroughly impressed – read more about them here.
It's no surprise then that the Exceed scurries uphill with tenacious enthusiasm. It gains vertical metres quickly and effortlessly, to the point where I found I was searching out loops with longer and bigger mountain climbs to see just how far and how high I could go. It's addictive in quite an exhausting way.
Ignoring electric mountain bikes, the Exceed is the best climbing bike I've ever tested. And depending on how much crossover there is between the 'pain' and 'pleasure' circles in your personal Venn diagram, I'd say the climbing experience is more rewarding too.
On rougher and more technical climbs, you do need to watch your weight distribution in order to keep both tyres sticking, since it's easier for the unsuspended rear tyre to bounce and slip out compared to a full suspension bike. The flip-side is that the stiff chassis is more responsive to weight shifts and power moves, allowing you to heave and lurch the bike when more dynamic trials-like moves are required.
Overall power transfer is incredible thanks to the strong connection through the huge BB junction and boxy chainstays, and that sensation is enhanced by the one-piece carbon bars during hard sprinting efforts. You can pull back on the grips, and there is no flexion at all, with the bike snapping forward in response. This addictive acceleration is ideal for hole-shot hunting and mid-race gap-squeezing, when a split second is all you have to make your move.
Raw, unfiltered responsiveness
As well as delivering that stonking power transfer, the Exceed's stiff chassis also yields extremely precise steering on tight and twisty trails. With no pivots or linkages in the way to dilute your handling inputs, there's a strong connection between your hands, feet and the tyres, resulting in a tight and direct feel through the turns.
The synaptic steering response is particularly evident when riding densely treed trails with poor visibility, where last-minute cornering corrections are required to avoid disaster. This is no doubt aided by the short 425mm chainstays, which keep the rear wheel tucked in close to the BB. On sharper bends, the stiff back end carves hard to square off turns, egged on by the drift-happy rear tyre.
The Maxxis Aspen certainly doesn't need a whole lot of encouragement to slide either, and while it can make things hairy on looser and steeper trail surfaces, it can also be used to hilarious effect on buffed-out singletrack. A light jab on the rear brake is all it takes to push the rear tyre out, turning the rear wheel into a rudder when you need to quickly whip the bike from one direction to the next.
While it is thoroughly responsive, the Exceed wasn't the nightmare on the descents I expected it to be. The BB hangs pretty low (58mm BB drop) to encourage more in-the-bike stability, and compared to the old model, the new Exceed has a longer front centre thanks to the increased frame reach and the slacker head angle. It's also now specifically designed around a 44mm fork offset, which has calmed down the steering over the 51mm offset found on previous bikes.
Along with the active Fox 32 Step-Cast fork, the Exceed does pretty well to maintain control on rough and rowdy descents. Sure, the stretched-out riding position and low front end limit stability and confidence when things get really fast and steep, but there's only so much you can expect from a sub-9kg carbon hardtail with lightweight race tyres and a rigid seatpost. That said, there are no doubts that the new Exceed is steadier than its predecessor, and I never found it to be twitchy. If you're coming off an older hardtail, particularly one with smaller wheels, you'll find the Exceed remarkably planted in comparison.
I also appreciated the stiff bars, which kept things usefully planted up front during the more panicky moments of trail trauma. They're not exactly the most comfortable when it comes to vibration damping – my palms were definitely feeling the rubble more compared to lighter, flexier handlebar setups. The one-piece cockpit comes with a 120kg rider weight limit, so naturally, they are going to feel more harsh under lighter riders. I didn't find it intolerable though, and the flex-free structure is otherwise a good match for the solid and direct-feeling frame.
At the very least though, the Exceed's stiff chassis and lively back end certainly added plenty of spice to test loops that I ride regularly on bigger full suspension trail bikes. For those riders who feel like trails are becoming too easy to ride on modern full sussers, I can highly recommend getting your backside onto a hardtail – it's potentially the perfect antidote to inject a load of fun back into your riding.
Soothing seatpost
Speaking of backsides, mine was quite surprised at just how effective the two-piece VCLS 2.0 seatpost was at filtering out trail buzz. This two-piece carbon post effectively works like a giant leaf spring, providing a significant amount of flex between the saddle and the seat tube. According to Canyon, you'll get up to 20mm of 'travel' from the seatpost.
It's very well engineered, though it is a little tricky to adjust saddle tilt. You'll need to remove the whole seatpost from the frame, and use a 4mm hex key to loosen the main retention bolt at the base of the post. The two halves can then slide against each other to alter the saddle tilt, before you lock down the 4mm bolt and refit the post. It takes some time to dial in, but it's a really clever way of getting that flex into a relatively simple structure.
Personally, I loved the compliance the post brought to what is otherwise a very stiff bike.
The VCLS 2.0 post isn't the lightest design. The 30.9mm post weighs in at 255g, which is around 50g more than a regular rigid carbon post, so there are grams to be saved there if you fancy.
Personally, I loved the compliance the post brought to what is otherwise a very stiff bike. It meant I could remain seated for longer, with harsh jolts from square-edged rocks muted sufficiently. It helped me to keep weight on the saddle during technical climbing, so the rear tyre was less likely to bounce around, and it also meant I wouldn't have to stand up on the pedals every time I spotted a rocky outcrop ahead. Over the course of a long ride or race, that can result in quite a bit of energy saved, so the small weight penalty is more than worth it.
Eking out more comfort (and fun)
In the hunt for further compliance, I swapped out the stock Ergon lock-on grips for a pair of ODI F-1 Vapours. These dropped a few grams (74g vs 117g) and it also gave a little more squish between my hands and the stiff carbon bars, which was welcome on the longer 3-hour test rides I took the Exceed on.
I also decided to make use of the frame's generous tyre clearance and fitted it with a set of Maxxis' new high-volume XC race rubber. There's a Rekon Race on the front (749g) and an Aspen on the rear (729g), both in a 2.4in width with the new generation Wide Trail casing. These are optimised for use with a 30mm inner width rim, and they plump up admirably on the DT Swiss wheels.
While there is tonnes of mud room thanks to the bridge-less chainstays, clearance is admittedly a little tight on either side of the 2.4in tyre. I didn't have any issues with rubbing, but I'd exercise caution before assuming every 2.4in tyre will fit.
The lightweight and big volume casings add considerable damping to the whole bike, providing more cushioning from trail buzz and harder impacts. There's also a lot more grip – particularly up front with the excellent Rekon Race, which has held fast on some pretty loose trails.
I also fitted a Tyreinvader insert from Effetto Mariposa into the rear wheel, given the toothy nature of my local trails. This added just 72g to the rear wheel, while providing a little extra insurance against pinch-flats and rim damage. Good news if you're riding on a $3K carbon wheelset.
With the bigger tyres and insert fitted, I was able to get away with quite low pressures – 20psi on the front and 23psi on the rear. The lightweight, supple and big volume casings also add considerable damping to the whole bike, providing more cushioning from trail buzz and harder impacts. There's also a lot more grip – particularly up front with the superb Rekon Race, which has held fast on some pretty loose trails.
Despite the plump rubber, the Exceed still rolls along sweetly – there isn't a whole lot more rotational weight, and the Aspen is still remarkably quick even in that 2.4in size. It's a lot more versatile though – I've never got along with the 2.25in Aspen, but this 2.4in size is a lot more stable and dependable, at least on dry hardpack anyway.
The Tyreinvader weighs just 72g and provides notable protection against pinch flats and rim damage. Even on an XC race bike, I reckon a lightweight insert like this is a no-brainer for achieving lower tyre pressures on rocky trails.
I didn't get a chance to try a dropper post on the Exceed CFR Team, but I have no doubts it would be a useful addition to this bike for improving its cornering and descending performance, even if you'd be giving up the compliance of the VCLS 2.0 seatpost. Something like the BikeYoke Divine SL would be ideal, and you'd only be adding around 200g of weight.
I'd argue that a dropper here would be more useful here than on a full suspension XC bike – you're generally bouncing around a lot more on a hardtail, and being able to employ more of your knees and elbows to absorb impacts can make a real difference to control on the descents. If you're thinking you'd like a dropper though, have a close look at the other models in the Exceed lineup that come with one as stock.
It's also worth noting that alongside fitting bigger tyres and a dropper post, the Exceed frame is also rated for use with up to a 110mm travel fork. It wouldn't magically turn it into a trail hardtail, but that could be a sweet addition for marathon racers, or for heavier riders who prefer the burlier chassis of a Fox 34 SC or RockShox' new 35mm SID fork.
Component highs & lows
Overall Canyon has delivered an outstanding package in the Exceed CFR Team. The frame itself is beautifully engineered, and it's reassuring to see that it's rated for use with up to a 120kg rider. I also love the practical features like the SRAM UDH hanger, the Quixle thru-axle and the IPU headset. The latter of which is totally unobtrusive – I never once hit full steering lock on the trail, but it is useful for protecting the top tube in the event of a crash. I was also able to shorten the rear brake hose and mech cable quite a bit, giving the front end a very tidy appearance.
The Shimano XTR groupset was flawless throughout testing, though curiously, isn't quite complete due to the Race Face Next SL crankset. I suspect this is weight related – at just 468g (crank arms w/34T chainring), the carbon cranks are nearly 100g lighter than the XTR equivalent. The big 30mm axle does mean that the BB bearings and seals end up being quite small to fit inside the PF92 shell. By the end of testing, the non-drive bearing had started to develop noticeable play and occasional creaking, cementing my disdain for such configurations. Personally, I'd much rather see a Shimano crankset in there with a 24mm axle.
The carbon Race Face Next SL crankset is nearly 100g lighter than an equivalent XTR setup, but it does require much smaller BB bearings and seals to fit the big 30mm axle inside the frame. Our BB is already starting to feel (and sound) a little rough.
Otherwise I encountered no other issues with the rest of the bike. The Selle Italia saddle isn't my favourite, but it's tolerable and it's very light at just 142g. Given Canyon is a direct-to-consumer brand though, how about the option of choosing a different saddle at the point of purchase, along with your preferred tyres, bar width and stem length? Since you're not buying it through a local bike shop, there's no room for wheeling and dealing to change out parts – any upgrades you want to make are entirely on you. Perhaps implementing a custom build function would add too much cost for Canyon though, and the pricing is already quite sharp as it is.
Canyon Exceed vs Specialized Epic HT
While I have previously owned the last generation Trek Procaliber (a terrific bike and super comfortable for a hardtail), I've admittedly not spent a lot of time on XC hardtails since. There's been a flurry of offerings pop up this year though, including the new Orbea Alma, BMC Twostroke and Mondraker Podium, presumably all of which were looking towards Olympic glory. Err, maybe next year then…
The last hardtail I spent decent trail time on was the new generation Specialized Epic HT, specifically the S-Works model at the launch last year in Lake Tahoe. That bike is regarded as one of the lightest mountain bikes on the market with a 775g claimed frame weight. But without stripping one down and weighing it alongside the Exceed CFR frame, we can't really verify those claims. If marketing department pissing matches are to be believed though, Specialized has Canyon pipped by a whopping 60g. Either way, both are really frickin' light and worthy opponents.
The two bikes aren't too dissimilar in terms of geometry. The Epic is half a degree slacker in the head tube (68.5° vs 69°), though the reach is a touch shorter (430mm vs 435mm) and the seat tube angle is slacker (74° vs 75°). The chainstay length is 5mm longer (430mm vs 425mm) though I should mention here that Canyon actually uses scaled chainstay sizing on the Exceed – larger frame sizes get longer chainstays to keep weight distribution in balance. Thumbs up folks!
Of course the Epic HT is partly defined by its Brain-equipped fork, which brings a different ride feel to the front of the bike. As we found during our recent test of the new full suspension Epic, you'll either love or hate the Brain. That aside, the Exceed wins points for its IPU steering limiter and Quixle, while the Epic HT will win back fans due to its threaded bottom bracket shell.
All of those comparisons might be moot for those of us in Australia though – Specialized only brings one complete Epic HT into the country alongside the S-Works frameset, so choice is far more limited than the nine spec options on offer in the Exceed range.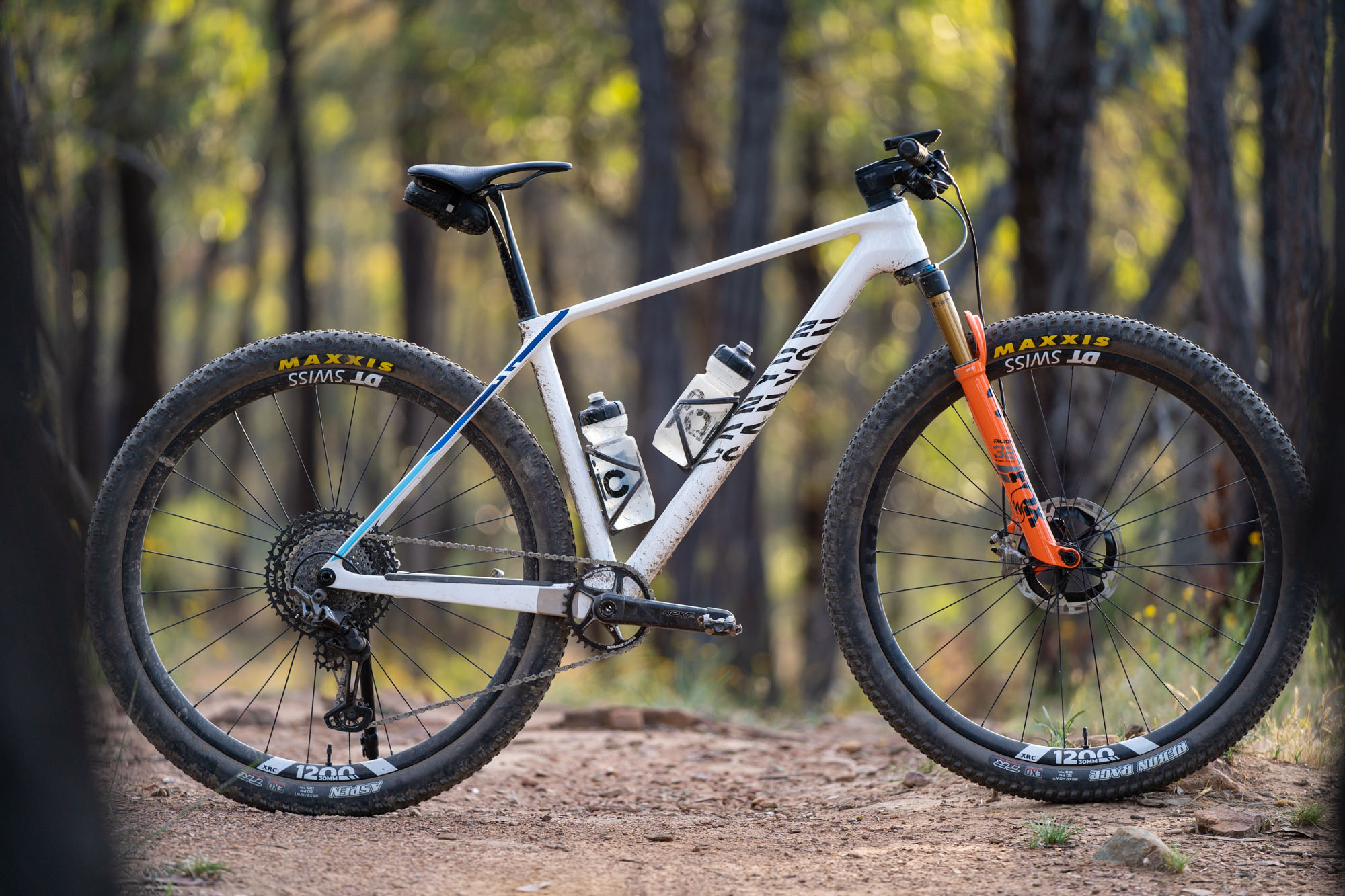 Flow's Verdict
With its newly engineered carbon frame, the latest generation Canyon Exceed is lighter, stiffer and sharper than its predecessor. Whereas some other hardtails are chasing more comfort and adopting more trail-oriented geometry, Canyon has doubled down on the Exceed. It's a pure, unapologetic, hard-wired hardtail that places a strong emphasis on power transfer and precise handling. Along with the low weight, it's an incredible climbing bike, making it an ideal weapon of choice for the KOM & QOM-hunters out there.
The VCLS 2.0 seatpost does bring notable compliance to the CFR Team model, and the option to fit high volume race rubber means it's possible to add more comfort and grip. It still requires more physical and mental effort on rough trails compared to a full suspension bike though, and there's also less margin for error. That said, I was surprised with what I was able to get away with on the Exceed thanks to the stout chassis, updated geometry, supple fork and stable wheelset. Add a dropper post into the equation, and you'd have a seriously deadly treadly for dissecting technical XCO race courses.
From that perspective, the Exceed is for sure a legitimate option over a full suspension XC bike. The simplicity and ease of maintenance will surely appeal to privateer racers, while the low weight will attract those who want to rack up bulk vertical. Sure, it might not be the cushiest option out there, but it really doesn't get much more responsive and as engaging on the trail as this.
Sure, it might not be the cushiest option out there, but it really doesn't get much more responsive and as engaging on the trail as this.