Enduro, all-mountain, aggressive trail… call it what you will (our new personal favourite is 'down-country'). Bikes with long legs for soaking up gnarly terrain, and then striding back up the climbs again.
Over the last 12 months we've been fortunate enough to sling a knee-padded leg over a lot of these kinda bikes. Looking back, four of these bikes share a lot of similarities in terms of pricing and component spec, so we've decided to compile a comparative overview of them here.
There's the Giant Reign 1, YT Capra CF Comp 1, Norco Range C7.2 and Trek Slash 9.8. All four have an Australian retail price between $5599 and $6299, all have largely equivalent component spec, and all four have very similar amounts of travel.
[divider]Pricing[/divider]
All four of the bikes here are close enough in price that, assuming they're not on sale at a reduced amount, the price is not likely to be the sole determining factor in choosing which bike is for you. The Trek is the most expensive, at $6299 (previously $5999 before the dollar tanked). The Norco sneaks in at $5999. The Giant comes in a bit cheaper at $5699 – given it uses an alloy frame, rather than carbon, we had thought it might be a little less expensive. The YT, with its direct to consumer sales model, has the lowest price tag of $5599, BUT you do need to add $200 in shipping to this price if you're in Australia, so its real price tag is $5799 . Not such a huge price advantage then at all.
[divider]Construction[/divider]
Of the four bikes, three are predominantly carbon, while the Giant is alloy throughout (there is a carbon version of the Reign available, but it's a big price jump up to $7699). The Norco, YT and Trek all run an entirely carbon front end, with an aluminium chain stay assembly. Internal cabling is standard on all the bikes, though the Slash has an external rear brake line, which can be an advantage from a maintenance standpoint, even if it's not so nice to look at. All bikes use an internally routed RockShox Reverb Stealth dropper post too.
---
Highlights:
Trek: A flawless paint job, down tube protection and neatly integrated chain slap protection are all nice touches on the Trek. The removable front derailleur mount lets you keep the look super clean too. It's also the only bike to incorporate geometry adjustability. Water bottle friendly as well.
Norco: The Norco has great standover height, while still keeping room for a water bottle. The use of a Syntace rear axle makes for a super clean drop out area, and the inclusion of a spare derailleur hanger bolt is a neat addition. The Norco is the only bike that has no provision for a front derailleur and we admire its commitment to the single-ring setup.
Giant: We particularly like the Giant's use of a bearing at the shock mount, to provide a more supple bump response and reduced wear and tear on the shock bushing. As is usual with Giant, the pivot hardware is rock solid, and the frame stiffness is sensational.
YT: The frame shapes of the YT are super trick – it has a very different vibe to the swoopy lines of the other bikes here. We like the neat, narrow assembly of its linkage too, which keeps the bike's front-on profile very slim.
Lowlights:
Trek: The Trek's ABP rear axle is super ugly and clunky – it protrudes a long way from the bike, snagging and scrapping on things a lot.
Norco: Tyre clearance isn't as good as the competition. We think the dropout pivot is a little undercooked too – it could definitely be beefed up a little.
Giant: We experienced some cable rattling from the Reverb Stealth post cable inside the frame.
YT: The lack of a water bottle mount is a downer. If you're pedalling any real distance, you'll need to run a pack.
[divider]Geometry[/divider]
While all four of these bikes have similar geometry on paper, there a plenty of subtle differences that have a pronounced effect on the trail. All measurements are a for a size medium. Click to view the full geometry table.
Trek: The Trek is the only bike here with adjustable geometry. Its slacker setting has more in common with the other bikes here. The head angle is pretty laid back, but its balanced out by reasonably long stays. The top tube is on the shorter side, but a 60mm stem keeps things roomy enough.
Head angle: 65 degrees
Effective top tube: 587mm
Wheelbase: 1179mm
Chain stay: 435mm
Norco: The Norco runs the sharpest geometry on test, which translates into its more lively ride on flatter trails. Short chain stays add to this whippy feel.
Head angle: 66 degrees
Effective top tube: 598mm
Wheelbase: 1153mm
Chain stay: 426mm
Giant: Slack, long and low. The Reign's geometry numbers are very downhill oriented. It has the longest top tube by a good 20mm, and the longest wheelbase too for excellent stability.
Head angle: 65 degrees
Effective top tube: 620mm
Wheelbase: 1191mm
Chain stay: 434mm
YT: The Capra's geometry is on the short side in the top tube, but with a slack head angle to balance it out. With a short stem, it definitely feels quite small in terms of reach, and we can envisage some riders will want to size up.
Head angle: 65.2 degrees
Effective top tube: 582mm
Wheelbase: 1169mm
Chain stay: 430mm
[divider]Suspension[/divider]
All four of these bikes use RockShox front and rear – all have a Monarch Plus rear shock, paired with some variant of the Pike up front. At first glance the Norco, Giant and Trek are visually similar, but each bike has its own take on how to deliver 160mm of travel. The Capra uses a different arrangement, and has 5mm more travel, at 165mm rear.
Trek: Trek's ABP (Active Braking Pivot) and Full Floater suspension system is a big favourite of ours. It delivers a very neutral, calm suspension feel. It's unusual to see a Trek without the brand's proprietary DRCV shock, and with a conventional shock like the Monarch. The system does best when you use the shock's compression lever on climbs as it doesn't have a lot of inherent anti-squat.
The Trek's Pike fork is travel adjustable, from 160-130mm, which is a feature we used a lot. It's not the bells-and-whistles version, but the more basic RC.
Norco: The Norco runs a four-bar / Horst link setup. The system has great anti-squat properties and pedals very well, but there is noticeable pedal feedback when stomping over rough terrain. It performs well under braking, maintaining responsiveness when you're on the anchors.
The fork is the simple Pike RC. We recommend experimenting with the Bottomless Token system to tune the spring rate – we've had great success adding tokens and lowering the air pressure.
Giant: The Giant's Maestro II rear suspension system is a dual-link arrangement and delivers a very smooth 160mm travel. It's a very plush system, a real ground-hugger, and it ramps up nicely on big hits. It's sheer smoothness means you'll be using the compression lever on climbs.
Like the Trek, the Giant scores a travel adjustable fork, which we used to great effect on climbs and flatter trails. It also runs the more sophisticated RCT3 damper, with independent high and low speed compression adjustment.
YT: The Capra's VL4 suspension system is another four-bar system, but the shock is driven by the seat stay, rather than the link. Given the bike's travel, it's a fantastically efficient climber – the Norco offers similar efficiency, but the Capra has less pedal feedback. The shock has markedly progressive in the latter portions of the bike's travel, for excellent resistance to bottoming out.
The fork gets the premium RCT3 damper, but is not travel adjustable, which saves a little weight.
[divider]Weight[/divider]
There's barely a fart between the weights of the Norco, YT and Giant (which is impressive from the Reign, considering its alloy frame), but the Slash is a significantly lighter bike overall, by more than 700g. A light frame and carbon bar help keep its weight low. Note – all weights are without pedals and converted to tubeless.
Trek: 12.70kg
Giant: 13.46kg
Norco: 13.40kg
YT: 13.52kg
[divider]Spec[/divider]
Beyond the similarities in suspension items noted above, these four bikes share nearly identical drivetrains and a smattering of other components too. The dominance on SRAMs X1 drivetrain in this segment is well deserved, though we may see that challenged now that Shimano have released XT 1×11 with a 42-tooth cassette.
Spec Highlights:
Trek: The wide-bodied Maverick wheelset on the Slash is a very big plus. We're seeing more and more riders upgrading to wider hoops, so to get them stock is a real bonus. Bontrager's XR4 tyres are sensational too. We're also firm fans of the Shimano XT brakes, and the Bontrager Rhythm carbon bar.
Norco: A 30-tooth chain ring may sound small, but it's an intelligent choice on this bike – the Norco has the gear range to climb just about anything. The massively stiff Raceface Atlas bar/stem combo is a winner too. We also like the addition of the bash guard to protect the chain ring.
Giant: Giant have specced the Reign with both an upper chain guide and a bash guard, for great security. The Pike RCT3 dual-position fork is a highlight too, a true performer both climbing and descending.
YT: A 150mm-travel dropper post lets you get the saddle right the hell out of the way on the Capra. The E13 wheels are both a highlight and a potential low light – they're light and stiff, but quite narrow. A small item maybe, but we really like the Sensus grips, and the E13 upper chain guide.
Spec Lowlights:
Trek: While we like the XT brakes, they mesh poorly with the SRAM shifter and Reverb dropper lever.
Norco: The Norco's wheels are its weakest area – especially the cheap front hub. There's lots of weight to be saved here, without sacrificing durability.
Giant: You'll want to lop a bit off the Giant's 800mm bar!
YT: The E13 wheels are narrow by today's and the hub is super, super loud. 


[divider]Ride[/divider]
First up, all of these bikes are superb to ride. They all fulfil the Enduro mandate of grinding out the climbs with minimal fuss then hammering the descents. That said, their abilities aren't equally weighted, and some bikes really standout in some areas.
Ride Highlights:
Trek: The Trek is the probably the best all-rounder in this company. With its low weight and travel adjustable fork, it manages to do a good job in a huge range of situations. We often rode this bike with the fork dropped down and the rear compression in its firmest setting and it performed pretty damn well on flatter, smoother trails. On the descents it was a bomber too – a 65 degree head angle keeps it all very stable and the tyres/wheels make the most of the grip on offer with the supple suspension.
Norco: A lively, fun and inspiring ride. The Norco requires no suspension fiddling to rule the singletrack, it accelerates nicely and can ascend without a lot of lever flipping.  It's very responsive for a bike with this much travel and it lends itself to a rider who likes to pick lines and play with the trail.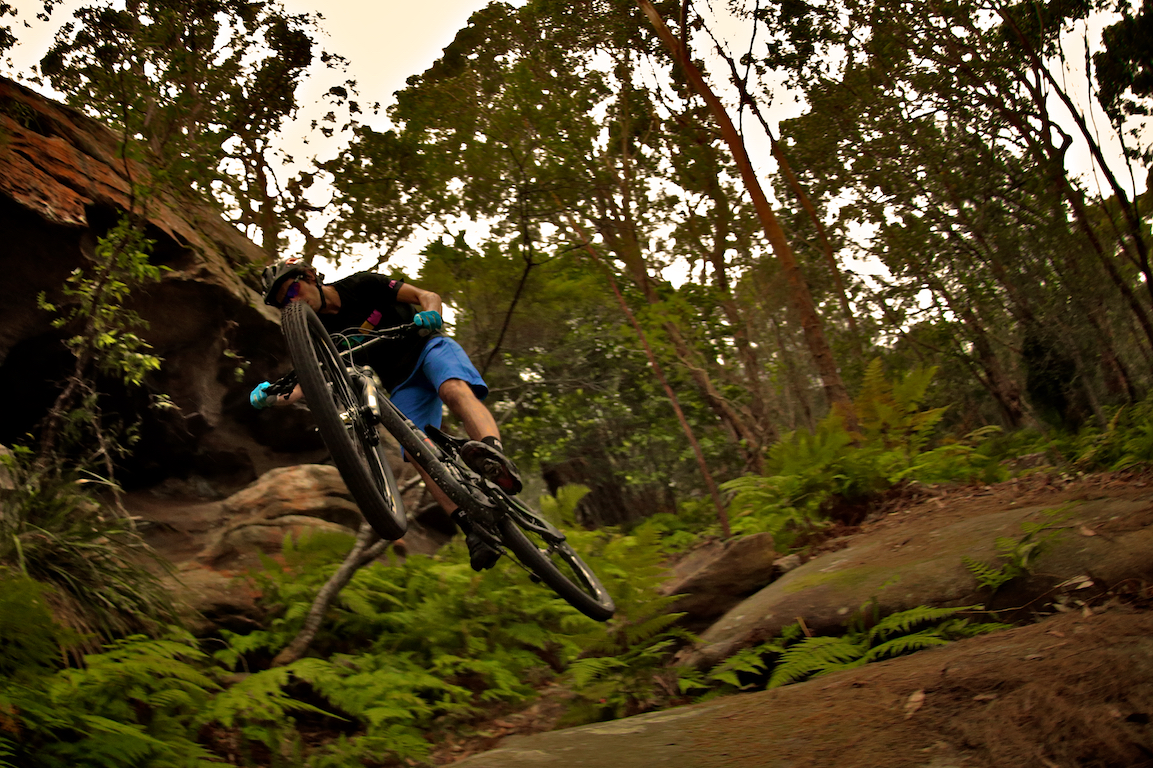 Giant: A supremely planted, stable and confident ride, the Reign will give a lot of downhill bikes a serious run for their money in many situations. The long wheelbase and buttery rear suspension keep the tyres on the ground. It straight up charges.
YT: A good blend of the downhill smasher and efficient climber. The YT has the angles and travel that encourage you to wallop it into some rough situations, especially as it's so hard to upset the rear suspension. On the pedal back up, it's very resistant and bobbing, even if the climbing position is a bit cramped.
Ride Lowlights:
Trek: The Trek's rear suspension isn't an inherently efficient design, so it'll always be a tradeoff between suppleness and pedalling performance as you need to use the shock's compression lever a lot.
Norco: With its short stays the Norco requires a bit more rider input at high speed to keep the wheels down. We also threw the chain on the Norco a handful of times, which wasn't an issue on any other bike.
Giant: The Giant typifies the tradeoff between climbing and descending performance. With the fork dropped and the shock in its firmest compression setting, it's a decent trail bike, but it still feels big in tighter situations.
YT: The YT's short top tube demands a very upright climbing position. This bike really needs you to get right over the front wheel too, to keep it biting in flatter trails, especially when compared to the Norco or the Trek with its fork dropped down.
[divider]Full reviews[/divider]
For a more in-depth look at each of these bikes, make sure check out the full reviews here on Flow.
Trek Slash 9.8: Click here. 
Norco Range C7.2: Click here.
Giant Reign 1: Click here. 
YT Capra CF Comp 1: Click here.