The Cannondale Scalpel is a bike that has always polarised with its weird and whacky frame and 'fork' designs since way back. It's always been a platform to showcase Cannondale's latest designs and material technologies. The Scalpel was an early adopter of a carbon 'flex stay' arrangement, at one point had plastic chain stays, super minimal and light nylon bushing pivots in the linkages, remote lockouts and always with either bold or ultra subtle graphics. Fast forward to today and the latest incarnation of the Scalpel is a beautifully finished bike with attractive and sleek lines.
A Scalpel is what you'd want underneath you when it comes time to race, its long-standing reputation for one of the finest elite cross country racing bikes made it even more exciting to hear that Cannondale had announced a refresh for 2017. But they didn't just make small improvements to an already light bike; they totally went to town on it. So when we secured the top model for review we were in for something extra special, here is what we thought of the new sub-10.5kg Scalpel.
For our first impressions and some saucy photos of the lush Scalpel Si Hi-Mod Team click here for our Flow's First Bite.
---
Sharp name, what's it all about?
The Scalpel is a purebred racer; there are no two ways about it. Razor sharp in its frame geometry, minimal in suspension amount and built with some of the lightest kit you'll ever see gracing a bike shop showroom. The Hi-Mod Team is the top option, the highest spec of all the Scalpel models available in Australia comes in at a mighty $11999, but you can see where the dollars lie, with its complete premium parts kit from SRAM, ENVE and FSA.
We weighed our medium sized bike at 10.47kg after tubeless conversion and without pedals that alone is enough to make the thirstiest XC racer salivate.
---
Are they all $11999?
Thankfully not! Available in Australia in five models, the one we have on review is the top of the top. Starting at $4399 you get an aluminium frame version, and then there are carbon models starting at $6599 and the premium Hi-Mod carbon starts at $8799. Hit up the Cannondale site for more on the range.
---
Who needs – or wants – a Cannondale Scalpel?
The Scalpel is the type of bike you would choose over an XC race hardtail if your race courses are rougher, more technical and longer – and they seem to be progressing that way – a dual suspension will always be a safer option. They handle rougher surfaces with more composure, provide more traction on the climbs and turns, and of course, they are a whole lot less fatiguing on the body.
Just because it's a dual suspension bike the Scalpel is not the type of bike you could simply fit a bigger front tyre and a riser bar and throw down some reckless trail riding, though, it demands way more respect than that. If you want to race short course cross country, Olympic format, marathon, multi-day or your trails are simply buff, and fast then this is your ticket.
So what we're trying to say here is – buyers beware, this bike sits right on top of the pointy end, and you need to be that type of rider to enjoy and make the most of it. Sitting one step to the left is the Cannondale Habit, similar in construction but far more relaxed and ready for fun trail rides. We've ridden and rated the Habit, and it's rad. Check out our review here: Cannondale Habit SE Review.
---
What's new with the frame?
A lot. It's lighter, slacker, stiffer, longer out the front and shorter out the back. The whole structure is wildly asymmetrical too, what Cannondale call AI (asymmetric Integration), with the drivetrain shifted outwards by 6mm. To achieve a straight bike, the rear wheel is 6mm back the other way. The asymmetry then allows a zero dish rear wheel with even spoke length for a stiff wheel and more clearance for the tyre and front derailleur.
The new frame is now Shimano Di2 compatible (and the FSA bars have provisions for internal wiring) with specific ports for the wires and a cradle for the battery inside the frame. And they've also managed to retain mounts for two water bottles on the frame, excellent stuff for marathon events or multi-day racing.
Compatible with a front derailleur the Scalpel doesn't rule anyone out with the option, by using the S2 style mount you can still have a clean frame free from the unsightly front derailleur tab on the seat tube, a nice touch. We're also very stoked to see Cannondale accommodating for a dropper post with the provisions for internal routing, as the race courses on the World Cup are becoming progressively rougher more of the top riders are using them, we are 100% supportive of this movement!
We'll be repeating ourselves if we delve into fine details of the new frame anymore, so for a lot more head over to our feature on the 2017 Scalpel here: Cannondale Announces New Scalpel Si.
---
29er only?
Nope, this medium size one rolls on 29″ wheels, but the small and extra small frames use 27.5″ wheels.
---
What makes this new Lefty so unique?
This is our first ride on a Cannondale Lefty with the new '2Spring' internals, a small internal part that has taken a lot of development but smacks previous models right out of the park. While the Lefty is very light and incredibly stiff to ride we traditionally had a gripe with the spring rate, it always felt a little harsh when compared to competitors from FOX or RockShox. That has all changed, and this is the nicest feeling Lefty we've ridden.
More on how it performs in the ride section below.
2Spring is named for its self-balancing positive and negative air springs a completely new part developed by the team at Cannondale that can be retrofitted to 2014-2017 model Lefty forks and fitted as standard going forward with 2017 bikes.
Want more details on the 2Spring in the new Lefty? Click here.
The Lefty uses the less seen 1.5″ steer tube size, which limits stem options somewhat, but Cannondale Australia keep a vast range of lengths and gradients, and they're only $50. And we're told other notable brands like Syncros, RaceFace, Easton, Thompson and Truvativ also make stems for 1.5″ steer tubes so if you want to go higher, shorter or longer you have options.
---
How'd it go?
Amazing to say the least, this is an unquestionably fast handling bike! Though it did take some getting used to as we expected, like hopping out of a Subaru Forrester and into the driver's seat of a Formula 1 race car, it requires focus, or it can become hard to hold onto when the trails get angrier and faster.
We took the Scalpel to a variety of trails, race tracks and got a good feel for where it is most comfortable. One particular ride on the most buff and twistiest singletrack racecourse around, we walloped it, lap after lap we got faster and faster holding great speed through the undulating climbs and finding the limits of how hard you could push the Scalpel in the turns and descents.
---
Going up.
The cockpit and geometry put you in a position that lends itself to an aggressive attacking style of riding, and when you put in the effort, the reward is immediate. No wonder here, but it's a very fast and efficient climber! Stand out of the saddle and crank down hard on the pedals, it flies up the hills, with plenty of room for you to move forward over the front end without banging your knees on the bars when gradients are steep and the legs begin to burn. We lowered the stem down on the steer tube for a slightly lower front end; there's plenty of adjustment range and aftermarket stems
A sub 10.5kg bike will no doubt be a pleasure to climb but coupled with the stout 100mm of travel and a laterally stiff frame; there's no unwanted loss of energy at all.
---
Lock it out and unleash the sprint.
The Team model uses the RockShox hydraulic button on the bars, which simultaneously locks out the fork and shock. The rear shock lockout hydraulic is quite impressive the way it travels through the top tube, you never see it. While it's an excellent feature for quickly locking out for sprints or tarmac, we did find the on/off nature of the lockout a little restricting. We tend to appreciate suspension designs when in their firmest setting can still react to quick impacts to help the wheels from skipping around. The suspension at both ends lacks adjustability, while there is only 100mm we found ourselves wishing for some degree of slow speed compression tuning options, and air spring volume adjustment.
With the lockout so easily accessed at any time with just one press of the thumb lever the bike transforms into a sprinting rocket, and because it is so quick to press we used it to milk every piece of performance on short pieces of trail that we knew suspension would be obsolete.
---
Descending at speed, woohoo!
The first thing we noticed when we turned the Scalpel down the trails was how well the fork was coping with the quick and repetitive impacts, we mentioned it before, but the new 2Spring internals has done wonders to the Lefty. We were hitting rocky straights off the brakes and could feel how well the fork was working away beneath us, reacting quickly to each impact with little force required to get it moving into its suspension stroke.
The Lefty, dropping into a sharp corner under brakes it feels super stiff and direct, it doesn't dive backward like a lightweight 32mm legged fork typically would.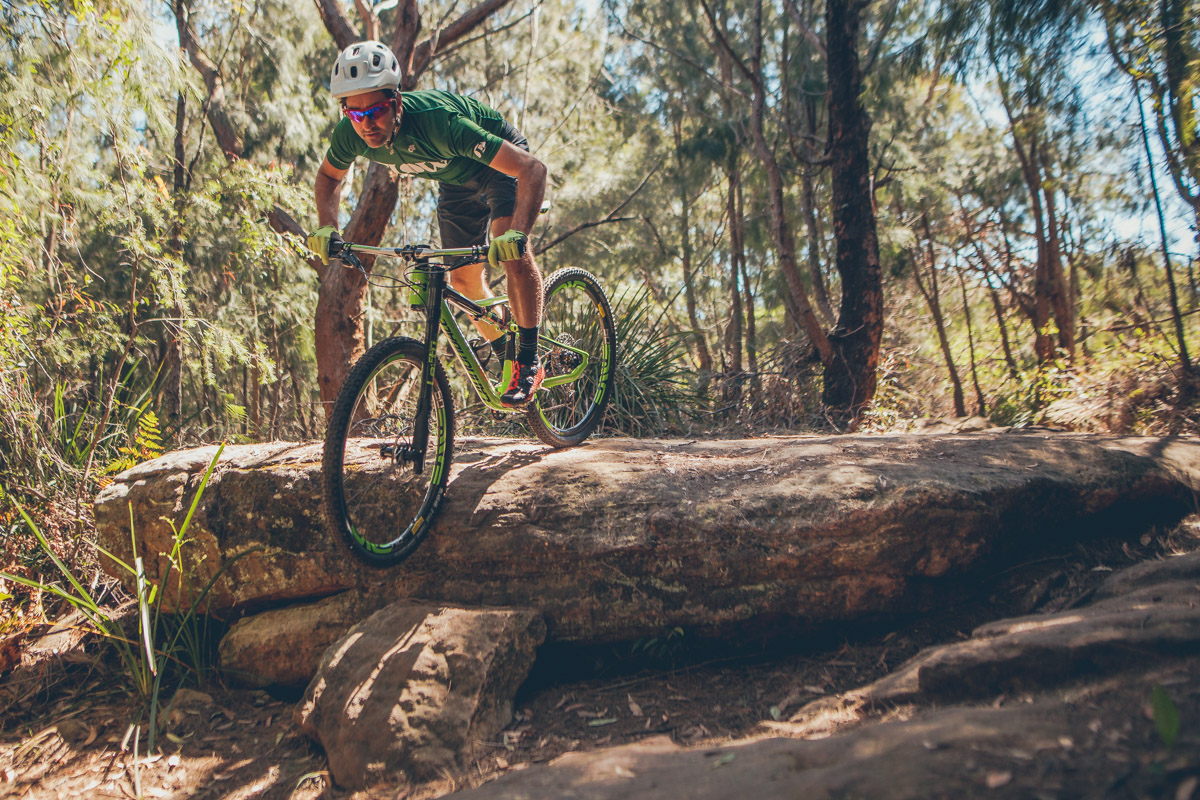 For such a light frame, the rear end feels very laterally stiff when you push it through corners; it doesn't wobble on hard landings or chatter across the dirt when the rear brake is locked like we might expect. And with the Lefty leading the way with a 69.5-degree head angle and a long top tube reach there is a lot of bike in front of you, but it still steers so quickly and lightly. It's quite impressive how far steering geometry has progressed over the years!
The new Scalpel is dubbed 'XXC,' not just XC; the extra 'X' is for extreme. With more progressive geometry numbers like a longer reach, shorter stem, and shorter chain stays, Cannondale wanted to widen the bike's versatility to appeal to more than just the racers. While these improvements to make it handle hard impacts and twisting singletrack very well, it wouldn't necessarily be our go-to bike for fun blasts around with mates on a Sunday arvo; it is still a race bike at heart.
---
Big bucks, are the parts worth the spend?
You won't find many bikes with a spec like this out of the box, but you can always trust the folks at Cannondale to do so. The Hi-Mod Team is dressed in the ultimate parts, the lightest and hottest.
---
SRAM's finest.
It's a 100% SRAM bike with brakes, drivetrain, and suspension from the fast moving brand. Most notably is the SRAM Eagle 12-speed drivetrain with its massive 50T cassette; the range altogether denotes the need for a front derailleur, but the whole system operates on another level from their premium 11-speed offerings. The shift action is crisp and light, the drivetrain glides along so smoothly, and the tension on the chain and derailleur cuts out the noise and helps it shift through the wide range even when the trails are extra bumpy.
You won't find many bikes with a spec like this out of the box, but you can always trust the folks at Cannondale to do so.
Released last year is SRAM's new cross country specific brakes, the Level, with a single piston caliper and a minimal lever body without the reach adjustments to cut weight down.
The brakes respond very nicely under the finger with a smooth and consistent feel, and the power is bitey but easy to modulate.
---
Those wheels though…
The ENVE wheels are a real advantage when you're pushing the bike around, they strike a perfect balance of weight, rolling speed, compliance, and stiffness. It is no wonder that ENVE is held in such high regard when it comes to carbon wheels across the entire world of cycling.
---
Would we change anything?
We'd have to be pretty damn snobby to want to change anything on a $11999 bike, wouldn't we? In our minds, the original parts are well picked, thoughtful, and spot on.
---
Any gripes?
Just a few little niggles with this one, but nothing major. The front brake is a bit of a headache to setup drag-free, in place of a regular brake mount are two black spacers which add additional amounts of movement, and we battled to get the brake to spin freely despite many efforts.
We also noticed that while the tester of this bike may be toward the upper end of a size medium at 180cm tall, we were surprised to see the seatpost was a maximum height, definitely worth keeping an eye on during a fitment assessment. There's no protection on the chainstay from a slapping chain, while the Eagle drivetrain puts loads of tension on the chain to reduce slapping we did still manage to chip the beautiful paint, so if it were ours we'd look into some form of rubber strip for noise and paint protection. And lastly we did hear the brake hose rattling around inside the frame, nothing a little bit of attention to the cable length and internal housing ports couldn't sort out.
---
Enough waffle, verdict, please!
Cannondale has made their fastest bike ride faster, not just by dropping weight out of the frame, but by improving on the Lefty suspension action, tweaking the frame geometry and increasing frame stiffness too. The Scalpel maintains its position in the elite pack of dual suspension bikes that you'd see raced at professional level where weight and efficiency are paramount.
If you are 100% certain you know what you want, then rest assured the Scalpel will reward even the most earnest racer with ultimate speed.