For more on the 2016 bikes from Norco, check out our 2016 preview here: New 2016 bikes from Norco.
---
The Sight C7.2, and the rest of the Norco Sight range, are available from 99 Bikes at some pretty sharp, reduced prices. Take a look!
[divider]What is it, and who is it for?[/divider]
The Norco Sight is a rowdy little bike, available in a big range of price points, in both alloy and carbon versions. It feels like a go-kart on the trails (albeit with monster-truck tyres), and it loves to pick apart your favourite sections of trail and encourage you to ride them in new ways. It really hits the sweet spot for hard riding; 140mm/150mm travel, with geometry that's 100% built for playfulness on the trail. Our test bike is just one rung from the top in the Sight range with a pretty hefty $7249 price tag, but the same geometry and attitude flows all the way down to the alloy Sight A 7.2 for $3499.
[divider]The frame[/divider]
This bike looks great, and the beauty of the carbon frame runs more than paint deep (and we really do like the colour).
Four-bar efficiency: The Sight's four-bar linkage suspension delivers 140mm of efficient travel, using the Cane Creek Double Barrel In-Line shock. Norco incorporate a fair bit of anti-squat into their suspension design, with an axle path that's noticeably rearward moving in the early part of the travel. This makes them pedal exceptionally well for a pretty plush overall ride, at the expense of a bit of pedal feedback when putting down the power in rougher situations.
Size-specific geometry: Norco's Gravity Tune geometry is seen throughout much of their range. In a nutshell, as the frame size increases, so to does the rear-centre measurement of the bike, whereas in traditional sizing only the front end of the bike gets longer in bigger sizes. It's all about keeping the rider's body weight in the right position relative to both wheels, and on our medium sized test bike the chain stay measures up at a short 427mm. The head angle is 66.9 degrees, which is fairly standard in this realm, and a reach measurement of 415mm is paired to a 65mm stem.
Cables and water bottle both get a tick: Having room for a full-sized water bottle is a big plus for those humid summer days when you start oozing sweat at the mere thought of wearing a pack. Norco have handled the internal cabling well, with rubber grommets keeping the cables tamed and ensuring clean, rub-free routing around the head tube. The ports into the frame are actually quite roomy too, which reduces head aches should you need to stuff around with the internal cables later.
Why the front derailleur provisions? No one who buys this bike will be popping a front derailleur on it. It would've been classier if Norco had used an ISCG mounted chain guide, ditched the ugly mount and cable routing ports for a front mech on this version of the Sight.
[divider]Suspension[/divider]
In 2015, the Sight had 140mm front and rear. But if lots is good, more must be better, and so in 2016 the Pike RC fork is bumped up to 150mm. The rear end doesn't change, it still gets 140mm delivered via the potentially confounding Cane Creek DB Inline rear shock. We've got a funny relationship with this shock… there's a lot of performance there, but getting the best out of it takes patience. Given that we normally only have a bike for a few weeks during testing, we often feel we like we're always working on getting things 'just right'.
With independent control over high and low-speed compression and high and low-speed rebound (plus a Climb Switch) there's huge potential to get the rear end feeling great with the CCDB, but it's a long process, and we can imagine there are a lot of riders out there who either a) never use any of the adjustments or b) use the adjustments without the knowledge to do so and end up with a shock that's set up poorly. Arguably the performance benefits are there, but are they comparatively enough versus say a FOX or RockShox which usually only takes a ride or two to get dialled? We're not sure… That said, Norco do provide recommended baseline settings for the shock, so as long as you don't vary too far from these, you're likely to be pretty good.
In comparison, the fork is a joy to work with. The recommended pressure guide is usually quite accurate, the rebound rate is easy to adjust, and the bike is supplied with RockShox's Bottomless Tokens which can be fitted in just a couple of minutes to get the suspension rate how you like it. We love the Pike.
[divider]Setup[/divider]
Initially we adjusted the rear shock to the recommended settings (17mm sag), but we did find this left the bike riding a little low in its travel for our liking much of the time, so the pressure was bumped up a little to give us around 14mm sag. Based on our previous experience with the Pike, we fitted one Bottomless Token and ran the recommended air pressure for our weight.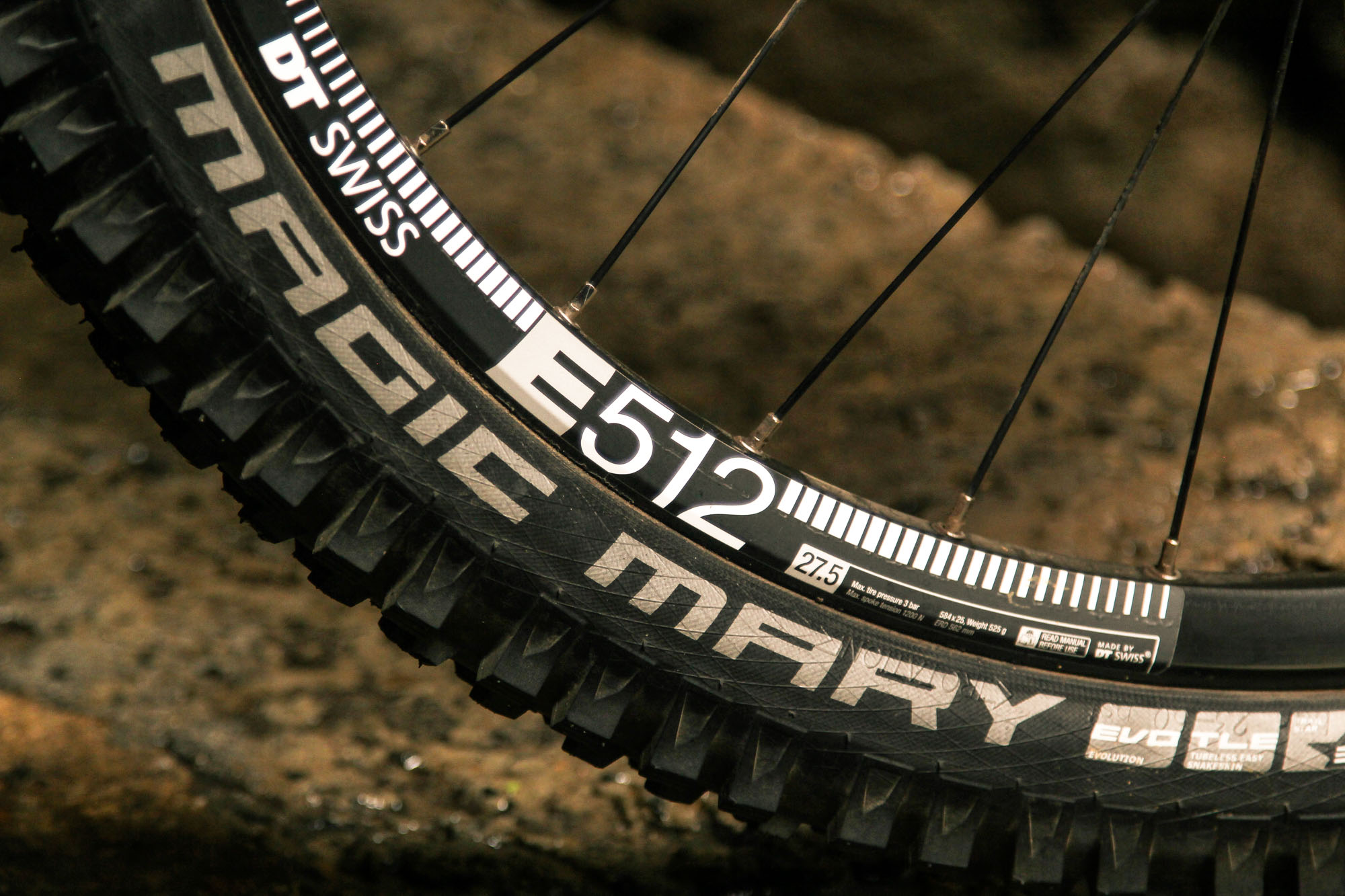 The super-aggressive Schwalbe Magic Mary front tyre is a lot of rubber to push around most trails, but its grip levels will save your arse in so many situations it's impossible not to love it. DT's E512 rims needed tubeless rim strips and valves to set up as tubeless, neither of which were included with the bike, a shame. The rims are reasonably wide at 25mm internally, and we felt comfortable running the tyres in the low-mid twenties.
[divider]Spec[/divider]
Some short cuts, given the price: With the drop in the Australian dollar, we've seen prices go up a fair bit across the industry, and Norco hasn't been immune unfortunately. Even still, we're surprised that the Sight doesn't get the more expensive RCT3 version of the Pike, and we'd have expected a carbon bar for this price too.
Fantastic rubber: Schwalbe's gummy tyres occasionally come under fire for being less than durable, but so far so good for the Nobby Nic / Magic Mary on the Sight. These tyres are a great combo – the Nic's tread pattern is like a scaled back version of the absurdly aggressive Mary up front, and together they dig into just about anything. We did notice they felt a little slow on fireroad climbs, but that's not why you buy this bike. We really like that Norco has specced the tougher Snake Skin version of these treads too.
Great drivetrain with extra security: Adding a chain guide to SRAM X1 drivetrain mightn't be necessary, but we still think it's a good idea as it only takes one inopportune dropped chain to make your groin and stem awfully familiar. The shifting quality is perfect, every time. Blindfold us and we'd battle to tell the difference between X1 and the far more expensive XX1.
Top notch brakes with neat clamp integration: Using SRAM Match Maker clamps for the brakes/shifter/dropper means the cockpit is more orderly than North Korean military parade, and the stopping power and lever feel of the Guide RS brakes is hard to top.
[divider]Ride[/divider]
If you like to view the trail as a playground, rather than a route from A to B, then the Sight will appeal. This is a bike that makes you want to flick the rear wheel about like a cut snake, and generally go over, not through, whatever is in front of your wheels.
Dropping low down into a turn with the rear end sliding is how the Sight likes to approach every corner, and thanks to the crazy amounts of grip up front you're pretty much guaranteed you won't lose the front end. Short stays and an overall compact feel make it an easy one to pop into the air, or get on its back wheel with a stab on the pedals to tackle tricky climbs or ledges. While the bike itself is efficient in terms of pedalling, the way we found ourselves riding the Sight was anything but! It's quite a light bike, and it doesn't bog down under power so you're always up out of the saddle sprinting at things, trying to drift, looking for the fun lines, not the fast ones – most of our rides on the Sight topped out at about an hour and a half, not through any fault of the bike's, but because we spent so much energy just doing fun, stupid things.
The Sight proved to be really comfortable and quiet when taking some big impacts too. We found ourselves remarking time and again just how solid and unflappable everything felt when touching down from some pretty decent six-foot plus drops. There's a really reassuring, progressive feel to the suspension; the shock uses all its travel but doesn't crash into the end of its stroke, and the Pike fork feels like it'll munch up the big hits all day.
At slower speeds, we initially didn't feel as overwhelmed by the Sight's suspension, but we feel that the recommended shock setup was to blame. Using the recommended baseline settings provided by Cane Creek, we felt like the rear end was getting a bit 'stuck' when trying to keep momentum on slower, lumpy sections of trail. Speeding up the low-speed rebound to keep the bike a little bit more lively and riding higher in its stroke helped.
The Sight is a reliable, steady climber, especially if you use the shock's Climb Switch, which both stiffens the suspension and increases the damping on the low-speed rebound circuit too. It's a super effective climbing setting, and with the big contact patch of the Schwalbe Nobby Nic climbing traction is excellent. It's not a roomy bike to climb on, so we did push the seat back a little to lengthen the climbing position, as well as lowering the bars to put more weight over the axle and tame the tame the front wheel wandering.
[divider]Overall[/divider]
While the Norco Sight C7.2 isn't the value-for-money front runner it was in years past, its performance certainly hasn't dropped off one iota. This bike will bring a big grin to your face anytime the trail turns twisty or there's potential to get into the air. If your budget won't stretch to this model, there are three Sights at lower price points to choose from too, all of which keep the same playful geometry and vibe.