Flow reviews the 2022 Trek Top Fuel
The Trek Top Fuel has long been known as the American brand's flagship full suspension XC race bike, purpose-built to to compete at the very highest level of the sport. In more recent years however, the Top Fuel has steered in a different direction. With the short-travel Supercaliber taking over duties for World Cup XCO racing, Trek has softened the Top Fuel's serious, race-focused persona, adding travel and bulking it up in the process.
For 2022, the Trek Top Fuel makes its biggest move away from its XC racing roots. Equipped with a brand new frame, an updated suspension design and some thoroughly modern geometry, the Top Fuel aims to retain the pert pedalling performance of its predecessor while significantly boosting its all-round capability. So, has Trek succeeded?
---
Watch our video review of the new Trek Top Fuel here:
---
Along with the active ABP suspension design and chunky tyres, there's an exceptional amount of grip and support on offer for a 120mm travel bike.
Trek Top Fuel overview
Despite being all-new, the Trek Top Fuel retains its position in between the Supercaliber (the 60mm travel XC race bike) and the Fuel EX (the 130mm travel trail bike).
It's equipped with a 120mm travel fork just like its predecessor, but rear travel has actually lifted by 5mm up to 120mm. This increase has been achieved with a longer stroke shock (50mm vs 45mm), and Trek has also flipped the orientation of the trunnion-mount. The rocker link now drives the shock via two sealed cartridge bearings to improve sensitivity.
You'll no longer find a dual remote lockout on the Top Fuel, which leads to a vastly cleaner bike with fewer cables occupying your view from the cockpit. Along with the bigger shock, slacker geometry and 2.4in wide tyres, it is without doubt the most trail-oriented Top Fuel we've seen yet.
To put it into context, that sees it move away from the likes of the Orbea Oiz TR and the Canyon Lux Trail, and more towards the direction of the Santa Cruz Tallboy and Pivot Trail 429.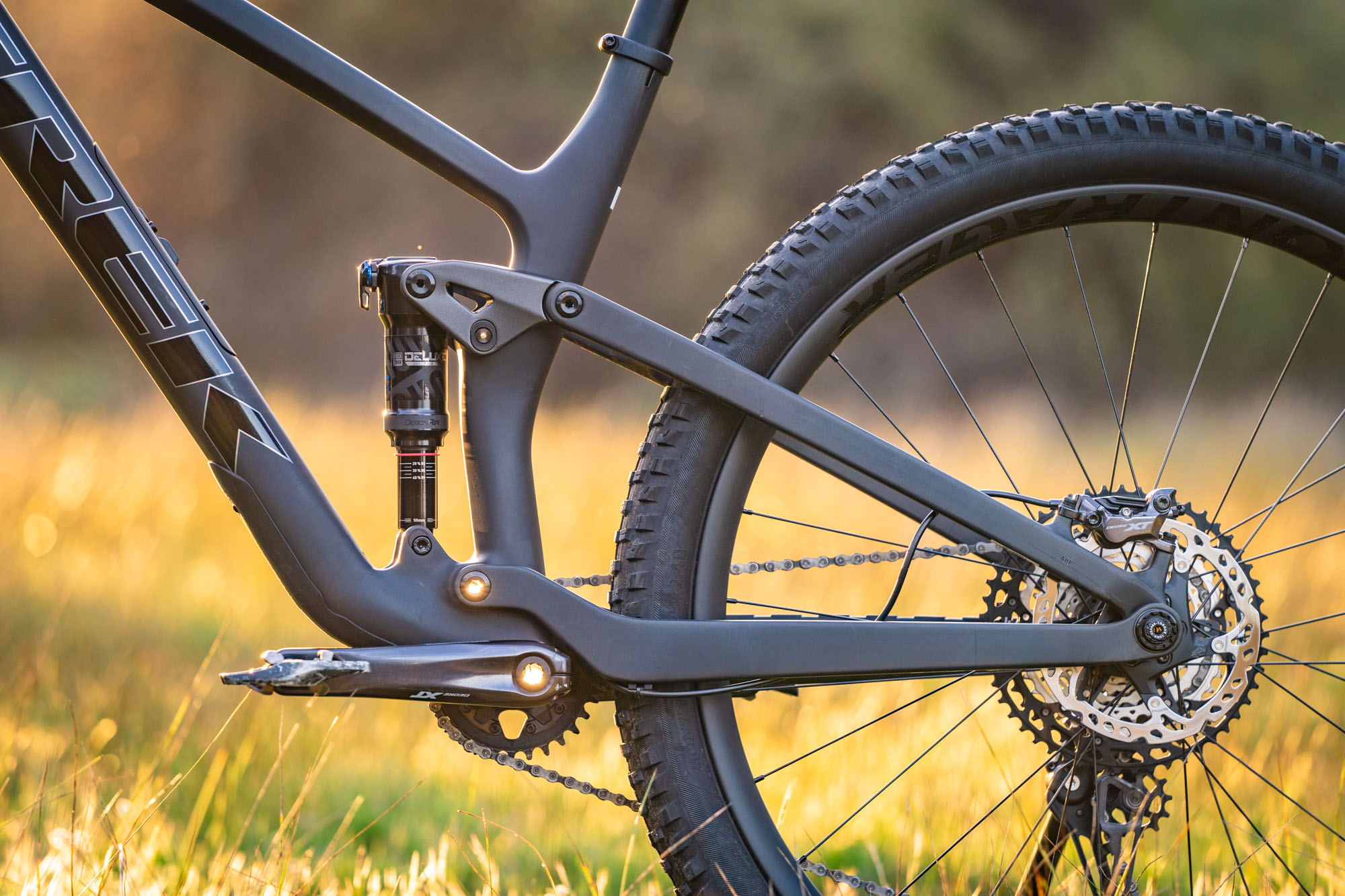 A new, burlier chassis
Though it looks pretty similar, the Trek Top Fuel frame is all-new for 2022. It's not so much a radical overhaul, but rather a collection of many small refinements that add up to a more practical package.
The chassis is notably beefier than its predecessor, with the seat tube diameter swelling to the new-school 34.9mm size. As well as increasing frame stiffness, the fatter seat tube is also shorter, allowing it to swallow a modern long-stroke dropper post.
The downtube is also larger, and it now features the integrated storage design we've seen employed on the latest Fuel EX and Slash. A latch underneath the bottle cage removes the trap door, providing you access within. A neat tool roll is included with the bike so you can carry a spare tube, levers and CO2. You could also fit a lightweight jacket in there along with some snacks.
Trek has updated the Knock Block headset, increasing the available turning radius from 58° to 72°. This provides you with greater freedom of movement on the trail, but still prevents the handlebar controls from smashing into the top tube. If you're not into it though, the Knock Block is removable.
Also nice to see is a threaded bottom bracket shell for ease of maintenance, and the rear ABP pivot can now be tightened with a cassette tool. Also new for the Top Fuel is guided internal cable routing – poke the cable in at one end, and it'll pop out the other, no fishing required.
Trail-leaning geometry
The 2022 Trek Top Fuel has received a series of geometry updates over the outgoing model, bringing it up to speed with other boundary-pushers in this travel bracket. Here are the key numbers;
Head tube angle: 66°
Seat tube angle: 76°
Reach: 420mm (S), 450mm (M), 465mm (M/L), 480mm (L), 500mm (XL)
Rear centre length: 435mm
BB drop: 36mm
Compared to the old Top Fuel, the head angle has kicked back by 1.5-degrees and the reach measurements have gone up by 10mm. The seat tube angle has also steepened by 1-degree to improve the climbing position, while the chainstay length and BB drop remain the same.
The Top Fuel still features a Mino Link, but it's now located at the lower shock eyelet. Bikes will come setup from the factory in the Low position. Flipping that into High will lift the BB height by 7mm and steepen the angles by 0.4°.
You can get even rowdier by fitting a 130mm travel fork, which will kick the head angle back to a very-slack 65.6° in the Low position. And for those wanting to push the needle further, there's clearance to run 2.5in tyres.
Trek Top Fuel price & specs
We'll see four Trek Top Fuel models coming into Australia this year – two with alloy frames and two with carbon. All Top Fuel models feature the same geometry, suspension design and travel. They're all equipped with 29in wheels, and there are five frame sizes available from Small through to X-Large (the XS size with 27.5in wheels won't be available in Australia).
Pricing kicks off at $3,499 AUD for the Top Fuel 5 and goes up to $8,299 AUD for the Top Fuel 9.8 XT that we have on test here. Additionally, Trek will offer a 9.9 spec via the Project One bike builder program.
You can check out the specs and prices for all those models down at the bottom of the page. Right now we'll be diving straight into our experience of testing this bike here; the Top Fuel 9.8 XT.
2022 Trek Top Fuel 9.8 XT
Frame | OCLV Mountain Carbon Fibre, ABP Suspension Design, 120mm Travel
Fork | RockShox SID Select+, Charger 2 RL Damper, 44mm Offset, 120mm Travel
Shock | RockShox Deluxe Ultimate RCT, 185x50mm
Wheels | Bontrager Line Elite 30, OCLV Carbon Rims, 29mm Inner Width
Tyres | Bontrager XR4 Team Issue 2.4in Front & Rear
Drivetrain | Shimano XT 1×12 w/XT 30T Crankset & 10-51T Cassette
Brakes | Shimano XT 4-Piston w/Ice Tech Rotors
Bar | Bontrager Line Pro, OCLV Carbon, 27.5mm Rise, Width: 750mm (S), 780mm (M-XL)
Stem | Bontrager Line Pro, 45mm Length
Seatpost | Bontrager Line Elite Dropper, 34.9mm Diameter, Travel: 100mm (S), 150mm (M-M/L), 170mm (L), 200mm (XL)
Saddle | Bontrager Arvada, Austentite Rails
Confirmed Weight | 12.88kg (Large, Tubeless)
RRP | $8,299 AUD
This differs from some other brands that utilise a single frame, and simply up-fork and up-shock it to create a slightly longer travel bike (like the Specialized Epic EVO and Orbea Oiz TR). The Top Fuel is not one of those bikes.
Trek Top Fuel sizing & fit
We put the new Trek Top Fuel into the hands of our tester Ben, who owns the current Top Fuel and has also spent considerable time on the Fuel EX. At 181cm tall, Ben's been riding a size Large across all three bikes.
The Top Fuel is well-proportioned out of the box. The 480mm reach is very long, but it's balanced nicely with a 50mm stem and the 76° seat tube angle. The Bontrager saddle is totally inoffensive, and we haven't needed to shunt it into an extreme position just to get it comfortable.
The 760mm wide riser bars are a great match for this bike, and while it may not be totally necessary for all riders, the 170mm stroke dropper post is fashionably long for such a short travel bike.
Suspension & tyre setup
With the anodised sag gradients on the fork and shock, suspension setup is made easy. Weighing 80kg loaded up, Ben's been running 180psi in the rear shock (26% sag) 80psi in the fork (20% sag).
The factory rebound tune for both the RockShox SID fork and Deluxe shock is quite light, so each rebound dial was set a couple of clicks slower than halfway.
Tubeless rim strips and valves come pre-fitted to the Bontrager wheels, and Trek kindly includes two bottles of sealant with the bike, making tubeless setup the breeze it should be. Pressures were set at 20psi on the front and 22psi on the rear.
Trek Top Fuel weight
Given its swollen proportions, the new Trek Top Fuel has gotten heavier. With the tyres setup tubeless, our test bike came in at 12.88kg without pedals. To put that number into perspective, here's how it compares to some similarly-priced XC and Trail bikes we've recently tested;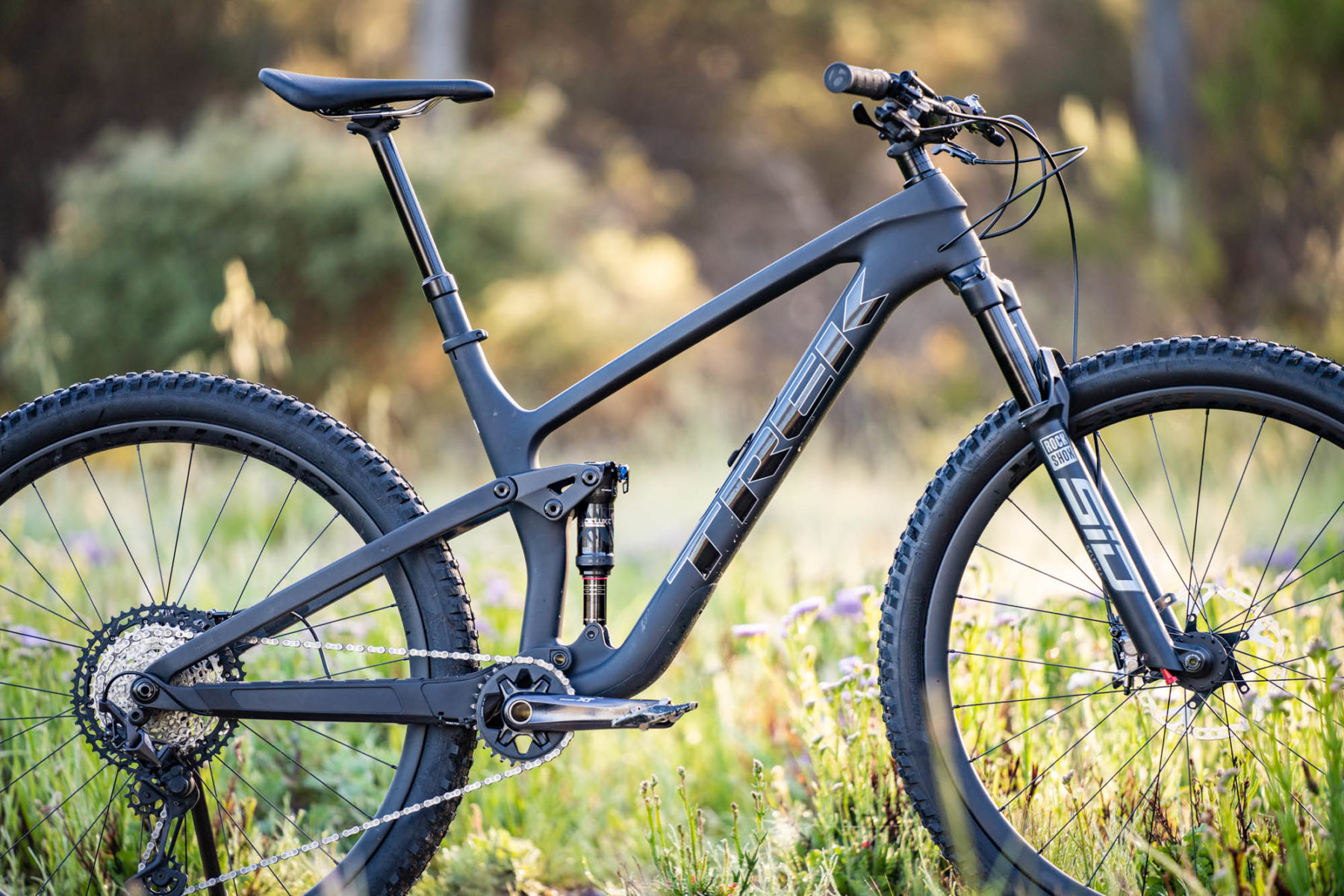 Trek claims a carbon Top Fuel frame weighs 2.7kg including the rear shock, which puts it on the heavier side of things for a 120mm travel bike. The alloy frame is purportedly a whole kilo heavier again, with a claimed weight of 3.74kg.
The Top Fuel's rolling stock is also a significant contributor to its overall mass. The Bontrager Line Elite wheels are heavy at 2,071g for the pair (with tubeless strips and valves). Incidentally, these are exactly the same wheels that came on the Slash 9.9 X01, which is a full-bore enduro race bike.
Trek has also plumped up the rubber. The previous Top Fuel featured semi-slick XR3 tyres, but the new bike is now spec'd with 2.4in wide XR4 Team Issue tyres. They're not overly heavy at around 800g each, though they do offer significantly better grip across a broader range of conditions.
What does the Trek Top Fuel do well?
From the very first ride the new Trek Top Fuel proved to be easy to get used to, with no quirks to the fit, handling or suspension.
The proportions are significantly broader compared to the outgoing Top Fuel, with the front wheel sticking out much further ahead of the rider. Despite the long reach however, the effective top tube length is basically identical to its predecessor, so the overall cockpit length remains the same.
The steeper seat angle is noticeable though, providing an improved climbing position with your hips placed further over the bottom bracket. As a result, less bum-shuffling is required on stem-chewing ascents.
Pedalling performance is also superb. Despite its burlier exterior, Trek is still prioritising pedal efficiency with the Top Fuel, with the main pivot positioned high and quite far forward of the bottom bracket. Anti-squat is claimed to hover around the 100% mark, and indeed the rear suspension clenches tightly under chain torque, propelling the whole bike forward with minimal energy loss.
Active suspension performance
Despite the trunnion bearing mount and the longer shock stroke, the rear suspension doesn't feel radically plusher than its predecessor, which already offered great performance. It is noticeably more supportive though, particularly when absorbing square-edge hits at speed, and when returning to earth after boosting off a lip on the trail.
It's worth noting here that many bikes in the 100-130mm travel bracket make use of a carbon flex-stay design, including the Canyon Lux Trail, Merida Ninety-Six, and Specialized Stumpjumper. As well as being simpler, flex-stay designs are typically lighter too.
In comparison, the Top Fuel sticks with a genuine four-bar platform based around the ABP suspension design. Trek claims the ABP pivot helps to isolate braking forces from the suspension, and indeed it does result in less skipping and skidding when you're on the brakes on loose, rocky descents.
With all the pivot points rolling on steel ball bearings, the suspension is more active and possesses a more consistent feel to both compression and rebound damping when compared to a flex-stay design. Yes it's heavier, but the Top Fuel offers notably more active suspension performance, with excellent traction on loose climbs and better reactivity across chattery rock gardens. It's very impressive for a 120mm travel bike.
Look out Fuel EX!
The geometry is also brilliant, and the handling really sets it apart from the outgoing Top Fuel.
Cornering performance has improved, with more grip courtesy of the longer front end and those XR4 tyres. These are great all-rounders, with a supple casing and surprisingly decent rolling speed given their size and tread pattern.
The new Top Fuel is also much more composed on rough and fast descents. Thanks to the longer reach and slacker head angle, the overall wheelbase length has grown by almost 40mm. That's huge, and it offers a vastly more planted feel at speed. Along with the big tyres and active suspension, this really is a solid little trail bike.
In fact, the geometry updates kind of make the Fuel EX look a little outdated. The two bikes now share the same head angle, and the Top Fuel has a 10mm longer reach and a steeper seat angle. The front end is quite a bit higher on the Fuel EX though, and that does inspire more confidence on really steep descents.
As mentioned earlier though, it's possible to fit a 130mm fork to the Top Fuel, which would lift the front end and actually make it slacker than the Fuel EX. Indeed there's now quite a bit of overlap between the two platforms, leaving us to ponder what could be in store for the next generation Fuel EX.
What does it struggle with?
You've likely gathered that the new Trek Top Fuel is more of a muscly trail ripper than a spindly XC featherweight. While it may carry over the name, it's evolved into quite a different bike compared to its racier ancestors.
The lack of a remote lockout results in a much cleaner cockpit, and we like how it signals the Top Fuel's commitment to its trail riding intentions. However, it may disappoint those riders and racers who prefer having an instantaneous sprint button at their fingertips.
Indeed with all the updates, and the fact that the new Top Fuel has double the travel of the Supercaliber, there is now an even bigger gap between these two bikes. Riders who are still interested in some part-time XC racing, but aren't sold on the Supercaliber's sharp geometry and proprietary IsoStrut suspension design, may be turned off by the Top Fuel's new attitude.
Of course you could easily inject some speed with some lighter and faster-rolling tyres, like Bontrager's XR2. There's also around half a kilo to be saved in the wheelset, which would make a significant difference to the Top Fuel's acceleration and climbing enthusiasm.
You could also flip the Mino Link into the High position to steepen the angles. In that guise, with lighter wheels and faster tyres, the Top Fuel would make for a comfortable and confidence-inspiring option for those wanting to sign up for the odd endurance race or multi-day event. If you're serious about your XC racing though, this is not the bike for you – you'll be wanting to look at the stupendously efficient Supercaliber for such endeavours.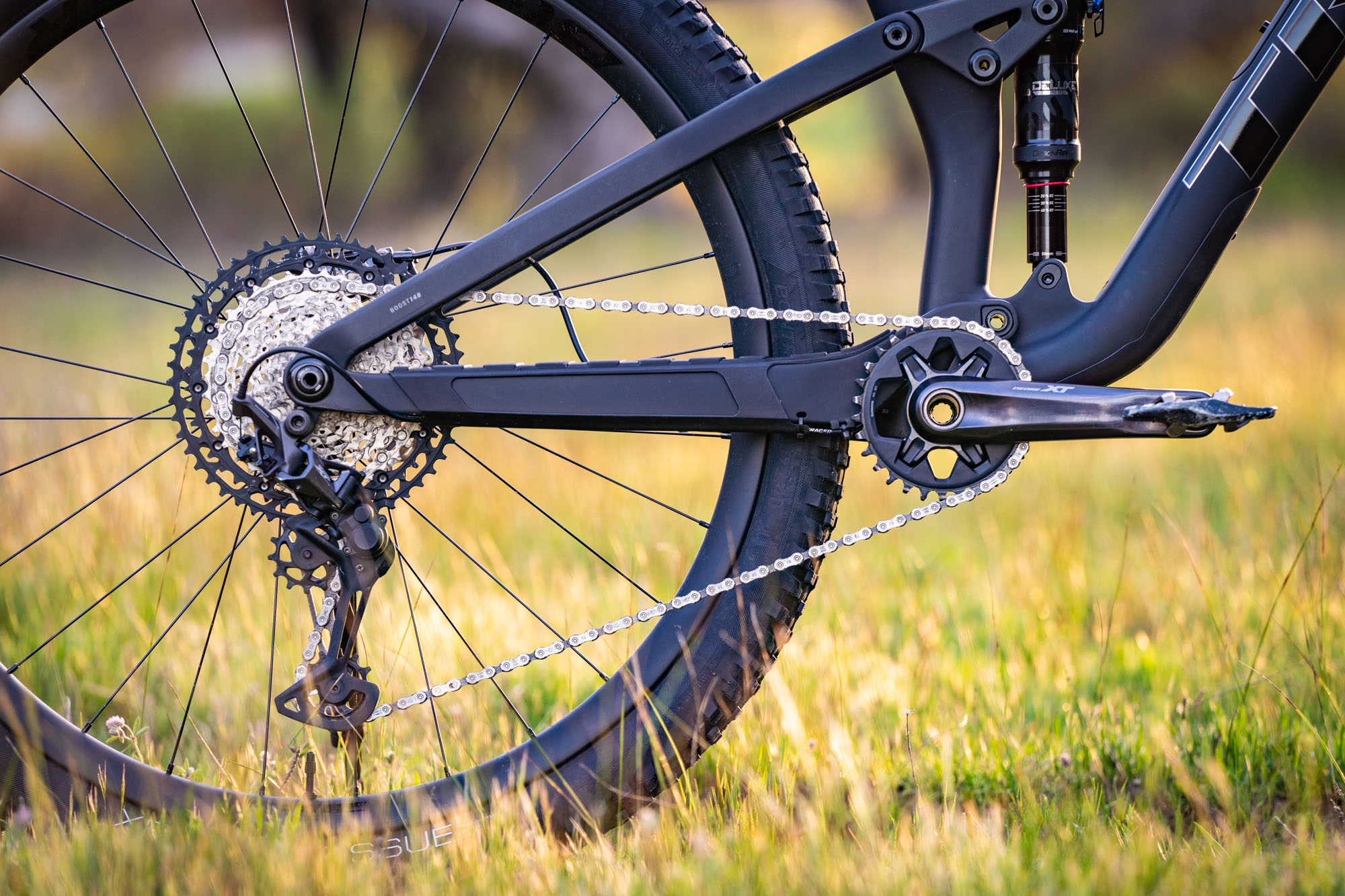 Component highs & lows
The 2022 Trek Fuel 9.8 XT is a solid package out of the box, especially when you consider it comes in $1,600 cheaper than the 2021 model. And that's with a pretty much identical build kit. How has a new bike gotten cheaper in the midst of a global pandemic and industry-wide component shortages? Heck knows!
There's not a lot to be said about the Shimano XT groupset – it works, it's solid, and it's easy to tune. The I-Spec mounts offer plenty of adjustability for getting the brake and shift levers into the right spot, and the integrated dropper lever is a nice touch too.
The RockShox suspension isn't quite as sensitive as the Fox equivalent, particularly the SID Select+ fork, which felt a little stickier than we expected. Otherwise the fork and shock perform well, and the ease of setup is great.
The Bontrager dropper post works fine, but the action is sluggish compared to some of its competitors. And while the carbon handlebars offer a nice profile, having spent a lot of time on OneUp handlebars lately, the Bontrager Line Pro feels considerably harsher in comparison.
We've had excellent long-term experience with Bontrager's latest Line Pro & Line Elite carbon wheels, which feature thick carbon beads that are designed to increase impact strength while also reducing the chance of pinch-flats. They're totally solid and come with an excellent crash-replacement guarantee, while the buzzy 108pt engagement freehub delivers rapid pickup at the pedals. As mentioned earlier though, they are heavy, providing an opportunity to drop significant weight with a wheel upgrade.
Otherwise we've been impressed with the frame finish so far. The Mino Link is simple and effective, the Knock Block is totally unnoticeable on the trail, and we're big fans of the built-in storage from the Burrito Box. Or is it the Kebab Cave? Maybe a Sausage Roll Hole? Sushi Shaft? Cannoli Cavity? Hot Dog Hollow? Spring Roll Room?
Alright, alright! We'll show ourselves the door…the door that leads into the Spring Roll Room – ha!
Flow's Verdict
Tying together a whole suite of updates to the frame and suspension design, there are no doubts that the new Trek Top Fuel is a more capable bike than its predecessor. It's still very efficient, but having adopted a more progressive approach to its geometry, it delivers a significant improvement in stability. Along with the active ABP suspension design and chunky tyres, there's an exceptional amount of grip and support on offer for a 120mm travel bike.
With all those changes, the Top Fuel moves even further away from the Supercaliber. And for some riders, that gap will be a little too wide.
Trek seems happy to have a clear delineation between the two platforms though. This differs from some other brands that utilise a single frame, and simply up-fork and up-shock it to create a slightly longer travel bike (like the Specialized Epic EVO and Orbea Oiz TR). The Top Fuel is not one of those bikes.
Instead of being a long-legged Supercaliber, it's really a shrunken-down Fuel EX, albeit one with more contemporary geometry. And having ridden both bikes, unless you really need the extra travel of the Fuel EX, this is arguably the better option.
Sure it may have put off the weight-weenies and lockout-lovers, but there's no denying that the Top Fuel has broadened its appeal to an even wider range of riders, and we reckon it's more fun as a result.
---
2022 Trek Top Fuel 9.9 XTR
Frame | OCLV Mountain Carbon Fibre, ABP Suspension Design, 120mm Travel
Fork | Fox 34 Step-Cast, Factory Series, FIT4 Damper, 44mm Offset, 120mm Travel
Shock | Fox Float DPS, Factory Series, 185x50mm
Wheels | Bontrager Line Pro 30, OCLV Carbon Rims, 29mm Inner Width
Tyres | Bontrager XR4 Team Issue 2.4in Front & Rear
Drivetrain | Shimano XTR 1×12 w/e*thirteen TRS Race Carbon 30T Crankset & 10-51T Cassette
Brakes | Shimano XTR Race 2-Piston w/Ice Tech Rotors
Bar | Bontrager RSL Integrated, OCLV Carbon, 27.5mm Rise, 820mm Width
Stem | Bontrager RSL Integrated, OCLV Carbon, Length: 35mm (S), 45mm (M-XL)
Seatpost | Bontrager Line Elite Dropper, 34.9mm Diameter, Travel: 100mm (S), 150mm (M-M/L), 170mm (L), 200mm (XL)
Saddle | Bontrager Arvada Pro, Carbon Rails
RRP | $14,199 AUD
2022 Trek Top Fuel 9.7
Frame | OCLV Mountain Carbon Fibre, ABP Suspension Design, 120mm Travel
Fork | Fox Rhythm 34, GRIP Damper, 44mm Offset, 120mm Travel
Shock | Fox Float DPS, Performance Series, 185x50mm
Wheels | Bontrager Line Comp 30, Alloy Rims, 29mm Inner Width
Tyres | Bontrager XR4 Team Issue 2.4in Front & Rear
Drivetrain | Shimano SLX/XT 1×12 w/Deore 30T Crankset & 10-51T Cassette
Brakes | Shimano SLX 4-Piston
Bar | Bontrager Line, 27.5mm Rise, Width: 750mm (S), 780mm (M-XL)
Stem | Bontrager Elite, 45mm Length
Seatpost | TranzX Dropper, 34.9mm Diameter, Travel: 100mm (S), 150mm (M-M/L), 170mm (L), 200mm (XL)
Saddle | Bontrager Arvada, Steel Rails
RRP | $6,299 AUD
2022 Trek Top Fuel 8
Frame | Alpha Platinum Alloy, ABP Suspension Design, 120mm Travel
Fork | RockShox SID, Rush RL Damper, 44mm Offset, 120mm Travel
Shock | RockShox Deluxe Ultimate RCT, 185x50mm
Wheels | Bontrager Line Comp 30, Alloy Rims, 29mm Inner Width
Tyres | Bontrager XR4 Team Issue 2.4in Front & Rear
Drivetrain | Shimano SLX/XT 1×12 w/Deore 30T Crankset & 10-51T Cassette
Brakes | Shimano Deore 4-Piston
Bar | Bontrager Line, 27.5mm Rise, Width: 750mm (S), 780mm (M-XL)
Stem | Bontrager Elite, 45mm Length
Seatpost | TranzX Dropper, 34.9mm Diameter, Travel: 100mm (S), 150mm (M-M/L), 170mm (L), 200mm (XL)
Saddle | Bontrager Arvada, Steel Rails
RRP | $5,299 AUD
2022 Trek Top Fuel 5
Frame | Alpha Platinum Alloy, ABP Suspension Design, 120mm Travel
Fork | RockShox 35 Silver RL, Motion Control Damper, 44mm Offset, 120mm Travel
Shock | X-Fusion Pro 2, 185x50mm
Wheels | Bontrager Alloy Hubs & Alex MD35 Rims
Tyres | Bontrager XR4 Team Issue 2.4in Front & Rear
Drivetrain | Shimano Deore 1×12 w/Deore 30T Crankset & 10-51T Cassette
Brakes | Shimano MT200 2-Piston
Bar | Bontrager Comp, 15mm Rise, 750mm Width
Stem | Bontrager Rhythm Comp, 50mm Length
Seatpost | TranzX Dropper, 34.9mm Diameter, Travel: 100mm (S), 150mm (M-M/L), 170mm (L-XL)
Saddle | Bontrager Arvada, Steel Rails
RRP | $3,499 AUD