Happy Freedom Day/Week/Month to all you Flow Frothers! Since we last caught up, a big chunk of the Aussie population has emerged from lockdown to smell the fresh air of the outdoors, just in time for the warming spring weather. The flowers are out, the dirt is fresh, the braking bumps are non-existent, and the beer on tap at the local after-ride spot has never tasted so good.
To celebrate our newfound freedoms and the impending arrival of summer holidays, we have got a whole load of exciting trail news and bike reviews to get you inspired and revitalised.
Firstly, for those who have a Tasmanian-based itch that needs some serious scratching, be sure to check out what's new at Maydena Bike Park. Don't forget about Derby either, which has a load of family-friendly fun on offer for little kids and big kids.
There's also some exciting things happening in northern NSW around the idyllic coastal town of Woolgoolga, which has developed a great reputation for its new gravity trail network. It's not all good news on the trail building front though. If you haven't checked it out yet, do yourself a favour and read Colin's in-depth feature on what's been going on with the much-hyped Glenworth Valley Bike Park.
We've also been inundated with a whole gaggle of new test bikes here at Flow HQ, including some we can't talk about just yet. The ones we can talk about? That would be the new Norco Range and Scott Spark. Canyon has also released its new 2022 Spectral lineup, and we've been testing the Spectral CF 8 CLLCTV – a rowdy bike that features a mullet setup with a coil shock. Not to be left out, Spanish brand Mondraker has also updated its Foxy and added the brand new Raze.
How's that for some post-lockdown inspiration? Huh? You need a little more? Well alright then – get ready for a frrresh edition of Flow's Fresh Produce coming right atcha!
---
Specialized Gambit Full Face Helmet
The Specialized Gambit is a brand new full face helmet that's designed with low weight and high ventilation in mind. Ideal for enduro racers and trail riders, the Gambit weighs in at just 675g for our Medium sized test helmet. To put it into perspective, that's about double the weight of a half-shell helmet like the Specialized Tactic, but it's actually a lot lighter than a full-on DH lid, which typically weigh over the kilo mark. More importantly, it's a bit lighter than its main competitor, the Fox Proframe (755g confirmed).
There's a heap of ventilation built into the Gambit, with deep internal channels that are designed to keep air circulating over your sweaty noggin. The overall fit and finish is much closer to a regular trail helmet, with a standard buckle and an integrated fit system that allows you to snug down the harness and tweak the vertical position of the cradle. The cheek pads are also adjustable, and an extra set is included in the box for fine-tuning the fit.
Despite the low weight, the Specialized Gambit is still certified for downhill use, employing a strong carbon fibre shell that wraps around a 5-piece foam core. Inside is a MIPS SL liner to manage rotational impact forces, and up top is a fixed visor with a breakaway feature.
The additional protection has been very much welcome on some more downhill-oriented e-MTB rides lately, where its overall comfort and ventilation makes it much more bearable to climb with compared to a traditional full face. If you need a full face for shuttling or an upcoming enduro race, and you find regular full face helmets a little too claustrophobic, the Specialized Gambit is a stylish and full-featured option.
---
Specialized 2FO Roost Canvas Flat Pedal Shoes
For the flat pedal lovers out there, here's another option to put on your list. These are the new Specialized 2FO Roost Canvas, which is a variation of the latest 2FO Roost shoes that were released late last year.
What's the difference? The clue's in the name. These guys make use of a durable canvas upper, instead of the suede and leather construction on the regular 2FO Roost shoes. That should make them more resistant to cuts and tears from trail damage, and so far we've found them to be more breathable on hot days too.
The SlipNot ST rubber outsole remains, which is one of the stickiest and most well-damped soles out there. You also get a cushioned EVA foam midsole for impact absorption, and there's reinforcement around the toe box for when you roundhouse kick a tree.
As with the regular 2FO Roost shoes, the fit is supple and very comfortable. The laces are easy to dial in the right tension over the top of the shoe, and an elastic loop keeps them away from your bike's drivetrain. The sole isn't as stiff or as well-cushioned as the 2FO DH shoe, which is better suited to hardcore bikepark use and all-day pedalling missions. For regular trail riding and messing around town, we really dig the casual style and comfort of the 2FO Roost shoes.
---
Giro Manifest Spherical MIPS Helmet
The Giro Manifest is a new high-end trail helmet that features the unique MIPS Spherical technology that first debuted on the Aether road helmet. Aaand what's that all about? Well instead of putting a standard MIPS liner on the inside of the helmet, Giro has constructed the Manifest with two shells. The mating surfaces between the two shells are smooth to simulate a ball-and-socket interface, creating a hard-plastic slip plane so that the two shells can slide against one another. Elastomer anchor points then join the two shells together to control that sliding movement.
It's a very clever design that allows Giro to employ a dual-density construction. The inner shell is made from a softer low-density foam for managing low-speed impacts, while the outer shell is made from a high-density foam to handle high-speed impacts. The outer shell is further reinforced with a shatterproof arch that claims to boost the helmet's overall integrity in the event of a catastrophic show-stopper crash.
The other advantage of the Spherical MIPS design is immediately noticeable when you first put it on. Since the wobbly bit isn't right against your head, but rather between those two shells, the inside of the helmet is able to fit much more snugly and securely than a helmet equipped with a traditional MIPS liner. It's super comfortable to wear, with the generous padding and rubber-lined harness giving it a luxurious feel.
And it should feel luxurious given the $420 AUD price. Then again, it is playing in a similar market to the POC Kortal and TLD A3 helmets, and we'll point out that both of those helmets weigh over 400g. Our Medium-sized Giro Manifest comes in at 369g, making it one of the lighter trail helmets on the market.
It still comes with plenty of bells and whistles, including the superb Roc Loc Trail Air Fit system. You also get integrated grippers for your sunglasses arms, an adjustable visor, a magnetic buckle, and a gripper at the rear of the helmet for goggle use. Whether the high-tech construction is worth the asking price is up to you, but there's no denying this is one comfortable and beautifully finished lid.
---
CushCore Pro & XC Insert Kits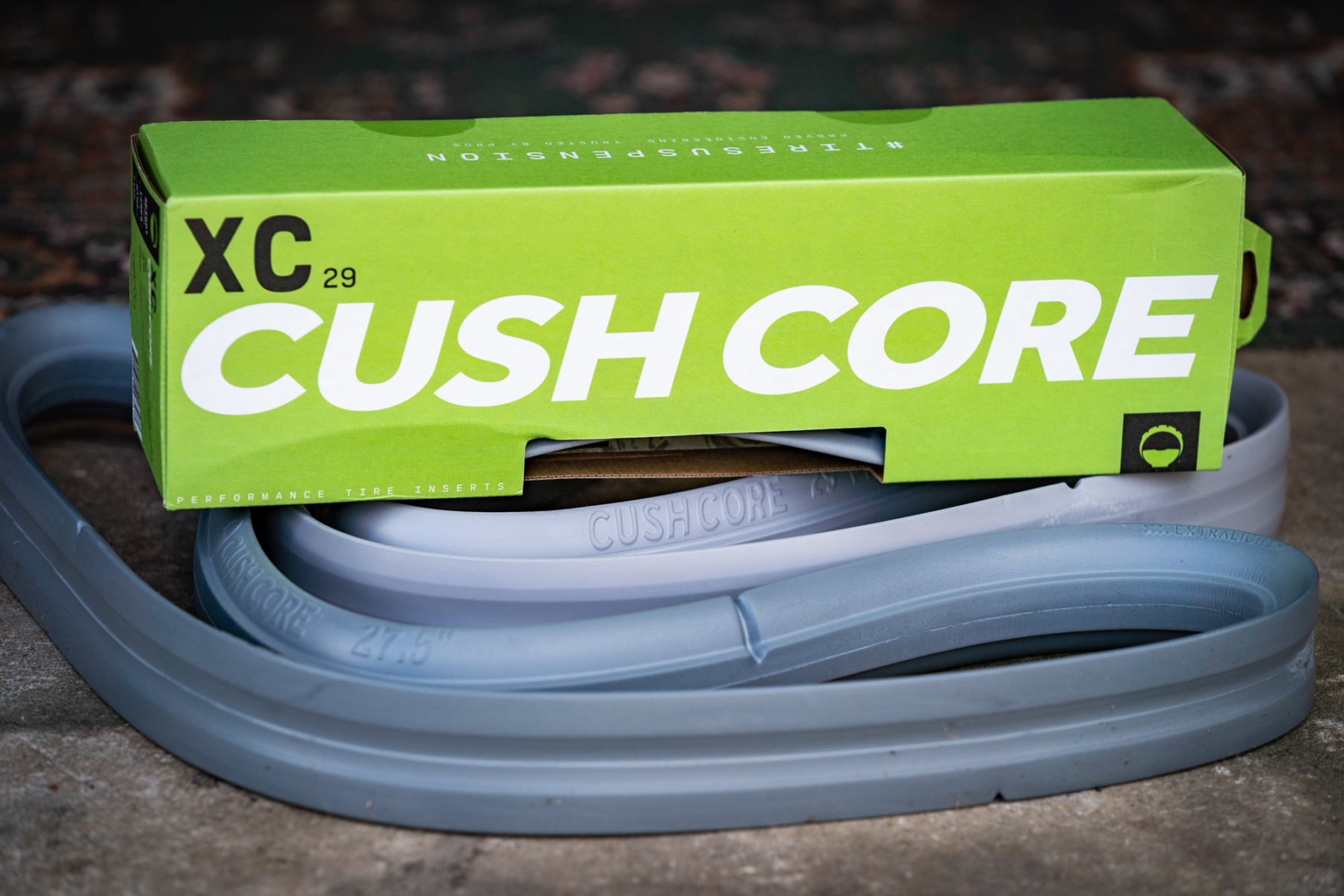 Anytime our Tech Editor Wil has ridden without a tubeless tyre insert lately, the inevitable has happened. And it really grinds his gears when it does. To avoid having to hear his constant whingeing, new company policy at Flow dictates that Wil has to install an insert into the rear wheel of every test bike. So, well, here we are!
Arriving just in the nick of time to fit to a bunch of secret test bikes that have turned up at Flow HQ, we've got two separate CushCore kits from Aussie distributor BikeBox. You can buy inserts individually, but you save a few bucks buying them as a pair.
First is the mullet kit, which includes a 29in and a 27.5in Pro insert and two insert-compatible tubeless valves. The Pro inserts are designed to fit to rims with a 22-35mm internal width, and tyres from 2.1-2.6in wide. Built for heavy duty trail riding and enduro racing, the Pro inserts weigh in at 250-260g each, making them one of the heavier insert options on the market.
We've also got a pair of the CushCore 29 XC inserts, which are lower volume and much lighter at around 150g each. These can be used with wheels with a 22-32mm internal rim width, and with tyres from 1.8-2.4in wide.
As well as drastically reducing the chance of pinch flats and rim damage, the CushCore inserts sit tightly against the beads of the tyre, reducing tyre roll through the corners and pretty much eliminating the chance of burping. We've also found that the increased damping helps to quieten down general trail noise.
Because of the decreased risk of flatting, it's possible to opt for a lighter weight tyre casing for a more supple ride quality with improved comfort and traction. Yes they require more time and effort to install, but after a few goes it becomes a surprisingly easy process. And factoring in all of the benefits (and given what usually happens if we don't use an insert), we have no trouble recommending these.
---
Ergon GE1 EVO Factory Grips
One of our favourite grips on the market, the Ergon GE1 features a discreetly ergonomic profile that was initially championed for enduro racers using wide handlebars. The shape and texture has been updated since it first debuted, with a directional and serrated tread pattern that's designed to increase traction and reduce hand pressure.
As with all Ergon grips, there's a bit more going on inside the GE1s too. The plastic core has cutouts in key zones, which increases the volume of rubber to improve damping on both the inside and outside of your palms. Ergon also offers these grips in Standard and Slim sizes, allowing to pick the right diameter for your personal preference.
The GE1s feature a cold forged and CNC machined alloy lockring, which comes in a jazzy oil slick finish on these Factory edition grips. We like that they use a 3mm hex key for installation, which feels a lot more durable than the 2.5mm bolts used on many other lock-on grips.
But mostly we love the profile, which encourages an elbows-out riding position. The soft rubber compound and tactile tread pattern gives it a high-traction feel, and while they might not have as much damping as a thicker grip (like the Ergon GD1), they offer excellent feedback for those who want it.
---
PRO Fine Adjustment Screwdriver Set
We've had some new tools from PRO Bike Gear turn up for the Flow workshop, which includes this cute little set of screwdrivers. There are four in the box, which includes a 2mm and 2.5mm hex key, a JIS#1 (read: small Phillips head), and a flat-blade screwdriver.
The length and slim diameter makes these ideal for difficult-to-reach spots, like derailleur limit screws. And for overly stubborn bolts, the free-spinning top allows you to push the tool in with one hand, while rotating the barrel with your other hand.
---
PRO Team Chain Tool
PRO offers a huge range of tools, some of which are available in a standard version and a higher end 'Team' version. Here we've got the Team Chain Tool, which gets a sleek heat-treated steel construction, an ergonomic grip profile and a longer drive wing for increased leverage. It's more expensive than a basic chain tool, but those touches are likely to be appreciated by fastidious shop and home mechanics.
The PRO Team Chain Tool is compatible with 8, 9, 10, 11 & 12-speed chains, with a spring-loaded cradle that automatically adjusts the tool to the width of the chain. If you do manage to come a cropper, a spare drive pin is included inside the grip.
---
PRO Y-Wrench Hex
There's not a lot to be said about the humble Y-Wrench, except that it's one of the most used tools in our workshop. With 4mm, 5mm and 6mm hex keys at the ready, you're covered for all the common adjustments on most mountain bikes, and the Y-shape allows you to get decent leverage too. You can also get this tool in a Small version with 2mm, 2.5mm and 3mm hex keys.
---
Thule Universal Light Board
We recently got our hands on a fresh Thule T2 Pro XTR bike rack for some upcoming riding trips planned for the summer. It's a solid rack that's purpose-built for mountain bikes of most shapes and sizes, and we love how the rack only clamps down onto the bike's wheels, rather than clamping any part of the frame.
The downside of the T2 Pro XTR rack is that there's no specific mounting point for a number plate, and it also doesn't have any integrated lights. That's not such a big deal in the US where the design for this rack was initially conceived, though it is a problem in most parts of Australia, due to the bikes obscuring both the taillights and number plate. Thule's solution to this problem is called the Universal Light Board, which will set you back another $159 AUD on top of the price of the rack itself.
The Thule Universal Light Board provides you with a space to fit your number plate, and connects to your car via a standard 7-pin round connector to power the various brake and indicator lights. The board is designed to work with any rack, whether it's Thule-branded or not, using two simple toe straps to mount to the most rearward-placed bike.
In use the Universal Light Board does exactly what it's meant to, but we think it needs serious refinement. The board itself is made from hard plastic, which initially scratched both the seatstays and fork of one of our bikes. We've since taped on some foam padding to the backside to prevent any further damage. The straps are also awkward to use, especially if you're installing the board on a regular basis. We've gotten used to the faff, but overall the design seems like a bit of an afterthought, particularly when you're using it with a rack that costs $1,299 AUD.
We really like the function of the rack itself, so we'll carry on using the Universal Light Board as needed. However, we'd love to see Thule provide a more integrated solution for the T2 Pro XTR rack in the future.