Wil reviews the Fox 34 SC vs RockShox SID
One of the more significant trends in the world of XC racing over the past couple of years has been the steady increase in suspension travel. Bikes like the latest generation Scott Spark, Orbea Oiz and Specialized Epic EVO have all added precious millimetres over their predecessors, and in the process have forged a new path for tackling increasingly technical World Cup XC race courses.
Of course, an integral component of this progression has been the introduction of lightweight 120mm travel XC forks.
The original Fox 34 Step-Cast kicked things off in 2018, and that was followed by the RockShox SID in 2020. Compared to the skinny XC forks at the time, these new-school options featured bigger stanchions that allowed for a considerably stiffer chassis along with more room for higher-volume air springs. The result was a lightweight fork that offered the kind of suppleness and support that we were used to experiencing in much heavier and longer travel suspension.
While Fox and RockShox continue to offer skinnier options in the 32 Step-Cast and SID SL, we're seeing more XCO racers gravitating towards the chunkier alternatives. As a mid-pack XC rider and racer myself, I'm a big fan of these new forks, and I've spent a lot of time on each over the past three years. With that experience at hand, I decided it would be interesting to pitch the latest forks in a head-to-head review.
Fox 34 Step-Cast
Having received a ground-up redesign for 2022, the Fox 34 Step-Cast is the newest fork of the two.
The latest model continues to use 34mm diameter upper tubes, and it's still optimised around 120mm of travel. The chassis and air spring have otherwise changed a lot.
Compared to the original version, the 34 Step-Cast is now solely a 29er fork designed for Boost hub spacing. It features a narrower stance with redesigned lowers that feature a rounded arch like the 34, 36 and 38. The result is a significant weight reduction of almost 150g over the old 34 Step-Cast.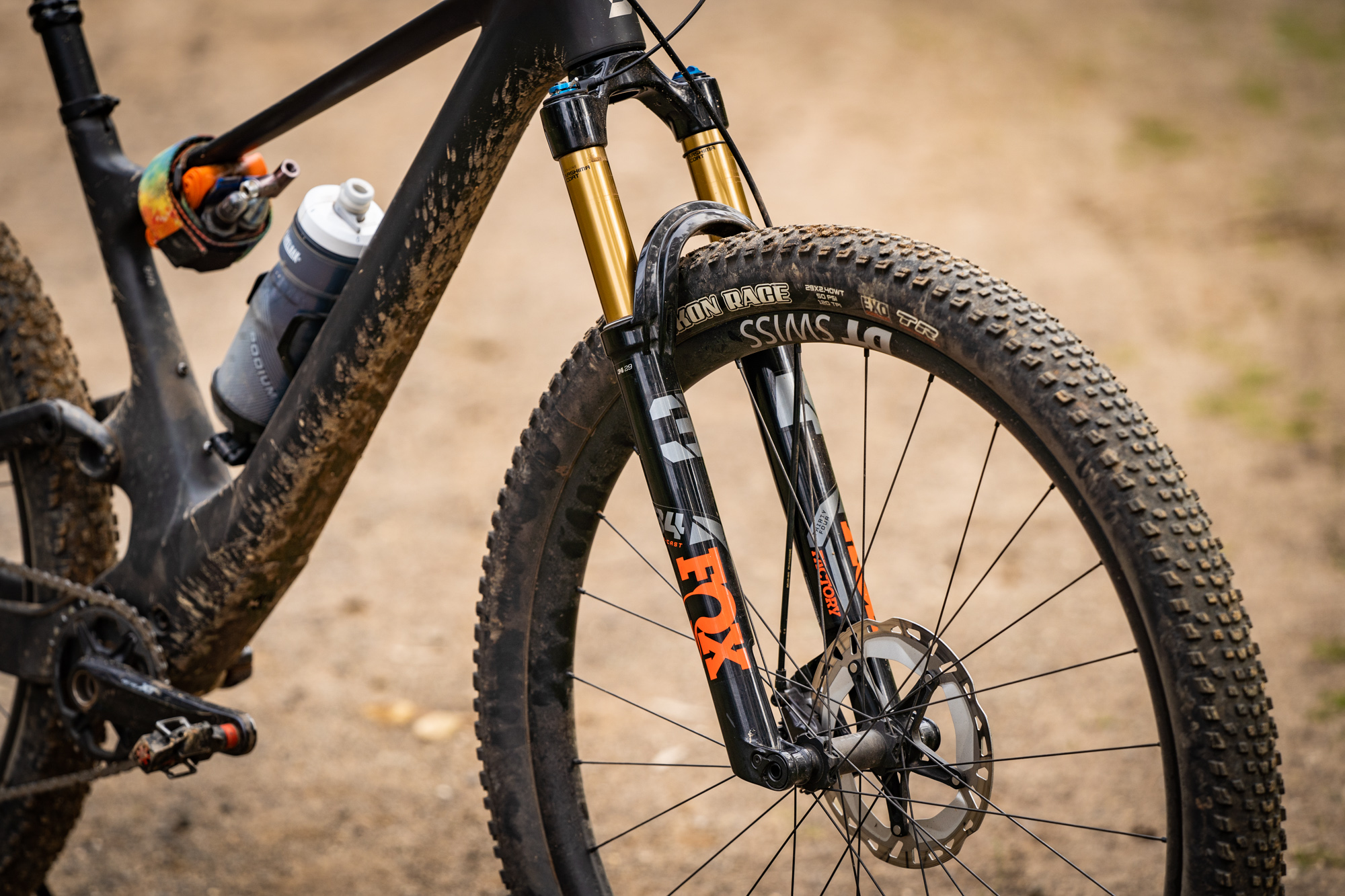 The EVOL air spring has also been updated, and it's now possible to tune the volume of both the positive and negative air chambers. While it's primarily offered with 120mm travel, Fox offers 100 and 110mm air springs aftermarket. You can also get the 34 Step-Cast with a FIT4 or GRIP damper, and it's available in a remote lockout version too. There's even a Live Valve version that comes on higher-end Giant Anthem models.
I've tested several variations of the latest fork on bikes, including the Canyon Lux Trail, Giant Anthem and Scott Spark RC, and have been thoroughly impressed with its performance. For the full rundown on all the details, see our Fox 34 Step-Cast review for more.
RockShox SID
The latest RockShox SID was introduced in 2020 alongside the SID SL. Whereas the SID SL uses a skinny 32mm chassis and offers just 100mm of travel, the SID is the bigger and badder brother with 120mm of travel and 35mm diameter upper tubes.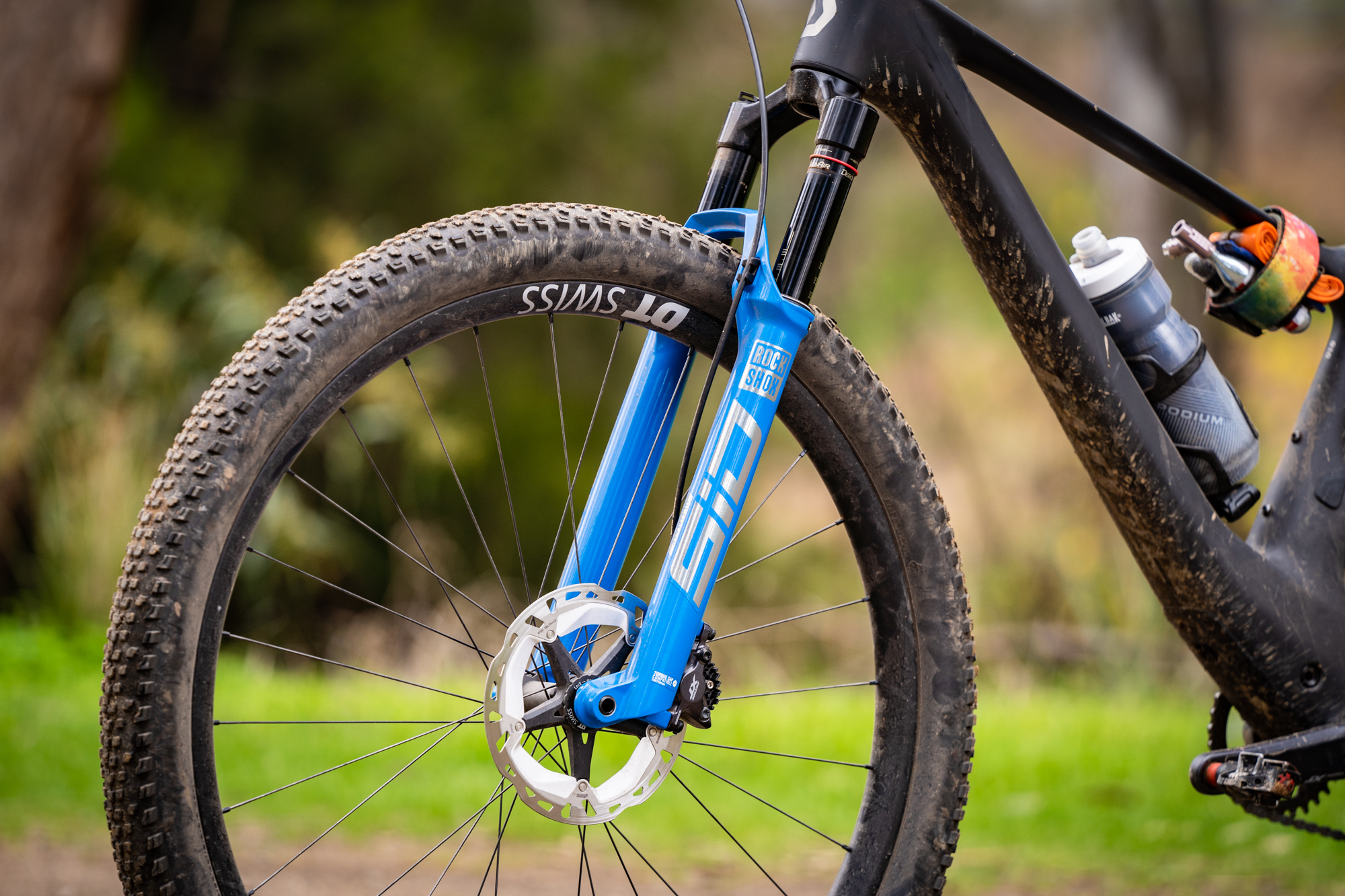 Its chunky chassis houses a high-volume DebonAir spring in one leg, and the incredibly minimalist Charger Race Day damper in the other. Claimed to weigh just 99g on its own, the damper assembly is pared back to the extreme to reduce as many grams as possible. This is particularly evident in the rebound adjuster, which is basically a removable 2.5mm L-shaped hex key.
To further reduce weight the lower legs are sculpted around the brake mount and hollow towards the dropouts, which allows the air spring and damper to be made shorter. There's a slender arch, a forged alloy crown with nicely machined edges, and even an itty-bitty air valve cap.
The minimalist approach carries through to the adjustments. The top of the SID's damper features just a simple two-position lockout with no separate low-speed compression adjustment. There are crown-mounted and remote-activated options, the latter of which pairs up nicely with the latest TwistLoc remote. While the SID is typically offered with 120mm of travel, 110 and 100mm air springs are available aftermarket for shortening the travel.
I've now tested the SID on a number of bikes including the Santa Cruz Blur, Merida Ninety-Six, Trek Supercaliber, Specialized Epic EVO and Scott Spark. Check out our RockShox SID review for the lowdown.
Price – RockShox SID vs Fox 34 Step-Cast
For this head-to-head comparison, we're looking at the most premium models in the range; the Fox 34 Step-Cast Factory Series and the RockShox SID Ultimate.
It's worth noting that both forks are available in a cheaper variant. Here's a look at the pricing of the four different forks, all with standard crown-mounted controls;
Fox 34 Step-Cast Factory Series – $1,639 AUD
RockShox SID Ultimate – $1,509 AUD
Fox 34 Step-Cast Performance Series – $1,389 AUD
RockShox SID Select – $1,191 AUD
As you can see, the RockShox SID comes in quite a bit cheaper than the equivalent Fox 34 Step-Cast.
Weight – RockShox SID vs Fox 34 Step-Cast
When it comes to weight for the Fox 34 SC and RockShox SID, it's literally a dead heat. With the steerer tubes cut to 165mm and a star nut installed, both forks weigh 1,517g each.
That's an impressive figure for a 120mm travel fork, and it's worth pointing out that they're both a solid 300g lighter than the regular 34 and Pike.
If weight is your main concern and you only need 100mm of travel, then you'll be happy to know that Fox is continuing to offer the 32 Step-Cast (1,408g), and RockShox has the SID SL (1,300g). As we all know however, a fork's performance isn't just about the number on the scale.
Fit & finish
No doubt about it, the Fox 34 Step-Cast and RockShox SID are built to a very high standard.
The SID Ultimate can be had in bodacious blue and stealthy back, both with black anodised upper tubes. The Fox 34 Step-Cast offers a bit more bling with its Kashima coated upper tubes, and combined with the optional orange lowers, it's certainly a loud and distinctive fork.
If I was to split hairs, I'd say that the 34 Step-Cast is a little more refined. The anodised adjusters have nicely defined clicks, and the rebound adjuster, in particular, feels more solid compared to the skimpy hex key on the SID.
Installation is straightforward with both forks. Both forks have official clearance for 2.6in tyres and are offered with a 44mm offset (the 34 Step-Cast is also offered with a 51mm offset). It's worth noting that the 34 Step-Cast can take a 160-180mm rotor, while the SID will accommodate bigger 180-220mm rotors.
I like the tool-free brake hose guide on the SID, and the fact that it features Torque Cap compatible dropouts. You can fit a standard thru-axle hub in there, but it'll also accommodate a hub fitted with larger Torque Caps, which use an oversized 31mm diameter end cap that increases the surface contact between the fork and hub. Many hubs on the market are offered with Torque Caps, and it's a pretty straightforward upgrade to help improve steering precision.
Setup & adjustability
Setting up the RockShox SID and Fox 34 Step-Cast is straightforward, thanks to the pressure guides printed on the back of the fork lowers.
RockShox then complements this with its Trailhead app that gives you suggested pressure and rebound settings based on your riding weight. Fox also has a detailed manual to help explain the air volume and compression adjustments for those who want to dive a little deeper.
It has to be said that when it comes to overall adjustability, the Fox 34 Step-Cast has more to offer. The FIT4 damper provides you with a 3-position adjuster with Open, Medium and Firm settings. You've also got a separate low-speed compression dial that allows you to fine-tune the damping of the Open mode.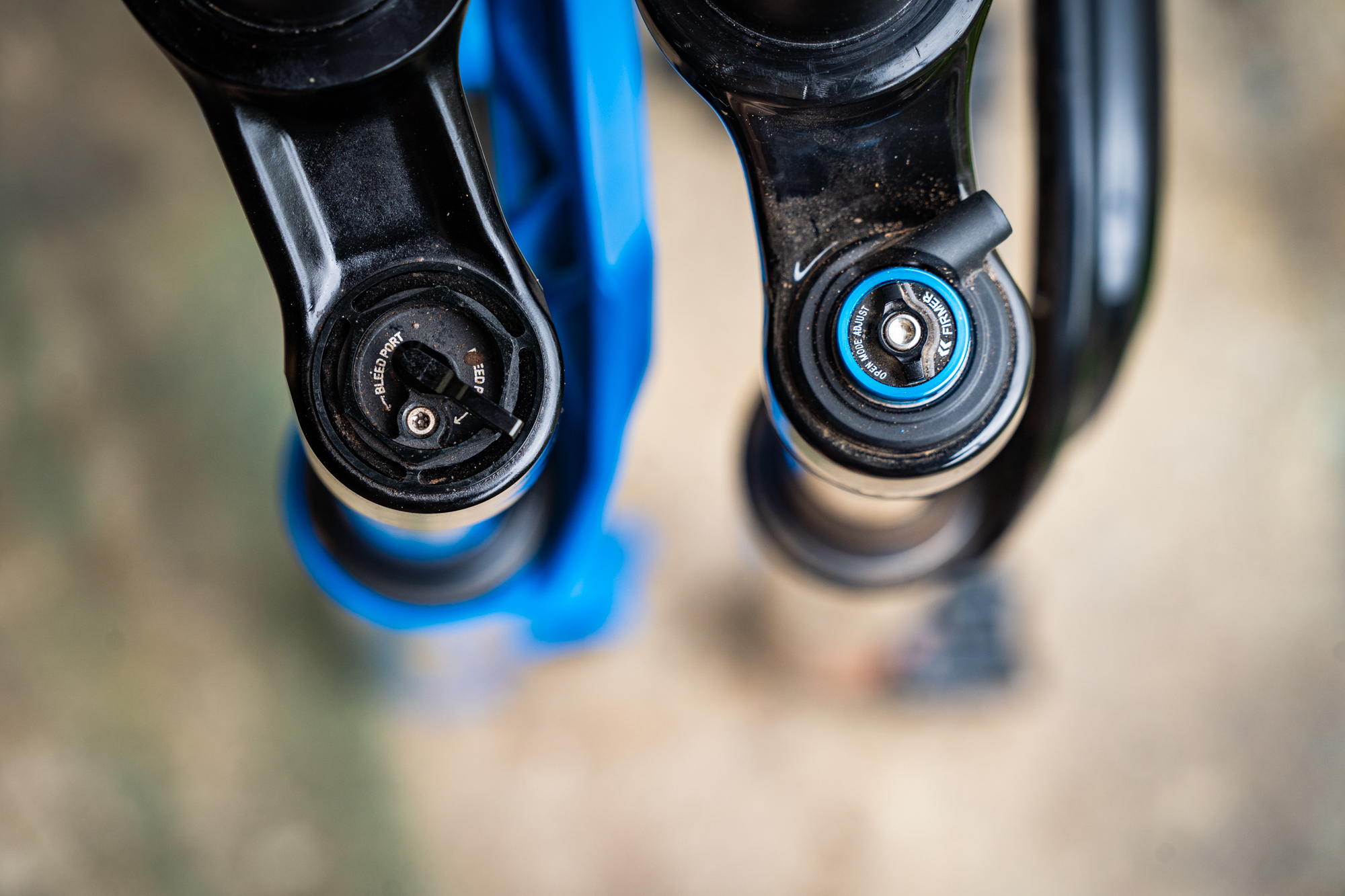 The RockShox SID is far simpler, with just a 2-position lockout and adjustable rebound damping. Easing setup further, you don't need to cycle the fork through its travel to equalise air chambers. This is because the main seal head sits directly over the transfer port at full travel. Simply inflate to the recommended pressure, set the rebound clicker, and away you go.
The SID comes from the factory with no Bottomless Tokens fitted, and you can fit up to three. The DebonAir spring is already quite progressive though, and I've never managed to fully bottom it out. This could potentially an issue for lighter riders, who may struggle to use all of the travel.
In its 120mm travel configuration, the Fox 34 Step-Cast comes fitted with a single volume spacer. You can fit a total of four to increase progression for bigger riders, or remove spacers to make it more linear for lighter folks. There's even the option to add a volume spacer into the negative chamber to provide a firmer, off-the-top feel. Along with the extra adjustability of the FIT4 damper, there's a lot of room to move when dialling in the setup of the 34 Step-Cast.
Performance – RockShox SID vs Fox 34 Step-Cast
Now I need to preface this section by saying that the RockShox SID and Fox 34 SC are exceptionally good XC forks, and I've been impressed with both on a variety of bikes over past couple of years.
More recently, I decided to embark on some more nuanced back-to-back testing to really dig into the differences. I first did this with the Scott Spark RC, though I've since had both forks serviced and lowered with 110mm air springs so I could also test them on my personal Chisel LTD and the Canyon Lux World Cup. With each fork prepped with fresh seals and oil, here's the differences that stood out to me.
Out of the two, the Fox 34 Step-Cast feels racier. This comes down to a combination of its chassis, spring behaviour and damper support. On the trail, it sits higher in its travel, and it feels more resistant to pedal bob and brake dive.
The EVOL air spring is more linear, offering a consistent level of spring force throughout the travel. This gives it a predictable feel and good activity deeper into its stroke, where it seems to offer a little more compliance. Thanks to the adjustable low-speed compression damping however, it's possible to make it quite firm for racing on smoother courses. The increased damping support is also beneficial for heavier and sportier riders.
In comparison, the RockShox SID feels a bit more like a shrunken-down version of the Pike. It's got the edge on small-bump sensitivity, and it delivers excellent front wheel grip through loose and rough conditions. It feels nice and active, offering great comfort when you're seated and pedalling up a technical climb.
The chassis feels a touch sturdier too, likely due to the bigger 35mm upper tubes. I'll note that steering precision improves further when you pair it with a front hub fitted with Torque Caps, which is a bonus upgrade that I'd implore RockShox owners to exploit. The DebonAir spring is also inherently more progressive, with plenty of ramp-up that provides you with excellent big-hit support.
The summation of all those attributes means the SID is more comfortable being pushed harder on the descents. For riders looking for a trail-lite kinda vibe, the SID certainly hits the spot.
Because it is so plush however, on occasion I've found myself wishing for a setting in between the Open/Lock positions. We'd also be keen to see RockShox add adjustable low-speed compression damping, which would allow you to dial in greater support on flowier trails.
Servicing & warranty
Having spent plenty of time on multiple SID and 34 Step-Cast forks over past couple of years, I'm happy to report that we're yet to encounter any significant issues to speak of.
I've serviced each fork myself and swapped around air springs, and providing you have the right tools, the process is pretty achievable for most home mechanics. Spare seals and oil are readily available for lower leg services, though I'd be inclined to send the fork to a specialised service centre for more in-depth servicing and damper rebuilds.
On that note, RockShox recommends performing a lower leg service every 50 hours, and a full service every 200 hours. Fox sits in between with a full service recommended for every 125 hours of ride time, or once per year.
One potential advantage that the 34 Step-Cast has is the addition of oil channels on the back of the lowers. These are designed to help splash fluid in both of lowers to keep seals lubricated, particularly if you store bike by hanging up front wheel. It's hard to measure the real-world benefit, but anything that keeps the foam rings properly lubricated can only be a good thing.
While I've not run into any problems with the SIDs we've tested over the past three years, there are some reports online from owners that have experienced bushing knock. This would typically be chalked up as a manufacturing defect, which would be covered by RockShox' generous 2-year warranty. In comparison, Fox only offers a 12-month warranty.
Flow's Verdict
So out of the Fox 34 Step-Cast and the RockShox SID, which fork gets my pick?
Given the price difference and the generous warranty, it'd be hard to go past the SID Ultimate. It delivers excellent sensitivity and impressive big-hit control that inspires confidence when pushing a lightweight XC bike to its limits on the descents. I also quite like its minimalist adjustments, the ease of setup, and how tidy everything is when you pair it with a 180mm rotor and a hub fitted with Torque Caps.
Preferences aside, I do think serious XC racers will prefer the sportier feel of the Fox 34 Step-Cast. There's a greater degree of tuning flexibility with the FIT4 damper, which allows you to dial in a more nuanced level of compression damping. Lighter riders will also benefit from the option of removing volume spacers if needed.
If I were spending my own cold-hard cash however, I'd also be throwing the Performance Series 34 Step-Cast in to the ring. The GRIP damper adds close to 100g of weight, but it also offers more sensitivity and comfort, particularly for lighter riders. If you're not fussed by the blingy Kashima, it's for sure the value-pick of the bunch.