Flow reviews the 2023 Marin Rift Zone
If you've been on the lookout for a full suspension trail bike at a decent price, there's a good chance you'll have checked out the Marin Rift Zone. Said to be the Californian brand's 'ultimate do-it-all trail bike', the Rift Zone has been updated for 2023 with an entirely new frame. Bargain hunters will be happy to know that it has maintained its impressive pricing, which is partly due to Marin being sold direct-to-consumer in Australia. As we all know, specs on paper is one thing — how a bike performs and survives in the real world is an entirely different kettle of fish. So, is the new Marin Rift Zone really the trail ripper that it's claimed to be?
---
Watch our Marin Rift Zone video review here:
---
Indeed it does well to bolster Marin's reputation for being a brand with its finger on the pulse when it comes to building aggressive bikes for less cash than the competition.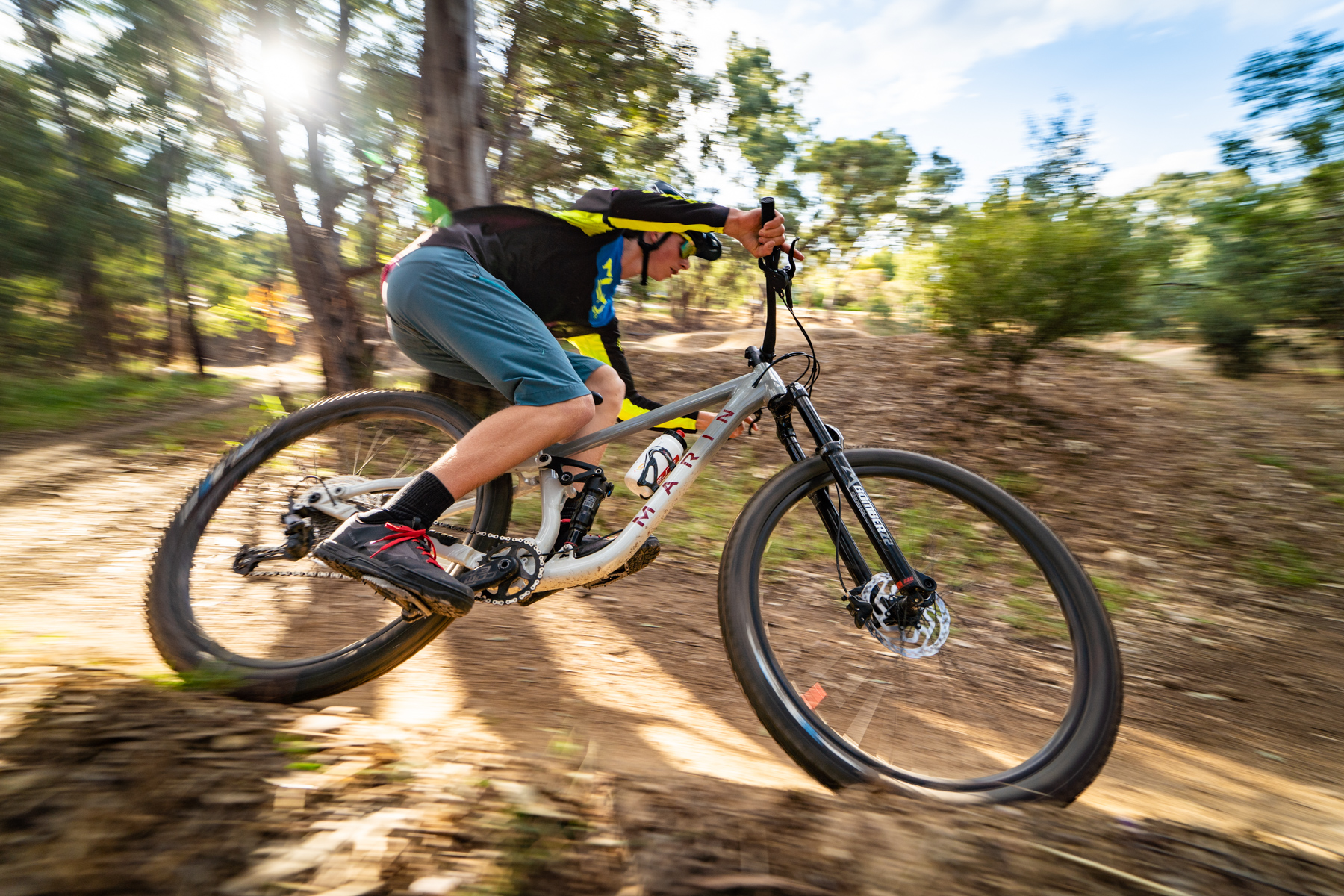 An overview of the 2023 Marin Rift Zone
The Marin Rift Zone is a mid-travel trail bike that's designed to compete with the Norco Fluid FS, Specialized Stumpjumper, Canyon Neuron and Polygon Siskiu T.
Like those competitors, the Rift Zone is equipped with a 140mm travel fork and 130mm of rear wheel travel. While most brands are moving to 29in wheels exclusively in this category, Marin continues to produce the Rift Zone in both 27.5in and 29in versions.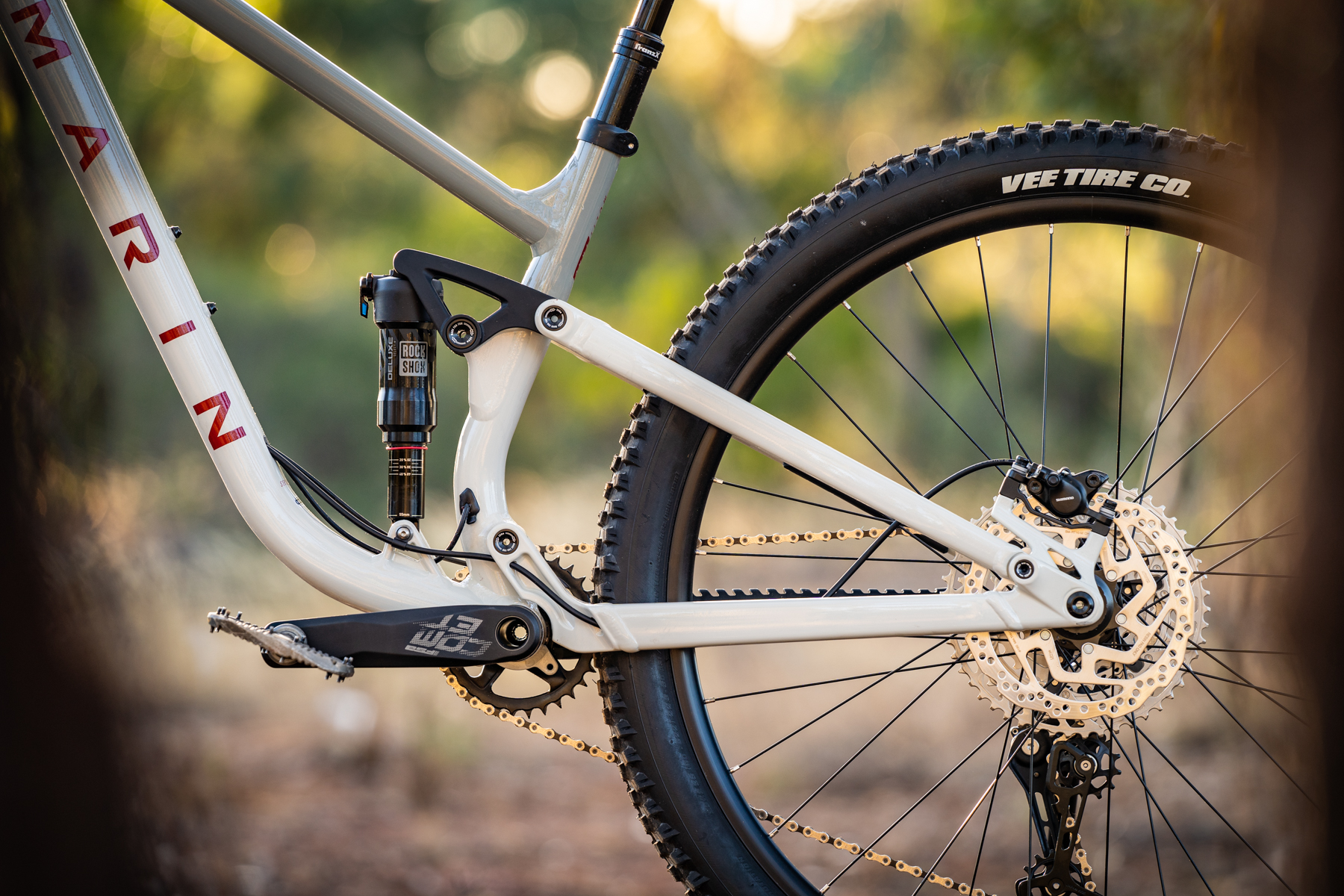 Despite looking almost identical to the outgoing model, the alloy frame is all-new for 2023. The tubing is updated, the cable routing has been refined, and it loses the proprietary derailleur hanger in favour of a UDH.
Rear suspension is controlled by the MultiTrac design, which is based around a single-pivot platform with a rocker link driving the shock. According to Marin, the leverage rate has been made more progressive on the new Rift Zone. This is said to provide a poppier ride quality with better resistance to bottoming out, and it also means the frame is compatible with coil shocks.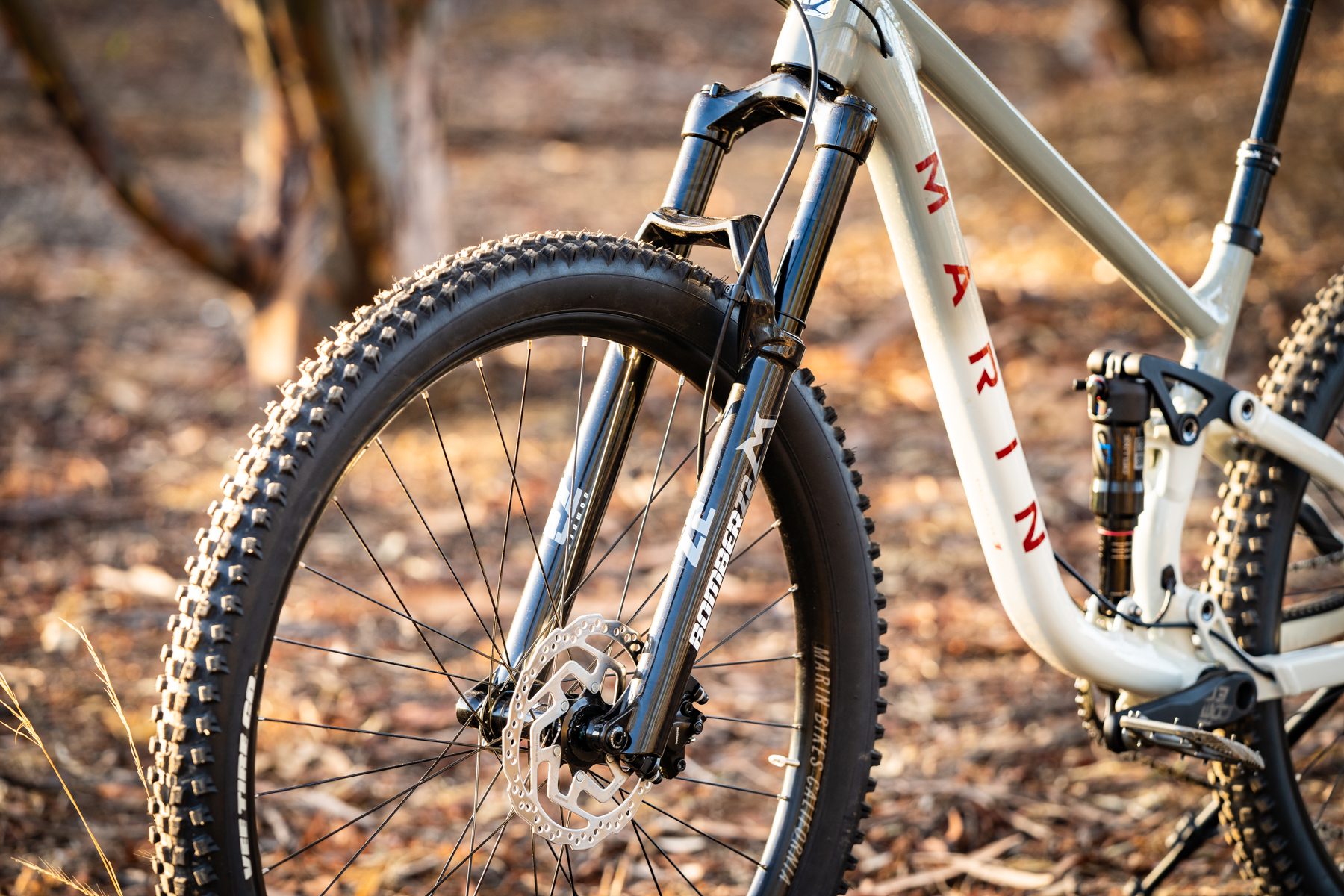 Geometry & size chart
The previous version of the Marin Rift Zone was already known for its forward-thinking geometry, and the latest model maintains that approach while providing more consistency between the 27.5in and 29in platforms.
The head angle now sits at 65.5°, while the seat angle has steepened to 77°. The reach is slightly longer, and so too are the chainstays. The rear centre length is now 430mm, up from 425mm on the old bike.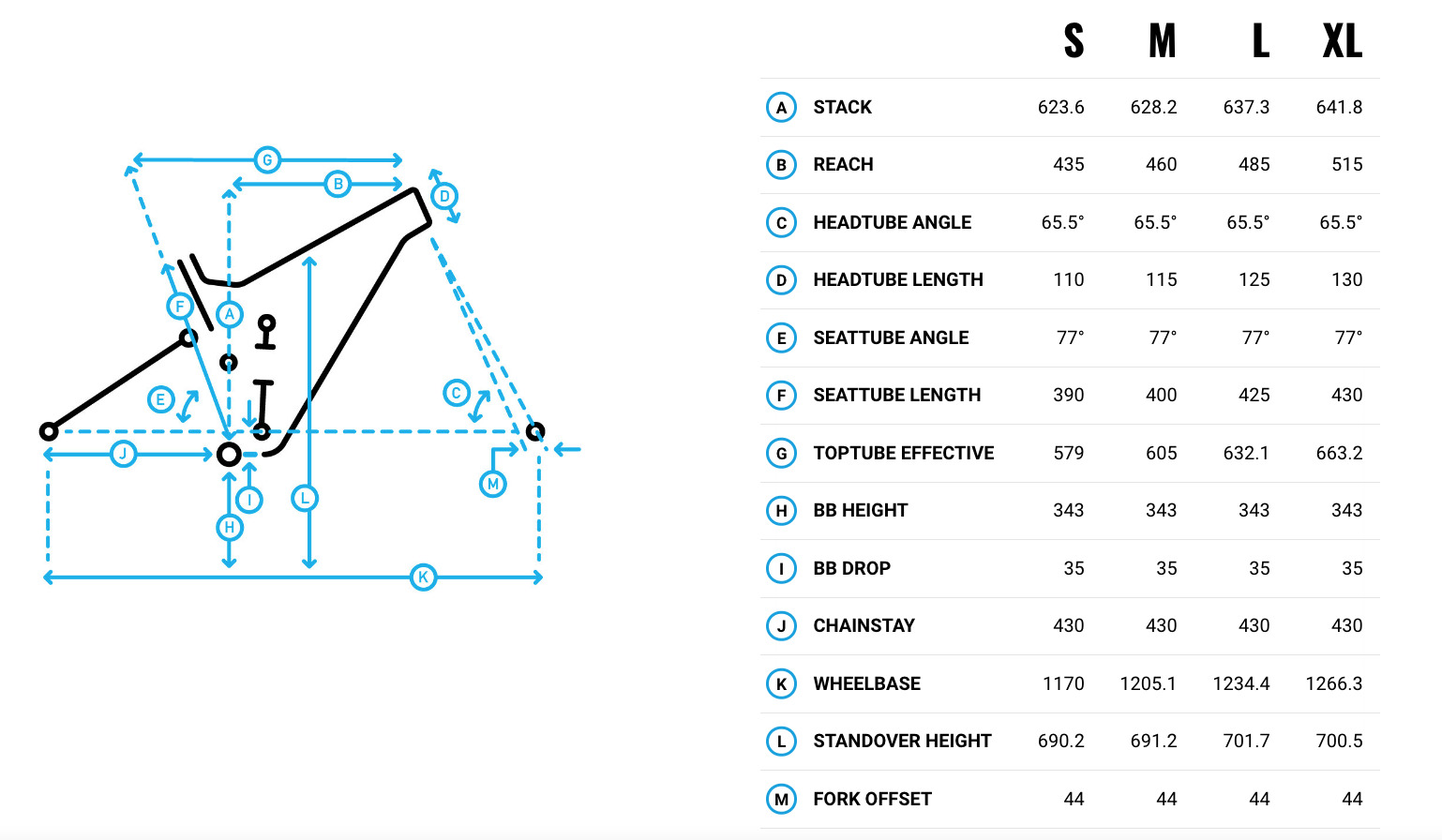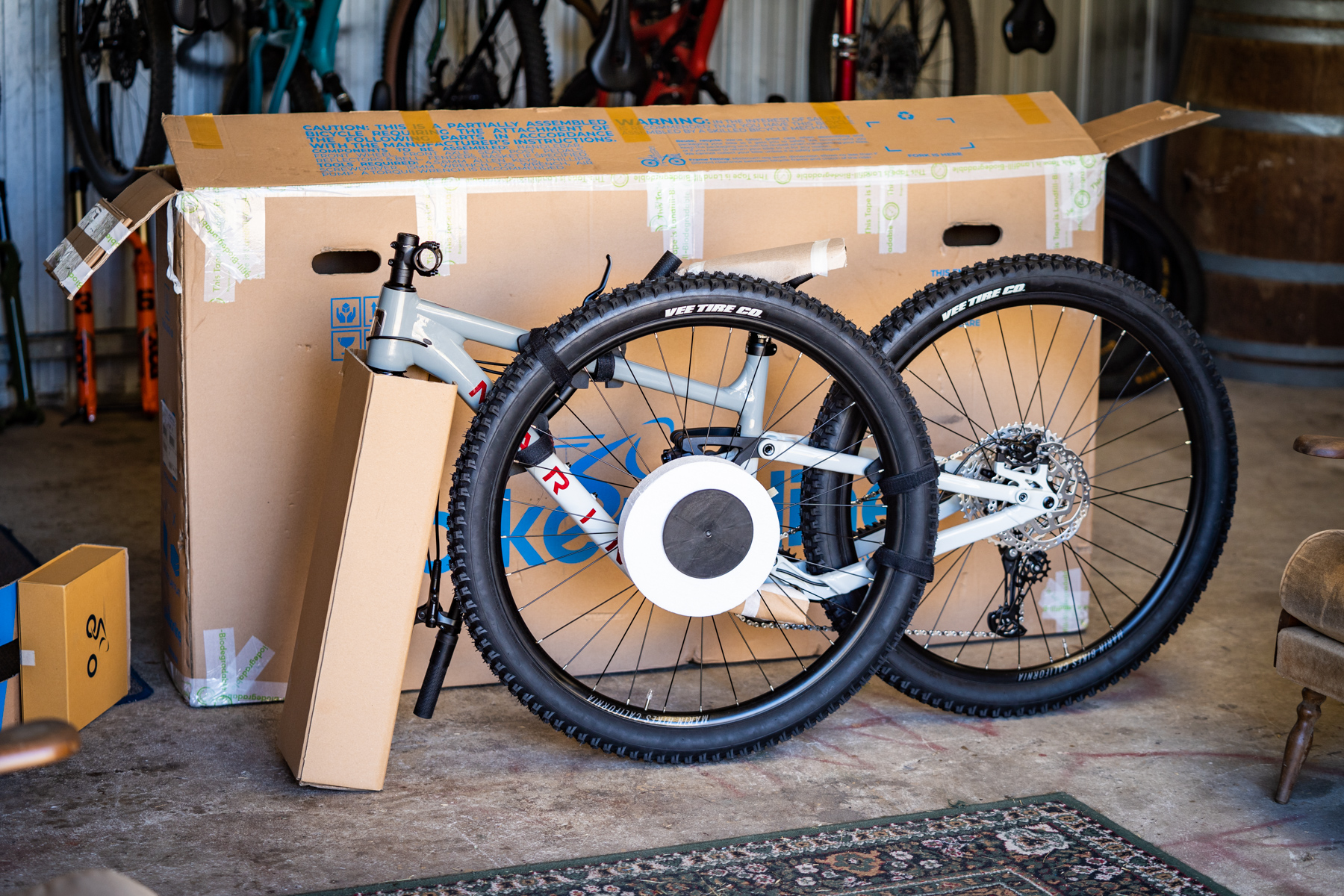 Marin Rift Zone price & specs
There are six models in the 2023 Marin Rift Zone lineup, with both alloy and carbon frames available. It's worth noting that the carbon frames remain unchanged from the previous version, and they're only available with 29in wheels.
Prices kick off at $2,599 AUD for the Rift Zone 29 1, and go up to $6,999 AUD for the Rift Zone Carbon XR. Because the bikes are sent directly to your door, you'll need to factor the price of shipping into the total price of the bike. This worked out to be $42.90 AUD in our case.
The bike that we've been testing is one step up from the entry-level model. It's the 2023 Marin Rift Zone 29 2, and as the name suggests, it's the 29in version.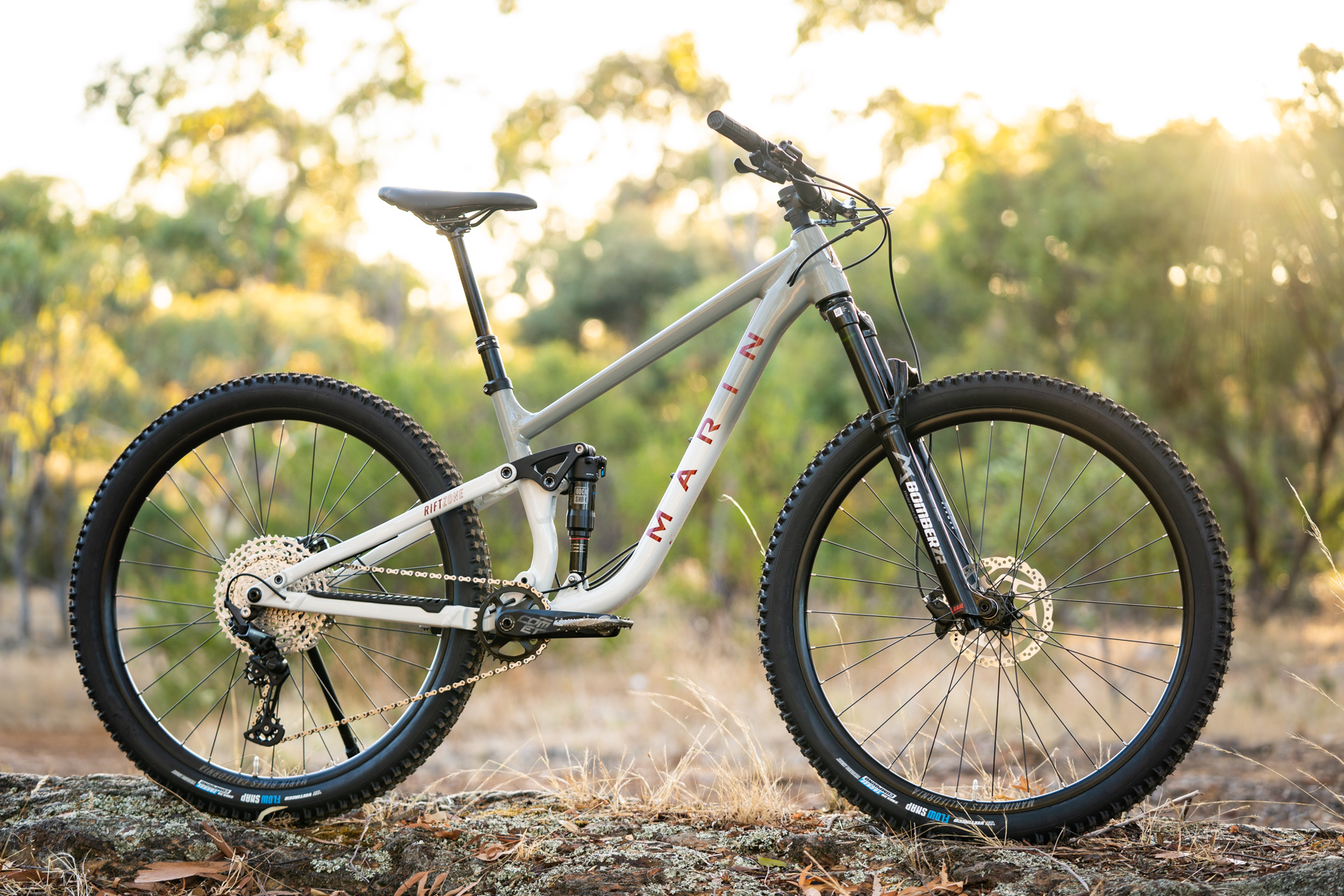 2023 Marin Rift Zone 29 2
Frame | 6061 Alloy, MultiTrac Suspension Design, 130mm Travel
Fork | Marzocchi Bomber Z2, Rail Damper, 44mm Offset, 140mm Travel
Shock | RockShox Deluxe Select RT, 210x55mm
Wheels | Shimano MT410 Hubs & Marin Alloy Rims, 29mm Inner Width
Tyres | Vee Tire Flow Snap, Tackee Compound, 29×2.35in
Drivetrain | Shimano Deore 1×12 w/32T FSA Comet Crankset & 11-51T SunRace Cassette
Brakes | Shimano MT200 2-Piston w/180mm Rotors
Bar | Marin Mini-Riser Alloy, 28mm Rise, 780mm Width
Stem | Marin 3D Forged Alloy, 35mm Length
Seatpost | TranzX Dropper, 30.9mm Diameter, Travel: 125mm (S), 150mm (M-L), 175mm (XL)
RRP | $3,399 AUD (plus shipping)
On the trail, we love the aggressive character of the Marin Rift Zone. It feels like a mini-enduro rig, and its burly build kit means it's ready for a tonne of abuse.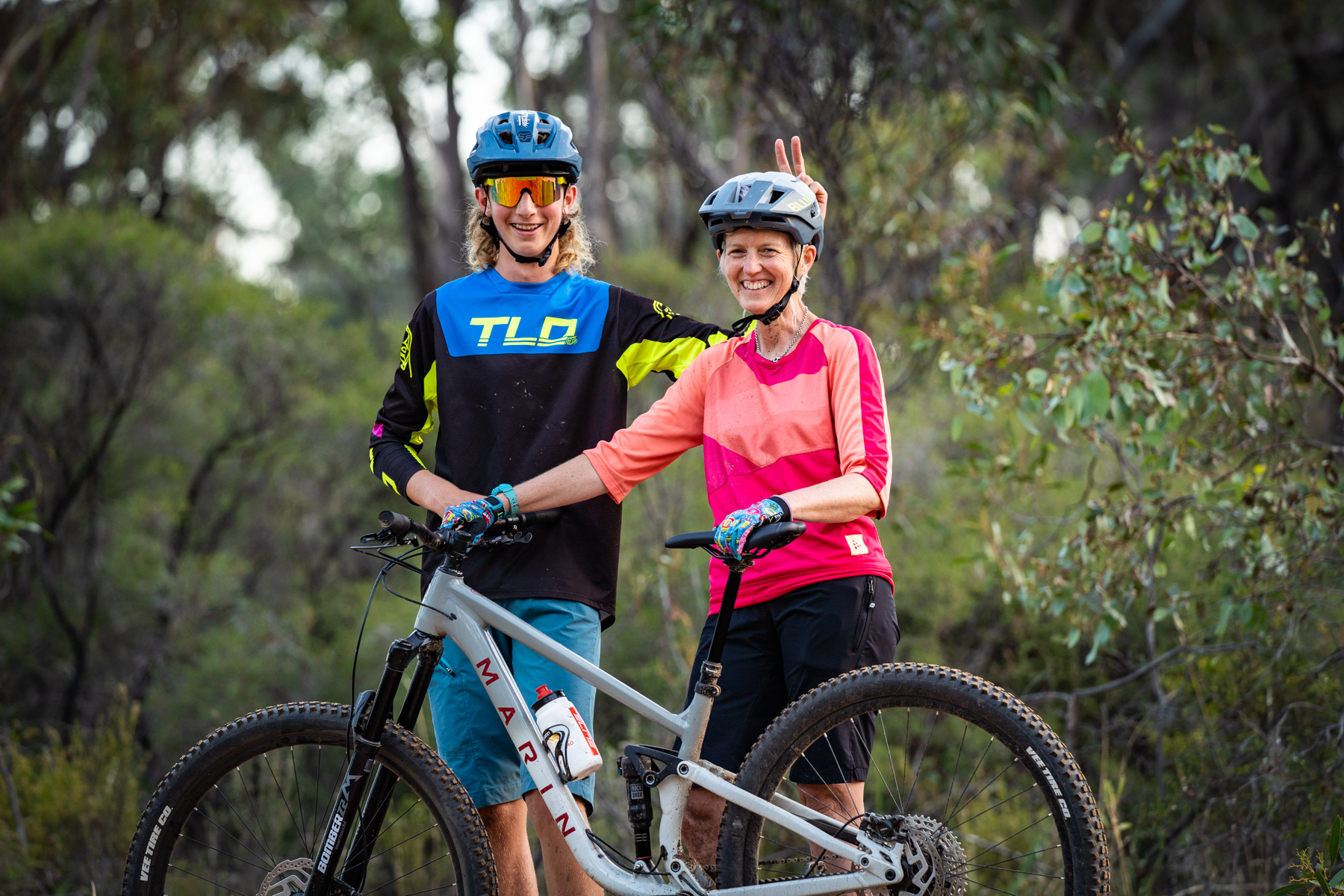 Marin Rift Zone sizing & fit
To help with sizing on the Marin Rift Zone, Bikes Online has a useful fit calculator on its website. After taking into account your height, inseam, wingspan and riding position, the calculator spits out a recommended frame size.
We went with a Medium to suit Wil's height of 175cm. We've also had the Mum & Son Dream Team of Roz and Gus riding the Rift Zone to provide further input.
The modern geometry sees the Rift Zone emulating a bigger travel enduro bike, with the long front centre positioning the front wheel way out ahead of you. Despite the long wheelbase, the riding position is compact and upright due to the steep 77° seat angle and stubby 35mm stem. Furthermore, the low BB and high-rise handlebars help to integrate you within the cockpit, creating a tall and confidence-inspiring front end.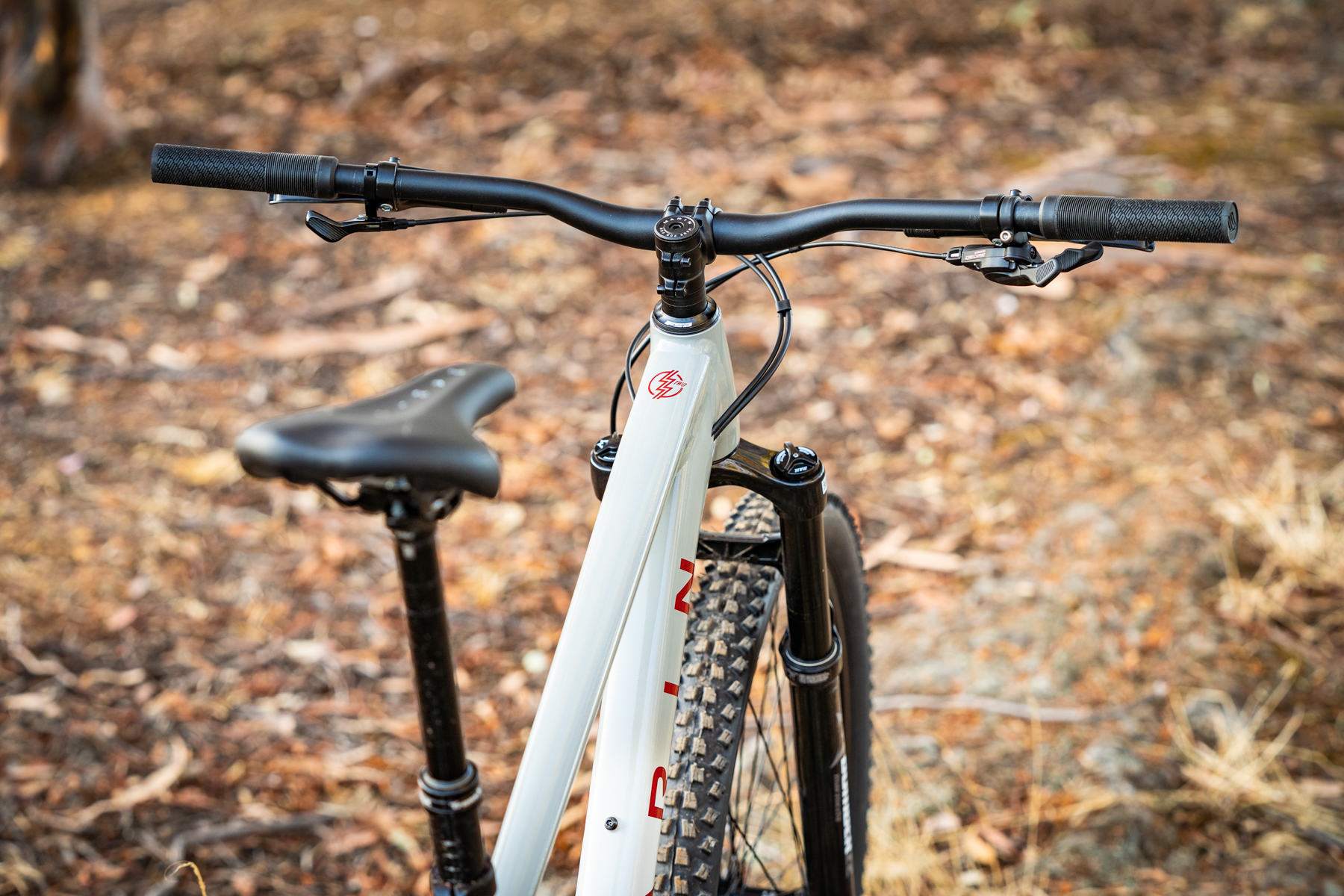 Standover is plentiful thanks to the low-slung top tube and short seat tube. There's also a good deal of dropper insertion available, with the kink in the seat tube occurring quite low down.
As for touch points, the squishy saddle was hit-n-miss for our test riders. We all got along with the thin lock-on grips and their waffle pattern, though the shallow tread means they do get a bit slippy if you're riding gloveless.
Because the Shimano MT200 brake levers are quite long, we chose to run these inboard of the shift lever and dropper remote. You'll need a tiny hex key to adjust lever reach, but once in position we were able to comfortably use them with just our index fingers.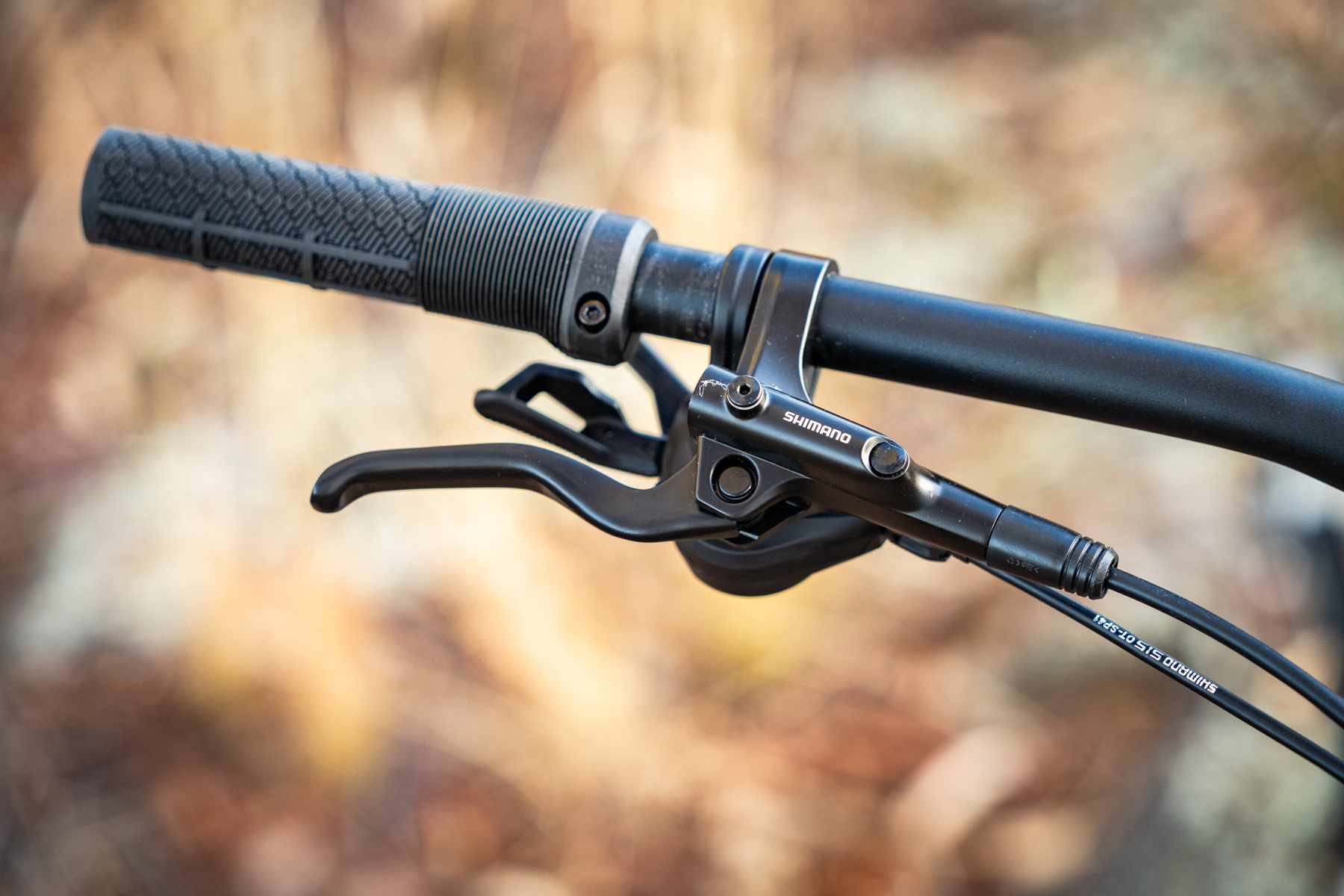 Suspension setup
It's recommended to set up the Marin Rift Zone with 30% sag in the rear shock, which is easy to measure thanks to the anodised gradients printed on the RockShox Deluxe shock. Additionally, Marin has a list of suggested air pressures based on rider weight, giving you a great starting point.
Because of the long 55mm shock stroke, the overall leverage ratio is quite low. This meant our 60-68kg test riders needed just 120-145psi to hit the recommended sag.
We set up the Marzocchi Bomber Z2 as per the chart on the lower leg, and then adjusted the shock's rebound damping until the bike felt balanced front and rear.
Marin Rift Zone weight
Confirmed weight for our Marin Rift Zone test bike is a portly 15.62kg without pedals. That figure includes inner tubes, which is how the Rift Zone comes out of the box.
Both the rims and tyres are tubeless compatible however, and we were glad to find tubeless rim tape already fitted from the factory. You will have to BYO valves and sealant, but it means going tubeless isn't a huge hassle for Rift Zone owners.
Having set up the wheels tubeless on our test bike, we ran pressures from 17-20psi on the front and 19-22psi on the rear.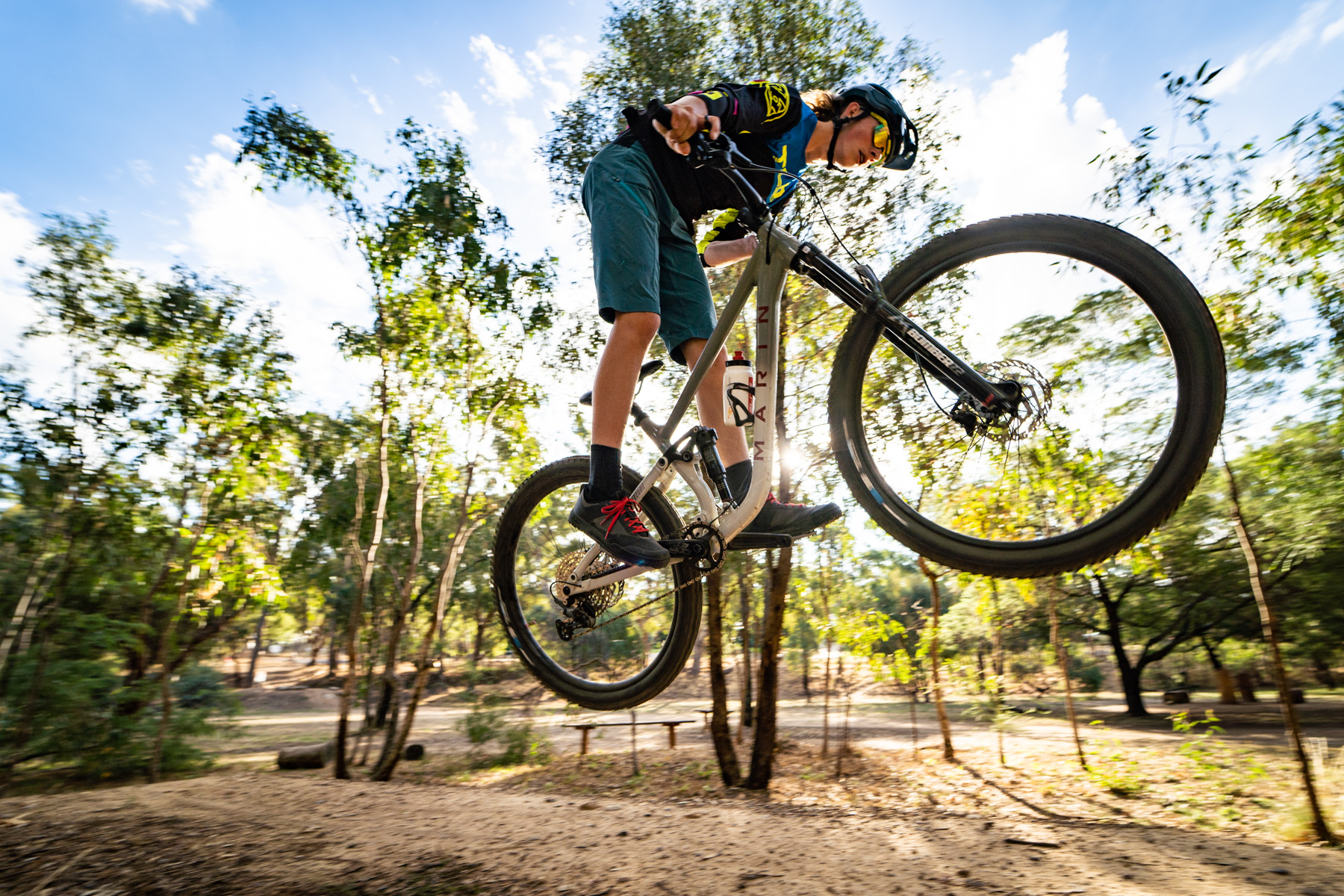 What do we like about the Marin Rift Zone?
On the trail, we love the aggressive character of the Marin Rift Zone. It feels like a mini-enduro rig, and its burly build kit means it's ready for a tonne of abuse.
It's solid and surprisingly capable for a mid-travel trail bike. The geometry has a lot to do with this, with the high front end and slack head angle giving you a load of confidence when snaking your way down steep descents.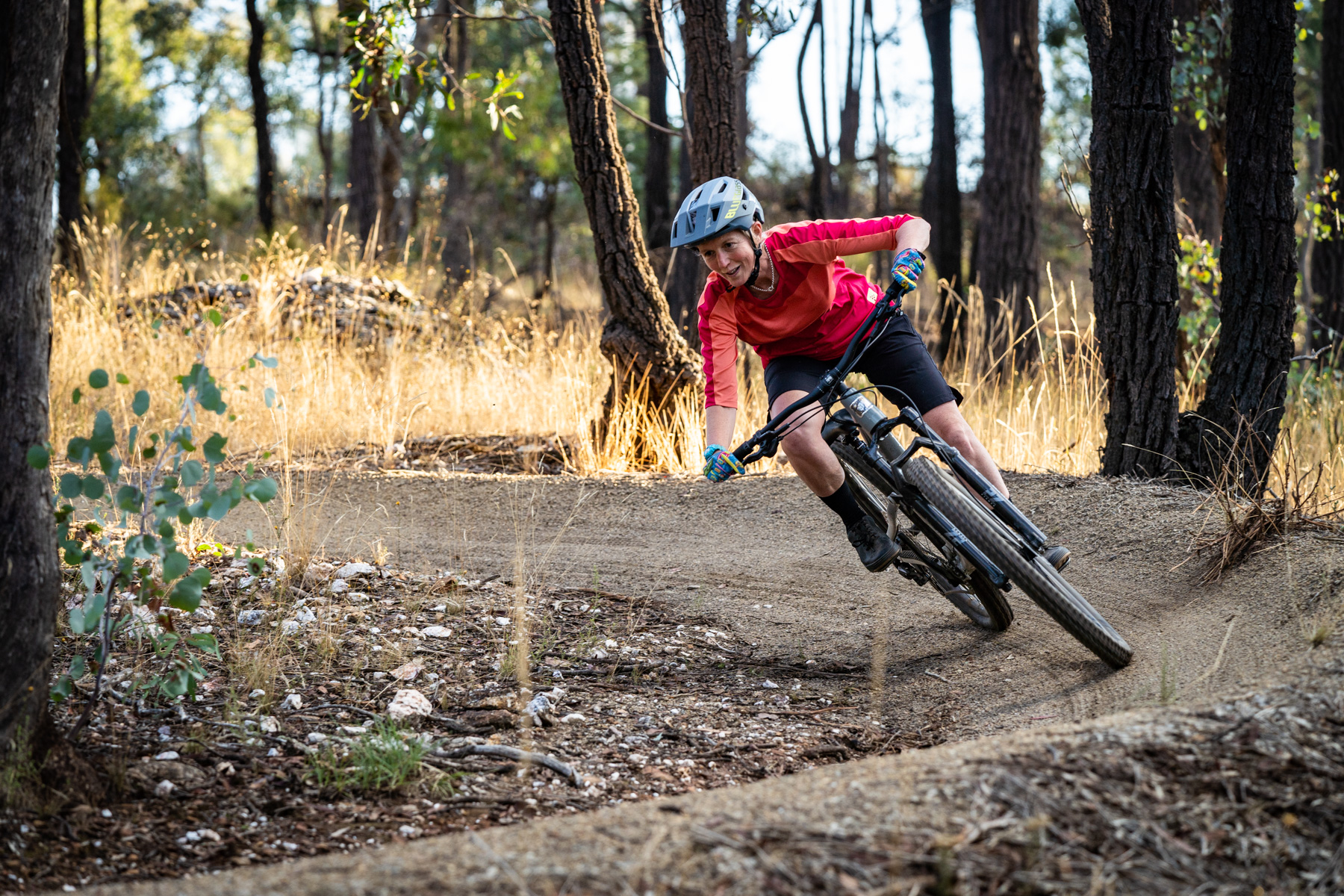 It does require you to assume a commanding and forward-biased riding position. This is due to the combination of the short chainstays and long front centre, which benefits from you actively weighting the front end.
It's pretty easy to trust though, with the dependable Bomber Z2 fork and burly Vee tyres generating heaps of grip. The toothy tread can squirm a bit on the pump track and when flicking through hardpacked berms, but the tyres otherwise deliver masses of grip on loose terrain thanks to their gooey rubber compound.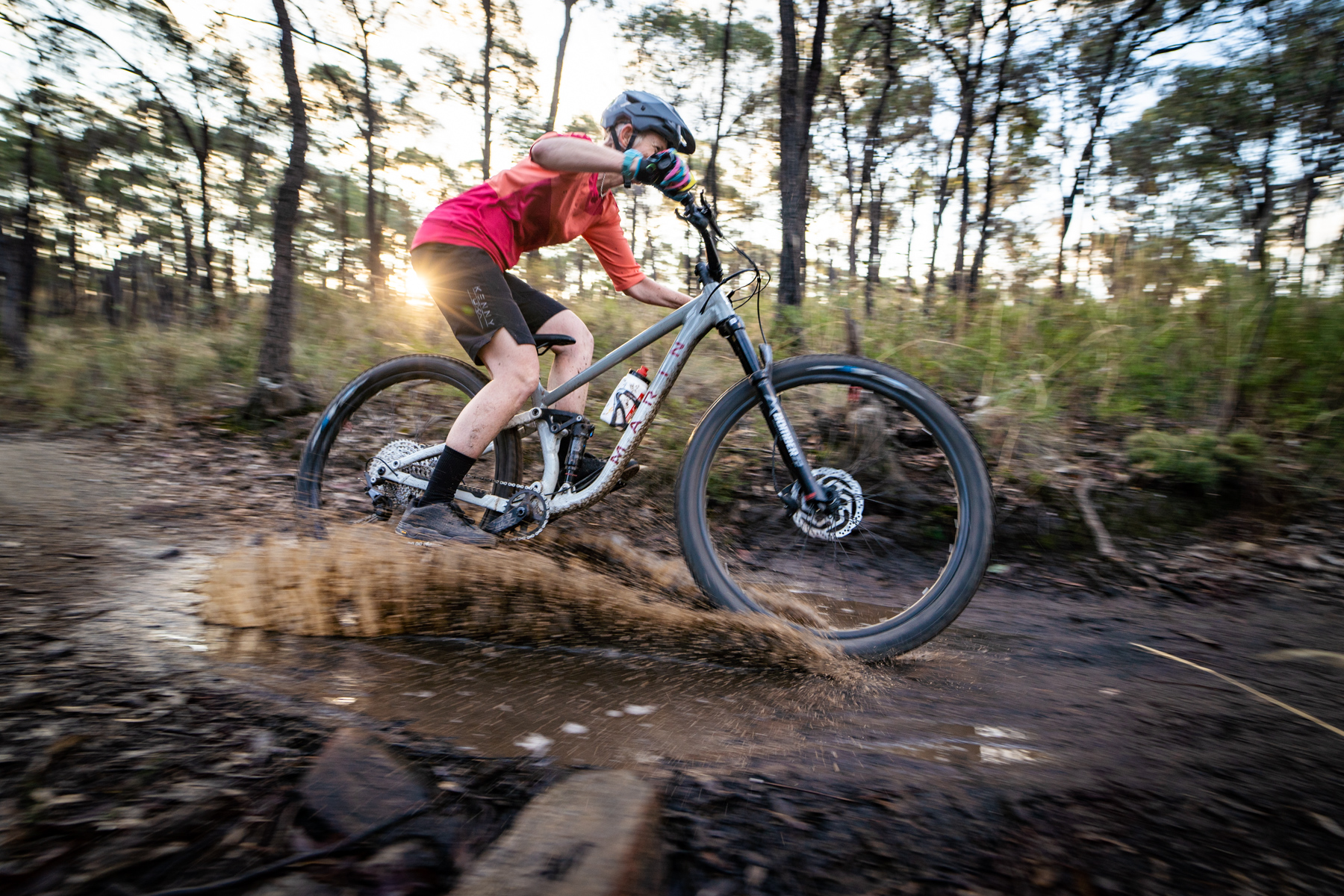 The high-traction rubber certainly contributes to the awesome cornering performance. With the saddle dropped, the Rift Zone feels compact and easy to throw around. Here the low BB and short chainstays allow you to pull off abrupt changes in direction, and the stubby stem keeps the steering light and lively.
The balance point comes easily when pulling off a manual, and the supportive suspension is ready to soak up all the off-kilter landings you can throw at it. We never actually hit full travel, with the progressive back end providing a load of ramp to prevent bottoming out.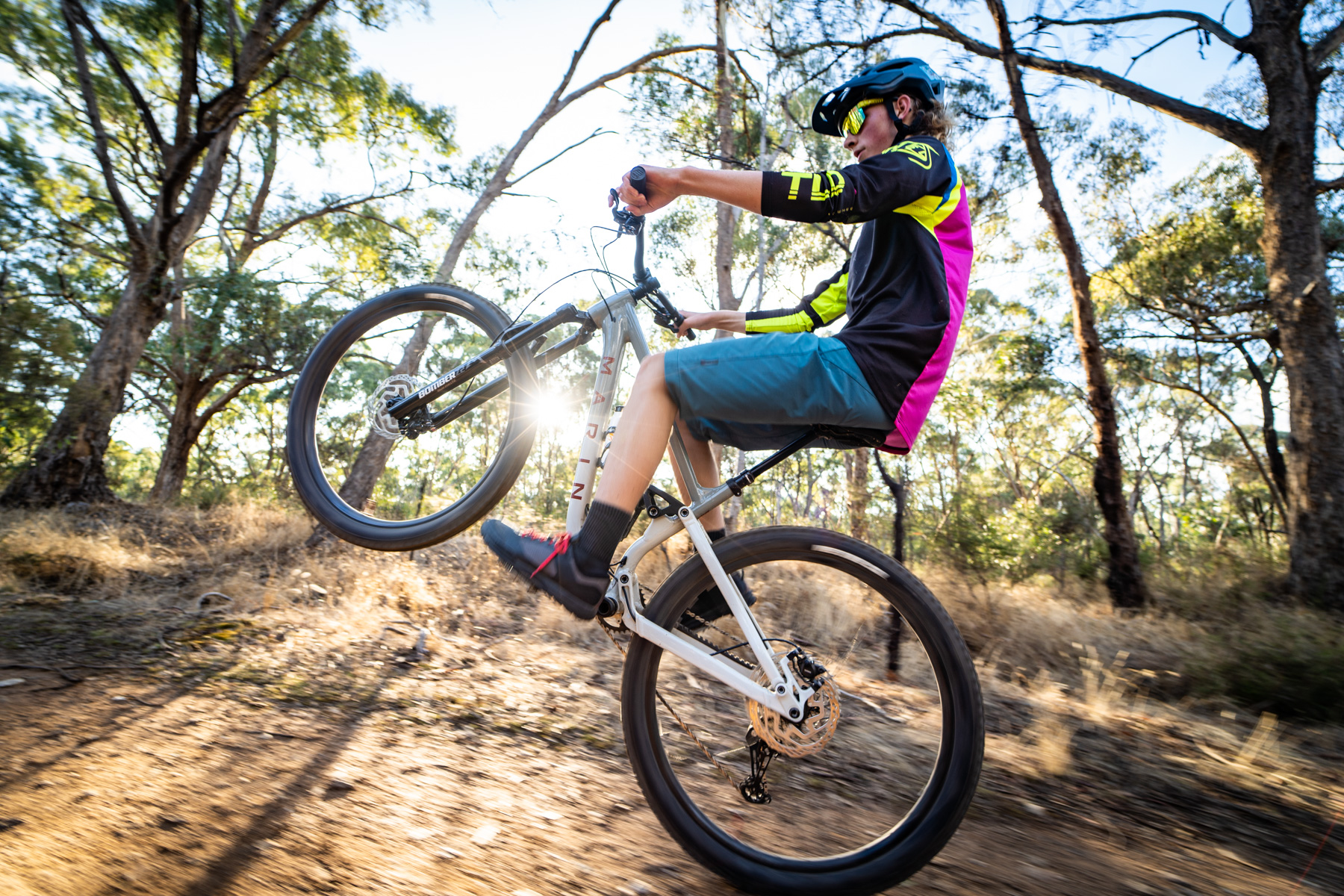 What didn't we like?
The downside of the Marin Rift Zone's burly build kit is its substantial weight. It feels heavy and sluggish for a trail bike, and it requires a lot of energy expenditure to keep it moving on the climbs and on the flats.
The tyres have a lot to do with this, coming in at around 1,100g each on our workshop scales. While there's a tonne of grip on offer, the aggressive tread pattern and soft rubber compound put a serious dent into rolling speed. We kept checking to see if the brakes were rubbing, or if a wheel bearing was grinding, but it was simply due to the draggy tyres.
If this were our bike, we'd remove the rear tyre and put it aside as a spare, and fit something faster rolling to help inject a bit more speed and enthusiasm.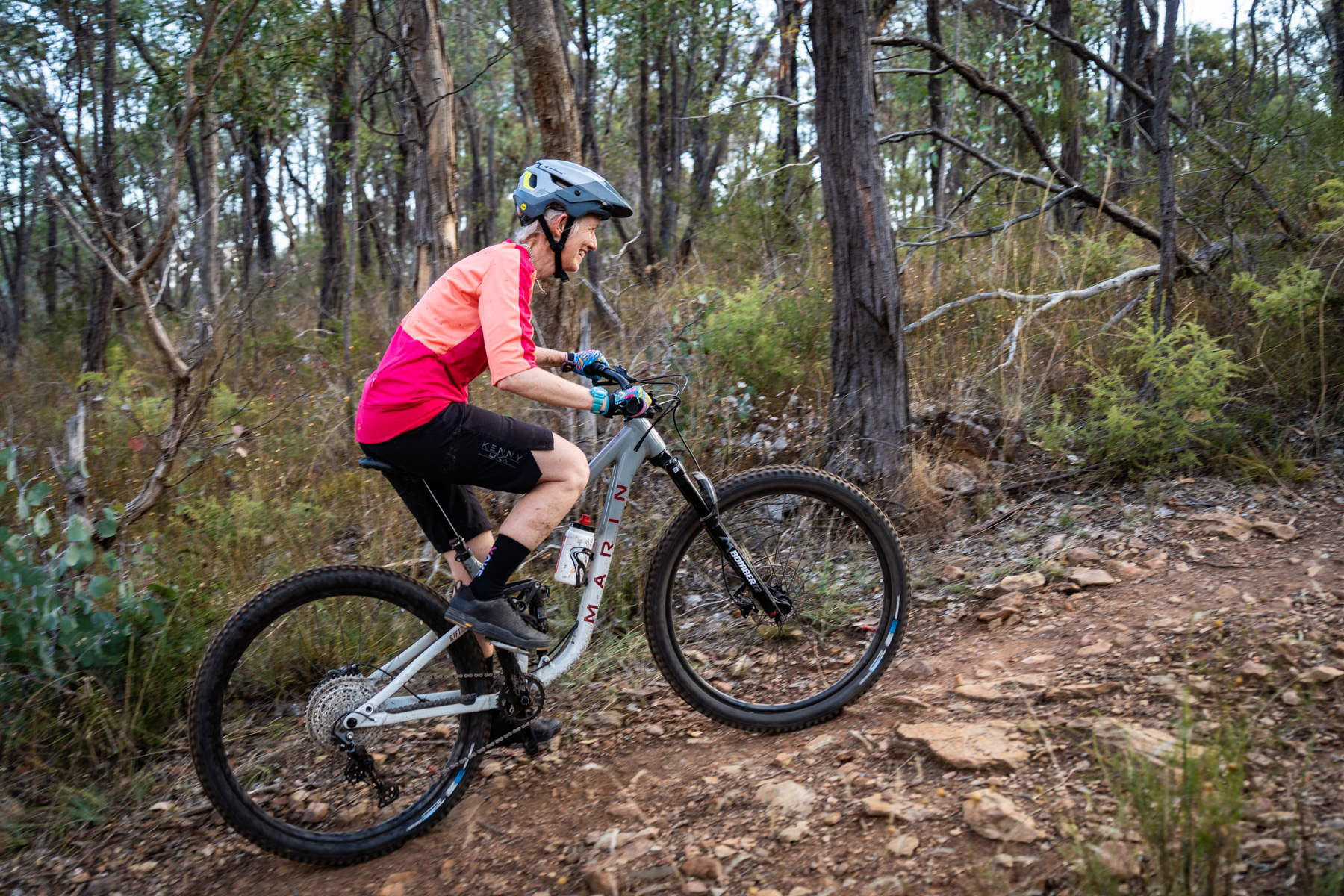 The Rift Zone otherwise pedals quite well. The single pivot suspension is surprisingly efficient, and you can feel the anti-squat working when you're pushing hard on the pedals. The steep seat angle also puts you in a great position on the climbs.
It's no mountain goat however. The high front end and short chainstays mean it can be tricky to keep the front wheel from wandering, and the suspension lacks some sensitivity when things got rocky and technical.
We also detected some stiffening under braking on the descents. Stay off the brakes though, and the suspension offers good impact absorption.
That said, we've not been blown away by the Bomber Z2 fork. It is reasonably sensitive, and it's admittedly a big step up from the Suntour and X-Fusion forks that you'd find on cheaper bikes. However, we did find it to be a bit chattery on rocky trails. This surprised us, as the Z2 shares a lot in common with the Fox 34 Rhythm. There does appear to be some play in the lowers, which may be contributing to this sensation.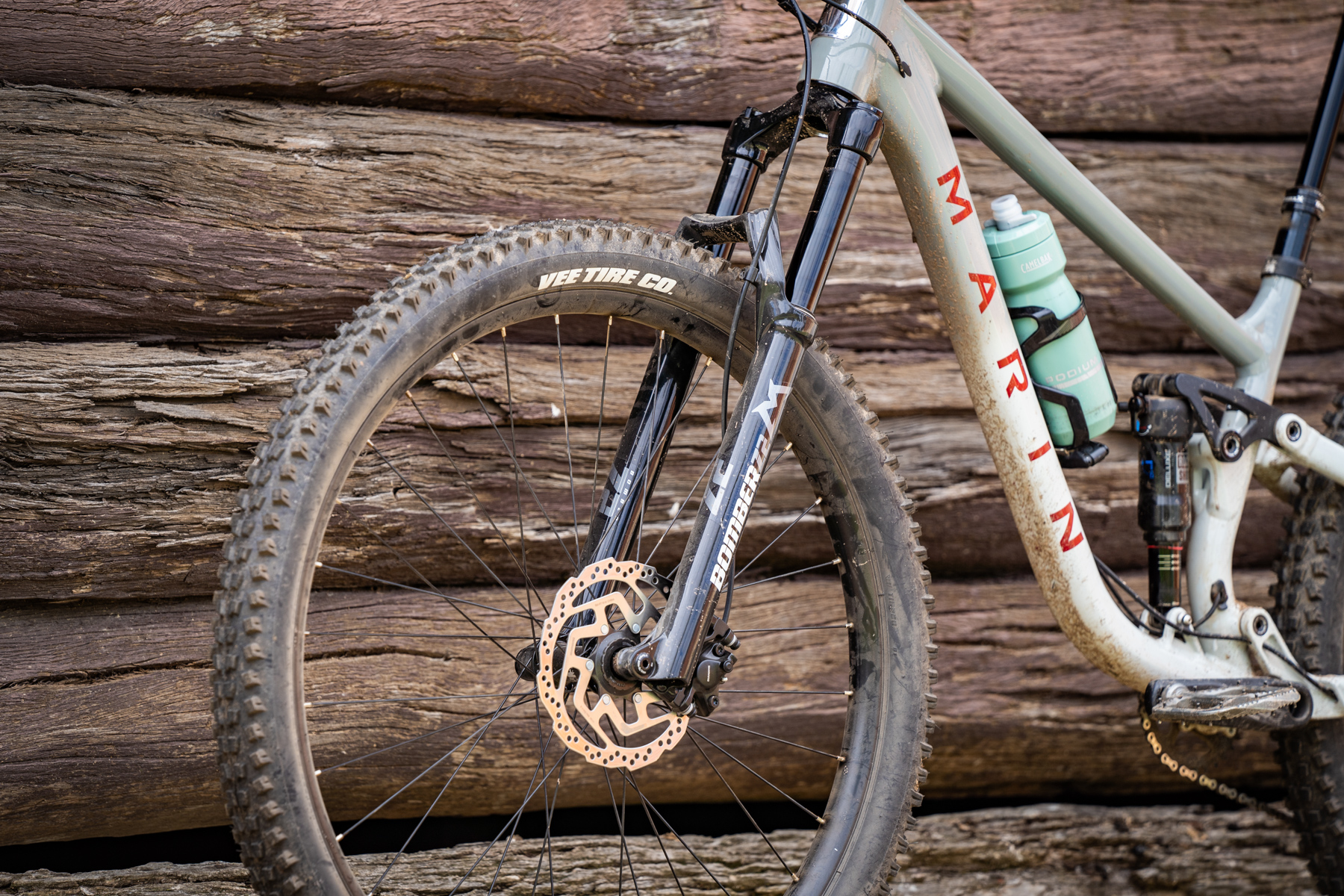 Component highs & lows
Despite its modest price point, the Marin Rift Zone 29 2 has proven to be a remarkably sturdy trail bike that is ready to shred out of the box.
We've not had any breakages, and none of the pivot hardware or spokes have come loose. Even with all the hucks-to-flat and sideways landings, the wheels remain solid and true. There have been no punctures either, so although we would like to see a faster-rolling rear tyre, those who value maximum grip and durability will appreciate the stock setup.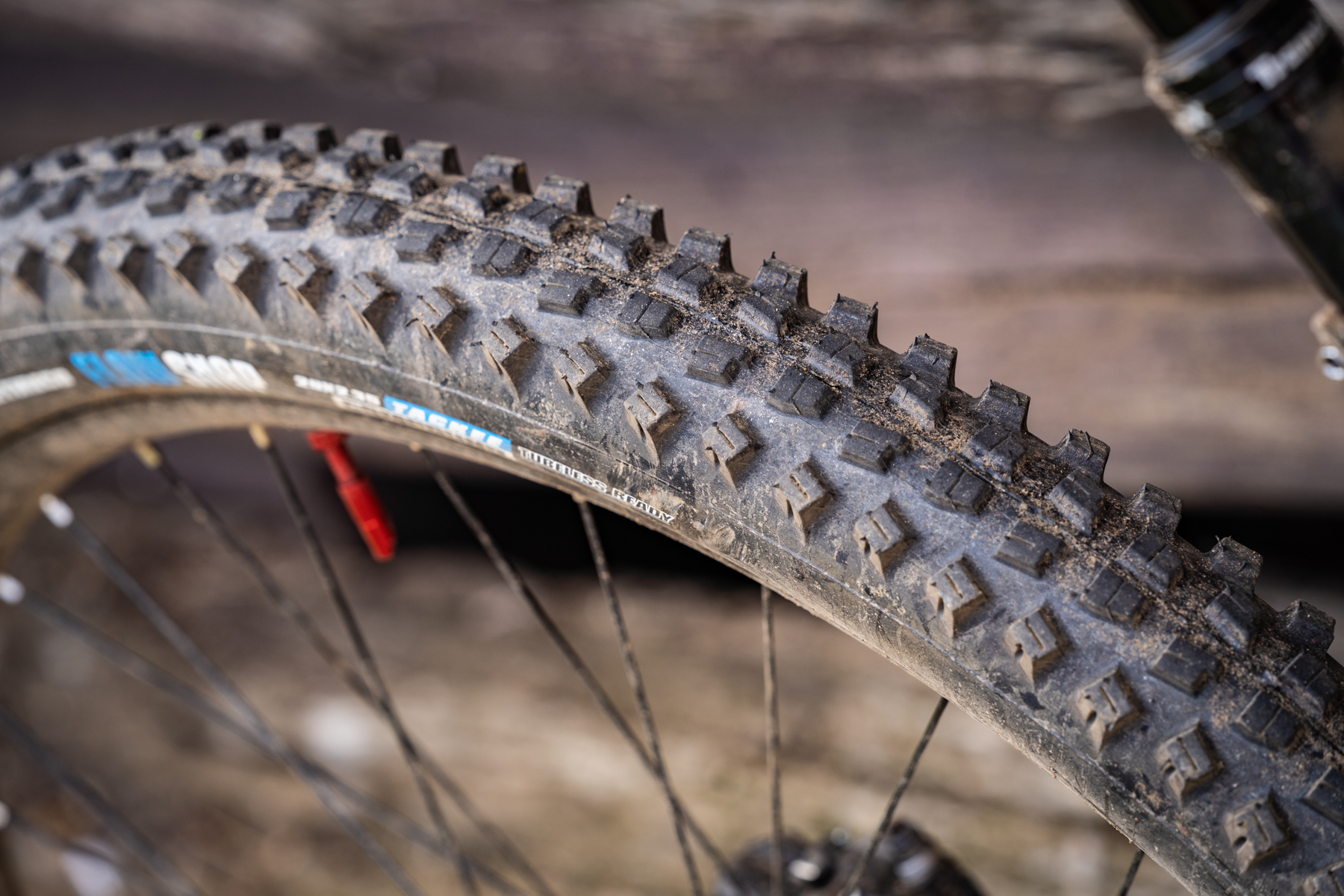 The Deore drivetrain works fine, though given the bike's overall heft we would appreciate a smaller 30T chainring as we regularly ran out of gears on the climbs.
We were skeptical of the 2-piston Shimano brakes, which feature resin pads and cheap stamped rotors. They've actually worked pretty well, with the long brake levers providing your fingers a good amount of leverage over the callipers. Heavier riders and those who are tackling more enduro-level trails will still find them a bit too soft, and would benefit from upgrading to a set of Deore 4-piston brakes for more bite.
The frame itself feels worthy of any upgrades you choose, and indeed we see many Rift Zones becoming project bikes for younger riders. The two-piece rocker link looks a bit flexy, but otherwise it's all been solid, and we appreciate the sensible features like the threaded BB and UDH.
Marin Rift Zone vs Canyon Neuron
Prior to receiving the Marin Rift Zone, we'd been spending a load of time on the latest Canyon Neuron. It turns out the two bikes share a lot in common, with the Neuron featuring the same amount of travel. It gets a slightly steeper head angle and 10mm longer chainstays, but otherwise the geometry is pretty similar to the Rift Zone.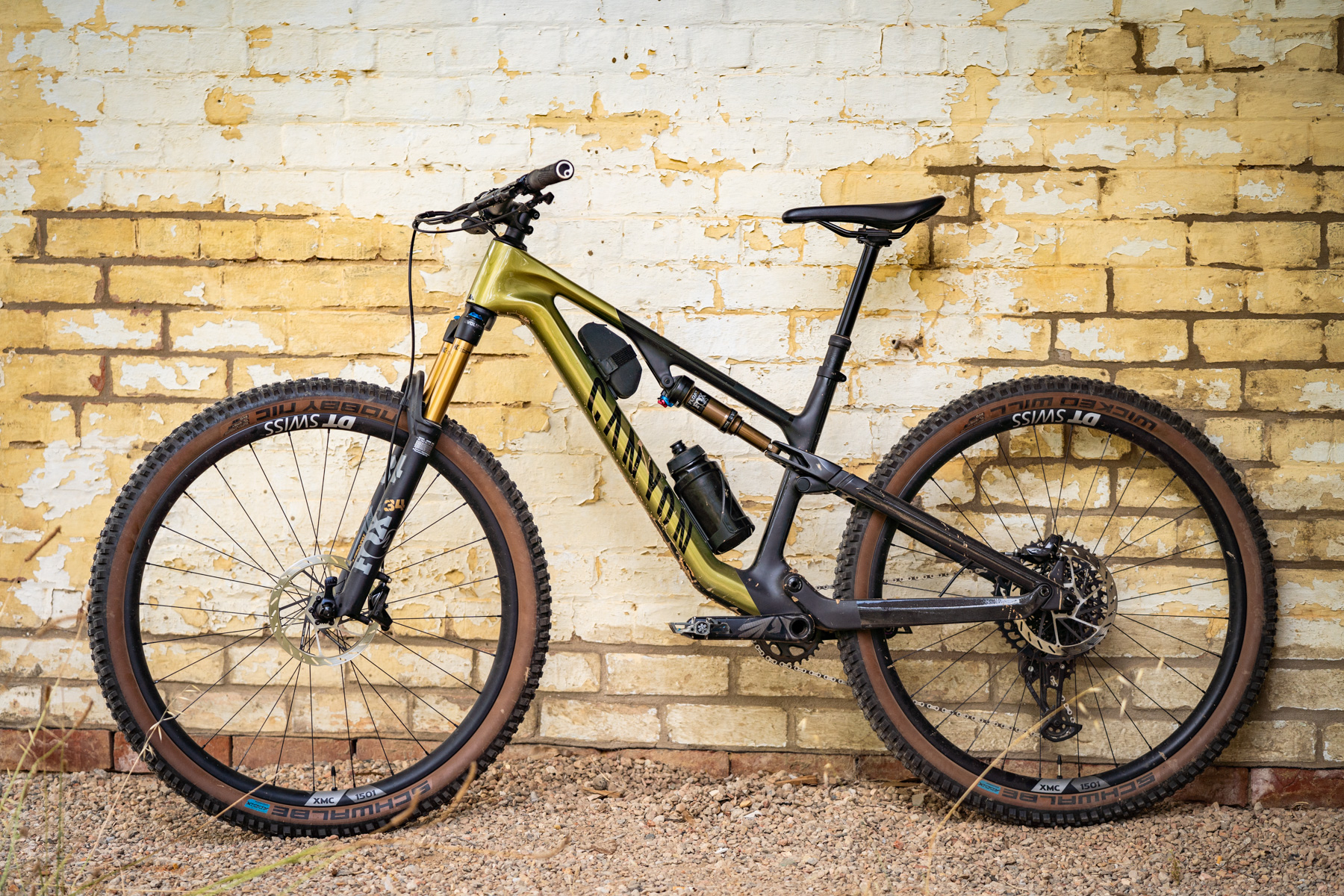 With Canyon also being a direct-to-consumer brand, the Neuron offers excellent value for money. The caveat is that shipping is more expensive, which means that a comparable Neuron 6 ends up costing a couple of hundred bucks more than the Rift Zone 29 2 by the time the bike arrives at your door.
The spec is a level up though, with the Neuron 6 coming with a Fox 34 Rhythm fork and a Float DPS shock. It also features DT Swiss wheels and Shimano SLX 4-piston brakes, as well as a longer travel dropper post as standard.
The result of its higher-end build kit is a weight reduction of a whole kilo, with Canyon claiming a Neuron 6 to weigh just 14.55kg.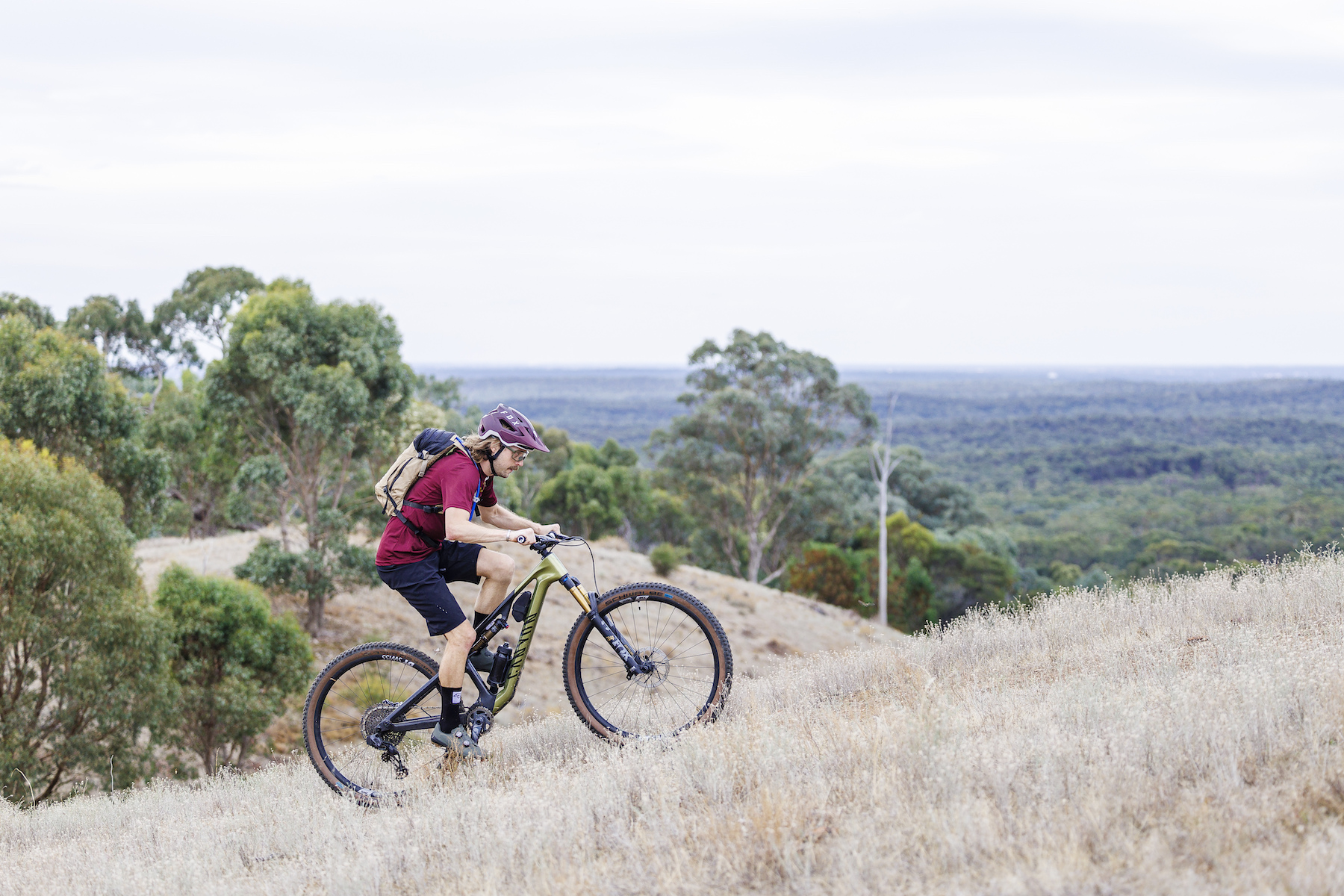 Along with its speedy Schwalbe tyres, the Neuron feels significantly lighter and faster on its feet. It's notably quicker on the climbs, and the geometry feels more balanced for all-round riding. This makes it a great long-distance trail bike out of the box, though the stock tyres did leave us wanting for more grip when the terrain got loose and chunky. Get the full story in our Canyon Neuron review.
In comparison, the Marin Rift Zone is the burlier and rowdier bike of the two. Whereas the Neuron is a bit like a long-travel XC bike, the Rift Zone is more of a shorter-travel enduro bike. It feels more at home for winch-and-plummet riding, and it has a real penchant for jumping around and styling it up on modern flow trails.
Marin Rift Zone vs Alpine Trail
Given the expansive capabilities of the Marin Rift Zone, you might be wondering how it compares to its bigger sibling, the Alpine Trail.
The Alpine Trail features more travel with a 160mm fork and 150mm out back. It also gets a slacker 63° head angle, which creates a longer and more stable wheelbase for high-speed descending.
Marin offers the Alpine Trail in both carbon and alloy variants. The cheapest model is the Alpine Trail 7, which retails for $4,299 AUD. That's a $900 premium over the Rift Zone, though it does come with a burlier RockShox Yari RC fork and 4-piston Shimano brakes. This makes it even heavier, with the Alpine Trail 7 we tested coming in at 16.21kg.
The extra travel does mean it's plusher on chunkier terrain, and it's arguably more versatile for it. It's still reasonably responsive thanks to its short chainstays, but it's definitely designed to excel on the descents. If you're going to be doing a lot of lift-assisted riding and enduro racing, the Alpine Trail is the bike to go for. Check out our Marin Alpine Trail review for more info.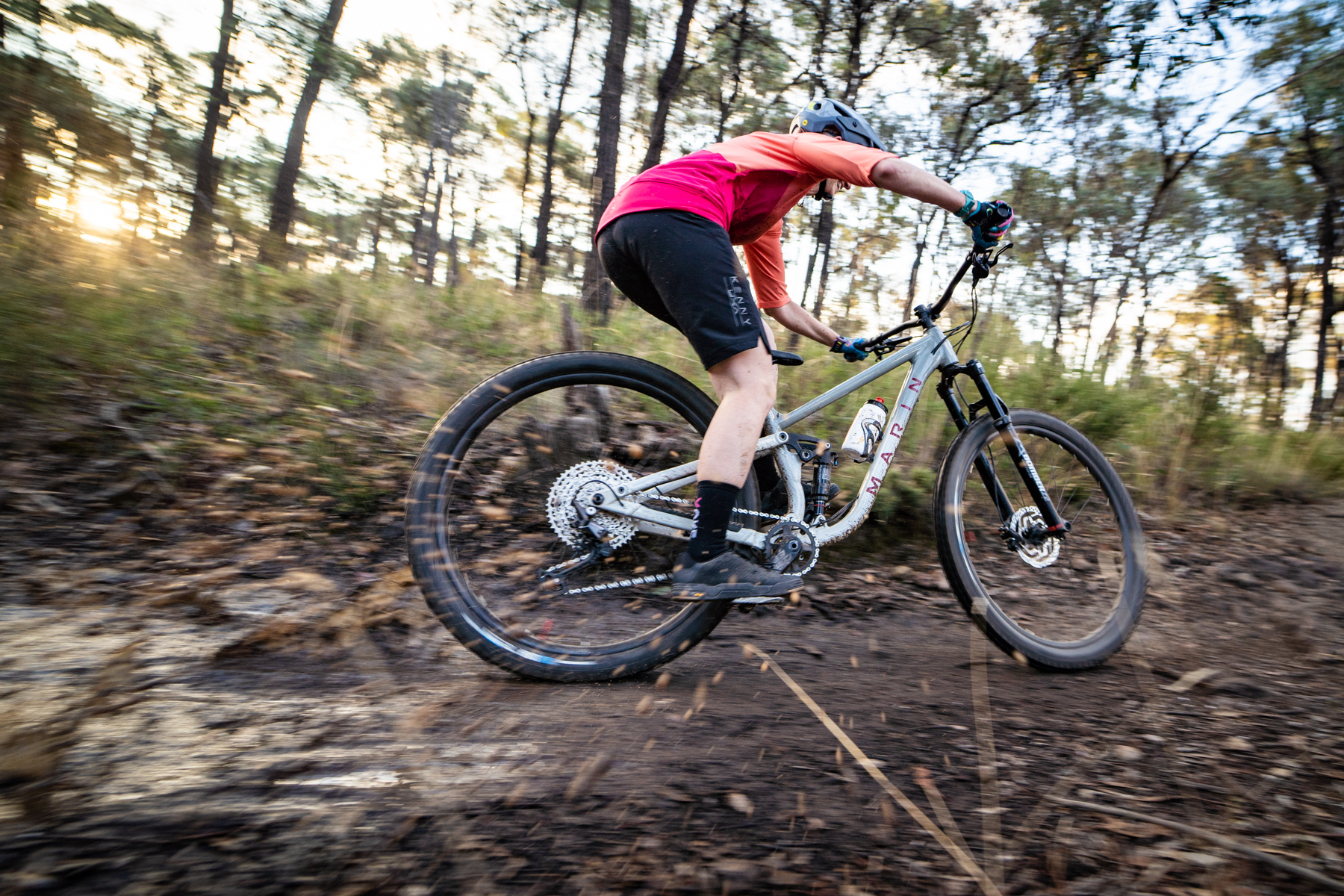 Flow's Verdict
With its modern geometry and sturdy build kit, the Marin Rift Zone is one of the rowdiest and most capable trail bikes we've ridden at this price point.
It offers a great handling package that is ideal for high speed ripping, and we found it to be a load of fun for whipping through flowy singletrack. It loves to schralp berms, and its back wheel bias and progressive suspension makes it a jumping and manualling machine.
It is heavy though, with the soft tyres putting a real drag on rolling speed. Those after a versatile trail bike for taking on long distance epics should look towards sprightlier bikes like the Canyon Neuron and Specialized Stumpjumper. In comparison, the Rift Zone is more akin to the Norco Fluid FS and Polygon Siskiu T. It's playful and agile, but it has the muscle to hold up to some seriously hard and fast riding.
Indeed it does well to bolster Marin's reputation for being a brand with its finger on the pulse when it comes to building aggressive bikes for less cash than the competition. And for that reason, the Rift Zone is a fantastic option for young shredders on a budget who are eager to grow their skillset over time.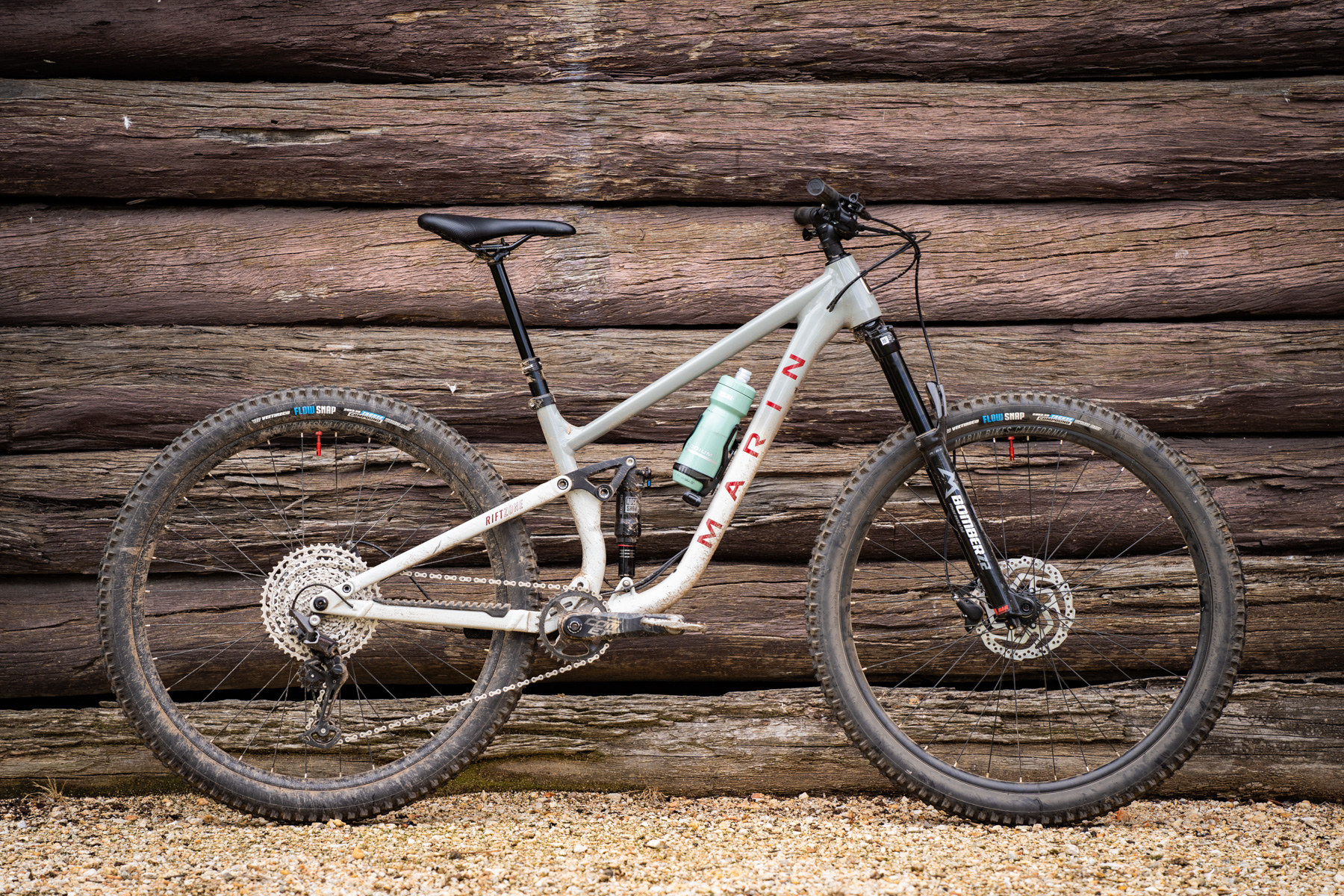 And for that reason, the Rift Zone is a fantastic option for young shredders on a budget who are eager to grow their skillset over time.