Roz & Wil review the 2023 Canyon Neuron
Totally redesigned from the inside-out, the 2023 Canyon Neuron represents the 7th generation of the German brand's popular trail bike platform. It replaces the outgoing model that debuted in 2018, which we reviewed in both its carbon and alloy variants.
While the new Neuron does look very similar to its predecessor, Canyon has brought it right up to speed with some significant and welcome updates to the geometry. The redesigned frame is claimed to be lighter while offering a suite of improvements to its hardware and suspension.
That's all well and good, but it's no secret that Canyon's full suspension lineup is looking pretty chock-a-block these days. With a flurry of releases including the latest Lux Trail and Spectral 125, we were curious as to how the new Neuron would fit in. So for the past month, we've been putting a 2023 Canyon Neuron to test on our home trails to find out.
---
Watch our Canyon Neuron video review here:
---
Thanks to its contemporary frame and geometry, the Canyon Neuron is a much improved trail bike compared to its predecessor. It's calmer and more stable at speed, and we love that it comes with a properly long travel dropper post.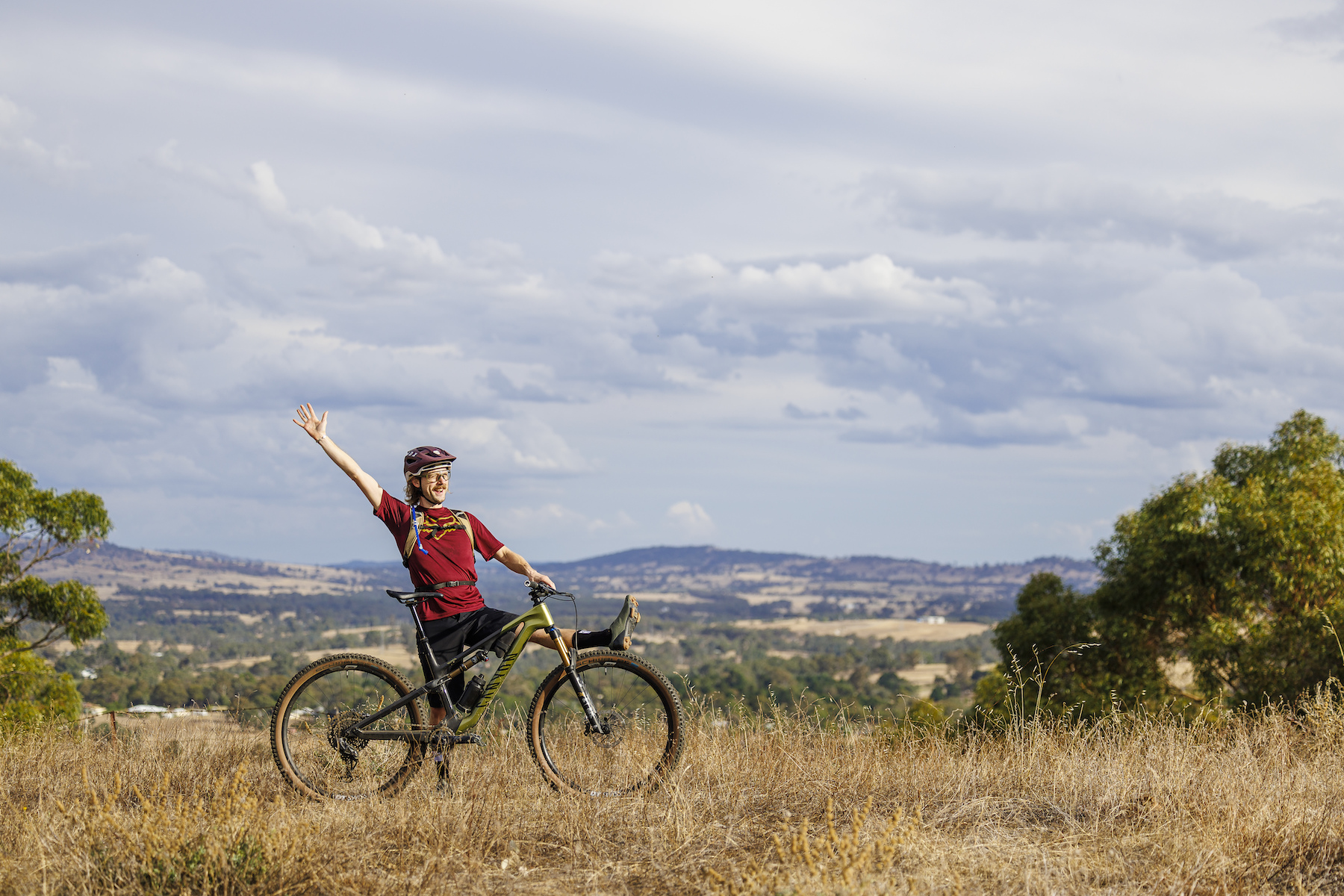 An overview of the 2023 Canyon Neuron
The Canyon Neuron is a mid-travel trail bike that's designed to be comfortable, lightweight and efficient for long-distance riding. It features a 140mm travel fork and 130mm of rear wheel travel courtesy of a four-bar suspension platform. A small alloy link connects the seatstays to the mainframe, while a separate yoke drives the top tube-mounted shock.
Canyon then tailors the Neuron's wheels to the frame size. The XS-S sizes get 27.5in wheels front and rear, while the M-XL sizes get 29in wheels.
With those specs, the Neuron sits in a similar space to the Specialized Stumpjumper, Trek Fuel EX, Norco Fluid and Giant Trance 29 – bikes that we have plenty of experience riding over the past couple of years.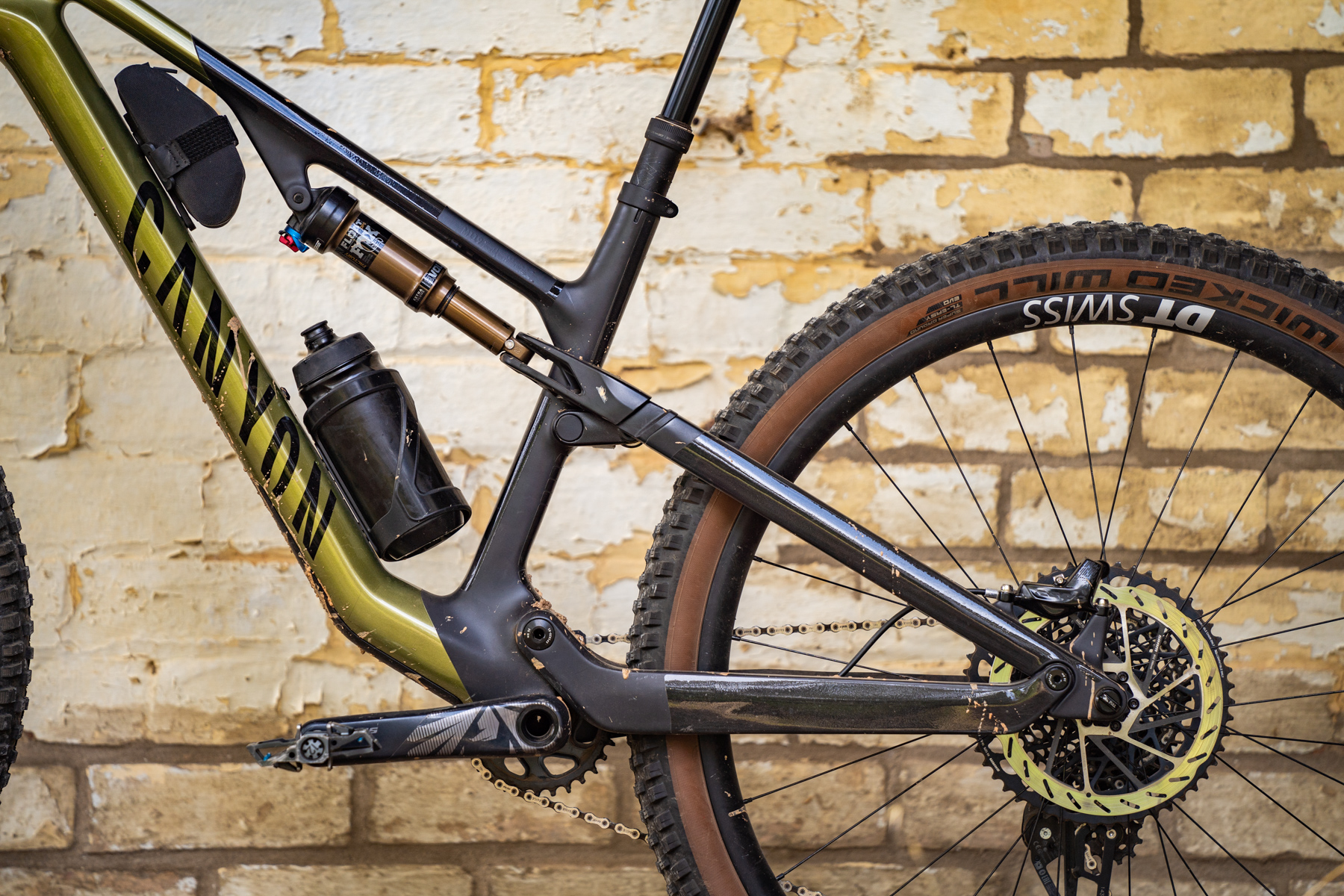 Geometry gets right up to date
The previous Canyon Neuron was pretty conservative even back in 2018, with the short reach and overly long seat tube holding it back somewhat on more technical terrain.
The new bike aims to address this by increasing the reach dramatically. Our Medium sized test bike has basically gone up a full size, with the reach growing from 433mm to 455mm. To improve descending stability further, the head angle has also been slackened by 1.5° and the fork offset has been shortened from 51mm to 44mm.
To compensate for the longer top tube, Canyon has shortened the stem length to 50mm and steepened the seat tube angle by 1.5°.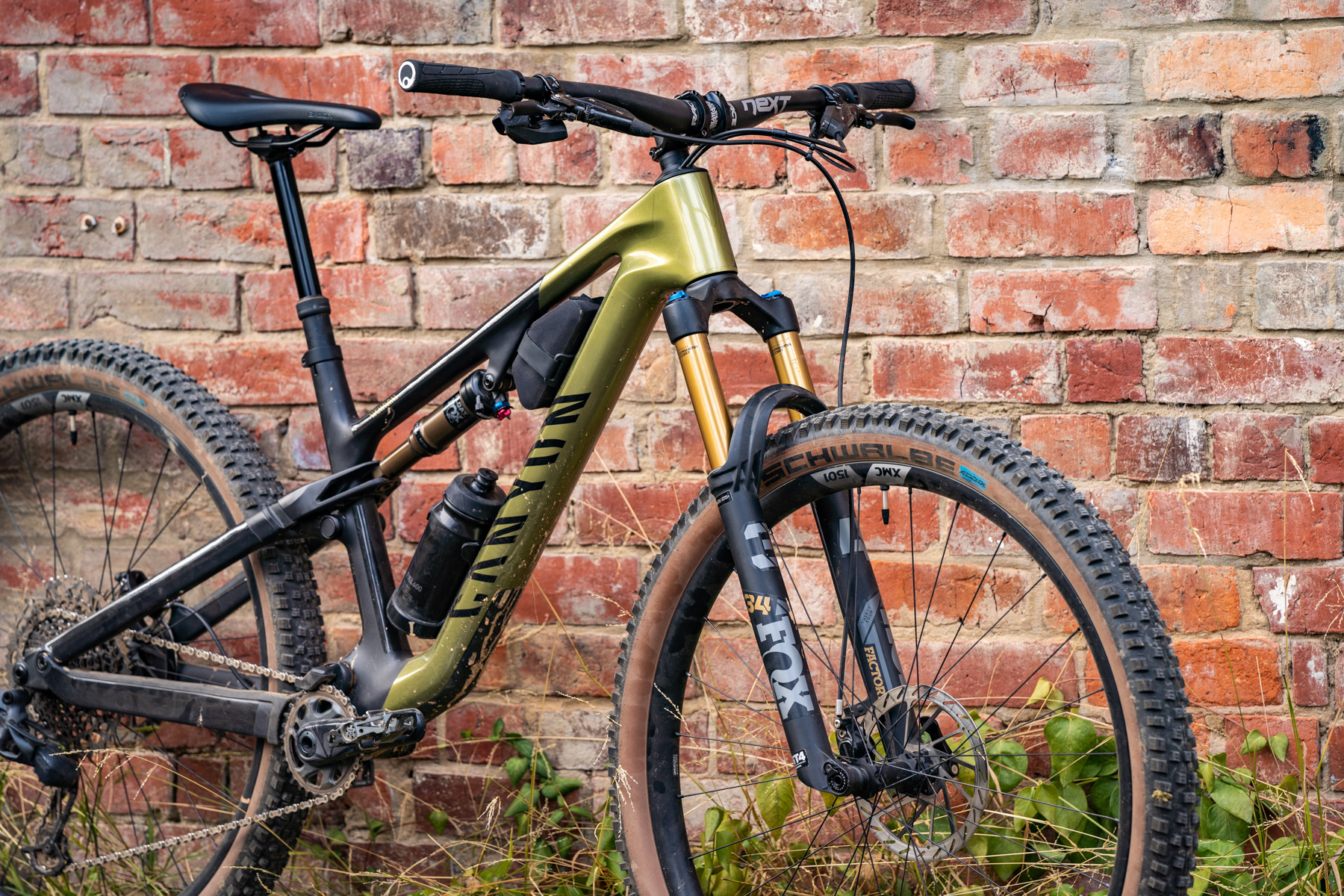 Also welcome is a 20mm reduction in seat tube lengths across the board. The carbon Neuron frames also feature a straight seat tube that allows for maximum dropper post insertion. As a result, you'll find up to a 170mm travel dropper post spec'd on size Small frames. Brilliant!
One thing you won't find is a geometry flip chip. There is no adjustment built into the Neuron's chassis, and that means Canyon doesn't recommend trying to set it up as a mullet.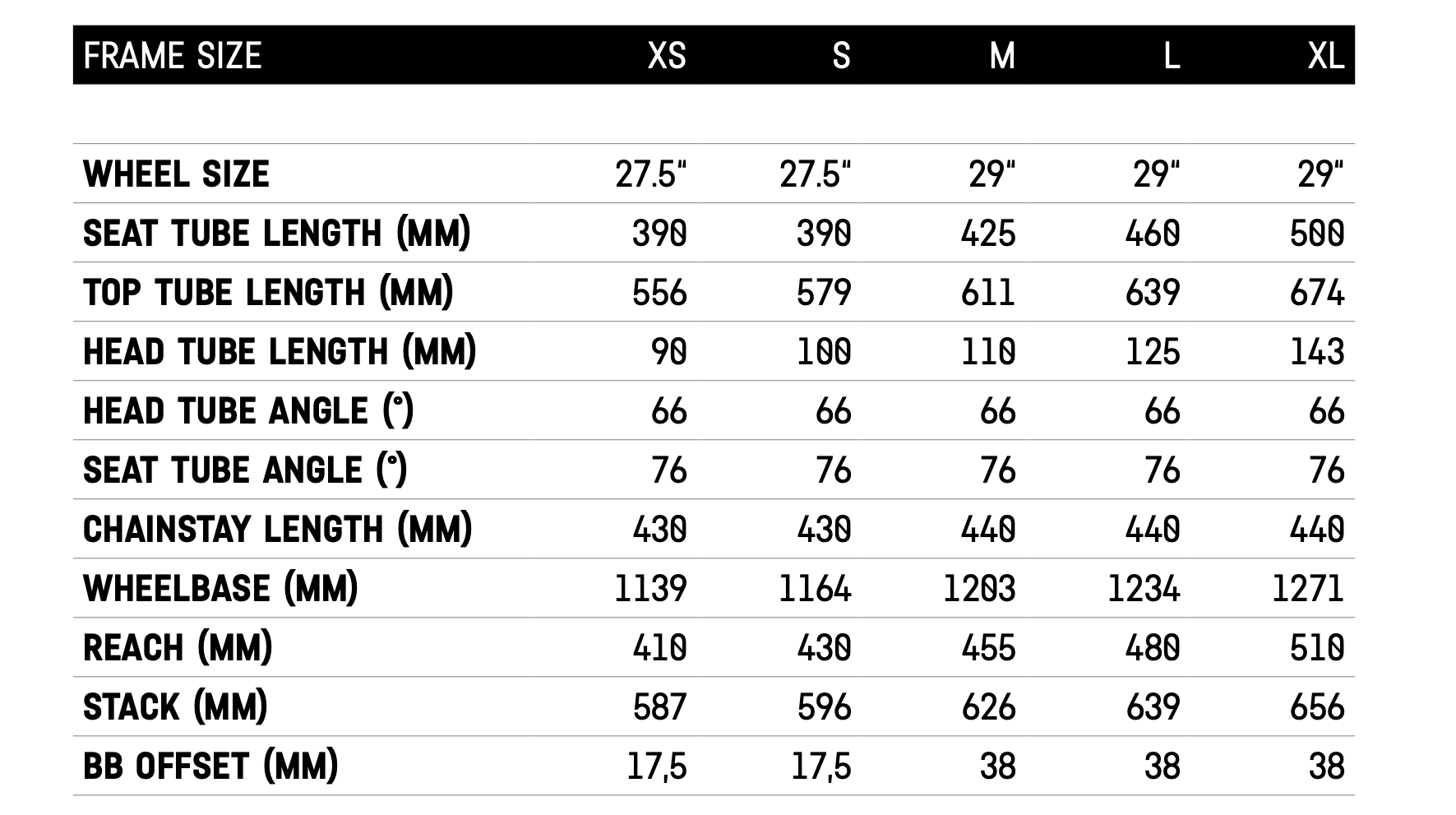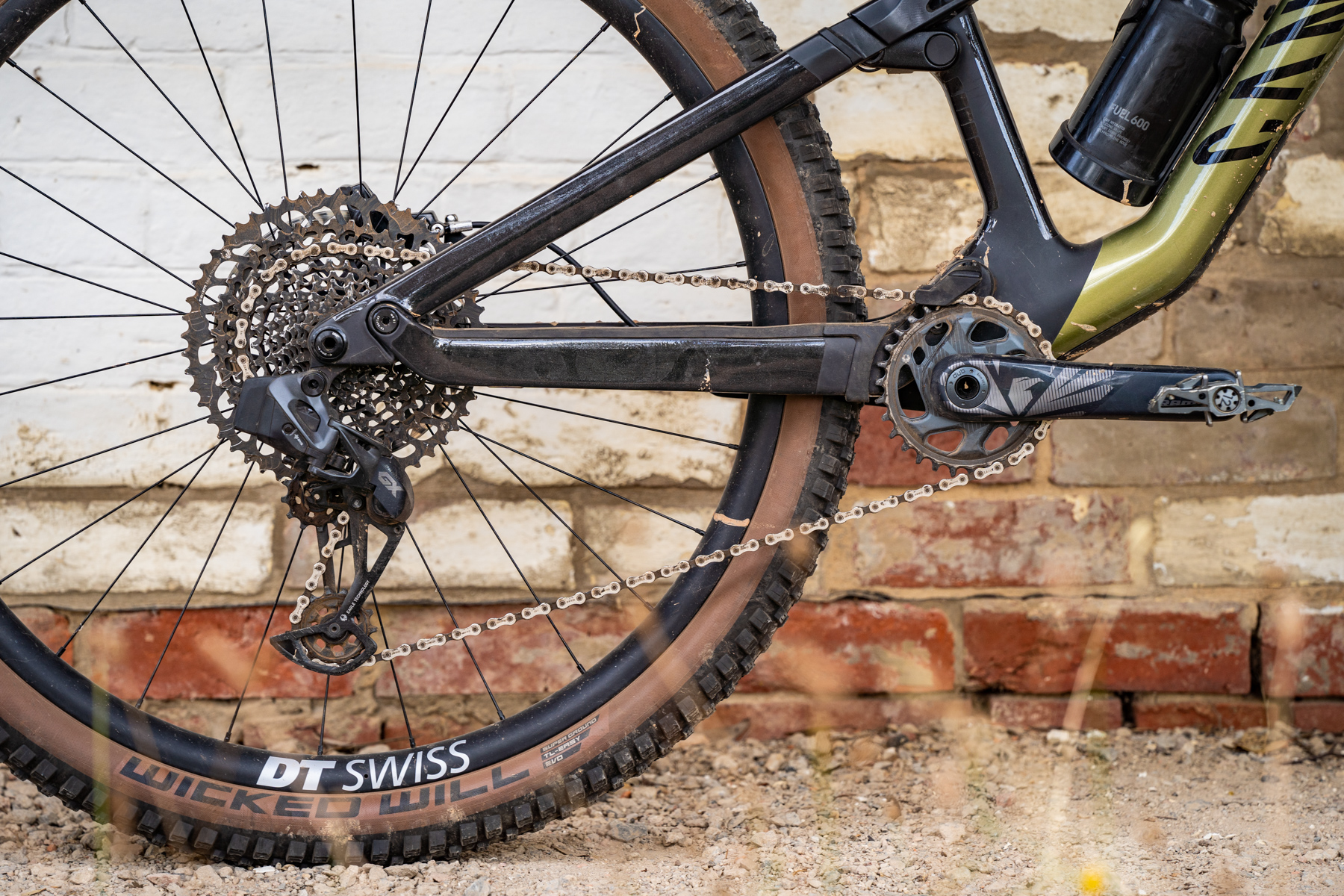 Lighter & stiffer frame
While the overall silhouette of the Canyon Neuron CF remains the same (indeed the rocker link and shock yoke have been carried over from the old model), the rest of the frame is all-new. Most of the tube profiles are slimmer and straighter, which has led to a 200g weight drop over its predecessor. That's impressive given how much longer the new frame is.
Things are considerably beefier around the bottom bracket junction, which incorporates a wider main pivot to bolster lateral rigidity through the rear end. All the pivot axles are new and the bearings feature improved double-lip seals and Canyon's proprietary grease.
Also of note is that the Neuron is now 1x specific. It's a little odd to see this as a new feature in 2023, but the previous version was in fact designed to accommodate a front derailleur. As well as committing to 1x drivetrains, the Neuron now features a 55mm chainline. Canyon's engineers have used this extra clearance to make the chainstays quite thick and boxy to increase strength and stiffness. The maximum recommended rear tyre width is still fairly conservative at 2.4in, but there's gobs of mud clearance back there.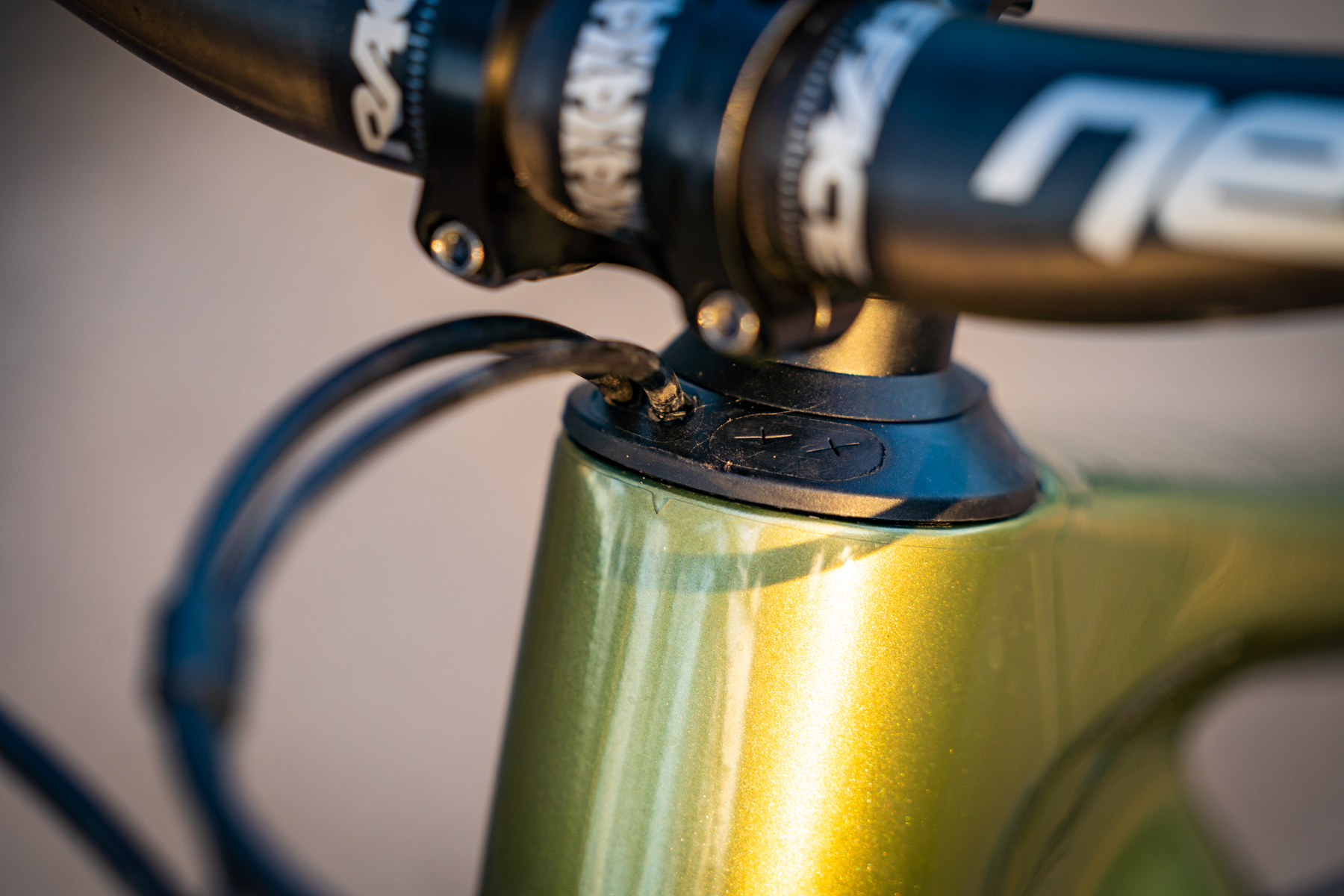 Clean cabling & fine furnishings
In a sign of the times, the Canyon Neuron CF has embraced internal cable routing with the control lines entering through the upper headset bearing. The execution is admittedly quite neat, with rubberised entry ports providing a tight seal to help keep moisture and contaminants from working their way into the bearings.
Canyon has also incorporated guide tubes throughout the frame. We're told that you simply push a cable in from the dropouts, and it'll pop out up at the headtube. In theory, this should make maintenance a simpler affair.
We're glad to see improvements to frame armouring, with a new bolt-on chainstay guard providing significantly greater coverage. There's also a new integrated chainguide, a replaceable downtube protector and clear plastic frame protection. As expected, the Neuron also adopts the UDH standard.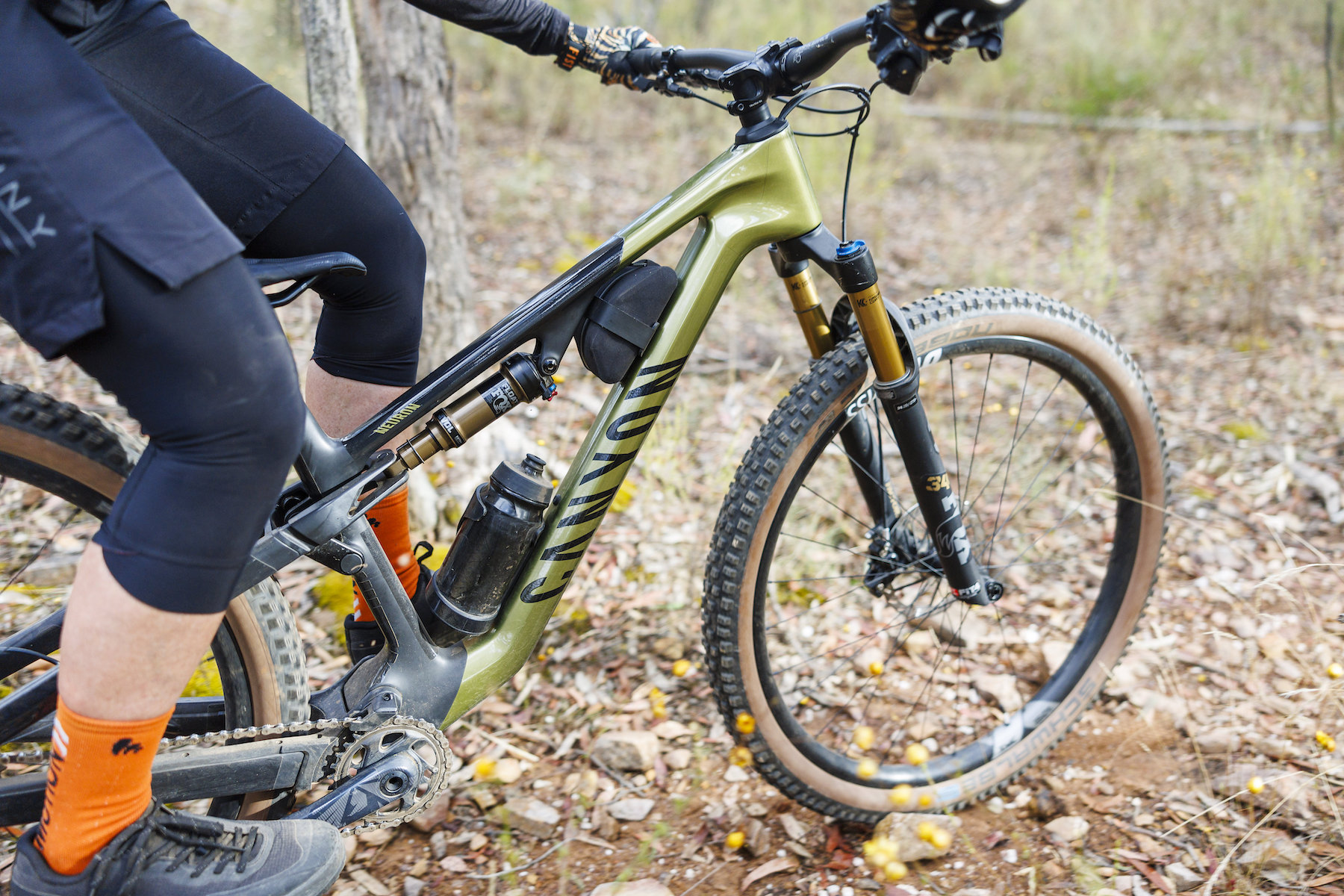 Each frame will fit a bottle and cage on the downtube, though M-XL sizes will accommodate a full-size 750ml bottle. There's also the option to fit an accessory pouch above the shock.
It's worth noting that the alloy Neuron differs to its carbon cousin in that it skips the headset cable routing and the internal guide tubes. It also misses out on a straight seat tube, so dropper post insertion isn't quite as generous. Otherwise it incorporates the same geometry and suspension design.
2023 Canyon Neuron price & specs
There are 11 models in the 2023 Canyon Neuron range. This includes alloy and carbon variants, as well as several 'WMN' models that spec female-specific contact points.
Prices start at $2,449 AUD for the Neuron Young Hero, and go up to $8,849 AUD for the Neuron CF LTD. As always for Canyon, you'll need to factor in the price of shipping to have the bike sent to your door. In our case, that amounts to $229 AUD.
You can see all the specs and pricing for the full range at the bottom of the review. Right now we'll be diving into our experience of testing the second-from-the-top model; the Canyon Neuron CF 9 SL.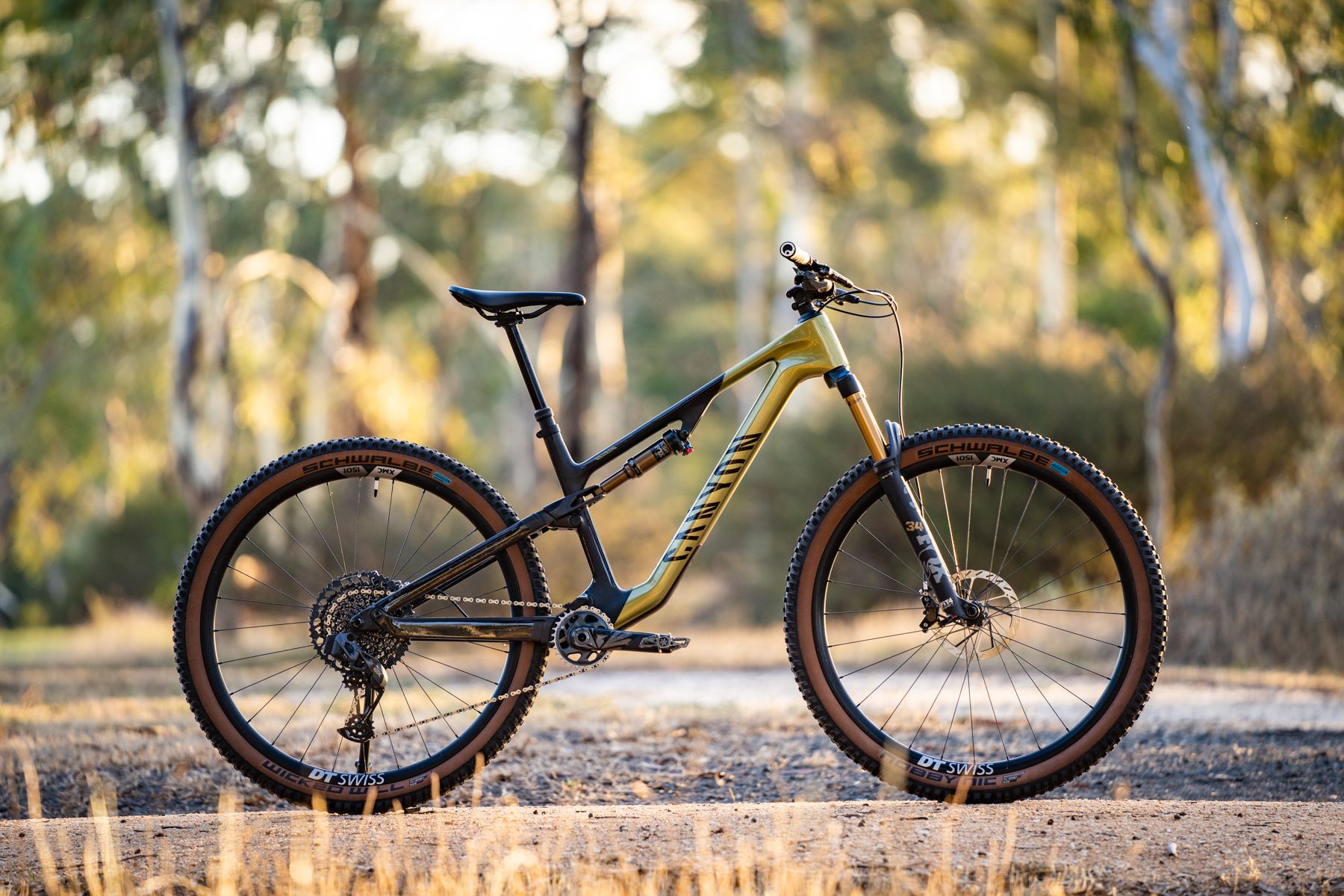 2023 Canyon Neuron CF 9 SL
Frame | CF Carbon, Four-Bar Suspension Design, 130mm Travel
Fork | Fox 34, Factory Series, FIT4 Damper, 44mm Offset, 140mm Travel
Shock | Fox Float DPS, Factory Series, 210x50mm (190x45mm on XS-S sizes)
Wheels | DT Swiss XMC 1501, Carbon Rims, 30mm Inner Width
Tyres | Schwalbe Nobby Nic 2.4in Front & Wicked Will 2.4in Rear, Super Ground Casing & Addix SpeedGrip Compound
Drivetrain | SRAM GX Eagle AXS 1×12 w/30T GX Eagle Carbon Crankset & 10-52T Cassette
Brakes | SRAM Code RSC 4-Piston w/180mm Rotors
Bar | Race Face Next 35 Carbon, Width: 740mm (XS-S), 760mm (M-XL)
Stem | Race Face Turbine R 35, Length: 50mm
Grips | Ergon GA20 Lock-On
Seatpost | Canyon G5 Adjustable Dropper, 30.9mm Diameter, Travel: 150mm (XS), 170mm (S-M), 200mm (L-XL)
Saddle | Ergon SM10 Sport
Confirmed Weight | 12.86kg (Medium)
RRP | $7,399 AUD (plus shipping)
Combined with its comfortable riding position, the Neuron has been a loyal and versatile partner for tackling long backcountry trail rides.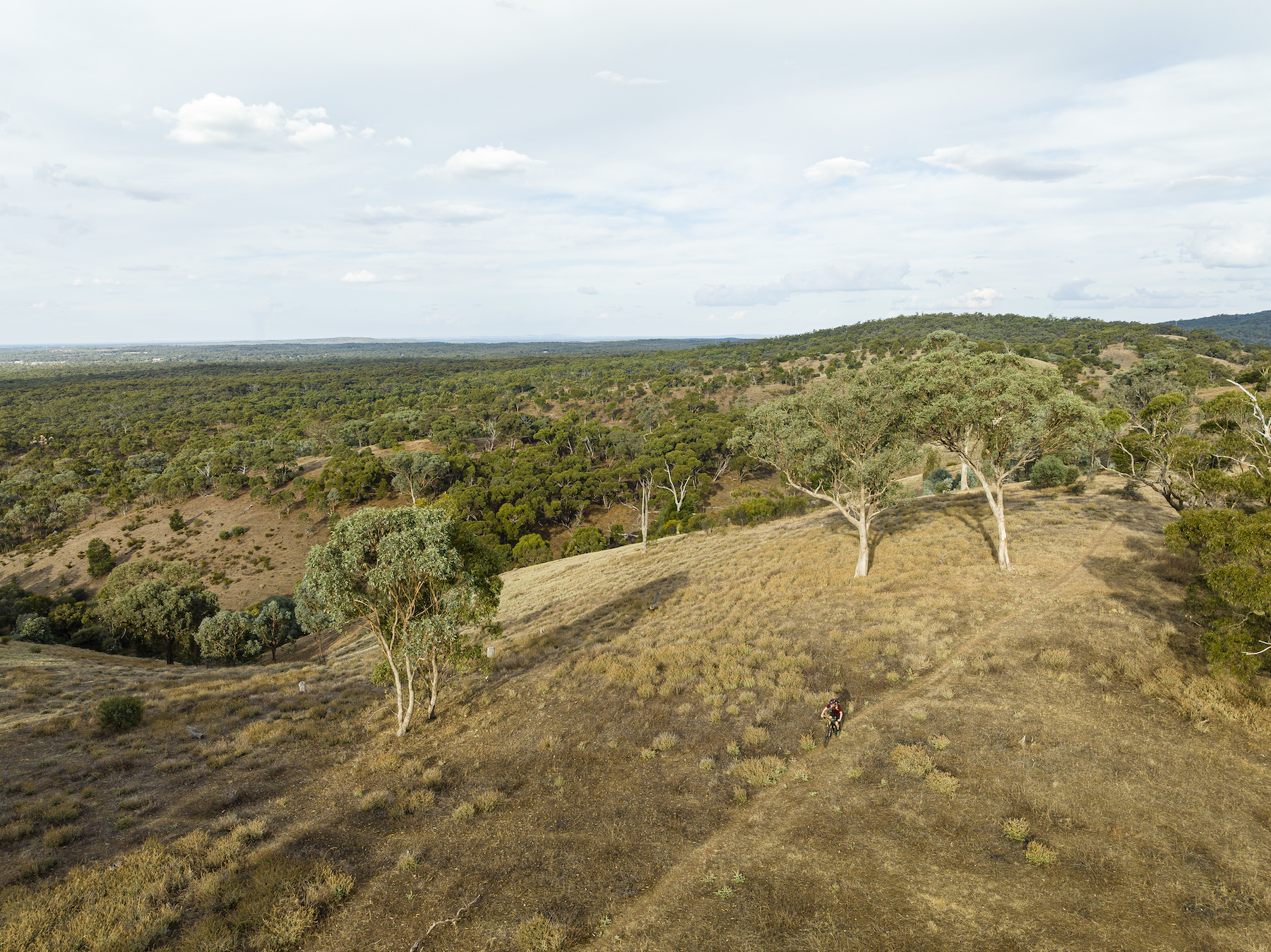 Canyon Neuron sizing & fit
To suit Roz's height of 165cm and Wil's height of 175cm, we went for a Medium size in the Canyon Neuron.
Straight away we found the new bike to feel considerably more contemporary than the outgoing model. Despite the 22mm jump in reach, the effective cockpit length isn't all that different thanks to the steeper seat angle and shorter stem. It's still roomy and reasonably upright, though you're simply positioned more centrally within the cockpit.
The 76° seat angle provides a more stable seated position on the climbs, without being so steep to cause excess wrist pressure and discomfort when riding on the flats. It's a great compromise.
As for contact points, Wil loved the Ergon saddle with its flat profile and central relief channel. It was too narrow for Roz though, so she swapped it for a more female-friendly Specialized Power Mimic saddle. While the Ergon grips offer a lovely compound and shape, the end of the plastic sleeve can rotate slightly on the bars, which occasionally results in an unnerving creaking sensation when you're gripping hard on the descents. We've had the same experience with the same GA20 grips on a Canyon Lux World Cup test bike, so it doesn't appear to be an isolated issue.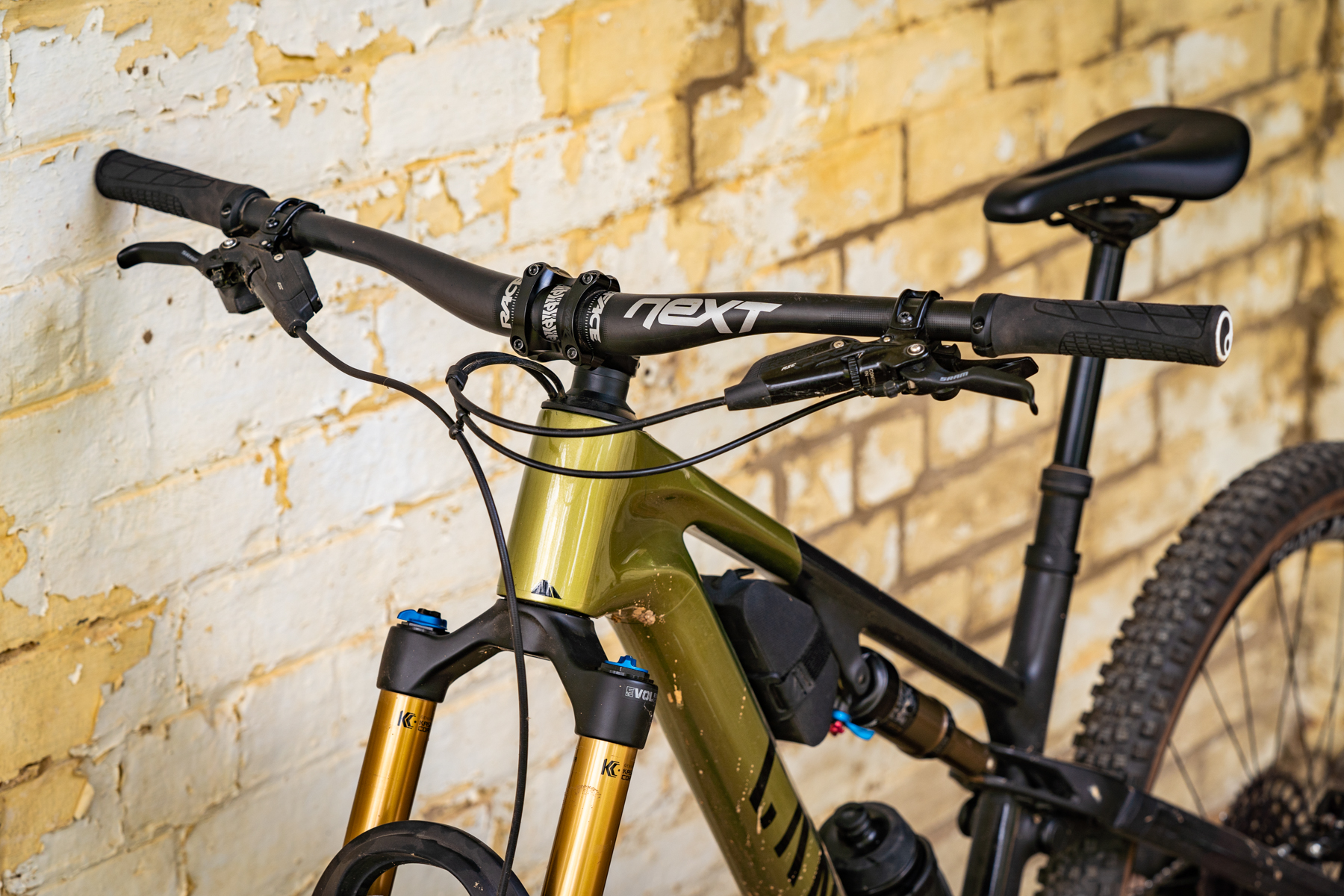 The 50mm stem and 760mm riser bars are a great match for the Neuron, giving it a sporty feel that sits in between an XC bike and a more aggro trail bike like the Spectral 125. While we got along fine with the bar height, it's worth noting that the steerer length is cut fairly short, limiting the adjustment range. As such, riders wanting a taller position will need to fit a higher-rise bar. Conversely, the headset cable routing means things get a bit squishy if you're attempting to slam the stem.
We were thrilled to see a 170mm travel dropper post on our test bike, which Wil was able to fully exploit thanks to the frame's short and straight seat tube providing plenty of insertion depth. Roz only had to shrink the travel down slightly, which is easy to do thanks to the tool-free adjustment built into the G5 dropper post. Still, it was the first time she's been able to ride with a 165mm travel dropper, and the experience was quite the revelation.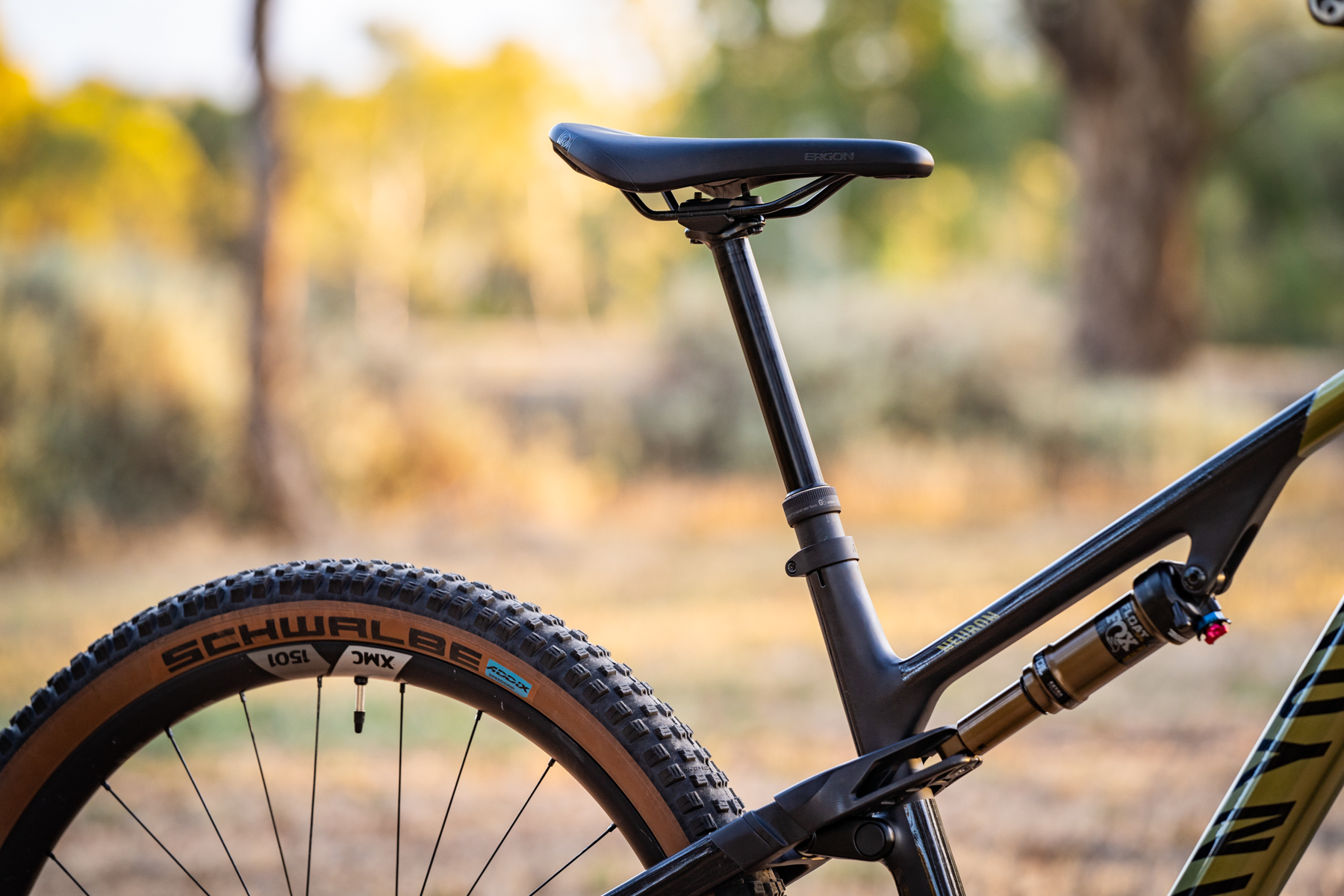 Suspension & tyre setup
Unfortunately there are no detailed suspension setup recommendations for the Neuron. As we understand, Canyon is currently working on providing more resources to help support its customers with getting their bikes dialled in, which will be a welcome improvement. In the meantime, check out our suspension tuning articles on forks and shocks to help you get started.
We began with 30% sag for the rear shock, which works out to be 15mm of displacement at the O-ring. Wil settled on 165psi to support his 68kg riding weight. Roz ended up running a bit more sag, and ended up at 146psi to suit her 60kg riding weight.
We set the fork up as per Fox's recommendations, and then tuned the shock's rebound damping to balance out the bike.
While the stock settings worked well for Wil, Roz found she was struggling to use full travel on the fork. She ended up removing the single volume spacer from the air spring, which opened up the travel and led to a plusher ride.
As for tyre pressures, Roz was able to go as low as 17psi in the front and 19psi in the rear thanks to her smooth riding style. Wil varied between 21-23psi in the front to 23-25psi in the rear, depending on the trail conditions.
Canyon Neuron weight
Confirmed weight for our Canyon Neuron CF 9 SL test bike is 12.86kg. As usual, that figure is without pedals, and with the tyres setup tubeless.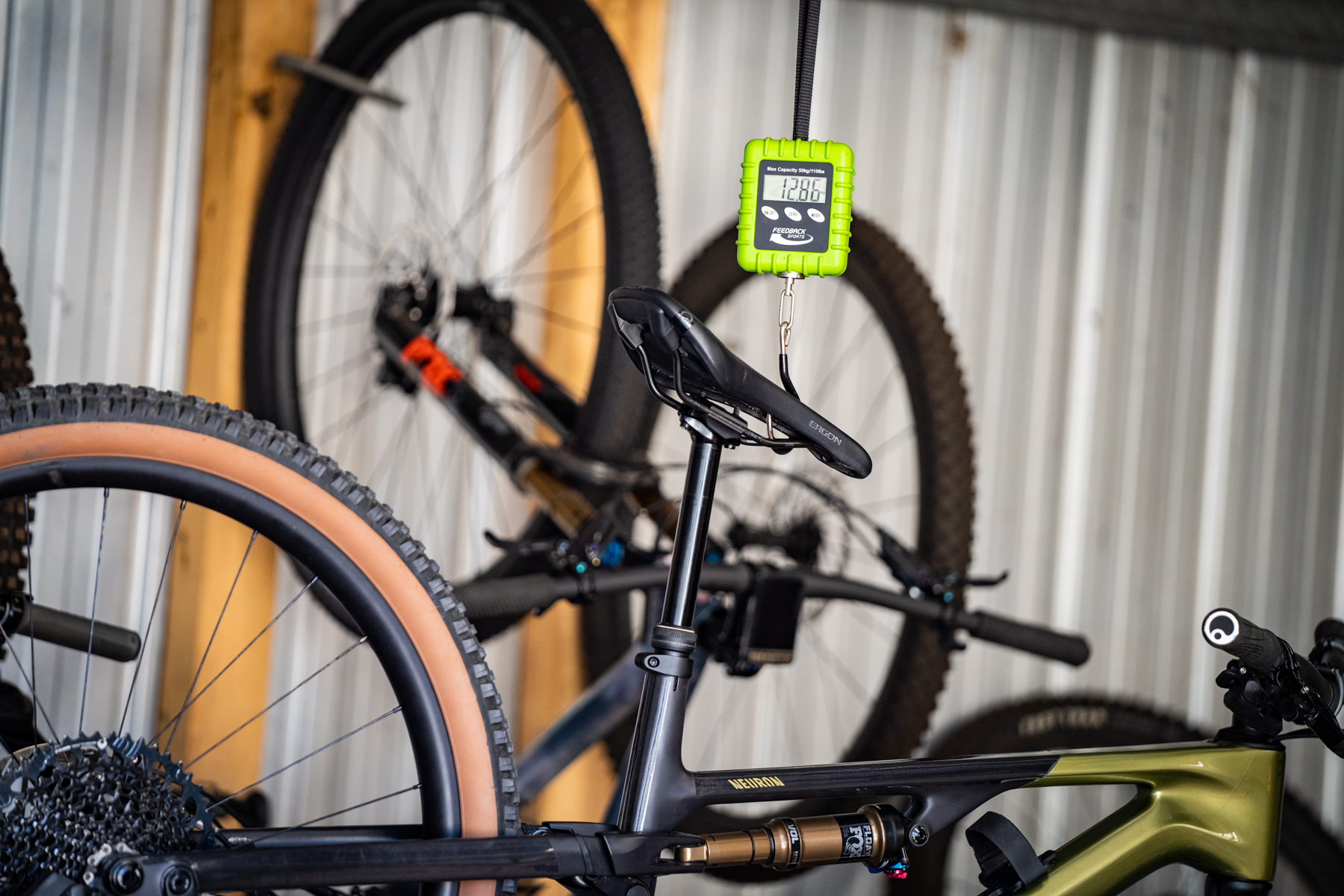 According to Canyon, the new Neuron CF frame weighs 2,715g including the shock and hardware. The alloy Neuron frame is claimed to be 660g heavier (3,375g including shock).
There are some light components that contribute to the respectable overall bike weight. The DT Swiss XMC 1200 wheelset came in at 1,707g on our workshop scales, and the Schwalbe tyres are both right around the 850g mark. This is due to them using the supple but fairly thin Super Ground casing.
Heavier riders and those frequenting rocky trails will likely want to change those out for a set of tyres with more puncture protection. Alternatively, adding an insert like CushCore would be a good idea to help protect the carbon rims and minimise the chance of pinch flats.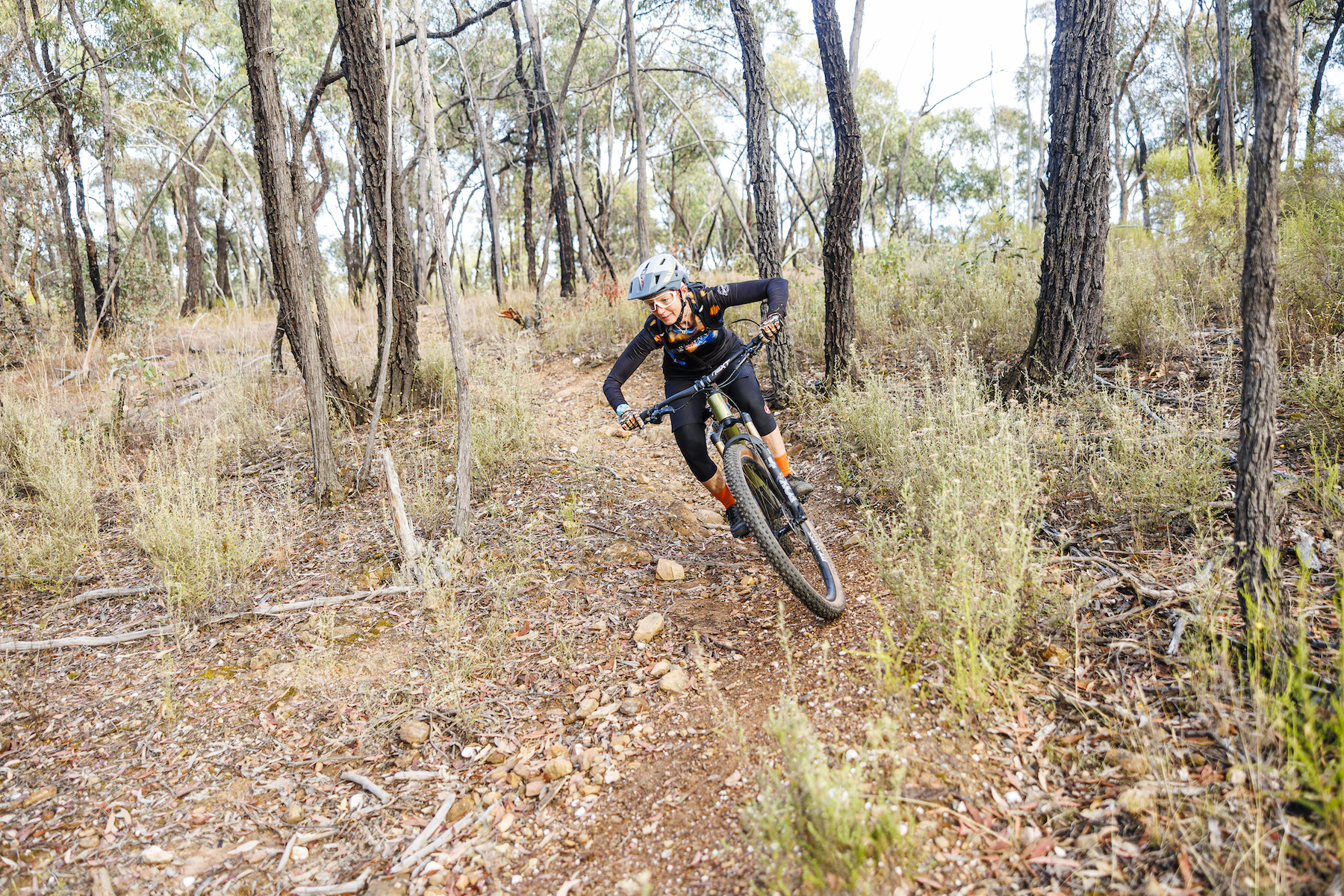 What do we dig about the Canyon Neuron?
The first thing we noticed on the trail is how light, fast and efficient the Canyon Neuron is. This is especially the case when we compare it to some of the other trail bikes we've ridden lately.
Zooming out for a moment, you may have noticed a trend in recent years for trail bikes to be burlier and more capable. We're seeing an increasing number of short travel bikes with piggyback shocks, bigger forks, and more aggressive tyres, which are all good things when it comes to rowdy descending. However, those spec choices also result in more weight, and tend to make what is otherwise a sprightly trail bike feel sluggish and uninspiring on undulating terrain.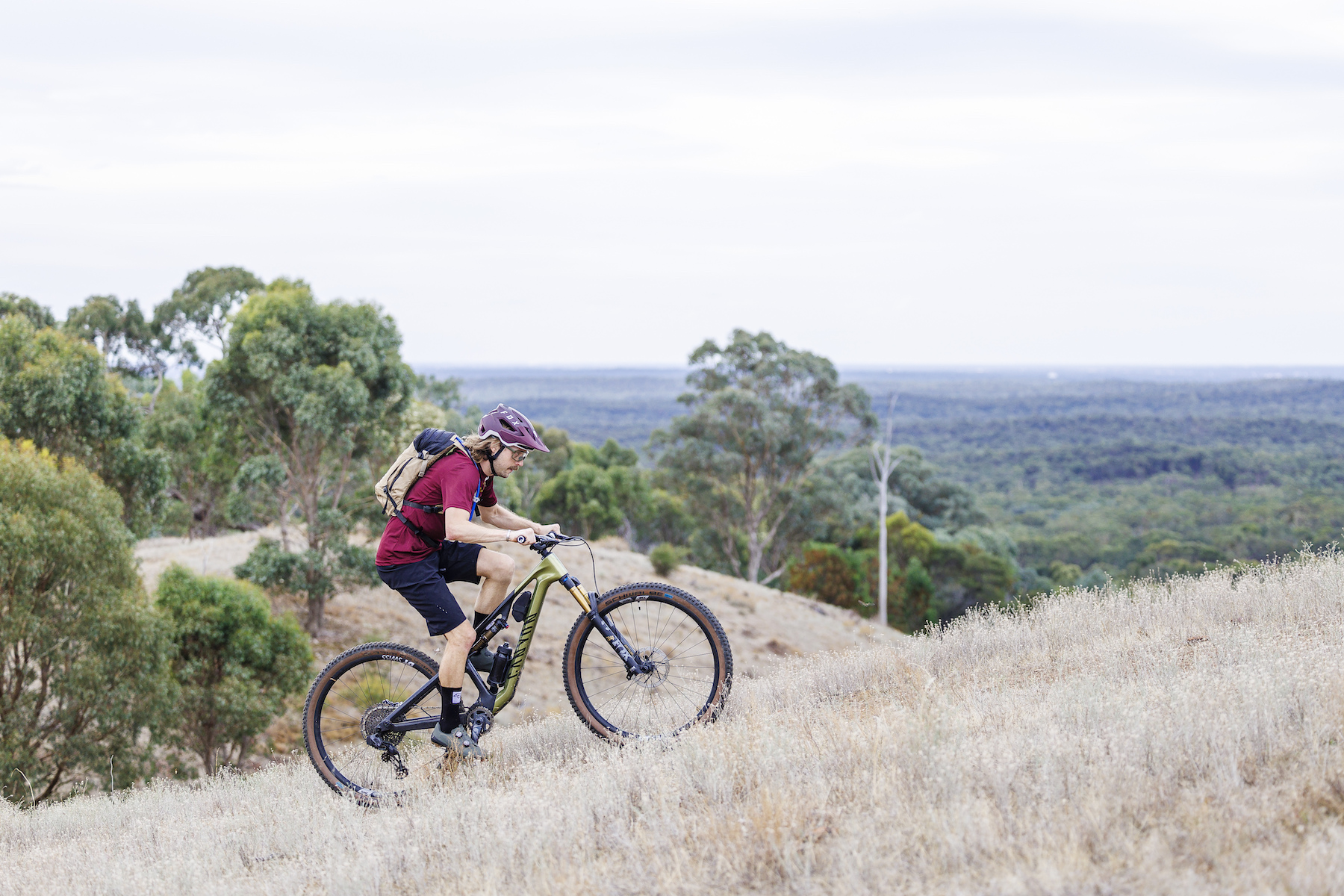 In contrast, the Neuron feels peppy and enthusiastic thanks to its respectable weight, stiff carbon wheels and speedy tyres. There's minimal rolling resistance from Schwalbe's firm Addix SpeedGrip compound, and the ramped tread of the Wicked Will on the rear adds a noticeable turn of speed when accelerating.
Pert pedalling
This sensation is complemented by the Neuron's efficient pedalling performance. There's minimal pedal bob, even with the shock set to the lightest compression position.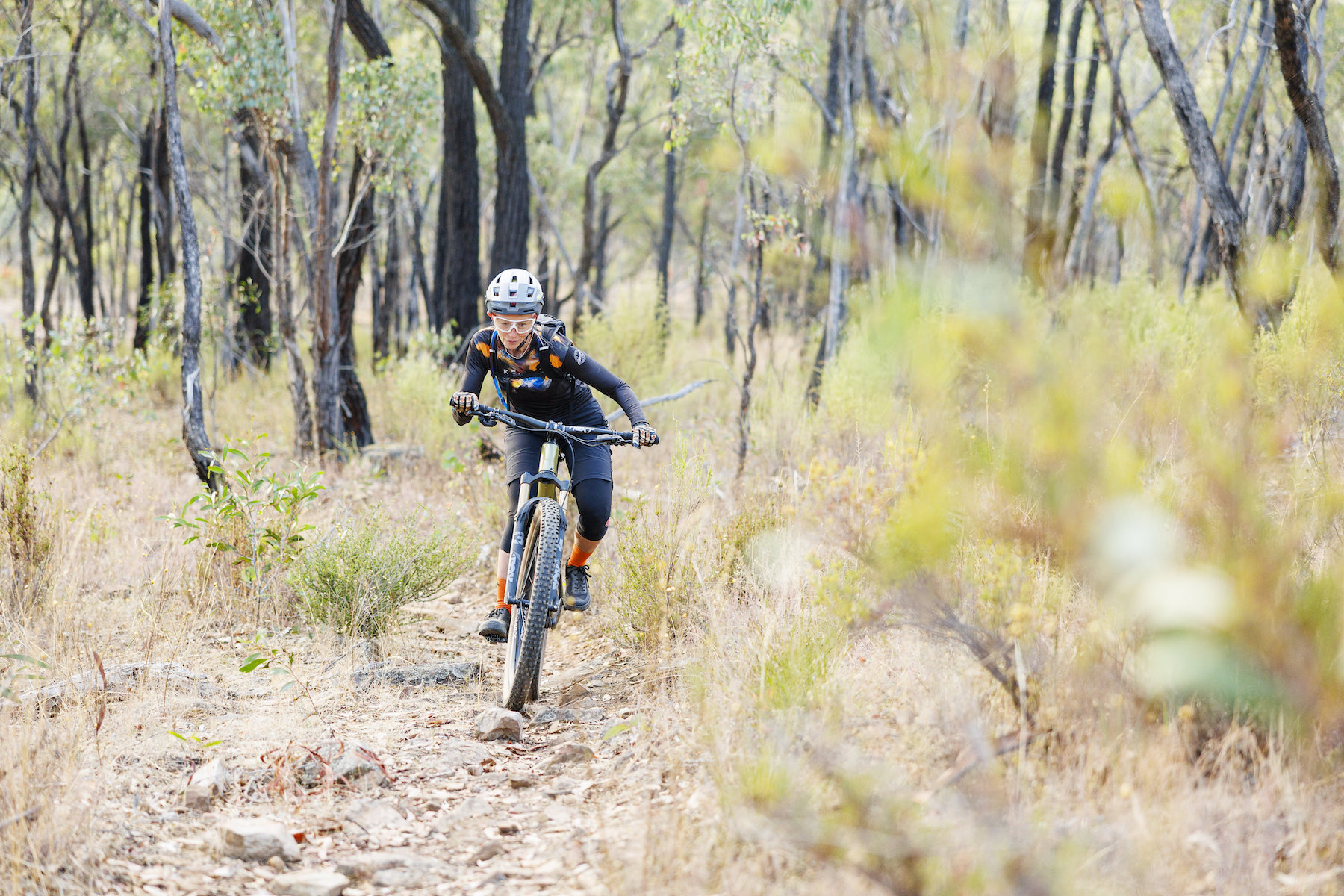 The only time we used the blue compression lever was on steeper gradients where the suspension would sink slightly into its travel. In these instances, flipping the lever into the middle Trail position was less about boosting pedal efficiency, and more about lifting the bike's dynamic ride height. This helped to maintain the seated climbing position and gave us a few more millimetres of ground clearance on rocky and technical ascents.
The compression switch is super easy to reach since it's right by your knees, and we found ourselves regularly using it to adapt the suspension on-the-fly. Up front the FIT4 fork damper features a matching three-position compression lever, allowing you to firm up the whole bike when you're hammering away on the bitumen.
Combined with its low overall weight and fast-rolling tyres, the Neuron is a great climber. Throw in the 30T chainring, and you've got some serious low-range gearing for tackling big, arduous alpine ascents.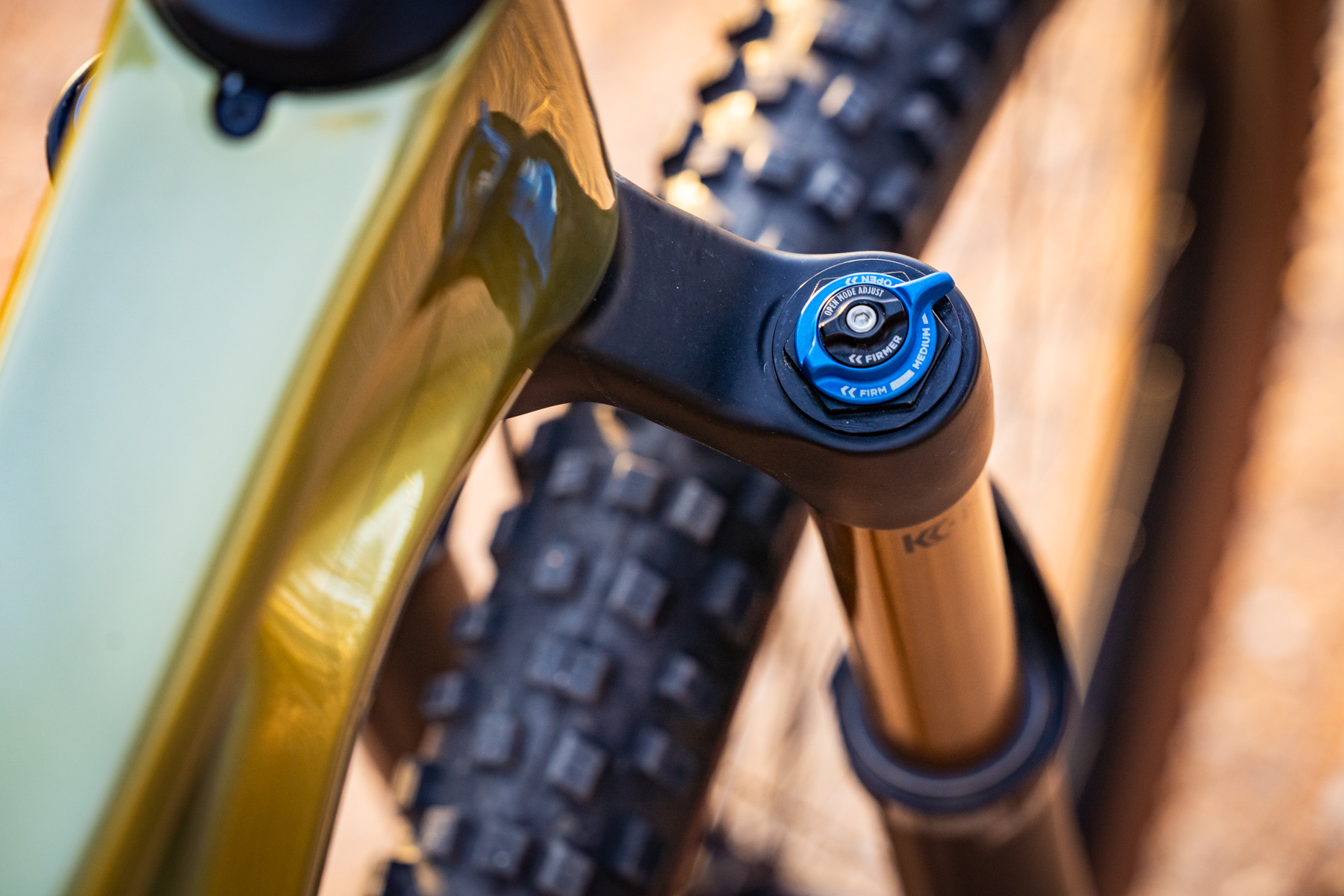 Contemporary handling
On really rough terrain, we noted that the Neuron doesn't offer an uber-plush ride. The flip side is that it is very responsive on smoother trails, and the whole bike feels nicely balanced front to back.
The newly lengthened and slackened front end provides significantly greater stability at speed, boosting your confidence on faster descents. However, it's not so slack as to make the bike floppy and awkward on steep climbs. Going up or down, we never felt like we had to excessively weight either end of the bike, with the overall distribution feeling neutral and easy to control.
Indeed the handling has been one of our favourite attributes of the Neuron, which seems to manage a variety of situations really well. On swoopier trails it skilfully threads around tight corners, with the stiff chassis and carbon wheels giving it terrific precision. We never felt like we were fighting over or understeer, and that makes the Neuron an easy and intuitive bike to ride.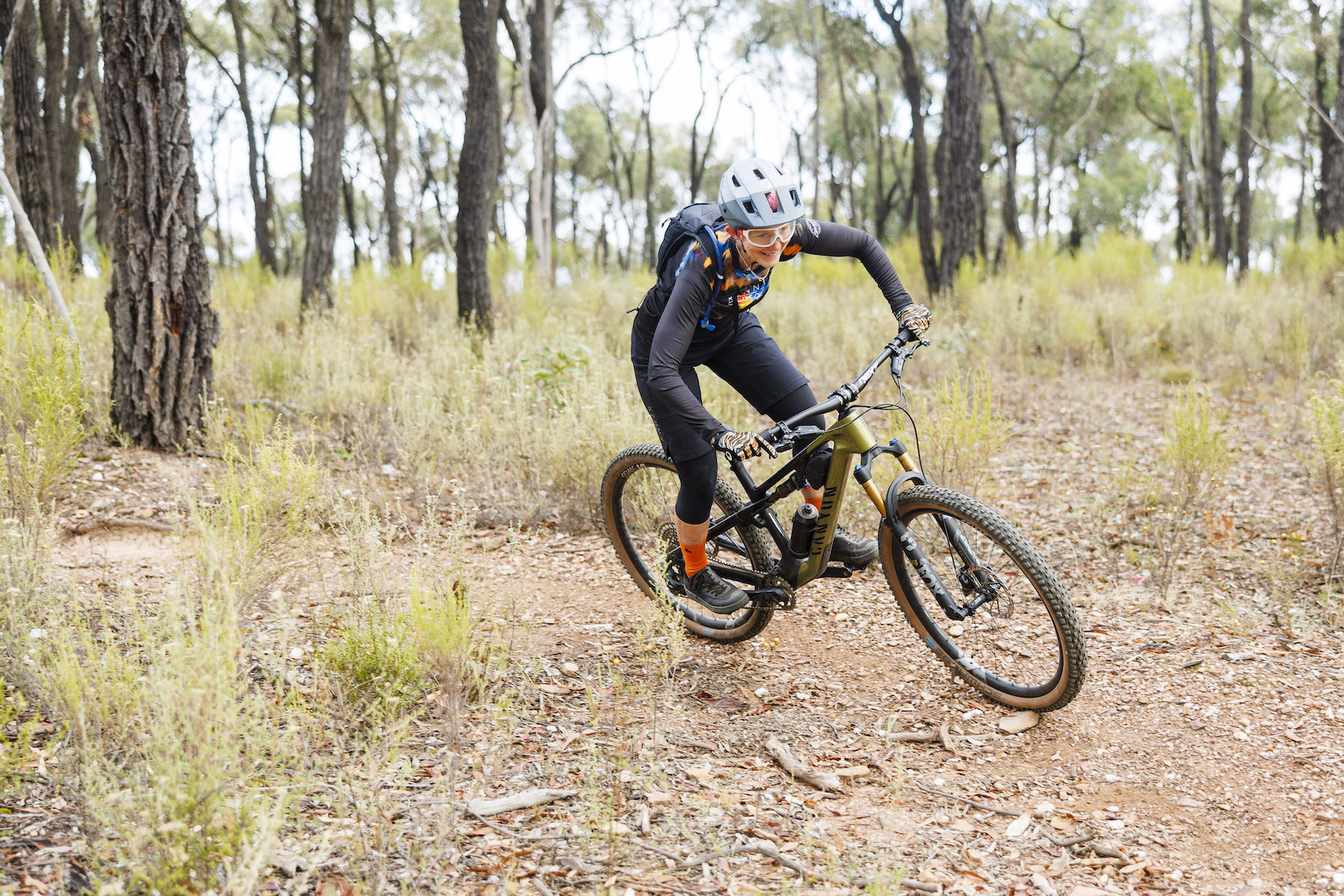 The long-stroke dropper post is also a boon on modern flow trails, providing you with heaps of room to move around the cockpit. The top tube is low slung, while the slim linkage and narrow frame profile reduces the chance of catching your knee pads or baggy shorts. As a result, you can really lean the bike over when required, and it also lets you get right off the back when pointing down steeper chutes.
Combined with its comfortable riding position, the Neuron has been a loyal and versatile partner for tackling long backcountry trail rides. It doesn't give up a lot in terms of weight and efficiency over a purebred XC full suspension bike, but the added travel and contemporary geometry offers a notably calmer ride with a greater margin for error.
What does it struggle with?
On rockier trails, the Canyon Neuron does transmit more feedback than we'd like. There's a noticeable degree of chatter, making it difficult to hold a line when things get rowdy and off-camber.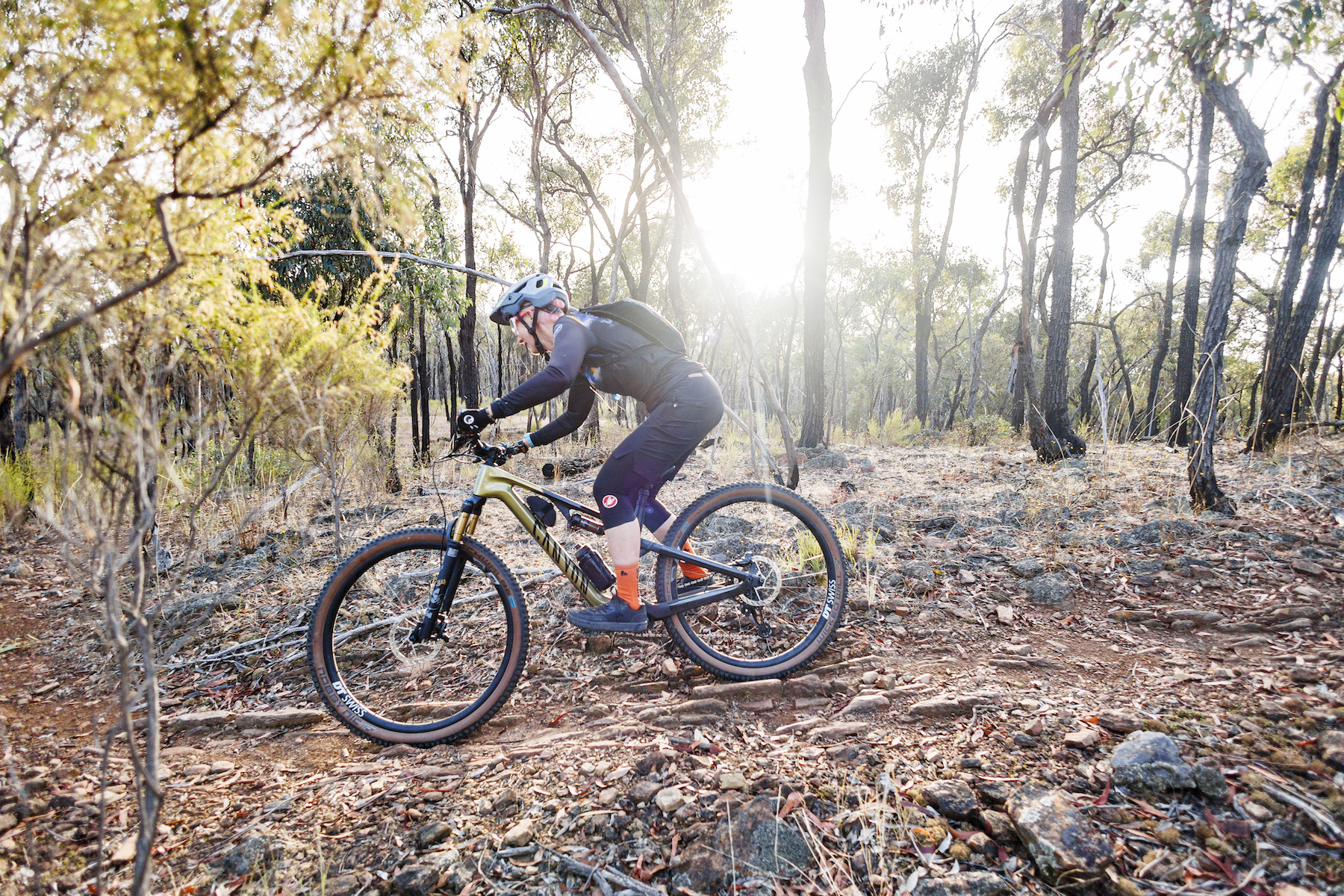 This boils down to a combination of factors, with the stiff carbon rims being one of them. We've ridden these DT Swiss wheels on a variety of bikes over the past couple of years, and while they are tough, solid and highly responsive, they don't offer a lot of compliance. This will be less of an issue for heavier riders, but our sub-70kg test riders found they pinged around when pummelling through chunkier rock gardens.
The FIT4 damper in the Fox 34 fork is also stickier and less sensitive than the alternative GRIP or GRIP2 damper. It's still a good fork, and the FIT4 damper is currently the lightest option that Fox makes. It just doesn't provide the same level of comfort and traction, and that leads to less control and confidence on the descents.
The other issue is the tyre's firm Addix SpeedGrip rubber compound, which doesn't offer a lot of damping. While efficient and hard-wearing, the tyres struggle to hold on rocky slabs and they lack traction in the wet. They're perfectly fine on softer loam, and they are a big contributor to the Neuron's zippy character on hardpacked surfaces. But for our local terrain, where things are loose, rocky and dusty, we'd be keen to switch them out for some burlier and stickier rubber.
Trail-ripping potential
We mention the above issues because the Neuron is otherwise a very capable trail bike. The geometry and riding position are fantastic, and the big brakes offer a load of stopping power that suits high-speed trail ripping. The rear suspension is responsive and well managed, helping the rear wheel to track the terrain smoothly while maintaining support on bigger impacts.
Indeed there's certainly plenty of potential to be tapped into for those who want to try out burlier tyres and potentially a different fork damper. The frame is strength tested for a 150mm travel fork, and there's even clearance to run a piggyback shock if you wanted to try it.
There are obvious compromises that come with those changes, and we understand why Canyon has kept the Neuron on the lighter side in order to better separate it from the more aggressive Spectral 125.
And it has to be said that the Neuron is a fantastically speedy and efficient bike in its stock configuration. We see it as being a particularly good step-up option for those who are coming from an XC bike and are looking for something with more travel and capability, without the added heft that typically comes with it.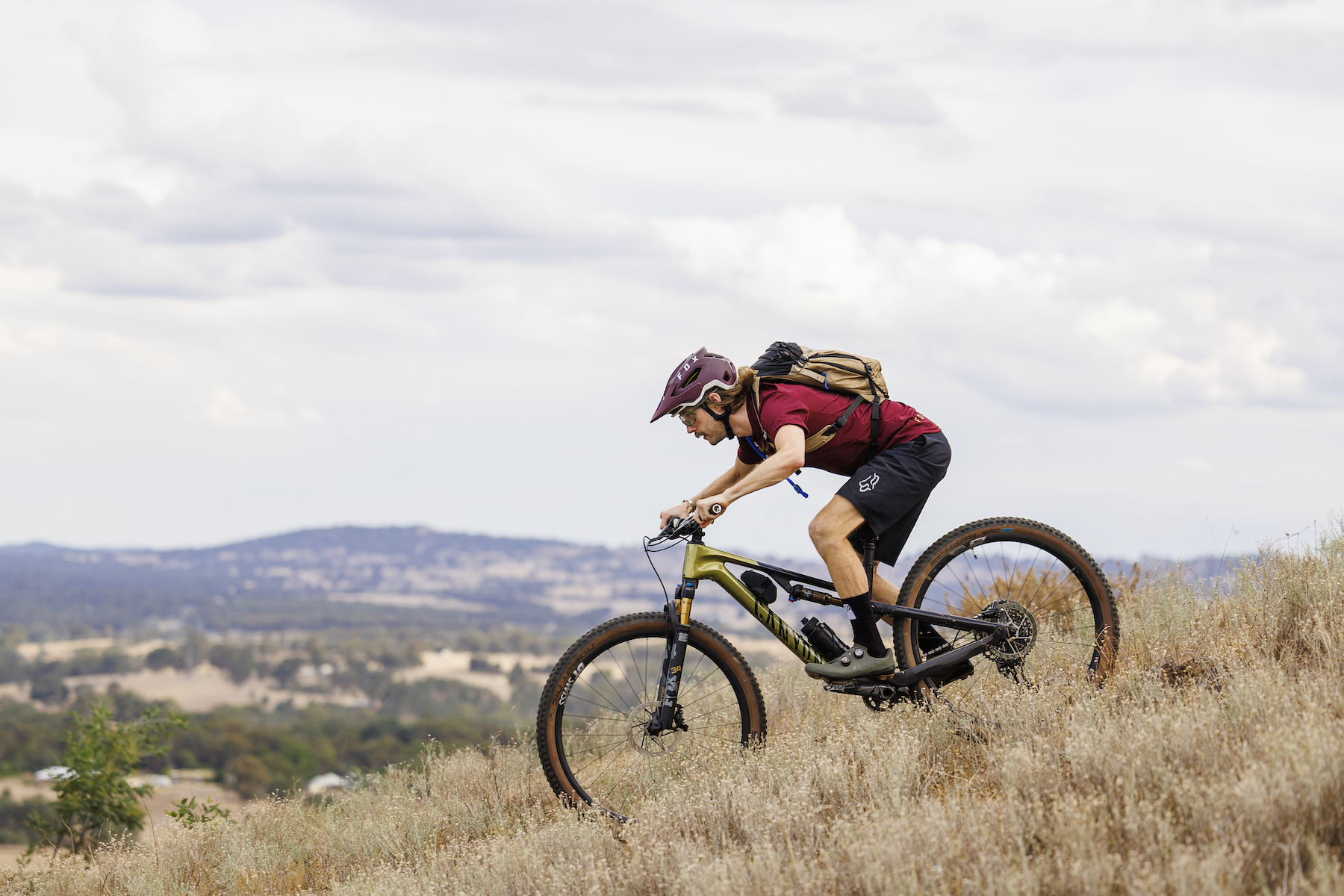 Component highs & lows
As a bike that's sold direct-to-consumer, the Canyon Neuron CF 9 SL offers an exceptional package for the money. And aside from the creaky grips, we've had no issues with any of the parts on our test bike despite racking up a heap of saddle time under two riders.
The brakes have been solid, the wireless shifting is crisp and effortless, and the MMX clamps result in a nice and tidy cockpit. We particularly like the dropper post lever, which features a concave profile and textured grooves for a nice, tactile feel. There is a bit of rotational play in the post itself, but it hasn't been noticeable while riding. And we'll reiterate our appreciation for Canyon's decision to spec a 170mm dropper on both the Small and Medium size frames.
General trail noise is kept to a minimum thanks to the well-managed chain and bolt-on frame armour. Likewise, the threaded BB, UDH, and tool-free axles are all welcome, practical details.
There have also been no creaks from the frame or the headset, which is more than can be said for some bikes we've recently had on test. And thanks to the internal guide tubes and well-sealed top cap, we're not even that upset about the headset cable routing. The only bummer is that because the bike is shipped to customers in a box, the dropper cable and rear brake hose need to be left quite long. This is great for those who will be regularly travelling with their bike, but we'd be trimming down those lines to reduce the cockpit clutter.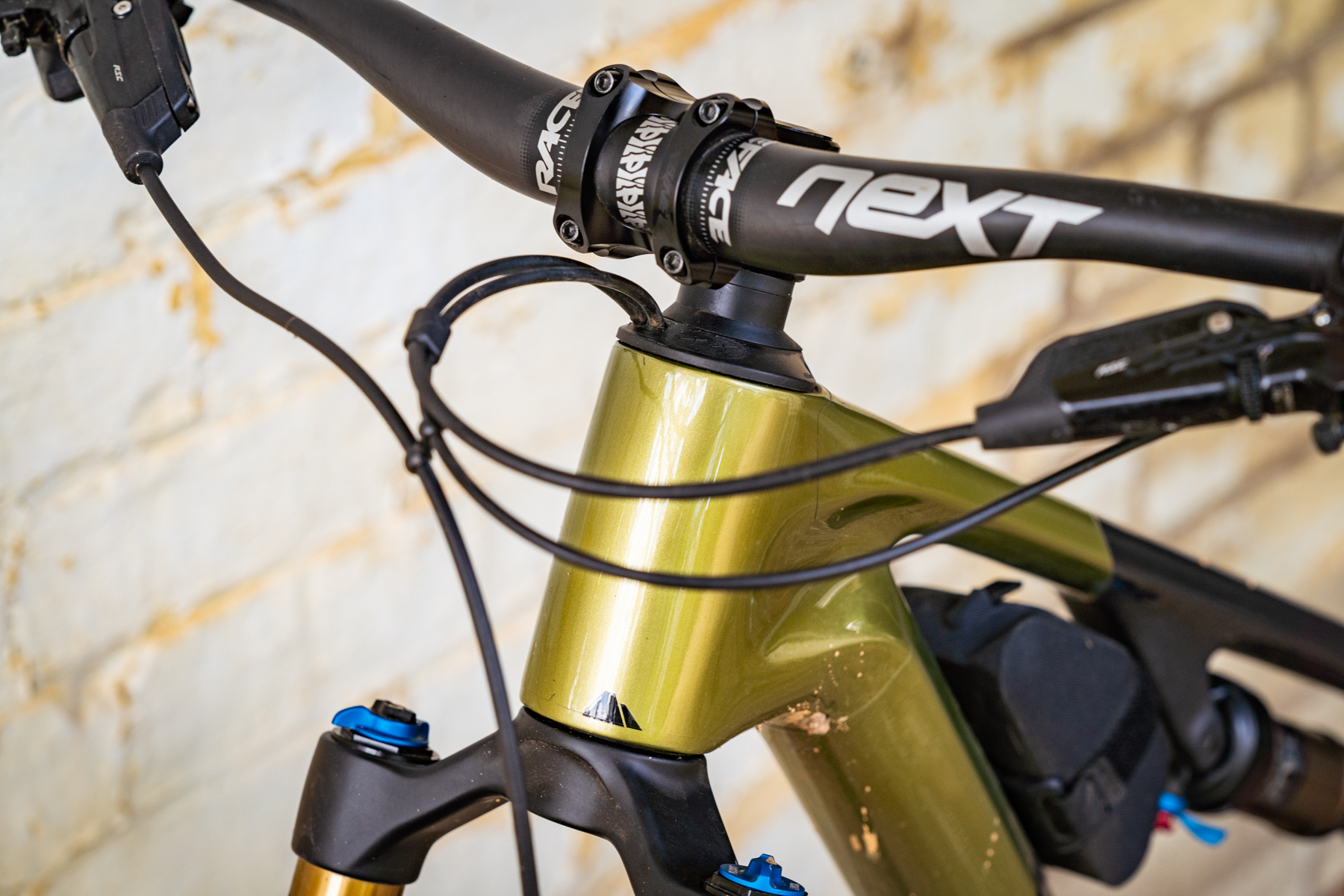 The IPU 2.0 headset incorporates a hidden steering limiter, though we never once noticed it while riding thanks to its broad range of rotation. Only when putting the bike in the back of your car does it present potential annoyance.
Canyon Neuron vs Lux Trail
As mentioned earlier, the new Canyon Neuron arrives in a somewhat crowded full suspension lineup. This is likely to cause some confusion amongst potential customers, so here we'll be diving in to our experience of testing those other Canyon models to help put them into context.
The Canyon Lux Trail sits on the XC side of the Neuron, featuring 20mm less travel at both ends (120mm front and 110mm rear). It's only offered in carbon and it utilises a simpler flex-stay suspension platform. Along with Fox 34 SC fork, racier wheels, faster tyres and short travel dropper post, it's significantly lighter. Our Canyon Lux Trail CF 9 test bike came in at 11.22kg, which is certainly race-ready.
And that's really how we'd describe the Lux Trail. It's a contemporary and race-ready XC bike, which is equipped with more capable components that also make it really fun as a daily driver. It is more efficient under pedalling than the Neuron, and it feels sharper and more explosive on tight singletrack. It's also equipped with a dual remote lockout that gives you access to a rock-solid sprinting platform that will appeal to competitive types.
To read about our experience with it, check out our Canyon Lux Trail review.
In comparison, the Neuron offers a more comfortable and upright riding position that makes it better for longer distance trail riding. Its build kit is more practical, and the extra travel adds comfort and control. The end result is a more versatile, but still speedy trail bike for those who are less concerned by racing.
Canyon Neuron vs Spectral 125
Sitting even closer to the Canyon Neuron is the Spectral 125. This bike came out last year as a shorter travel version of the regular Spectral, though confusingly it has almost exactly the same travel as the Neuron (140mm front and 125mm rear).
Despite this, the two bikes are very different.
The 64° head angle Spectral 125 is considerably slacker, and it's paired to a burlier Fox 36 fork, a Float X piggyback shock, and a chunky Minion DHR/Dissector tyre combo. That of course adds weight, with the Spectral 125 CF 9 that we tested coming in almost a kilo heavier at 13.72kg.
On the trail, the Spectral 125 genuinely feels like a shrunken-down enduro bike. It's muscly and stable, with its aggressive stance being well suited to high-speed riding down steeper terrain. It also loves to jump, and the big-hitting suspension offering heaps of support on hard and fast landings. The short travel platform keeps it efficient and responsive though, which makes it a great option for enduro riders and downhillers who are after a lighter trail bike that can still handle winch 'n' plummet type riding.
Its stout build means it can be a bit unrelenting if you're not charging though. For the full story, check out our Canyon Spectral 125 review.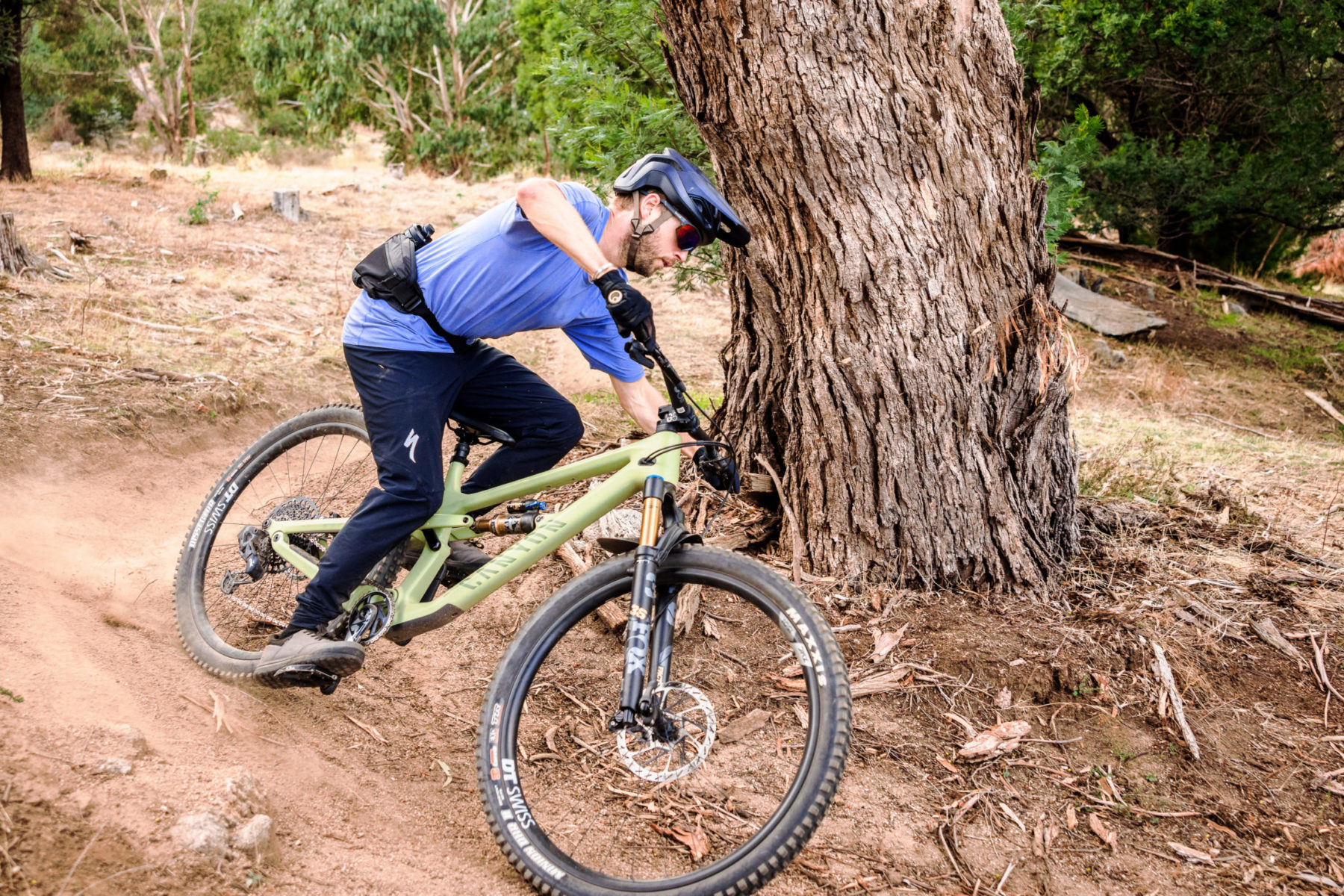 In comparison, the Neuron doesn't need to be ridden at eye-watering speeds just to come alive. It's more than happy to pootle along, and it's also a far better option for big cross-country rides across rolling mountain landscapes. Indeed it'd be a great option for multi-day events like those in the Quad Crown series. We'd even be happy racing it at the local XC clubby with a faster set of tyres, which is more than we could say for the Spectral 125.
Canyon Neuron vs Specialized Stumpjumper
The Specialized Stumpjumper is another trail bike we've been spending a lot of time on lately. It's also available in alloy and carbon, and it features the same amount of travel as the Canyon Neuron.
There are some notable differences however.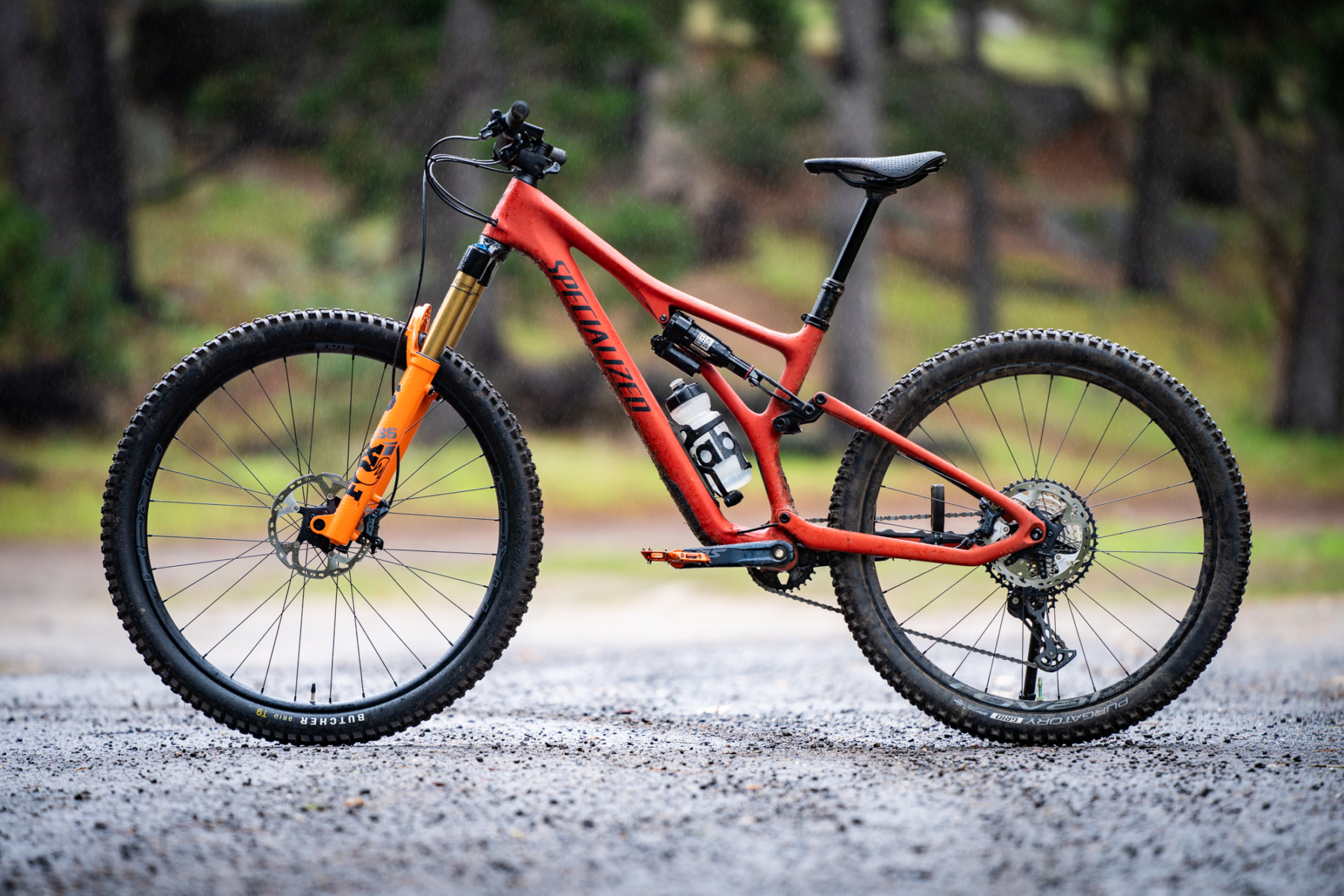 Specialized says the Stumpjumper's carbon frame is nearly half a kilo lighter (2,280g claimed), despite incorporating the excellent SWAT downtube storage. It can also be run with a 150mm travel fork, and as we found out in our long-term review, it's possible to set it up as a mullet with a 27.5in rear wheel. It's also produced in six frame sizes.
You do pay for all those extras. The Stumpjumper Comp Carbon has a retail price of $7,200 AUD, which is slightly cheaper than the Neuron CF 9 SL, but it comes with a far more budget-oriented build kit. If you're after comparable Factory Series suspension and wireless shifting, you'll have to look to the Stumpjumper Pro, which retails for $13,100 AUD. That's a serious premium over the Neuron.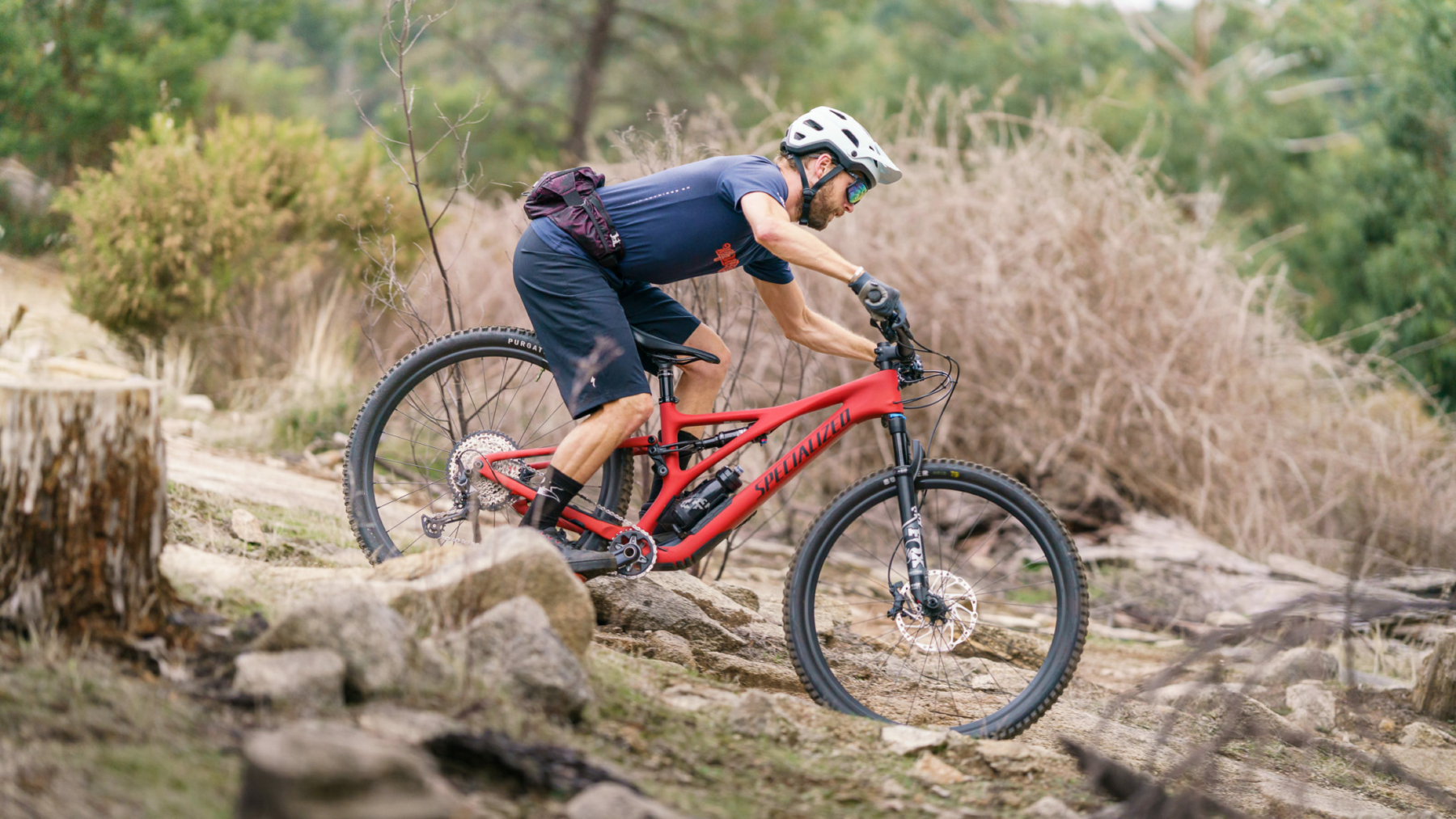 On the trail, the Stumpjumper is a notably more compliant bike than the Neuron. Its slender carbon frame is more forgiving on rocky trails, and the smooth suspension generates loads of grip. The handling is a little sportier again thanks to its slacker 65° head angle and short 432mm rear centre length. We also love the sticky Butcher and Purgatory tyres, which let you rip through corners with confidence.
In comparison, the Neuron isn't as aggressive in its handling or as supple through the chunder. It is a better pedalling bike though, and it feels sharper and more purposeful on smoother and flowier singletrack. With a set of stickier tyres and a comparable GRIP damper in the fork however, the ride quality would likely narrow between these two excellent trail bikes.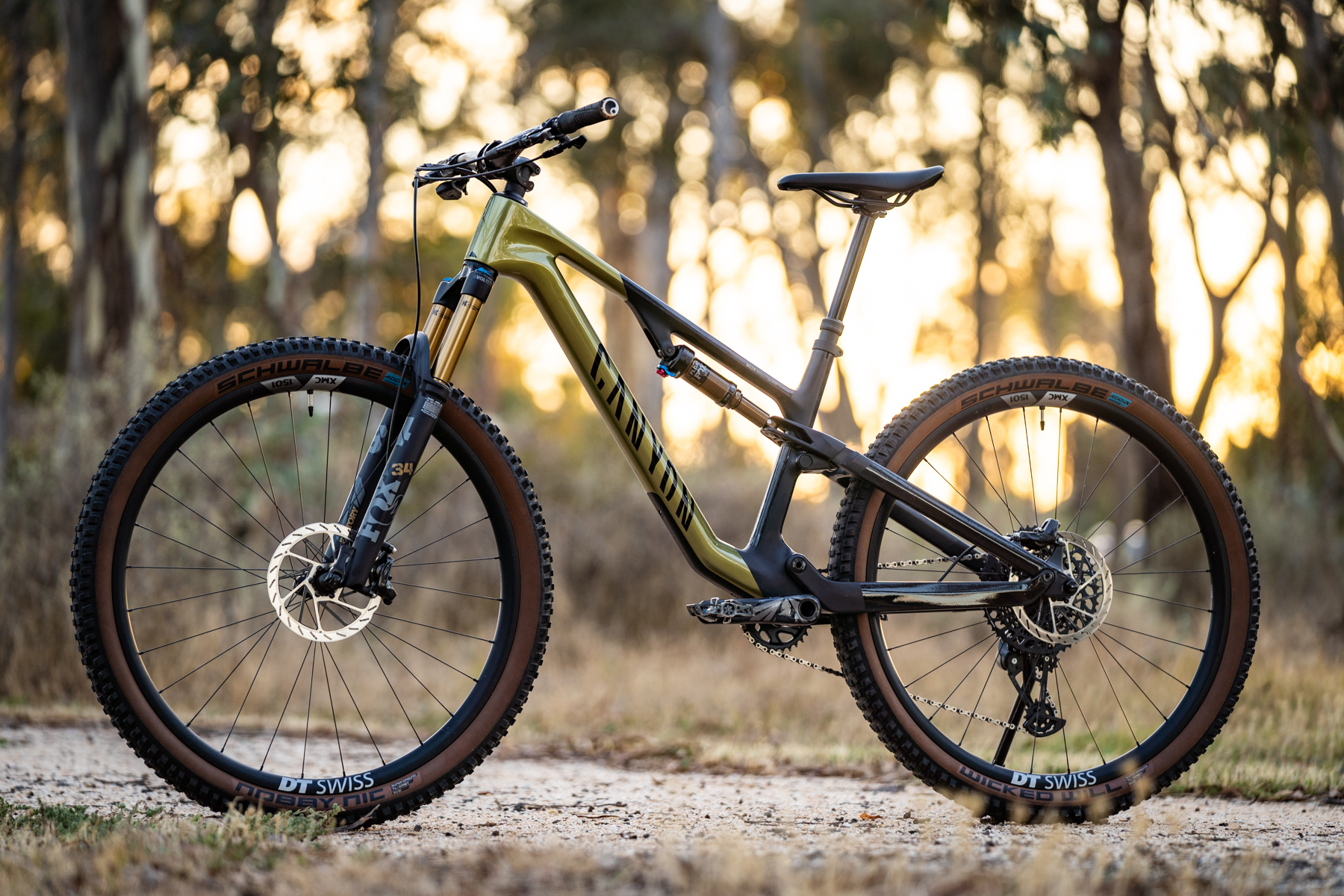 Flow's Verdict
Thanks to its contemporary frame and geometry, the Canyon Neuron is a much improved trail bike compared to its predecessor. It's calmer and more stable at speed, and we love that it comes with a properly long travel dropper post.
It's still a well-rounded trail bike though, offering intuitive handling on tight trails and great pedal efficiency on big mountain climbs. The low weight is certainly appealing, and it helps to set the Neuron apart from some of its peers that seem to be getting heavier each year.
We did find it to be a little chattery and unsettled on rockier terrain, and the firm compound tyres lack bite in loose conditions. It's worth noting that the Neuron CF 8 comes with alloy wheels and a Fox 34 Performance Series fork with a GRIP damper, which will deliver a plusher and more compliant ride, and that's the model we'd go for if it were our money.
Regardless, if you're after a lightweight, fast and comfortable trail bike to embark on map-crossing adventures, the Canyon Neuron is a fantastic, value-packed option.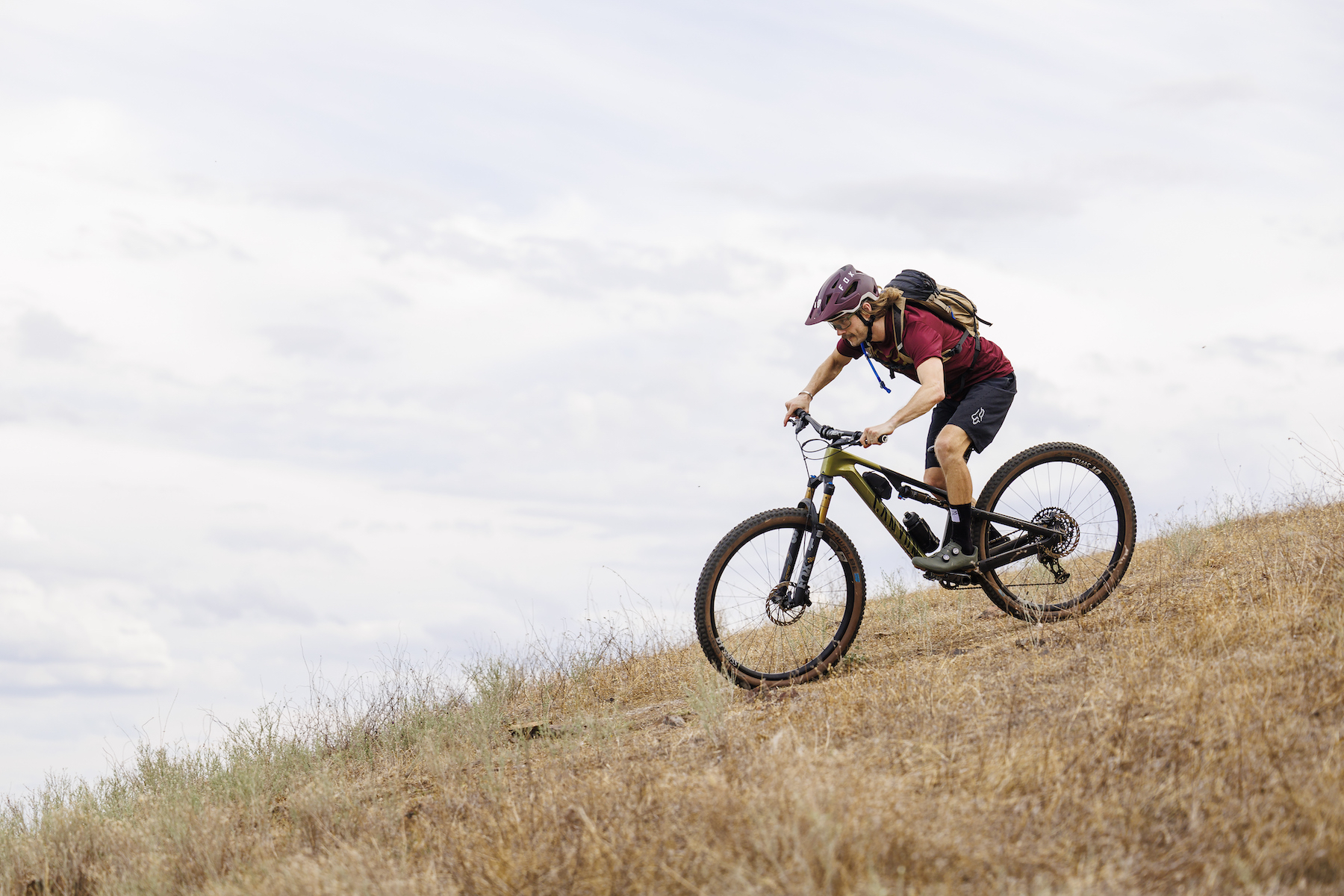 ---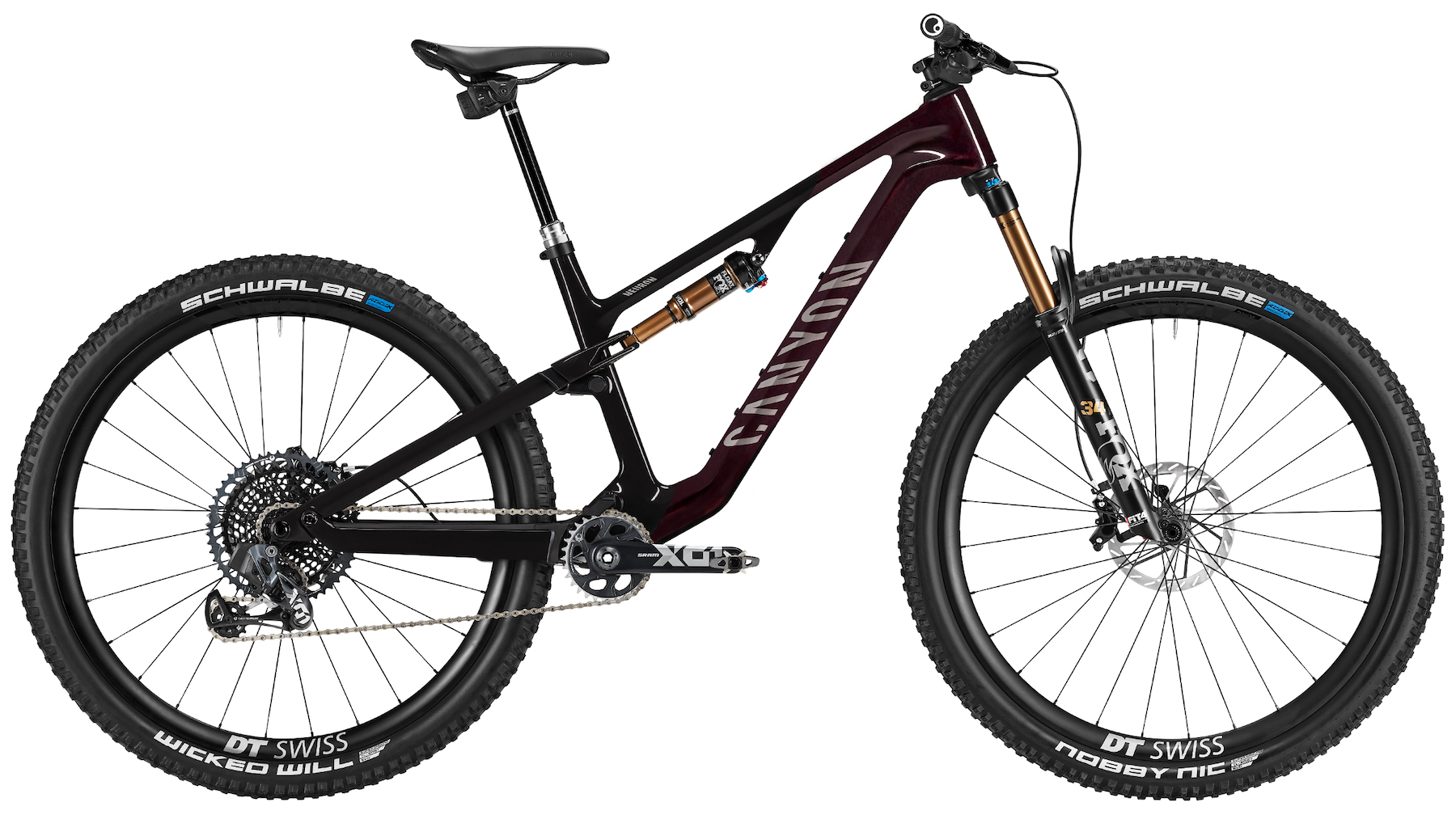 2023 Canyon Neuron CF LTD
Frame | CF Carbon, Four-Bar Suspension Design, 130mm Travel
Fork | Fox 34, Factory Series, FIT4 Damper, 44mm Offset, 140mm Travel
Shock | Fox Float DPS, Factory Series, 210x50mm (190x45mm on XS-S sizes)
Wheels | DT Swiss XMC 1200, Carbon Rims, 30mm Inner Width
Tyres | Schwalbe Nobby Nic 2.4in Front & Wicked Will 2.4in Rear, Super Ground Casing & Addix SpeedGrip Compound
Drivetrain | SRAM X01 Eagle AXS 1×12 w/30T Crankset & 10-52T Cassette
Brakes | SRAM Code RSC 4-Piston w/180mm Rotors
Bar | Race Face Next 35 Carbon, Width: 740mm (XS-S), 760mm (M-XL)
Stem | Race Face Turbine R 35, Length: 50mm
Seatpost | RockShox Reverb AXS, 30.9mm Diameter, Travel: 125mm (XS), 150mm (S), 170mm (M-XL)
RRP | $8,849 AUD (plus shipping)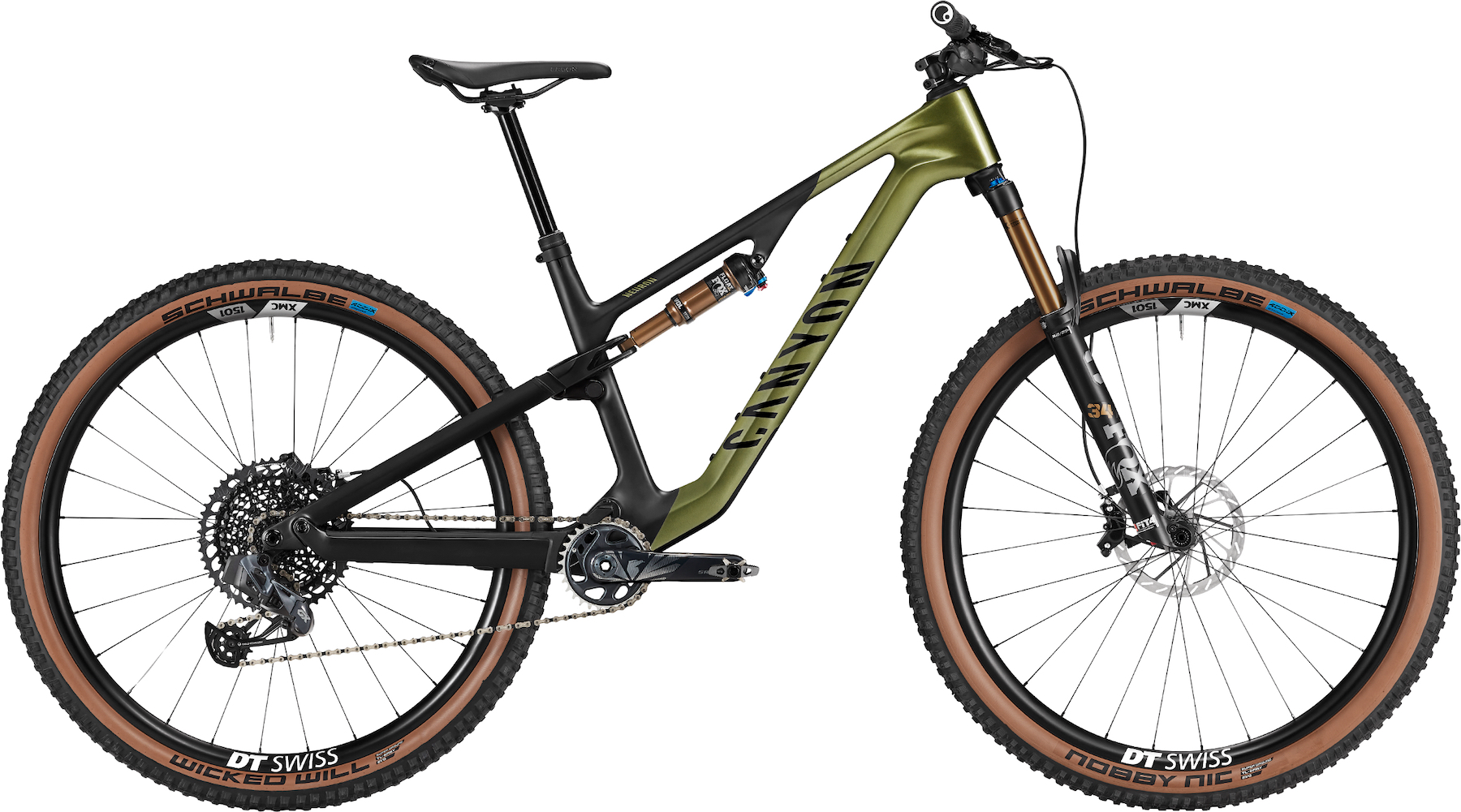 2023 Canyon Neuron CF 9 SL
Frame | CF Carbon, Four-Bar Suspension Design, 130mm Travel
Fork | Fox 34, Factory Series, FIT4 Damper, 44mm Offset, 140mm Travel
Shock | Fox Float DPS, Factory Series, 210x50mm (190x45mm on XS-S sizes)
Wheels | DT Swiss XMC 1501, Carbon Rims, 30mm Inner Width
Tyres | Schwalbe Nobby Nic 2.4in Front & Wicked Will 2.4in Rear, Super Ground Casing & Addix SpeedGrip Compound
Drivetrain | SRAM GX Eagle AXS 1×12 w/30T Crankset & 10-52T Cassette
Brakes | SRAM Code RSC 4-Piston w/180mm Rotors
Bar | Race Face Next 35 Carbon, Width: 740mm (XS-S), 760mm (M-XL)
Stem | Race Face Turbine R 35, Length: 50mm
Seatpost | Canyon G5 Adjustable Dropper, 30.9mm Diameter, Travel: 150mm (XS), 170mm (S-M), 200mm (L-XL)
RRP | $7,399 AUD (plus shipping)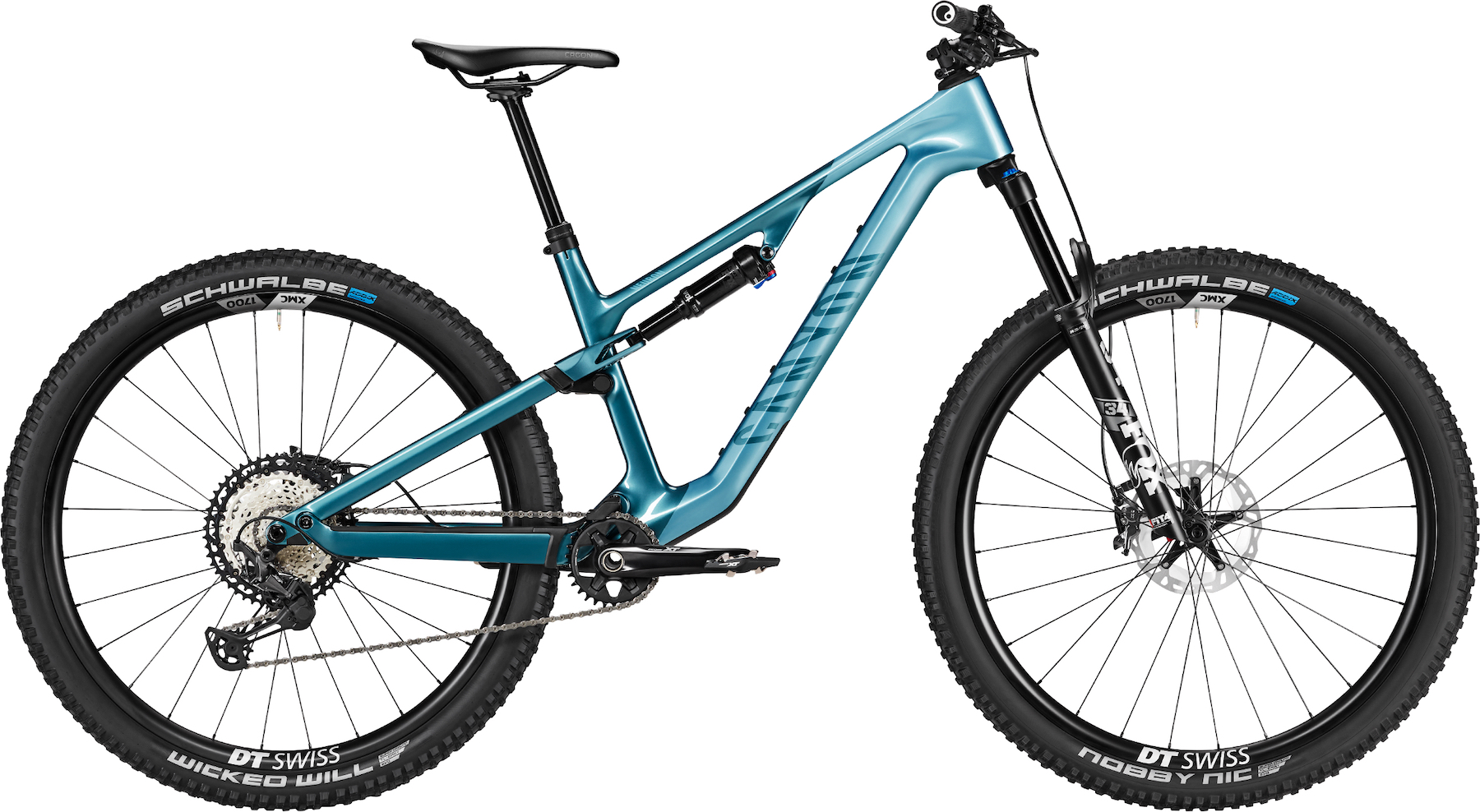 2023 Canyon Neuron CF 9
Frame | CF Carbon, Four-Bar Suspension Design, 130mm Travel
Fork | Fox 34, Performance Elite, FIT4 Damper, 44mm Offset, 140mm Travel
Shock | Fox Float DPS, Performance Elite, 210x50mm (190x45mm on XS-S sizes)
Wheels | DT Swiss XMC 1700, Carbon Rims, 30mm Inner Width
Tyres | Schwalbe Nobby Nic 2.4in Front & Wicked Will 2.4in Rear, Super Ground Casing & Addix SpeedGrip Compound
Drivetrain | Shimano XT 1×12 w/30T Crankset & 10-51T Cassette
Brakes | Shimano XT 4-Piston w/180mm Rotors
Bar | Race Face Next 35 Carbon, Width: 740mm (XS-S), 760mm (M-XL)
Stem | Race Face 35, Length: 50mm
Seatpost | Canyon G5 Adjustable Dropper, 30.9mm Diameter, Travel: 150mm (XS), 170mm (S-M), 200mm (L-XL)
RRP | $5,949 AUD (plus shipping)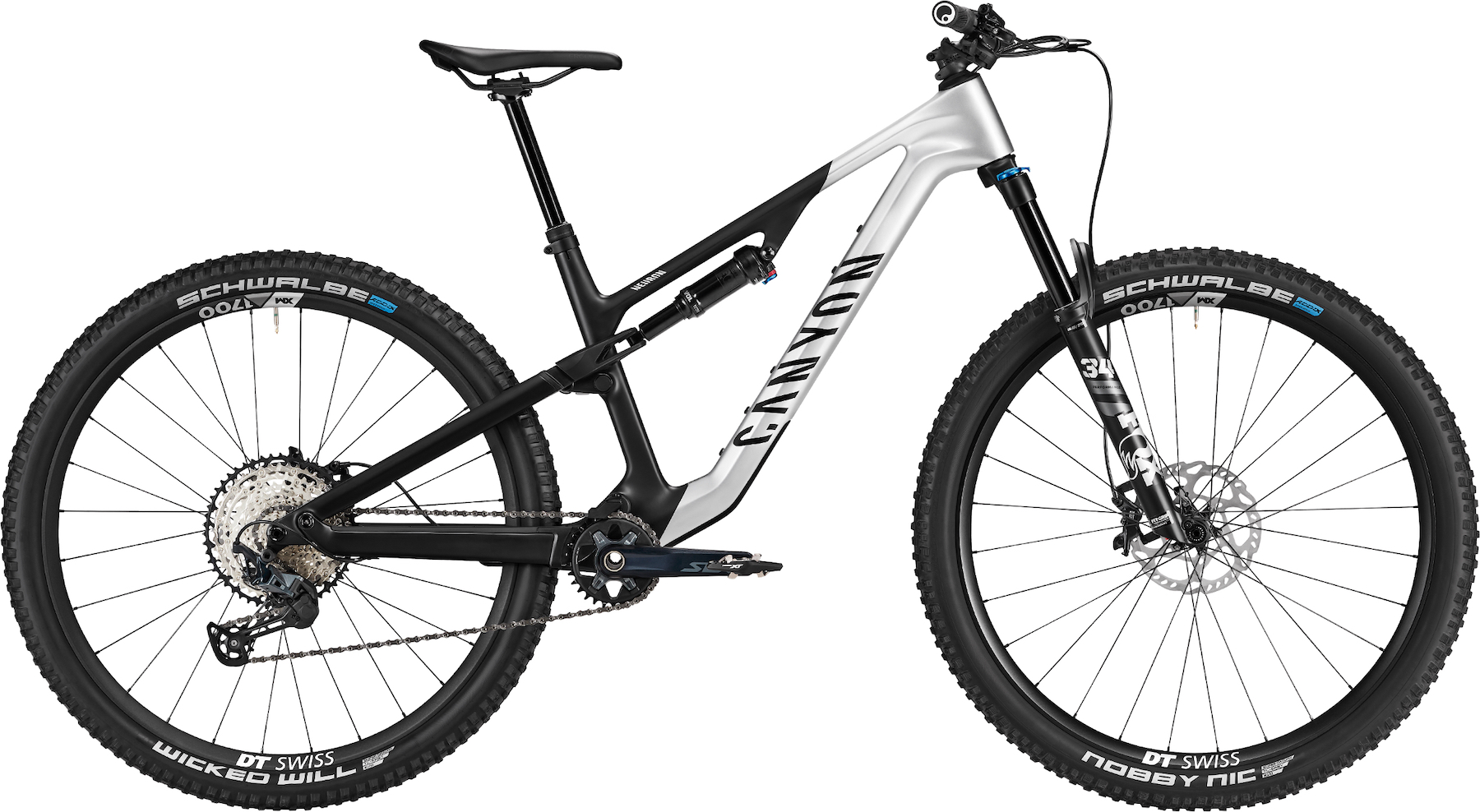 2023 Canyon Neuron CF 8
Frame | CF Carbon, Four-Bar Suspension Design, 130mm Travel
Fork | Fox 34, Performance Series, GRIP Damper, 44mm Offset, 140mm Travel
Shock | Fox Float DPS, Performance Series, 210x50mm (190x45mm on XS-S sizes)
Wheels | DT Swiss XM 1700, Alloy Rims, 30mm Inner Width
Tyres | Schwalbe Nobby Nic 2.4in Front & Wicked Will 2.4in Rear, Super Ground Casing & Addix SpeedGrip Compound
Drivetrain | Shimano SLX 1×12 w/30T Crankset & 10-51T Cassette
Brakes | Shimano SLX 4-Piston w/180mm Rotors
Bar | Race Face Next 35 Carbon, Width: 740mm (XS-S), 760mm (M-XL)
Stem | Race Face 35, Length: 50mm
Seatpost | Canyon G5 Adjustable Dropper, 30.9mm Diameter, Travel: 150mm (XS), 170mm (S-M), 200mm (L-XL)
RRP | $4,499 AUD (plus shipping)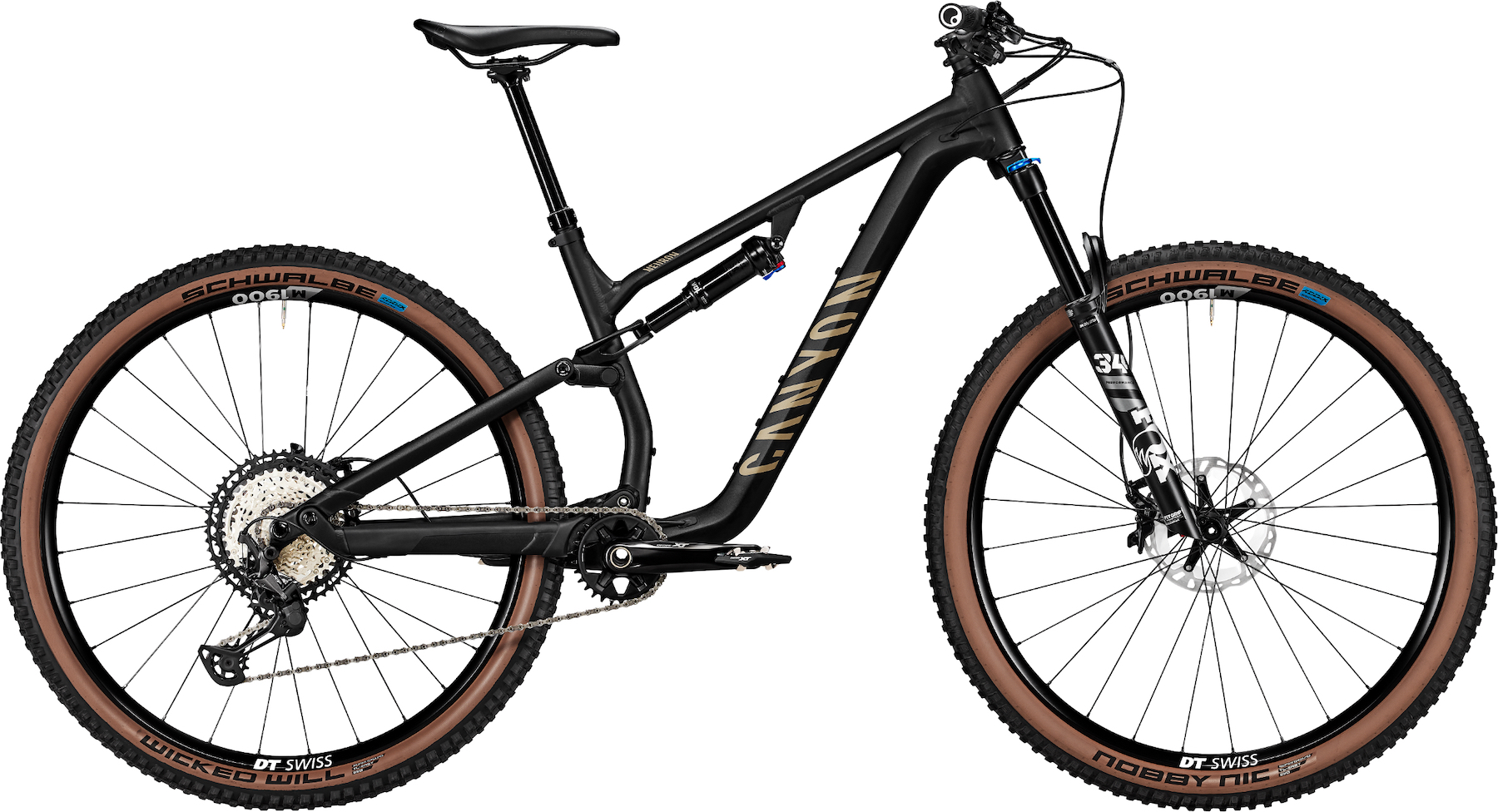 2023 Canyon Neuron 7
Frame | Alloy, Four-Bar Suspension Design, 130mm Travel
Fork | Fox 34, Performance Series, GRIP Damper, 44mm Offset, 140mm Travel
Shock | Fox Float DPS, Performance Series, 210x50mm (190x45mm on XS-S sizes)
Wheels | DT Swiss M 1900, Alloy Rims, 30mm Inner Width
Tyres | Schwalbe Nobby Nic 2.4in Front & Wicked Will 2.4in Rear, Super Ground Casing & Addix SpeedGrip Compound
Drivetrain | Shimano XT 1×12 w/30T Crankset & 10-51T Cassette
Brakes | Shimano XT 4-Piston w/180mm Rotors
Bar | Iridium Alloy, Width: 740mm (XS-S), 760mm (M-XL)
Stem | Iridium Alloy 35, Length: 50mm
Seatpost | Iridium SP63 Dropper, 30.9mm Diameter, Travel: 150mm (XS), 170mm (S-M), 200mm (L-XL)
RRP | $4,099 AUD (plus shipping)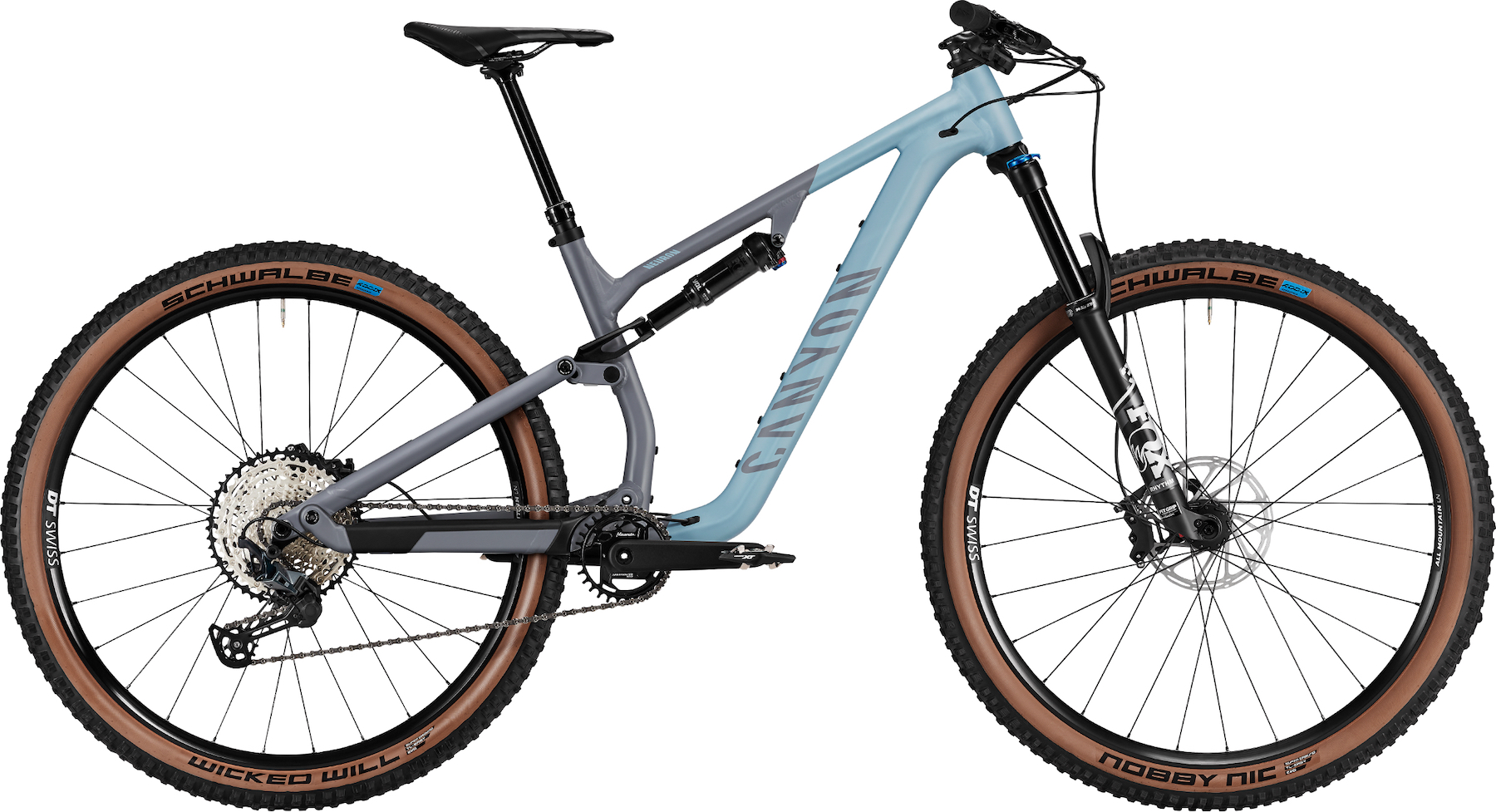 2023 Canyon Neuron 6
Frame | Alloy, Four-Bar Suspension Design, 130mm Travel
Fork | Fox 34 Rhythm, GRIP Damper, 44mm Offset, 140mm Travel
Shock | Fox Float DPS, Performance Series, 210x50mm (190x45mm on XS-S sizes)
Wheels | DT Swiss LN AM, Alloy Rims, Inner Width: 30mm Front & 25mm Rear
Tyres | Schwalbe Nobby Nic 2.4in Front & Wicked Will 2.4in Rear, Super Ground Casing & Addix SpeedGrip Compound
Drivetrain | Shimano SLX 1×12 w/30T Crankset & 10-51T Cassette
Brakes | Shimano SLX 4-Piston w/180mm Rotors
Bar | Iridium Alloy, Width: 740mm (XS-S), 760mm (M-XL)
Stem | Iridium Alloy 35, Length: 50mm
Seatpost | Iridium SP63 Dropper, 30.9mm Diameter, Travel: 150mm (XS), 170mm (S-M), 200mm (L-XL)
RRP | $3,499 AUD (plus shipping)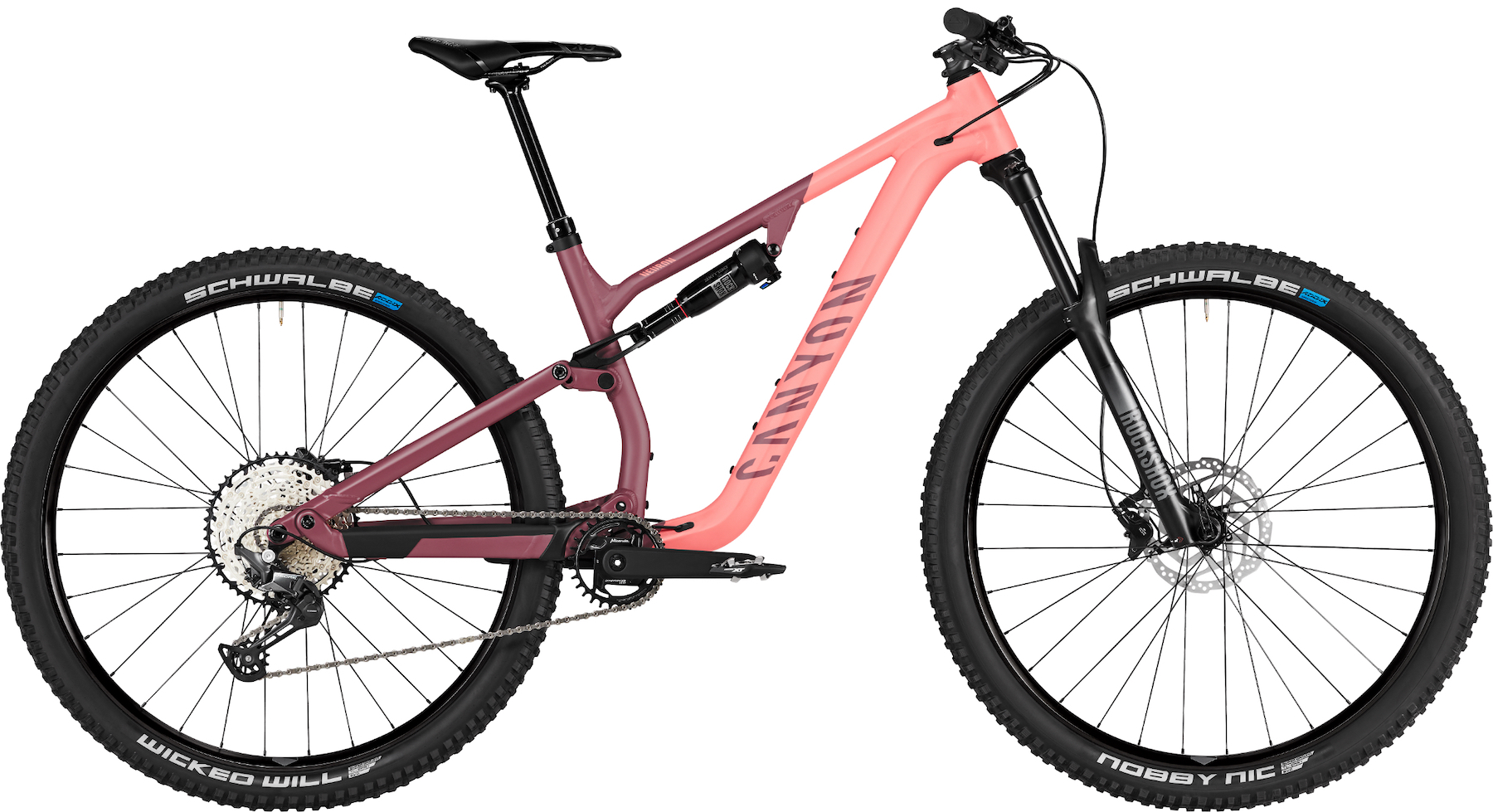 2023 Canyon Neuron 5
Frame | Alloy, Four-Bar Suspension Design, 130mm Travel
Fork | RockShox Recon Silver, Motion Control Damper, 44mm Offset, 140mm Travel
Shock | RockShox Deluxe Select+, 210x50mm (190x45mm on XS-S sizes)
Wheels | Shimano MT400 Hubs & Iridium Alloy Rims, Inner Width: 30mm Front & 25mm Rear
Tyres | Schwalbe Nobby Nic 2.4in Front & Wicked Will 2.4in Rear, Super Ground Casing & Addix SpeedGrip Compound
Drivetrain | Shimano Deore 1×12 w/30T Crankset & 10-51T Cassette
Brakes | Shimano Deore 4-Piston w/180mm Rotors
Bar | Iridium Alloy, Width: 740mm (XS-S), 760mm (M-XL)
Stem | Iridium Alloy 35, Length: 50mm
Seatpost | Iridium SP63 Dropper, 30.9mm Diameter, Travel: 150mm (XS), 170mm (S-M), 200mm (L-XL)
RRP | $2,849 AUD (plus shipping)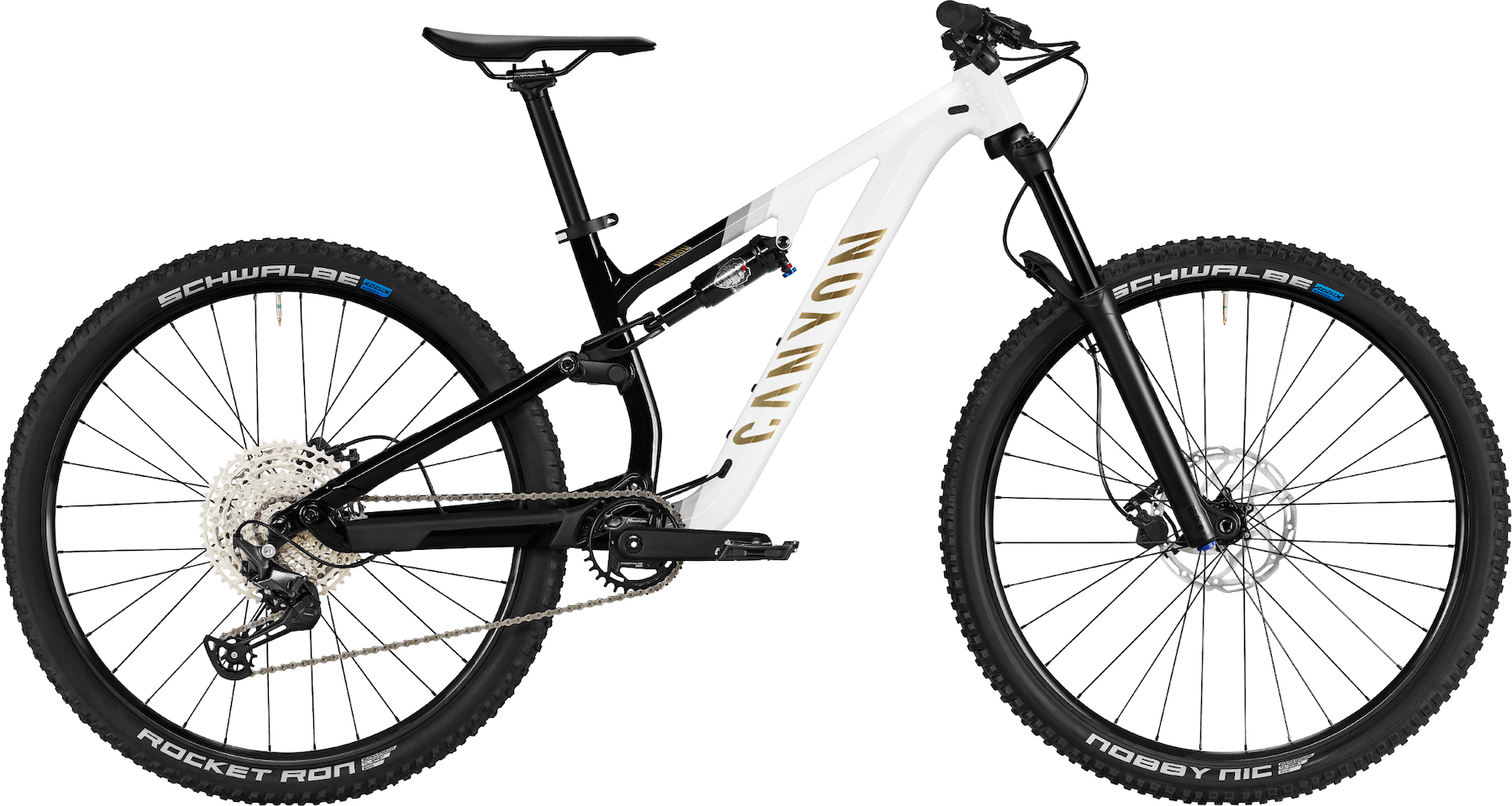 2023 Canyon Neuron Young Hero
Frame | Alloy, Four-Bar Suspension Design, 130mm Travel
Fork | Manitou Machete Comp, 130mm Travel
Shock | Manitou Mara IL, 190x45mm
Wheels | Shimano MT400 Hubs & Iridium Alloy Rims
Tyres | Schwalbe Nobby Nic 2.25in Front & Rocket Ron 2.25in Rear
Drivetrain | Shimano Deore 1×12 w/30T Crankset & 10-51T Cassette
Brakes | Tektro 2-Piston w/180mm Rotors
Bar | Iridium Alloy, Width: 700mm
Stem | Iridium Alloy
Seatpost | Iridium Alloy, 30.9mm Diameter
RRP | $2,449 AUD (plus shipping)