Howdy to all you Frothers of the Flow, and welcome to another killer edition of Fresh Produce!
We hope you're surviving winter wherever in the country you reside. Or perhaps you're enjoying the northern hemisphere summer on an epic riding trip? In which case we will hear none of it please. Just go on and enjoy your mountain biking holiday privately, keep those dusty trails and warm temperatures to yourself. We don't need them, honestly we're enjoying the grey skies, muddy puddles, gritty socks and wet backsides thankyouverymuch.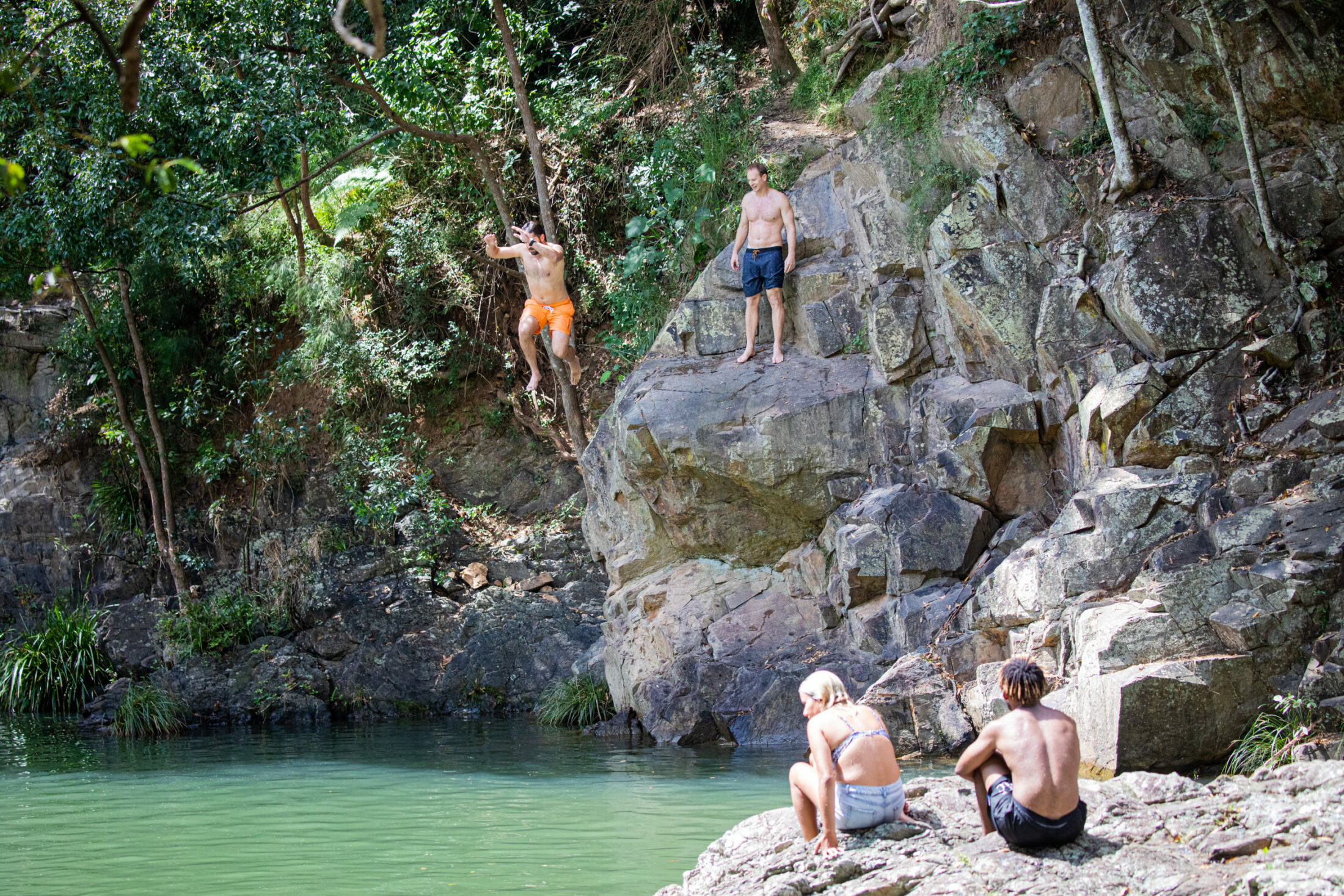 Of course winter isn't horrible in all parts of Australia. You may have actually had to shield your eyes from all the warm sunshine and bright sand from the photos and video of our recent feature on the Gold Coast. If you (like this salty author) is craving some Vitamin D, then be sure to check out the Nerang chapter of this epic Queensland destination feature.
In other news we recently paid a visit to Fox Factory Australia to meet the crew behind the company, sharpen up our suspension servicing skills and learn some useful tips on tuning. We also updated our feature on Specialized Mission Control, and Colin also reported on the potential closure of Mystic Bike Park in Bright. We'll be following that one very closely.
But enough of all that, because it's time to dive in to our roundup of all things fresh and shiny here at Flow HQ. Enjoy!
---
PRO Tharsis Dropper Post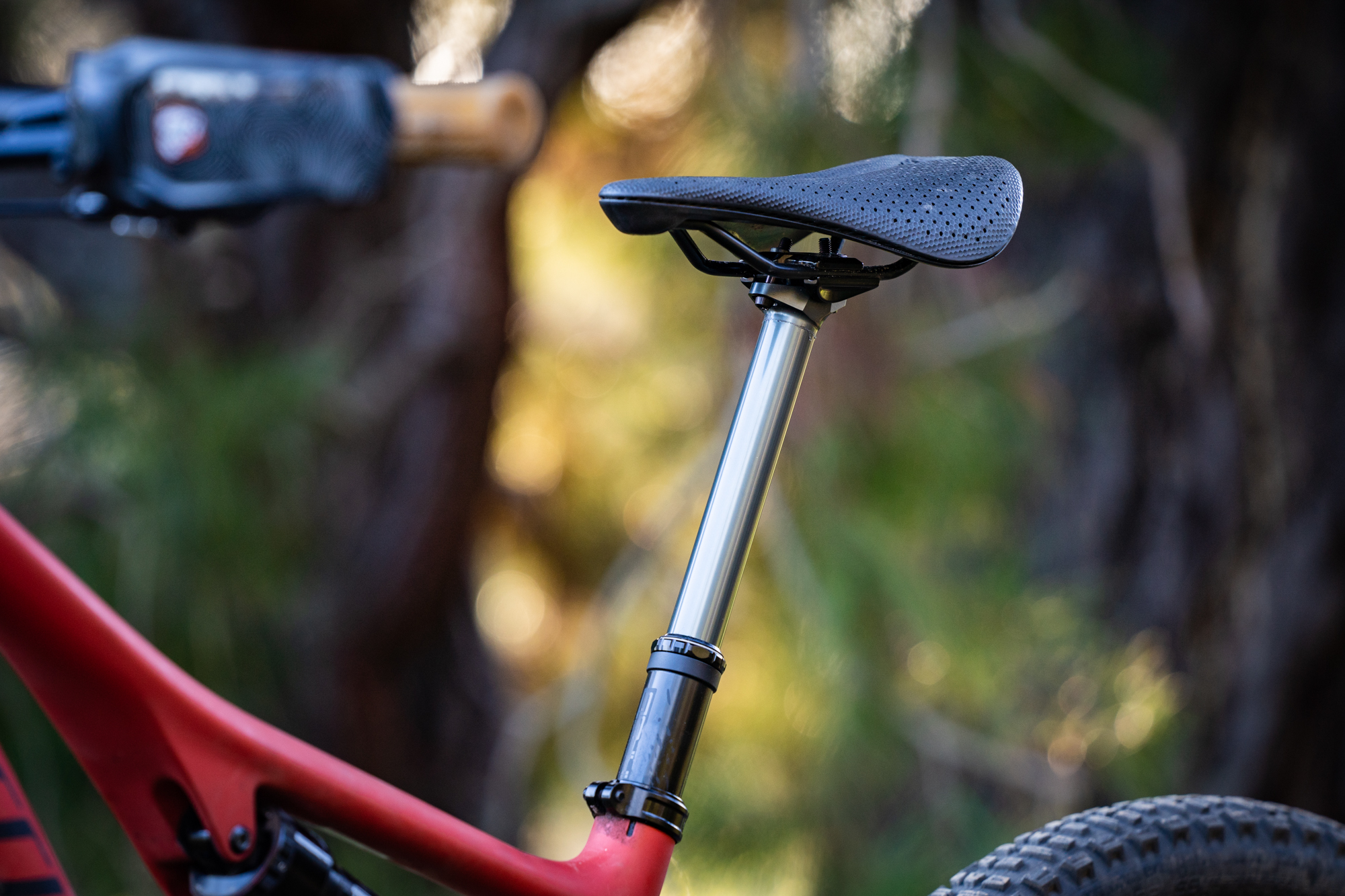 PRO Bike Gear has recently updated its premium Tharsis dropper post with an all-new construction and up to 200mm of travel. It's lighter than before, and the stack height has also been reduced so that rider's can squeeze in more drop. We've taken advantage of exactly that with our Specialized Stumpjumper test bike, replacing the stock 150mm dropper post with a 160mm travel PRO Tharsis to get a little more clearance on the descents.
To minimise rotational play, PRO has built the Tharsis dropper with a unique oval-shaped stanchion. You can't see this from the outside, as it's the lower part of the stanchion that's ovalised. The visible upper portion is round, and it's 3D forged as a one-piece structure that integrates the saddle clamp. A twin bolt system allows for fine-tune adjustments of the saddle angle, and PRO has furnished the Tharsis with titanium hardware to reduce grams.
Confirmed weight on our 31.6x160mm dropper is 525g, putting the Tharsis on the lighter side for its size. It's also available in a 30.9mm diameter with 100, 160 and 200mm travel options. Hardtail and gravel riders should take note of the 27.2mm diameter option that features 100mm of travel.
Like most droppers on the market, the Tharsis is sold sans-lever. We linked ours up to a Shimano MT800 lever that bolted directly to a Shimano SLX lever via the I-Spec EV mount. Performance has been flawless so far, with a slick action and a gentle top-out 'thunk'. It's not the fastest to return, but there's no rotational play to speak of, and we dig the ice-blue anodised finish on the upper tube.
Competition in this space is fierce however, with the popular OneUp V2 dropper coming in at a cheaper price point while offering adjustable travel. You can also get the Fox Transfer or BikeYoke Revive around a similar price to the Tharsis.
---
Shimano XC9 Shoes
If you're after a pair of high performance toe tappers for XC riding and racing, then it's very likely you'll have the Shimano XC9 shoes on your list. Updated for 2022 with a brand new upper and outer sole, the S-PHYRE XC9 (also known as the SH-XC902) is the Japanese brand's flagship XC racing shoe. These are designed to be as light and comfortable as possible, while delivering unmatched power transfer.
Compared to the old model, the new XC9 shoe updates to Shimano's own Ultread XC rubber outsole. Weight is kept low thanks to the minimalist tread blocks and a stiff carbon sole, though you'll still find protection around the toes, and there are substantial heel cups to boost pedalling stability. The inside of the heels are also lined with one-way friction fabric, which improves retention further.
While the carbon sole is super stiff, the fit of the XC9 shoes is absolutely luxurious thanks to the supple microfibre synthetic leather upper that wraps generously over your feet. There are two BOA Li2 dials for ratcheting up the tension, and we love that you can loosen the dials while riding thanks to the two-way micro-adjustment. When taking the shoes off, just pop the dials up to fully loosen the cables.
It's worth noting that the Shimano XC9s do have quite a slim fit, to the point where we sized up from our usual EU44 size. Confirmed weight for our size EU45 test shoes is 333g per side. That's a touch heavier than the Specialized S-Works Recon (323g) though lighter than the Fizik Vento Ferox (351g). Neither of those shoes offers the same supple feel as the XC9 shoes however, which offer impressive comfort given their incredible stiffness and low weight. We also like that you can run the cleats quite far back to achieve a new-school mid-foot pedalling position.
---
Pearl Izumi Summit Barrier Jacket
As a lover and collector of retro mountain bikes, Mick felt right at home slipping on this throwback Pearl Izumi Summer Barrier jacket. The bright neon colourway is impossible to miss on the trails, which will be useful for any fellow retro enthusiasts looking to strike up a conversation with Mick about the history of early suspension forks and the original Intense M1.
For those who are after a more discreet look, the Summit Barrier jacket is also available in black. Colour aside, it's a terrific little jacket that scrunches up into its own tiny pouch, so you can leave it in your riding pack and always have at the ready for when the forecast goes off-script.
The Summit Barrier is made from Nylon rip-stop fabric, which has been up-cycled from factory off-cuts to minimise waste. It's quite lightweight, though it's still designed to provide wind protection and a bit of spray protection, making it an ideal choice for most Aussie riding conditions, where a full-on rain jacket can often be too much. The jacket includes a hood, a full-length zipper and a discreet chest pocket.
---
Hope Tech 4 E4 Disc Brakes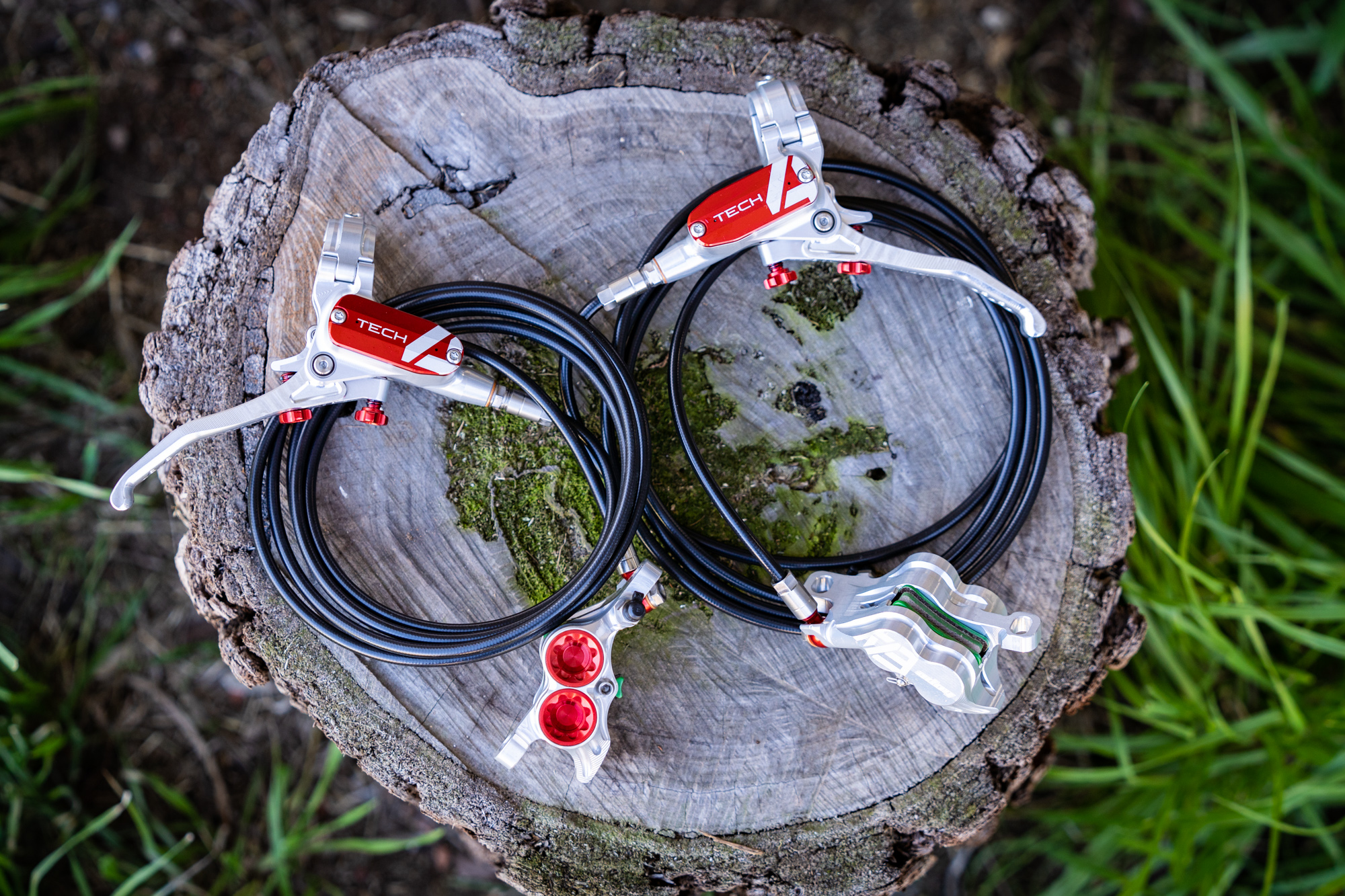 Hope Technology, UK manufacturer of all things beautifully CNC'd, recently updated its disc brake line with the new generation Tech 4 lever. According to Hope, the new Tech 4 lever is claimed to increase power by 30% over the previous Tech 3 brakes, while offering a lighter feel thanks to the addition of a sealed cartridge pivot bearing and updated internal sealing.
The tool-free reach and bite point adjusters remain, and they're indexed to offer a high quality feel when making adjustments. The lever clamp is now split to make installation easier, while machined slots allow you to direct-mount shifters and dropper post levers with the relevant adapters.
The Tech 4 lever is available with three different callipers, depending on the riding discipline. There's the X2 (2-piston, XC), the E4 (4-piston, Trail/Enduro), and the V4 (4-piston, Downill/e-MTB).
For trail riding, we've gone for the Tech 4 E4 setup with a pair of 180mm floating rotors. In addition to the new levers, the E4 callipers have also been updated. They're still CNC machined from a single billet of alloy to create a rigid one-piece structure. The hybrid pistons are all-new however, and these use a stainless steel shell for smooth actuation, with a phenolic insert to provide heat management.
As with all things Hope, the Tech 4 brakes are available in a variety of anodised options to add a little extra pop of colour to your bike. To find out if the performance matches the looks, we'll be testing out these brakes on a new bike that we'll be revealing in the near future.
---
Peaty's MK2 Tubeless Valves
Speaking of pretty anodised things from UK brands, we've just received a rainbow selection of Peaty's MK2 tubeless valves. Designed in collaboration with Chris King, the latest MK2 valves are available in 11 different colours that match the same anodised finish you'll find on Chris King hubs and headsets.
The MK2 valves are still made from high quality 7075-T6 alloy, but they now feature machined grooves through the base that mean they're compatible with tubeless inserts like CushCore. Another neat update is the addition of a spoke key tool for one of the valve caps, while the other cap remains as a valve core remover. Clever!
---
Peaty's Loam Foam
Given all the filthy wet and muddy winter conditions we've been riding in, the recent delivery of Peaty's Loam Foam could not have come at a better time! One of the best-known products from the UK brand, Loam Foam is a biodegradable cleaner that's safe to use on all bike surfaces, including suspension components and disc brakes. Shown here is the 1 litre spray bottle, though it's also available in bulk 25L containers for bike shops, bike rental businesses, or those who just really love keeping their bike clean.
Lightly hose down your muddy bike with water first, spray it with Loam Foam, give it a scrub with a soft-bristled brush, then blast off with clean water. Once the spray bottle is empty, you can replace with Loam Foam Concentrate, which can be diluted in water to help reduce total plastic consumption.
---
Peaty's Drivetrain Degreaser
For removing the properly caked-on grease and dirt from your filthy drivetrain, Peaty's has something a little stronger in the Foaming Drivetrain Degreaser. The degreasing solution is also biodegradable, and it's designed to be sprayed directly onto your cassette, chain, chainring and jockey wheels.
Once you've built up a layer of foam from spraying the cassette, Peaty's recommends either running the chain through the gears to help agitate the more stubborn filth. You can do this if you're cleaning your bike in a workstand, though we also like to use a stiff-bristled brush to give it all a good scrub. Let the solution sit for two minutes, then blast away with fresh water. Shown here is the smaller 500 ml bottle, though 1 litre bottles are also available too.
---
Ergon GXR Grips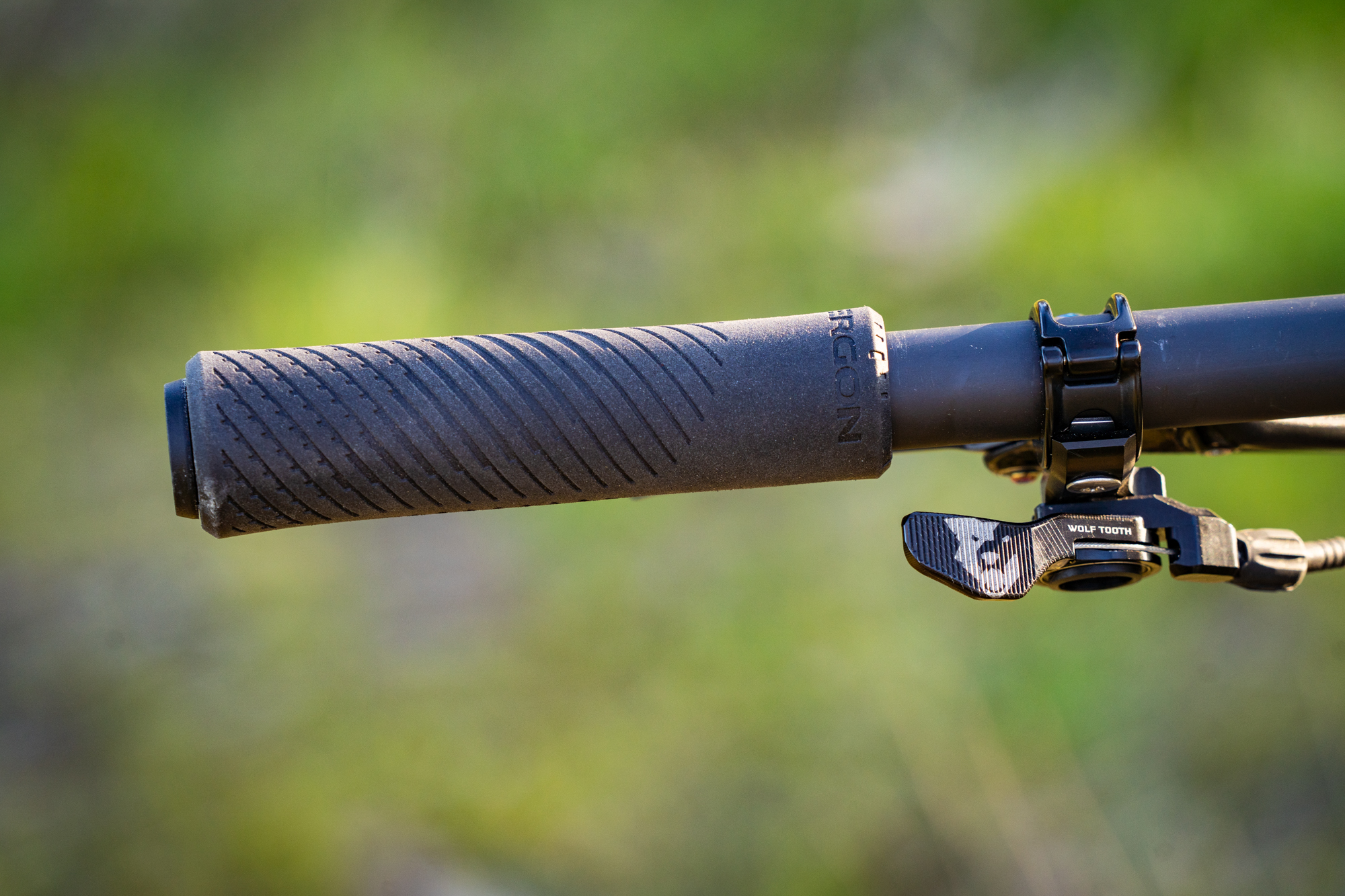 While Ergon is best known for its range of distinctive flared ergonomic lock-on grips, the brand has recently introduced its first push-on grip; the GXR.
Made in Germany, the new GXR grips are designed to be lightweight while providing more cushioning and vibration absorption compared to a lock-on grip. They do this not just by eliminating the hard plastic core that most lock-on grips are built around, but also by employing a unique material called AirCell.
This material sees tiny air bubbles infused in a rubber compound, which differs to the foam or silicone materials that other lightweight push-on grips utilise. According to Ergon, AirCell means the grips can be moulded into more complex ergonomic shapes. In the case of the GXR, you'll find a tapered profile that sees a thicker diameter towards the outer end of the grips where they contact your palms. The surface is also textured in an asymmetric pattern, creating a left and right-hand-specific grip.
So far we've been impressed with the comfort and fatigue-fighting properties of the GXR grips. They're lightweight at just 84g for the pair (size Small, though Large is also available), and the rubber AirCell material is noticeably more durable than a silicone grip like an ESI, while also offering more traction too.
---
CushCore Bead Bro Tool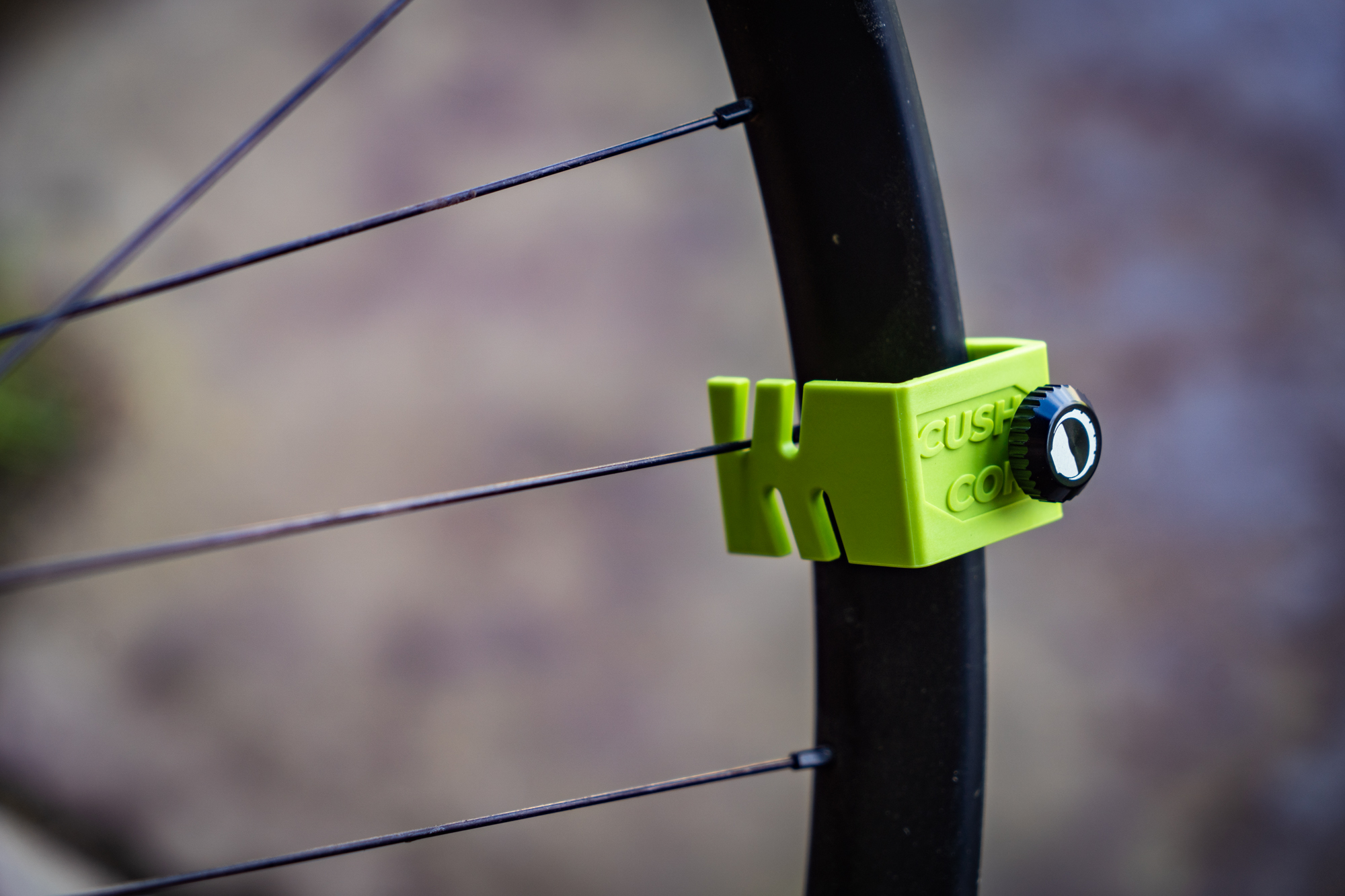 We're regular users of CushCore tyre inserts here at Flow, though every now and again we come across a particularly stubborn tyre and rim combo that makes the installation process a lot more swear-y than usual. To help with installation, CushCore first developed the Bead Dropper, which has gone on to become our favourite tyre lever. Going one step further, CushCore recently introduced this nifty tool; the Bead Bro.
The Bead Bro is a third-hand tool that's designed to hold the tyre bead down in the rim channel, preventing it from popping back out as you work the rest of the bead around the rim. It does this via an adjustable rubber bumper, which is safe to use on both alloy and carbon rims, while the lower portion of the tool locks onto one of the spokes to keep it in place.
It's a clever tool that we expect will become a mainstay in professional workshops, though if you've got multiple bikes and multiple wheelsets fitted with CushCore (or other) tyre inserts, then it's well worth having in the toolbox at home.
---
CushCore Plus Tubeless Insert
When the new Canyon Spectral:ON turned up for testing at Flow HQ, we took one look at its fancy Reynolds carbon rims and EXO+ rear tyre casing and realised we'd be needing a little extra protection. We already had a 27.5in CushCore Pro insert in the workshop, though the standard width insert would be right at its limit with a 2.6in rear tyre. And because the Reynolds rim has a generous 35mm internal width, there wouldn't be a lot of material hanging over the rim edge.
With that in mind, we got our hands on a fatter CushCore Plus insert, which is designed for tyres between 2.6-3.0in wide and internal rim widths from 32-45mm.
There's a lot more material here, and that of course means extra weight. Our 27.5+ insert came in at 292g, which is hefty. That's less of a concern for an e-MTB though, and we'd much rather have the extra rim and pinch-flat protection. We also like the damped feel that CushCore provides, and how it locks in the tyre beads to prevent burping when running lower pressures. For that reason we'll typically use a lighter casing tyre with an insert, over a heavier casing tyre without.
---
Specialized Fast Trak & Ground Control Tyres
Last year Specialized overhauled its gravity tyre lineup, which introduced new casing options, rubber compounds and updated tread patterns. We spent some time testing a load of those tyres, and you can check out our thoughts in our review of the latest Butcher, Eliminator and Purgatory.
For the shorter travel end of the spectrum, Specialized has also rolled out (*ahem*) some big updates for its Fast Trak and Ground Control tyres. Both models feature fresh tread patterns, and they also adopt the new rubber compound naming structure.
You can choose the stickier T7 rubber compound for maximum grip and damping, or the firmer T5 compound for faster-rolling performance and a longer wear rate. Certain tyre models are also available with a dual compound that uses T5 rubber for the centre tread, and T7 rubber for the edging blocks.
To get to grips (*also ahem*) with the new XC tyres, Specialized sent us a bunch of different options that include the lightweight S-Works casing, the mid-strength Control casing, and the burlier GRID casing. We'll be testing these over the coming months across multiple test bikes to see how the new tyres stack up against some of our favourites. Stay tuned for full review in the near future.
---
Specialized Butter Kit
In collaboration with one of the fastest Frenchies on the planet, Loic Bruni, Specialized has released a new signature edition riding kit called 'Butter'. Ideal for culinary enthusiasts, or for those who ride as smooth as butter, like Flow's very own Mick Ross.
Up top we have the Gravity Race Long Sleeve Jersey, which is made from a thin and lightweight fabric that features perforated ventilation, a crew neck for comfort, and distinctive 4/5 length sleeves.
Down below we've got the Gravity Pants, which follow a similar theme with a lightweight and highly ventilated construction. They're still designed to be tough however, using a Cordura fabric along with abrasion-resistant patches bonded over the knees and shins for a little extra crash protection. A feature that is somewhat lost on Mick, who never crashes.
---
Birzman Multi-Tools
Birzman has sent us in three different multi-tool options, which we've been using out on the trail and in the home workshop.
The bigger of the three options is called the Diversity 17, and while it might sound like this year's hottest girl band, we reckon this could actually be the ideal all-in-one tool for a lot of riders. The tool integrates two tyre levers into its hard plastic body, and you'll find a CO2 chuck in the middle that features a proper spring-loaded head for metering flow when inflating your tyre. The same chuck doubles up as a chain breaker, and you'll also find the usual hex keys, T25 bit and screwdrivers that'll cover pretty much every nut and bolt on your mountain bike.
We've also got the Feexman E-Version 15 and 5 multi-tools on test. These use a more traditional design with tough alloy bodies and Chrome Vanadium bits for long-term durability.  They're more compact than the Diversity 17, and they're also lighter coming in at 128g and 58g respectively. That makes them less noticeable in your jersey pocket or hip pack, while still providing you with the most useful tools for trail-side tweaking.
---
Fox 34 GRIP2 Fork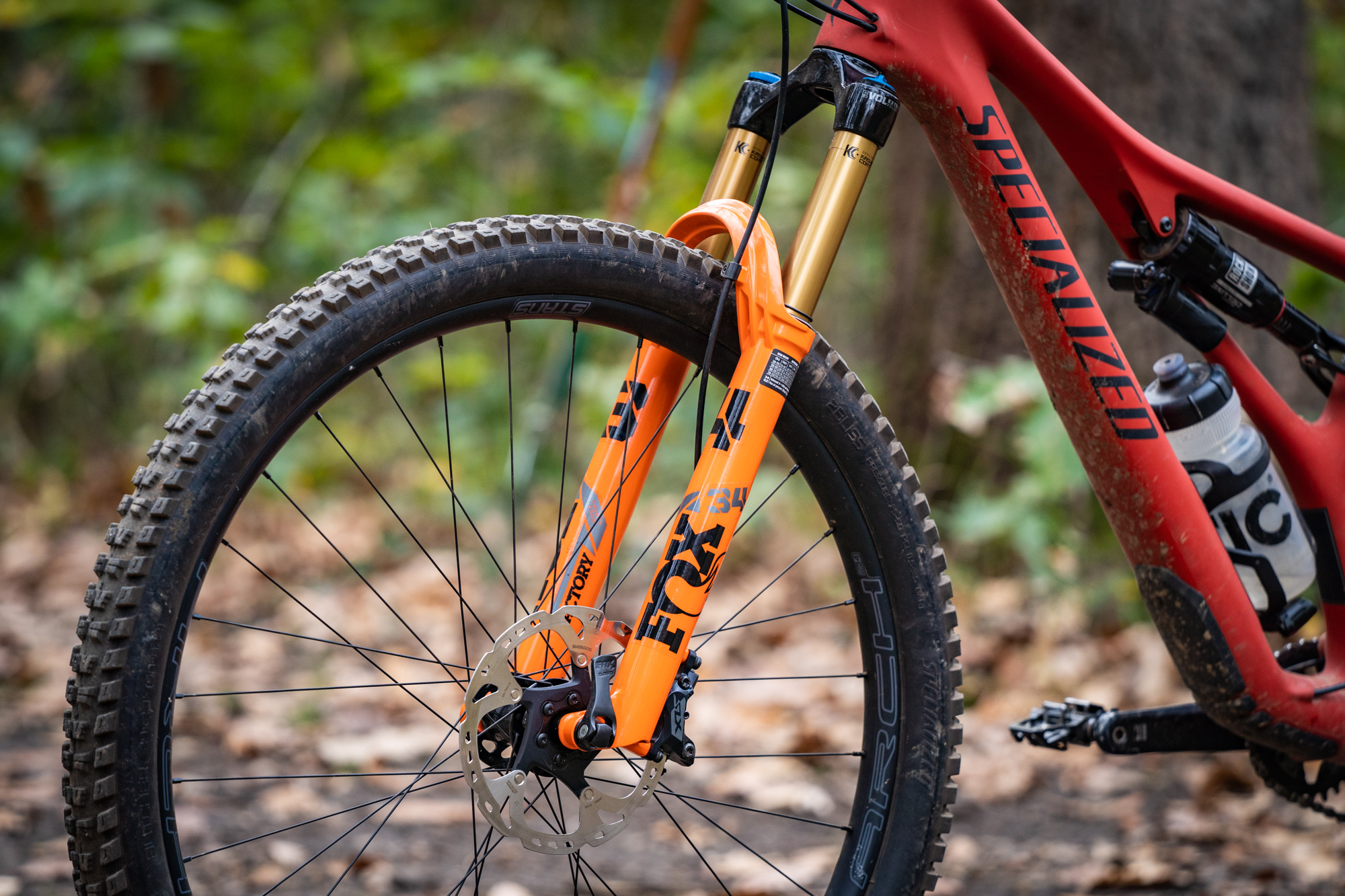 Gracing the front of our Stumpjumper test bike is the latest Fox 34. Available with 130-140mm of travel, the 34 is designed for mid-travel trail bikes like the Stumpy, Norco Optic and Trek Fuel EX. It features the EVOL air spring with the option of running clip-in volume spacers, and it can be had in various trim levels with a FIT4, GRIP or GRIP2 damper.
Our test fork is the Factory Series model with the highly tuneable GRIP2 damper, which offers both high and low-speed compression and rebound damping. It's basically the same damper than you'll find in the bigger 36 and 38 series forks, and it offers outstanding small-bump sensitivity, with impressive big-hit control. For more info on how it performs, check out our Fox 34 GRIP2 review.
Though our Stumpjumper Comp originally came with the entry-level Fox 34 Rhythm fork, we've been testing it out with several different forks including the 2023 RockShox Pike, as well as a 150mm RockShox Lyrik and Fox 36. We'll have some upcoming features and head-to-head reviews coming to the website in the near future, so stay tuned to see the results of our Fox vs RockShox battle royale!
---
Thule Tepui Foothill
Who is ready to go camping! We sure are with this new rooftop tent that's just landed at Flow HQ, the Thule Tepui Foothill.
Designed to sleep two adults, the folded-over design doesn't bogart all the real estate on top of your car as most similar tents do, and there is still room for a bike carrier or roof box nextdoor.
Weighing 55.5kg, it's a two-person job to hoist the Tepui onto your car, but once it's up there and bolted on, setup takes about 10-15min and is easily achieved solo. Before you lift the tent onto your car, you'll want to double-check the dynamic load your adventure mobile can handle and that your roof bars are rated to support it. The last thing you want is a broken tent, and a broken car.
The main body is made from seam-sealed water-resistant 600D ripstop polyester, and Thule includes a separate rain cover.
There's windows at both ends, on each side, and two skylights to maximise ventilation and star gazing potential — but you'll need to remove the rain fly to fully utilize them.
Inside, Thule includes a mattress, there are internal gear pockets, and places to hang lanterns, damp clothes, fairy lights or whatever else you may want up off the floor.
We're headed out into the wilderness to test out the Tepui, stay tuned for a full review.