Wil reviews the Bontrager Kovee RSL wheelset
The Bontrager Kovee RSL is an incredibly lightweight and ultra-premium wheelset that's purpose-built for XC riding and racing. Replacing the outgoing Kovee XXX wheelset, the Kovee RSL introduces a new generation carbon rim that's said to be lighter and more compliant than its predecessor. Along with its svelte build and minimalist DT Swiss hubs, this wheelset is claimed to weigh just 1,199g. That's lighter than most road wheels!
Though they were officially unveiled to the public in late 2022, the Bontrager Kovee RSL wheels had already been raced throughout the 2021 season by the Trek Factory Racing team where they earned Olympic and World Championship gold under the likes of Jolanda Neff and Evie Richards. Not a bad introduction eh?
But while their racing credentials have been well and truly proven, I was curious to see how the Kovee RSL wheels would perform for us mere mortals. Is this just a delicate racing-only wheelset? How exactly would these lightweight hoops stand up to proper mountain biking and questionable line choices from a hack rider like me?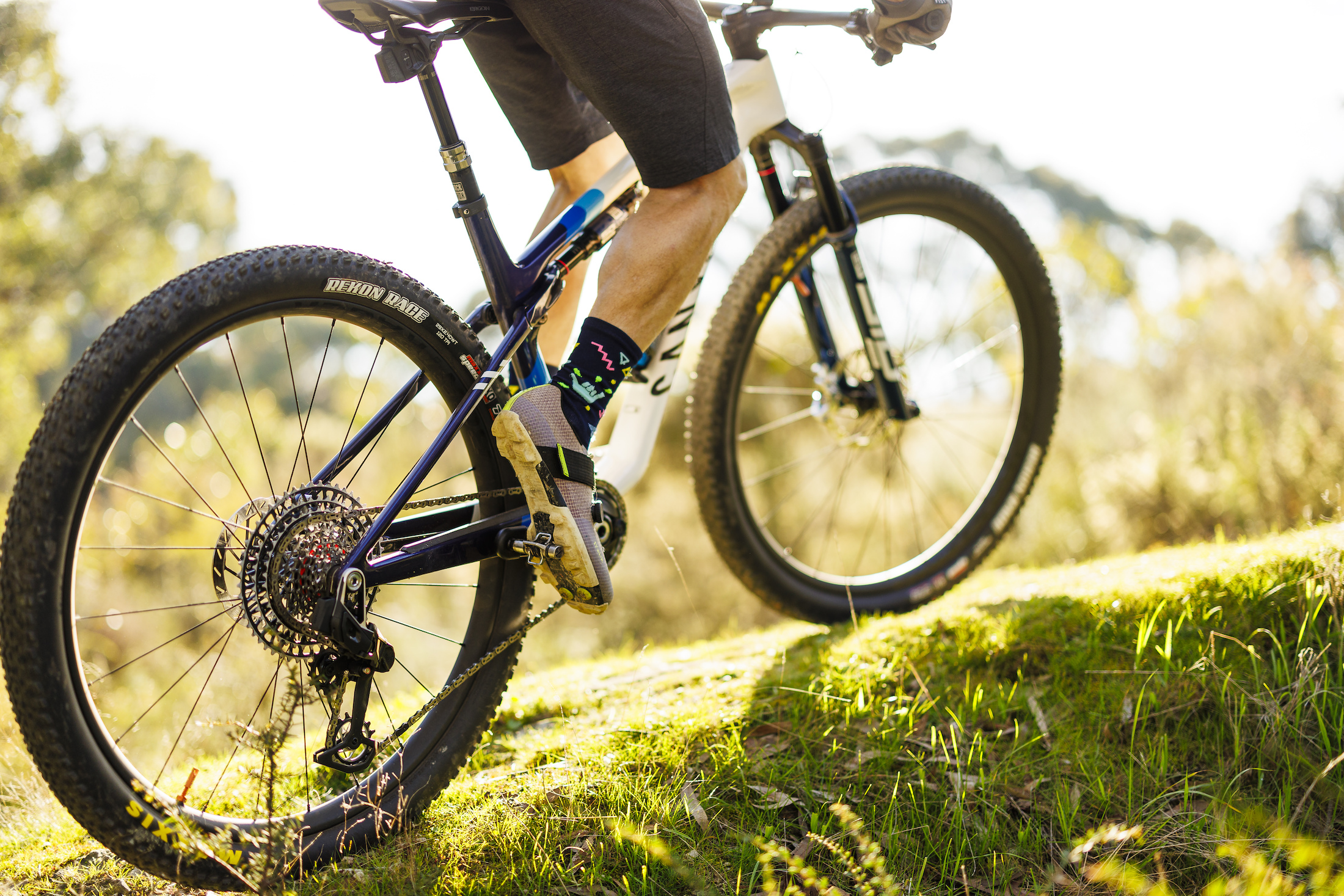 What models are there in the Kovee wheel range?
The Bontrager Kovee RSL wheelset sits at the top of a three model lineup that includes the Kovee Pro and Kovee Elite. All three wheelsets are brand new for 2023 and utilise carbon rims with an identical profile. However, changes to the carbon layup results in a heavier rim as you go down the range. You'll also find different hubs and spokes used on the cheaper wheelsets.
Here's a quick-fire comparison between the three models;
Kovee RSL – 1,199g claimed weight, RRP: $3,799 AUD
Kovee Pro – 1,385g claimed weight, RRP: $2,219 AUD
Kovee Elite – 1,585g claimed weight, RRP: $1,579 AUD
In this review I'll mostly be focussing on my experience of testing the top-end Kovee RSL wheelset. I do have some further thoughts on the cheaper models, which I'll touch on in just a bit.
Bontrager Kovee RSL price & specs
Use | XC & XC Racing
Wheel Size | 29in
Rim Type | OCLV Carbon
Rim Width | 29mm Internal, 35mm External
Rim Depth | 22mm
Hubs | DT Swiss 180 Front & 240s Rear
Brake Mount | Centerlock
Freehub | SRAM XD (Shimano Micro Spline available separately)
Spokes | 24 x Sapim CX-Ray
Nipples | Sapim Alloy Locking
Claimed Weight | 1,199g
Price | $3,799 AUD
Warranty | Lifetime Warranty & 2-year Crash Replacement Scheme
315g carbon rims – whoa!
The big story with the Bontrager Kovee RSL wheelset is its unique OCLV carbon fibre rims. Compared to the previous Kovee XXX model, Bontrager has reduced the rim depth to 22mm in order to increase vertical compliance. The bead hooks are also thicker at 3mm, and they incorporate a broader radius that's claimed to offer better impact strength while reducing the chance of pinch-flats. Internal rim width remains at 29mm, which is well suited to modern 2.3-2.4in wide XC tyres.
Although the new rim shape and profile is the same on the cheaper Kovee Pro and Elite models, the carbon layup is different between all three. A Kovee RSL rim is claimed to weigh a staggering 315g, which is considerably lighter than the Kovee Pro (375g) and the Kovee Elite (425g).
The new carbon rims also feature an offset spoke bed to help balance out spoke tensions. Each wheel utilises 24 x Sapim CX-Ray bladed spokes, which are laced to DT Swiss hubs using a 2-cross pattern. Up front is a minimalist 180 hub, and out back is a 240s hub that was specifically chosen for its larger and more durable bearing design. It features the Ratchet EXP freehub mechanism with a 54T driver to deliver a crisp engagement of 6.66°.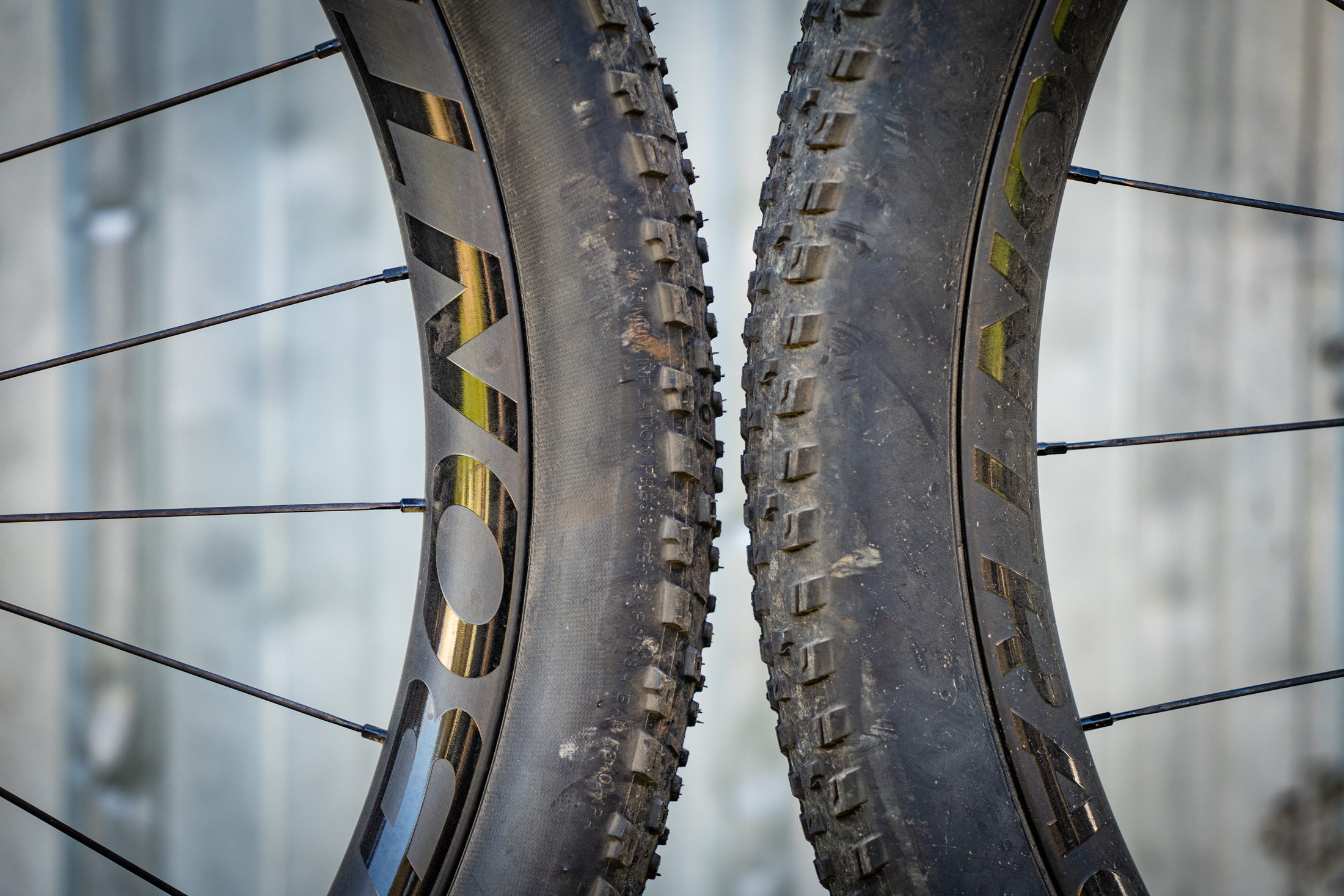 Bontrager Kovee RSL wheelset weight
Confirmed weight for our Bontrager Kovee RSL test wheelset is 1,217g including tubeless tape. That's slightly heavier than claimed, which is likely due to Bontrager weighing the wheels without tubeless tape.
Even still, it's a rather astonishing figure to see on the scales and it makes these undoubtedly the lightest mountain bike wheels we have ever tested. For reference, here's how the Kovee RSL compares to the confirmed weights of some of the other XC wheels I've ridden;
Bontrager Kovee RSL – 1,217g
Roval Control SL – 1,278g
Reserve 28|XC – 1,464g
Roval Control Carbon – 1,505g
DT Swiss XRC 1200 – 1,516g
Reynolds Black Label 309/289 XC – 1,520g
Giant XCR 1 Carbon – 1,531g
Crank Brothers Synthesis XCT 11 – 1,575g
DT Swiss XRC 1501 – 1,583g
Oquo MP30 Team – 1,616g
Only the Roval Control SL comes close, though it's worth noting that the Roval wheels features DT Swiss 180 hubs front and rear. The fact that Bontrager was able to go even lighter while using a heavier 240s rear hub is bloody impressive.
Setting up
Being a contemporary XC racing wheelset, the Bontrager Kovee RSL is only available in a 29in diameter and with Boost hub spacing.
The DT Swiss hubs utilise a Centerlock rotor interface and come standard with a SRAM XD freehub. Unfortunately Bontrager doesn't include 6-bolt adapters or a Shimano Micro Spline freehub in the box, nor will you find any Torque Cap adapters. These items are available to purchase separately, but I'd like to see them included given the high asking price for these wheels.
At least you get tubeless valves, and the rims are taped from the factory. You can use the thick plastic Bontrager TLR rim strips if you prefer, but tubeless tape is lighter and in our experience it's way less of a hassle when it comes to fitting and removing tyres.
Speaking of, I've fitted 2.35in Specialized Fast Trak and 2.4in Maxxis Rekon Race tyres to our Kovee RSL test wheelset, all of which have been easy to install and set up tubeless. Due to the rocky nature of my local trail network, I added a CushCore XC insert into the rear wheel to help ward off pinch-flats and potential rim damage.
On the trail
Over the past six months the Bontrager Kovee RSL wheels have mostly lived on my Specialized Chisel LTD hardtail, though they've also spent time on the Canyon Lux World Cup, the Orbea Oiz and Trek Supercaliber.
Given their incredibly low weight, it's no surprise that the Kovee RSL wheels deliver incredible speed on the trail. The boost in acceleration has been immediately noticeable on every bike I've fitted them to, and it flags one of the big reasons why you'd consider upgrading to a lightweight carbon wheel in the first place.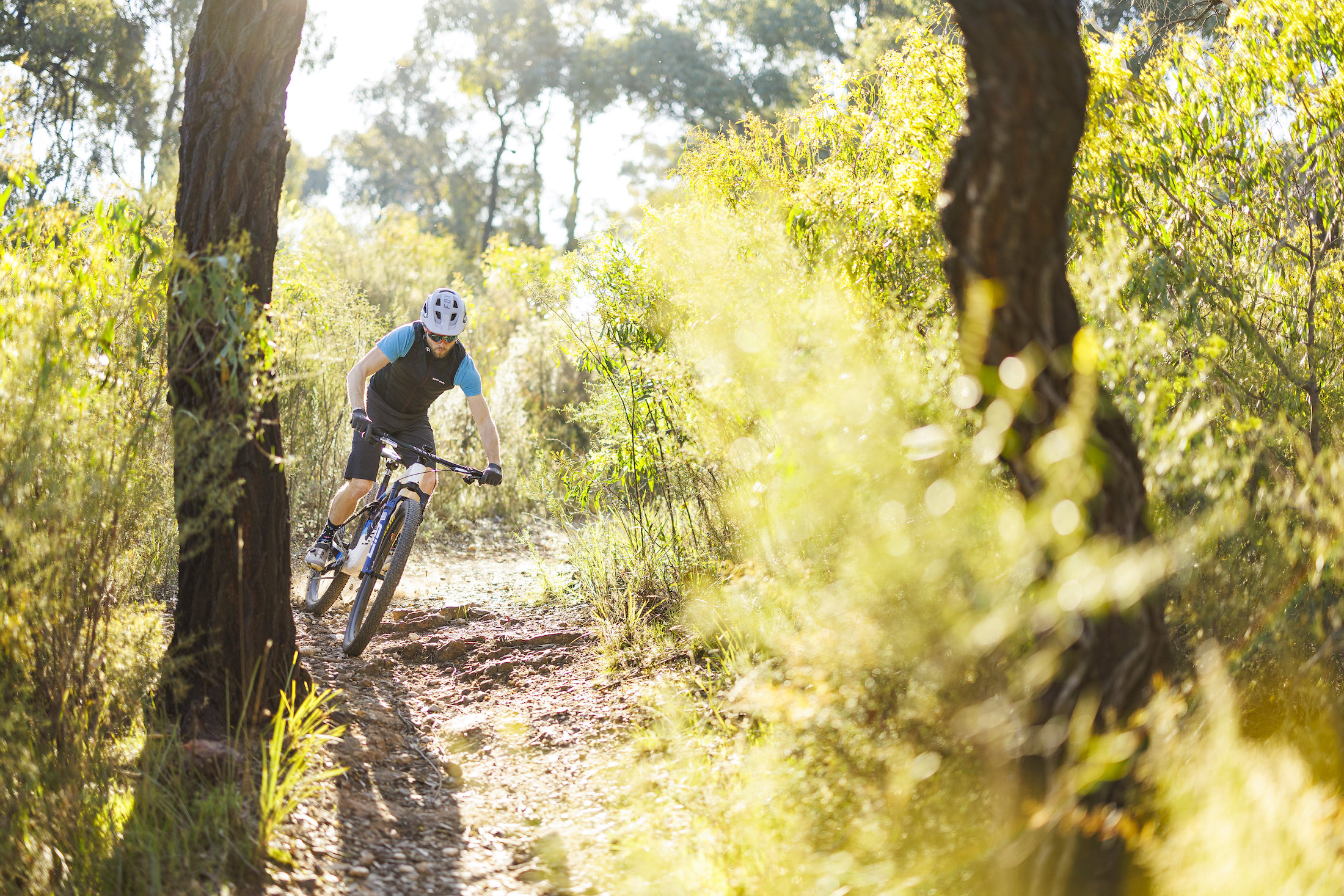 Those stupendously light rims result in minimal lag every time you step on the pedals, which is particularly apparent when you're constantly accelerating and decelerating on rough and choppy tech climbs. They respond well to power moves on slow-speed technical sections, making it easier to hop up and over rock ledges and root mats. The low inertia is also beneficial through twisty singletrack, with the Kovee RSL wheels feeling whippy and willing to change direction.
Their overall precision is accentuated by the taut build and fast pickup from the 54T Ratchet EXP freehub. No, it doesn't boast the insane engagement of an Industry Nine Hydra or a Chris King hub, but I find anything with less than 10° between clicks to be more than sufficient. I also like that the DT Swiss freehub whirr is considerably quieter than its American competitors. Along with the stealthy black-on-black graphics, the Kovee RSLs are quite subtle.
They're no bone-shakers
Given the responsive performance, I was surprised by the smooth ride quality of the Bontrager Kovee RSL wheelset. This was particularly welcome on my hardtail, with the shallow rim profile and 24 spoke count providing a nice degree of vertical give in each wheel. Paired up with the 2.4in wide Maxxis Rekon Race tyres and with pressures in the low-20psi range, square edges don't feel quite as sharp and high-frequency rubble is nicely filtered.
They're not quite as compliant as the Reserve 28|XC wheelset on the Cervelo ZFS-5, and there's another secret wheelset I'm testing at the moment that is smoother again. Still, the Kovee RSL is one of the more nuanced carbon wheelsets out there in terms of trail feedback. It's also worth acknowledging that they're a heckuva lot more compliant than the old Kovee XXX wheels with their deep-section carbon rims. As a lighter rider, I found those tended to shake my teeth out on rockier singletrack. That isn't the case with the Kovee RSL, which strike a really nice balance for an XC wheelset.
Bontrager Kovee RSL vs DT Swiss XRC 1200
A popular alternative in the high-end XC carbon wheel market is the DT Swiss XRC 1200, which comes stock on a number of high-end bikes including the Canyon Lux World Cup CFR Team. For a direct comparison, I fitted the Bontrager Kovee RSL wheelset to our Lux World Cup test bike and embarked on some back-to-back testing.
The weight drop was immediately noticeable, with the Kovee RSLs coming in 300g lighter (1,217g vs 1,516g). A lot of that weight reduction is in the rim itself, which being further away from the centre of the wheel affords a bigger advantage compared to losing the same number of grams from the hubs.
Acceleration was noticeably quicker with the Kovee RSL wheelset, though I also found it to offer more compliance. The DT Swiss XRC 1200 wheelset is certainly on the stiffer side, which is likely due to a combination of the carbon layup, the taller rim height (25mm vs 22mm) and the higher spoke count (28 vs 24).
Whatever the case, the Kovee RSL wheels offer a slightly smoother ride that has been a great match for the firm and racy Lux World Cup. Along with the significant weight advantage, it's for sure the better riding wheelset out of the two.
Bontrager Kovee RSL vs Roval Control SL
Another wheelset we can compare directly to the Bontrager Kovee RSL is the Roval Control SL.
The Control SLs come in at the same price of $3,800 AUD, and their weight isn't too far off at 1,278g. That's barely 60g more than the Kovee RSL wheelset, which largely comes down to the heavier rims.
While the Control SLs get the same 29mm internal rim width, the overall profile is quite different with hookless beads that employ the distinctive FlatTop design. Each side is 4mm wide, with the goal being to more evenly distribute impact forces and reduce the chance of pinch-flats.
Roval builds the Control SL wheels with its own alloy straight-pull hubs, though they're loaded with DT Swiss 180 internals including the SiNC ceramic bearings. Each wheel is then laced with 24x DT Swiss Aerolite bladed spokes and secured with ProLock alloy nipples.
In terms of ride quality the Roval Control SL is a similarly responsive and whippy wheelset. I've not had the chance to test it back-to-back with the Kovee RSL, so it's difficult to make a detailed comparison of the ride quality without having the two set up with identical tyres and being ridden on the same bike. However, from previous experience I've found the Control SLs to offer superb performance on the trail with a nice balance between precision and compliance.
Mick's also spent a lot of time riding the cheaper version, so check out his Roval Control Carbon wheel review for more.
Servicing & durability
Thankfully I have no major durability issues to report, with our Bontrager Kovee RSL test wheelset yet to suffer from any broken spokes or rim damage. We've certainly not gone easy on them either, with numerous rock strikes having been inflicted on both the front and rear rims. The Kovee RSLs have felt solid throughout, with no weird spoke-twanging or sponginess to be detected even on hard landings.
I did have to true the rear wheel after the first 500km of riding, but this only required a quarter turn on a couple of nipples to get it running straight again. You'll need an adjustable wrench or a dedicated tool to hold onto the bladed spokes when truing the wheel, which is easy enough to do in the workshop but potentially a challenge out on the trail.
Bontrager has built the Kovee RSL wheelset with mostly the same 296mm spokes, with only the drive-side rear specifying a 297mm spoke length. It would be nice to see some spares included in the box, though straight-pull spokes in these lengths are pretty easy to source these days.
The only notable issue I encountered through testing was a single pop from the freehub during an earlier test ride. Despite my best efforts I've not been able to replicate the issue since, and with no visible damage on the freehub ratchet splines, I suspect this may have just been a random anomaly.
Otherwise the hub bearings are still spinning smooth, and the freehub grease is only just starting to show some discolouration. The astonishingly simple Ratchet EXP mechanism can be pulled apart without tools, making it easy to clean and re-grease when necessary.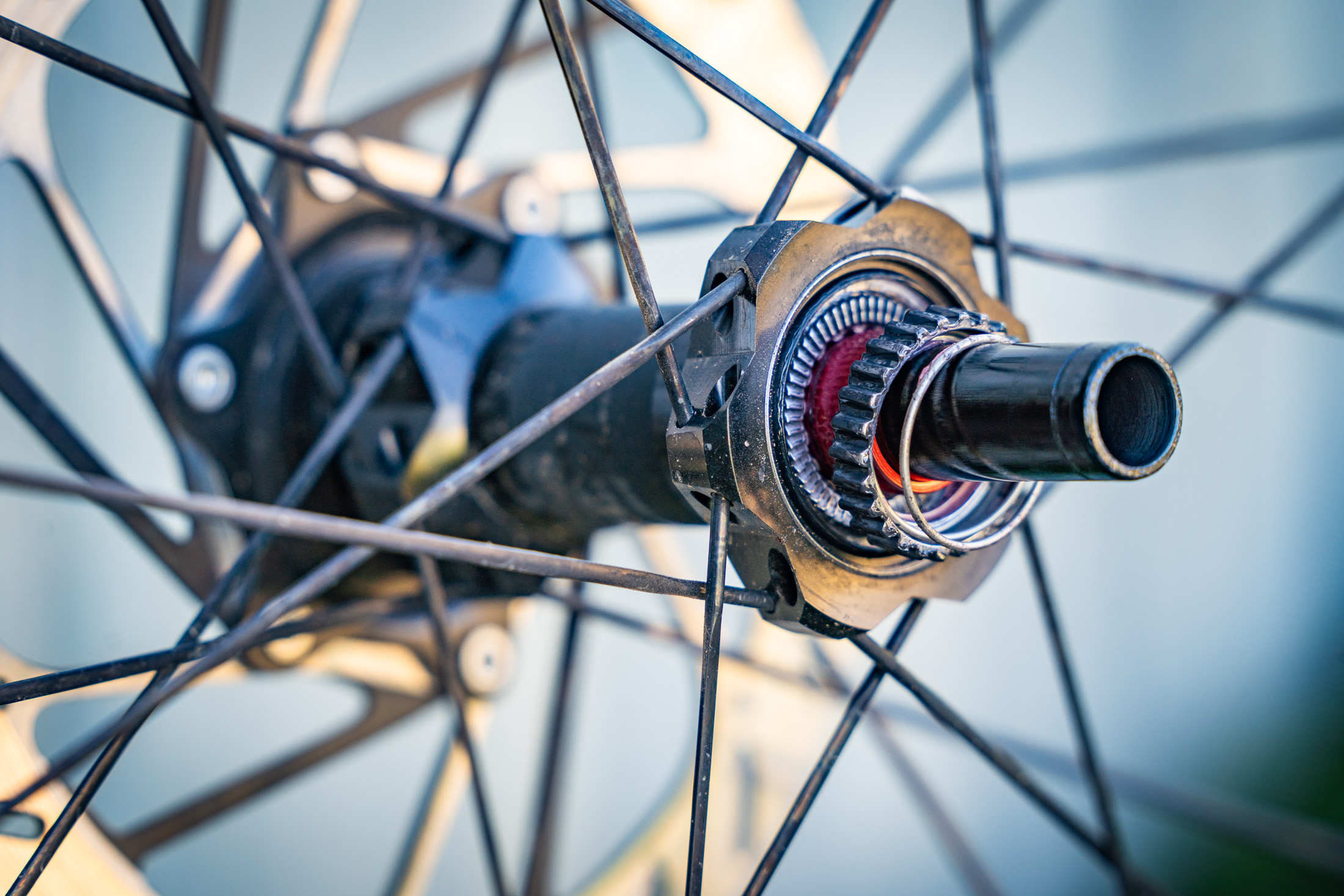 Warranty & crash replacement
As light as the Bontrager Kovee RSL wheelset is and as well as it rides on the trail, if you're shelling out close to four grand for a wheelset you're going to want some confidence behind your investment.
Firstly, it's worth pointing out that the Bontrager Kovee RSL wheelset doesn't actually have an official rider weight limit. Yes, really!
Furthermore, they come with a lifetime warranty and Bontrager's 2-year Carbon Care Loyalty program. This is essentially a crash replacement scheme, which offers "free repair or replacement in the unlikely event that you structurally damage your wheels while riding within the first two years of ownership".
That coverage isn't as generous as the schemes offered by Reserve and Crank Brothers, but I still think it's impressive that Bontrager offers any crash replacement at all for what is one of the lightest wheelsets on the market.
Related:
What about the cheaper Bontrager Kovee wheels?
While the Bontrager Kovee RSL impresses in many regards, there's no getting away from the fact that $3,799 AUD is a lot of money for a mountain bike wheelset.
If I was shelling out my own cash, I'd more likely be looking towards the mid-tier options like the Roval Control Carbon ($2,000 AUD / 1,505g) and the DT Swiss XRC 1501 ($2,349 AUD / 1,583g). I'd also be seriously considering the Bontrager Kovee Pro wheelset, which sells for $2,219 AUD while still boasting a remarkable claimed weight of just 1,385g.
The Kovee Pro features OCLV carbon rims with an identical profile to the Kovee RSL, albeit with a heavier layup that results in an extra 60g of material per wheel. Along with the 28x Sapim CX-Ray spoke build, I suspect it'll be a slightly stiffer and stronger wheelset that'll be better suited to bigger and more aggressive riders.
Of course Bontrager's Rapid Drive 108 XC hubs don't have the same curb appeal as the DT Swiss hubs used on the Kovee RSL wheelset, but they do offer double the pickup speed with 108 points of engagement. We've also found them to be more durable than previous offerings from Bontrager, and spares are readily available through Trek's extensive dealer network.
Flow's Verdict
The Bontrager Kovee RSL wheels aren't just ridiculously lightweight, they also ride beautifully on the trail. They feel fast and whippy, delivering explosive acceleration every time you put pedal to the metal. And compared to heavier wheelsets (which is most of them), the low rim weight and taut build provides a tangible improvement to your bike's handling response.
Despite their solidity and precise feel they offer good vertical compliance, especially when paired to a modern high volume 2.4in wide tyre. The result is a nice balance of attributes that works exceptionally well for XC racing duties.
At just shy of $4K however, they are not an inexpensive wheelset, and for that price we'd really like to see Bontrager including the optional extras.
For those who aren't up to spending that kind of coin, it'll be worth considering the Kovee Pro or even Kovee Elite wheelsets, both of which benefit from the new carbon rim design and come with the same 2-year crash replacement guarantee.
But if you're a diehard weight weenie who's after one of the lightest mountain bike wheelsets going, it doesn't get much better than the Bontrager Kovee RSL.