Wil reviews the Roval Control Alloy wheelset
The Roval Control Alloy is an all-new wheelset for 2023. Pitched at XC racing and trail riding, these wheels feature a brand new alloy rim that manages to be both wider and lighter than the previous version. Combined with a set of bulletproof DT Swiss 350 hubs and a sub-1,700g claimed weight, the Control Alloy is an appealing option for XC riders who aren't so keen on spending several thousand dollars on carbon hoops. So, how do they perform on the trail?
The Roval Control wheel lineup
Whereas the Roval Traverse wheels are designed for enduro, e-MTB and downhill riding, the Roval Control range is made for XC racing and trail riding.
There are three models in the lineup, with the more expensive Control Carbon and Control SL wheels featuring a lightweight carbon rim. The Control Alloy is the only model to use an alloy rim, and that's very much reflected in the price;
Roval Control SL (1,240g claimed weight) – $3,800 AUD
Roval Control Carbon (1,450g claimed weight) – $2,000 AUD
Roval Control Alloy (1,648g claimed weight) – $1,100 AUD
We've tested the Control SL wheels before on a Specialized Epic and Epic EVO, and we've also reviewed the Control Carbon wheels separately. However, this would be our first encounter with the cheapest option in the lineup.
6013 Alloy rims
Compared to the previous version, the new Roval Control Alloy introduces a brand new asymmetric rim design that's made from 6013 alloy. The rim features a significantly shallower depth of 19mm, while the internal width expands to 27mm. The surface is then shot-peened to increase strength.
Roval laces the rims using 28 x Sapim D-Light straight-pull spokes per wheel, along with alloy Secure Lock nipples. And because the rims are asymmetric with an offset spoke bed, the spoke length is exactly the same on the drive and non-drive side, for both front and rear wheels. Nice!
At the centre of each wheel is a well-proven DT Swiss 350 hub, the rear of which incorporates a 36T Star Ratchet freehub system.
Roval Control Alloy Wheel Price & Specs
Use | XC Racing & Trail Riding
Wheel Size | 29in
Rim Type | Asymmetric 6013 Alloy, Shot-Peened
Rim Width | 27mm Internal, 31mm External
Rim Depth | 19mm
Hubs | DT Swiss 350 Straight-Pull
Freehub | Star Ratchet w/36pt Engagement
Brake Mount | 6-Bolt
Spokes | 28 x Sapim D-Light Straight-Pull
Nipples | Sapim Secure Lock Alloy
Warranty | Lifetime
Claimed Weight | 1,648g
Price | $1,100 AUD
Roval Control Alloy wheelset weight
Our set of Roval Control Alloy wheels came in at 1,648g on the workshop scales, which is exactly as claimed. Of course it's not as impressive as the 1,217g weight of the Bontrager Kovee RSL wheels I tested recently, but it's a very respectable weight for an alloy wheelset.
To put things in perspective, here's how the Control Alloy stacks up against the claimed weights of some of Roval's competitors;
Stan's NoTubes Crest MK4 – 1,638g
Roval Control Alloy – 1,648g
DT Swiss XR 1700 – 1,672g
Hunt XC Wide – 1,693g
Stan's Arch MK4 – 1,782g
Reserve 30|SL AL 6069 – 1,840g
DT Swiss XM 1700 – 1,879g
Roval Traverse Alloy – 1,904g
Bear in mind that the specs and rim widths differ quite a bit between all of those wheels. Some of the lighter options feature a 25mm inner rim width, while the heavier options make use of a 30mm wide rim. In comparison, the Control Alloy sits in the middle with its 27mm inner rim width.
Setting up
The Roval Control Alloy wheelset is only available in a 29in diameter and with Boost hub spacing. The hubs use a 6-bolt rotor interface, and the rear comes set up with a SRAM XD freehub body. If you need a Shimano Micro Spline or HG freehub body, you'll have to purchase one of those separately via DT Swiss, which will be a bummer for Shimano drivetrain users.
On the plus side, Roval does include standard end caps and Torque Caps for the front hub. Given I would be bolting the front wheel to a RockShox SID, I fitted the oversized Torque Caps for a neater and stiffer interface.
Included in the box is a check sheet to acknowledge the wheels handbuilt credentials. Spoke tensions, dish, radial and lateral trueness are all marked out, providing a useful reference point for checking the wheels down the line. As mentioned earlier, each wheel uses the same 304mm spoke length. Roval includes a couple of spare spokes and nipples with each wheel, which is a great touch.
The rims come fitted with tubeless tape from the factory and valves are included in the box. However, it's worth noting that the Roval tubeless valves aren't specifically insert-compatible. I swapped these for a pair of Peaty's MK2 tubeless valves, and paired them to a set of CushCore XC tyre inserts.
I've tested the Roval Control Alloy wheelset with a 2.35in Schwalbe Racing Ralph/Ray combo and a pair of 2.4in Maxxis Rekon Race tyres, all of which inflated easily with a floor pump. Depending on the trail conditions, pressures have ranged anywhere from 17psi to 23psi.
On the trail
Over the last few months, I've mostly been riding the Roval Control Alloy wheels on my Specialized Chisel LTD. They've been a great match for the hardtail, with the low-profile alloy rims providing a smooth and compliant ride quality that is particularly welcome with the rigid back end. The 27mm rim width is well suited to the 2.35-2.4in tyres I've been using, and along with the CushCore inserts I've been able to run slightly lower pressures for more grip and comfort.
On my local trails, which are quite rocky and natural, I've really enjoyed the vibration and impact-absorption these wheels offer. They don't ping you off-line, and I've found them to conform to the terrain nicely to help maintain traction through chunky off-camber turns.
Given their low weight, they'd be a worthy upgrade for a mid-spec hardtail like the Cannondale Scalpel HT Carbon 3, which out of the box comes with a 1,934g wheelset. As well as dropping close to 300g of rotational weight, you'd also be getting better hubs and a wider rim that's more suited to modern 2.4in XC tyres.
More recently I've been testing the Roval Control Alloy wheelset on my Canyon Lux World Cup. This has previously been fitted with some very high-end carbon wheels including the Zipp 1Zero HiTop, Bontrager Kovee RSL and DT Swiss XRC 1200.
Despite being heavier and a lot cheaper, I was surprised at how sprightly the Control Alloy wheels have felt. They accelerate well and offer a suitably responsive feel through snaking singletrack. The 10° freehub engagement is sufficiently quick, and I love the chunky sound of the Star Ratchet system.
Along with the solid build, these are potentially a great option for XC racers who are looking for a training wheelset that allows them save their high-zoot carbon wheels for race day.
Lightweight limits
While the Roval Control Alloy wheels are relatively sturdy, I have noticed some very occasional squirming on really hard compressions and G-outs. It's fairly subtle and it hasn't caused any issues so far, but compared to the Roval Control Carbon wheels we've reviewed previously, it's a noteworthy point of difference.
It's also worth acknowledging that I'm only 67kg loaded up, so heavier riders may notice more flex, particularly if you ride machine-built trails with lots of berms and jumps. If that sounds like you, it'll be worth looking at a burlier and more trail-oriented wheelset like the Reserve 30|SL AL 6069 or Roval's own Traverse.
If you're on the smoother and lighter side however, these could be a great option to help drop some mass from a mid-travel trail bike. For example, the Specialized Stumpjumper Comp we reviewed came with a 2,223g stock wheelset. Upgrading to the Control Alloy wheels would drop almost 600g, which is huge! For those who are tackling bigger climbs and longer rides, that kind of weight reduction will be noticeable and appreciated.
Durability & servicing
I'm happy to report that we're yet to encounter any issues with our Roval Control Alloy wheelset. Freehub engagement has been totally solid, the hub bearings are running smooth, and the wheels are yet to be knocked out of true. I also like that the rear hub is easy to pull apart for routine servicing.
The straight-pull spokes require a tool to hold them in place when adjusting the nipples, which is easy enough to do in the workshop but quite tricky out on the trail. For that reason I'd like to have seen Roval use J-bend spokes for this wheelset, though at least there are spare spokes included in the box.
It's worth noting these wheels come with a generous 125kg system weight limit. They're also covered by a lifetime warranty and what Roval refers to as the "**it Happens" No Fault Crash Replacement Policy. This means that if you damage your wheelset while riding within the first two years of ownership, Roval will replace or repair it free of charge. It's not quite as impressive as Reserve's wheel warranty, but it's still fantastic coverage nonetheless.
Roval Control Alloy vs Zipp 1Zero HiTop
Given there's close to a $2,000 AUD price difference, it may seem odd to compare the Roval Control Alloy wheelset with the Zipp 1Zero HiTop. However, it was exactly for that reason why I decided to test these wheels back-to-back. How would the carbon and alloy rims compare? Would the Zipps really be that much better?
Coming in at just 1,358g, the Zipp 1Zero HiTop is a premium XC wheelset that features low-profile carbon rims with a 30mm inner width. They have substantially thicker beads that provide more surface area when the tyre bottoms out during a hard rock strike. As well as reducing the chance of a pinch-flat, the thicker beads are said to better absorb impact energy, resulting in a potentially more durable rim.
There are further differences in the build, including the use of J-bend spokes and a faster-engaging freehub. Zipp also provides lifetime coverage for accidental crash damage, which is great peace of mind given these wheels aren't an insignificant investment.
On the trail, the Zipp 1Zero HiTop offers class-leading compliance for what is a race-oriented carbon wheelset. They're smooth and well-damped, whilst still being incredibly lightweight and direct, making them an excellent option for XC racing.
However, during back-to-back testing it was clear they don't offer the same comfort and rock-smoothing ride quality of the Roval Control Alloy wheels. Indeed I was surprised to notice that the Zipps transmitted more feedback from the trail. This wasn't as big of an issue on the full suspension bike, but on the hardtail I have to say that I preferred the compliance of the Roval Control Alloy wheelset.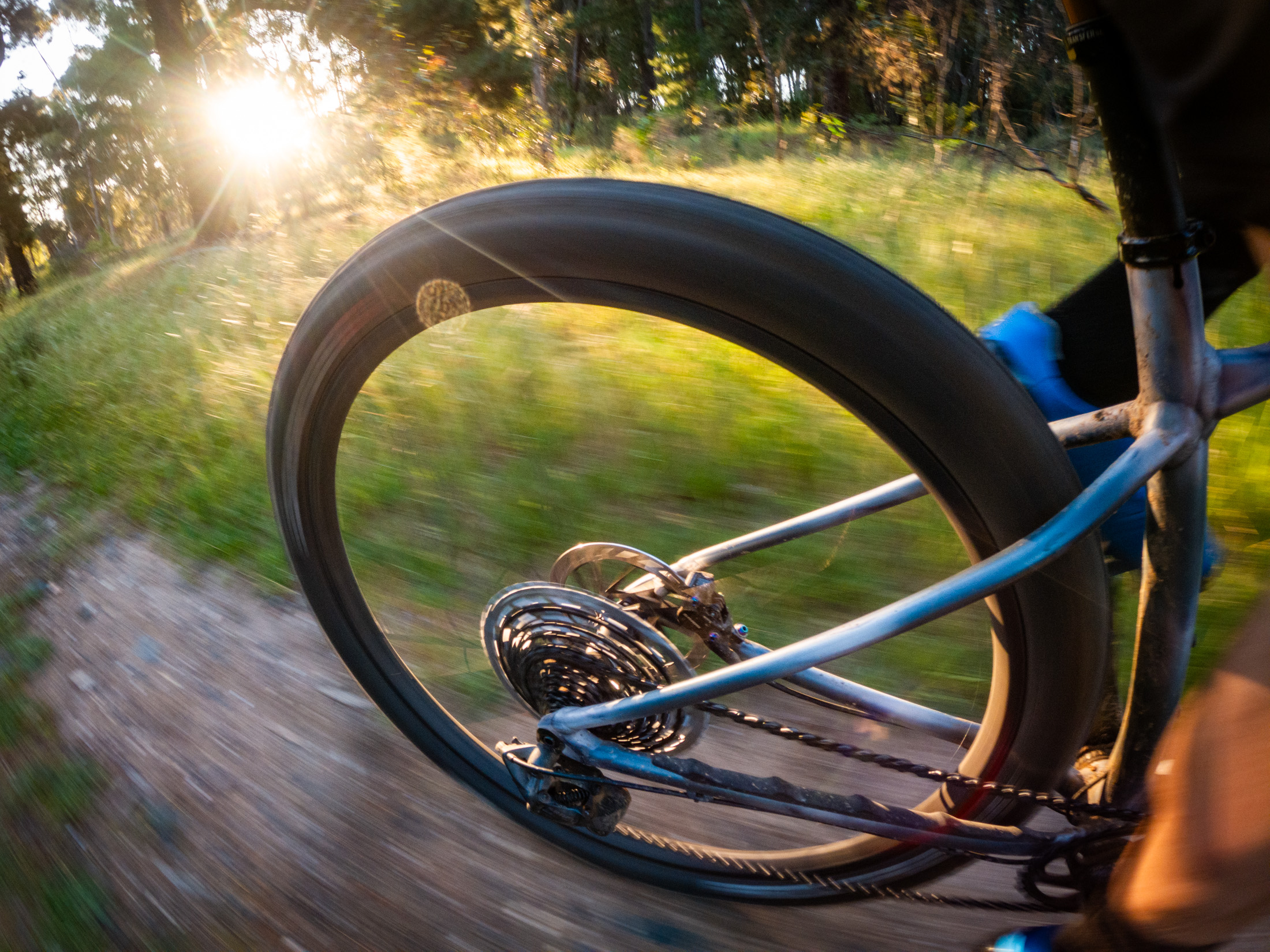 Flow's Verdict
Despite its relatively modest price tag, the Roval Control Alloy wheelset offers an impressive ride quality thanks to the low weight, solid build and compliant alloy rims.
It's a great upgrade option for mid-spec hardtails and full suspension XC bikes, and will likely let you drop a fair bit of rotational weight compared to the stock wheels that you'll typically find on bikes in the $2,000 – $5,000 AUD range.
It isn't just about the price and weight however, with the Control Alloys delivering excellent compliance and a responsive feel through twisty singletrack. Whether you're searching for vibration-absorbing wheels for your hardtail, a durable training wheelset for your race rig, or a lightweight set of wheels for your mile-munching trail bike, the Roval Control Alloy is a superb option.