Ahoy there friendly Flow Folks! How are we all? Staying dry? Managing to survive La Niña so far? The south eastern part of the country has had an absolute battering over the past couple of weeks, and with many of our favourite trails having endured significant damage, we are praying to the weather gods for some much-needed reprieve!
Never fear however, because we've got some good news stories to get you excited for the coming months. Grinduro is finally coming to Australia, and will be saddling up in Falls Creek in early December for what sounds like a wicked weekend of riding. If you're eager to tick off some new riding destinations, then you must check out our wrap-up of the best mountain bike trails in Victoria. In the mood for some Queensland sunshine? See part three and four of Colin's Gold Coast adventure, or check out our ride guides on Smithfield and Atherton.
We've also got plenty of new bike froth going on thanks to the release of the new Merida One-Sixty and the Trek Fuel EX. And if you're feeling the e-Bike itch, then get your peepers on our recent reviews of the Avanti Hammer-E, Scott Patron and Cube Stereo Hybrid 160.
But wait, there's more! That's right folks, we've got plenty more good stuff coming your way. Let's keep those tip-top vibes rolling and get stuck into this zingy edition of Flow's Fresh Produce!
---
Fox Proframe RS MIPS Helmet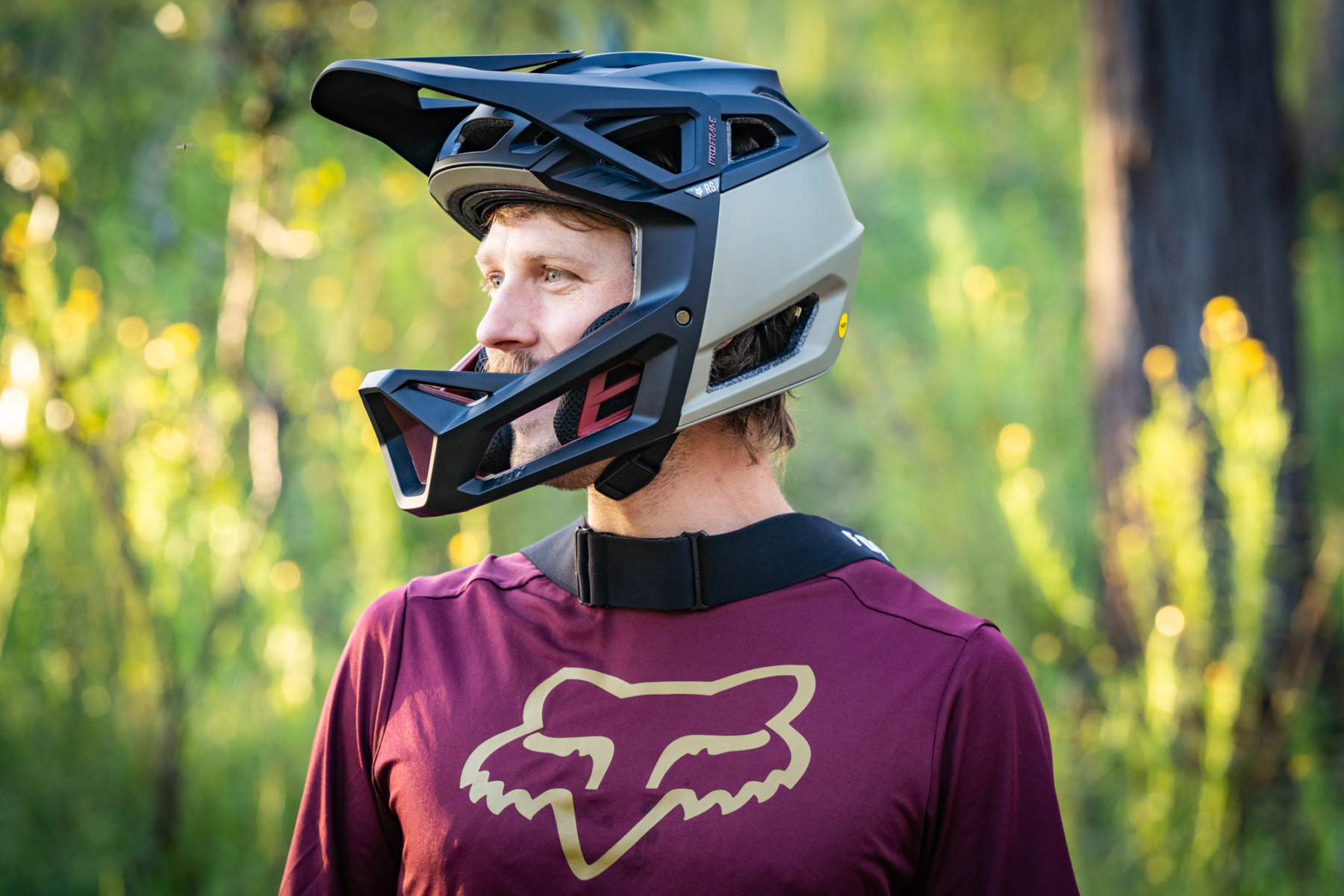 The Fox Proframe RS is a brand new lightweight full face helmet that's designed for trail riding and enduro racing. It's also the first helmet on the market to feature the new MIPS Integra system. MIPS Integra is an evolution of the original MIPS liner, while drawing inspiration from the dual-shell design we've seen on a number of helmets from Bell and Giro.
The idea is to provide maximum absorption of rotational impact forces in a design that's as secure and low-profile as possible. To do this, the Proframe RS is built with two different shells. There's an EPS outer shell that utilises a higher density foam to handle high-speed impacts. The internal shell is made from a softer density EPP foam, which provides more cushioning for low-speed impacts.
The EPP liner then has a MIPS Low Friction Liner moulded directly to it, creating a smooth slip plane with the outer EPS shell. Rubber anchors secure the shells together, providing 10-15mm of movement to allow the helmet to rotate slightly around the rider's head, thereby managing rotational forces during an impact.
What's especially clever about the MIPS Integra system is how secure it feels on the head while still providing that necessary rotational movement. The Proframe RS offers a snug fit, and it's easy to adjust thanks to the slick BOA tension dial. The harness can also be adjusted vertically, and Fox includes two different sizes of cheek pads in the box for fine-tuning the overall fit.
There's more ventilation on offer compared to the regular Proframe, though we intend to use the Proframe RS through summer to see how it handles proper Aussie riding temperatures.
Confirmed weight for our Medium size test helmet is 821g, which is noticeably heavier than the Specialized Gambit (675g), and a lick heavier than the POC Otocon (800g). The MIPS Integra system makes the Proframe RS a compelling option though, and we've found the fit and adjustability to be superior compared to those other two options. Rounding out the features is a an adjustable visor, a removable GoPro mount, a magnetic Fidlock buckle, and an anti-microbial treatment for the internal padding.
---
Fox Ranger Jersey, Defend Pants & Flexair Pro Gloves
Along with the Proframe RS helmet, we've also received some new season threads from Fox Racing.
Designed for gravity-based riding, the Defend pants have been built with durability in mind. These feature Cordura panels over the knees to provide increased abrasion resistance, and there's plenty of room underneath for full coverage knee guards. Despite their heavy duty construction however, the use of TruMotion stretch fabric, perforated ventilation holes and a tapered leg profile means the Defend pants are still comfortable while pedalling.
Up top we've got the Fox Ranger short sleeve jersey, which is made from 100% recycled polyester. It's got a casual fit like a T-shirt, but the lightweight TruDri fabric is designed to wick and evaporate sweat more effectively on warm days out.
And covering our digits is a pair of Fox Flexair Pro gloves. These step up the quality over the regular Flexair gloves by employing a discreet D3O insert over the outer two knuckles for some added tree-punching protection. They also make use of Dyneema fabric over the fingers and knuckles to increase abrasion resistance, while an otherwise thin mesh construction and a perforated Clarino palm keeps things lightweight and breathable.
---
Bontrager Kovee RSL Wheels
Bontrager recently updated its Kovee wheel range, which contains three brand new models; the Kovee RSL, Kovee Pro and Kovee Elite. We've got the top-end Kovee RSL wheels in for testing, and with an incredible claimed weight of just 1,199g, these aren't just Bontrager's lightest ever mountain bike wheelset, they're also some of the lightest wheels on the market.
To put that number into perspective, the previous Kovee XXX wheelset, which we tested on the Trek Supercaliber, came in at 1,325g. And the Roval Control SL wheelset, which we tested on the Specialized Epic, came in at 1,278g. This new Bontrager Kovee RSL wheelset is lighter again, weighing in at 1,236g on our workshop scales. That's a little heavier than claimed, though we always weigh our wheels with the tubeless tape and valves included, which likely explains the small discrepancy. Either way, they're bloody feathery!
To achieve that staggering weight, the Bontrager Kovee RSL wheelset uses a new 315g OCLV carbon rim. They boast a 29mm internal rim width to suit modern 2.3-2.4in wide XC tyres, and they feature thick, blunt-shaped bead hooks to maximise impact strength and reduce the chance of pinch flats.
Despite their stupendously lightweight rims, the Kovee RSL wheels have no official rider weight limit. They're also warrantied for life for the original owner, and they even come with Bontrager's 2-year crash replacement guarantee.
To match the premium carbon rims, each Kovee RSL wheels is laced with 24 Sapim CX-Ray bladed spokes to DT Swiss 240s hubs. These utilise Centerlock rotor mounts and the Ratchet EXP freehub mechanism. The result is a seriously high-end set of wheels and a seriously high-end sticker price of $3,599 AUD.
If that's too much to stomach, the new Kovee Pro 30 wheelset packs in many of the same features while coming in significantly cheaper at $2,099 AUD. These get OCLV carbon rims with an identical profile to the RSL model, albeit with a slightly heavier carbon layup. Along with Bontrager Rapid Drive 108 XC hubs and 28 Sapim CX-Ray spokes per wheel, claimed weight nudges up to 1,385g. That's still very light though, making the Kovee Pro the value-pick of the range.
Cheaper again is the new Kovee Elite 30 wheelset. These kick off the range with a sticker price of $1,499 AUD, which is impressive given they utilise carbon rims and have the same rim profile as the top-end RSL model. The layup is heavier though, and along with cheaper spokes these come in a claimed 1,585g.
As to how the new Kovee RSL wheels perform on the trail? We'll be riding and racing our test set over the coming months to see how they stack up against the best XC wheels on the market.
---
100% Airmatic Jersey & Shorts
Our newest additions to the Flow test team, Jack, has been eager to prove that his talent goes far beyond riding. Levelling up our collective modelling game, Jack is effortlessly showing off some fresh Airmatic kit from 100%.
The Airmatic short sleeve jersey is made from technical riding fabric that keeps things light and breezy, while still offering a, erm, casual style. It gets a reflective logo on the rear for visibility, a dropped tail and an internal sunglasses wipe. Available in four sizes and heaps of different colour options.
To wrap your cycling booty, the Airmatic baggy shorts feature a four-way stretch fabric that's made from a combination of polyester and spandex. Along with stretch-mesh venting, they're designed to be comfortable, ventilated and flexible enough for trailside twerking. There's an adjustable waist closure, a small zippered pocket for essentials, and a pocket for your phone.
---
Peaty's Grease
It's no secret that the eastern states of Australia have had a rather soggy few months, with above-average rainfall leading to *ahem* sub-optimal riding conditions. As a result of the ongoing wet weather abuse, some of the bikes in the Flow test fleet have been crying out for a little extra love in preparation for the summer riding season. Sorry bikes!
Handily, we've just received some fresh grease from UK brand Peaty's. There are four different types, each of which is claimed to be biodegradable, while being sold in packaging that's made from recycled materials.
For greasing up thru-axles, seatposts and headsets, the blue Bicycle Assembly Grease is the ticket, with its thick consistency designed to provide long lasting lubrication anti-corrosion protection. If you're popping off bearing seals and replacing the grease inside inside faster moving parts, like hub and bottom bracket bearings, the red Speed Grease is the one to go for.
We've also got a tube of Suspension Assembly Grease, which is a bit like Slick Honey or Slickoleum. You can use this for rebuilding forks and rear shocks, though we've found it to be ideal for freshening up the dropper posts on our test bikes.
Lastly there's a tube of Max Grip Carbon Assembly Paste, which can be used on interfaces that are clamping carbon components. If you've got a carbon frame, use this inside the seat tube to increase friction with the dropper post. You can also use a small amount on carbon handlebars for the stem face plate and brake lever clamps to reduce slippage without having to apply excessive torque.
---
Muc-Off Forever bottle
From energy bar wrappers, to all of the plastic and styrofoam that comes inside a bike box, to the bottles used for chain lube, bike cleaner and tubeless sealant, there is a lot of single-use packaging around the bike industry. In recent years, we've thankfully seen a concerted push to reduce all of this waste. Muc-Off is one such company that is aiming to minimise the footprint of cleaning your bike with the introduction of its Punk Powder and Forever Bottle.
As its name implies, the Forever Bottle is designed to be a permanent fixture in your workshop. Instead of purchasing a whole new plastic bottle of bike cleaner whenever you run out, the Forever Bottle is made to be reused over and over again. It utilises a 1-litre aluminium canister that will stave off dents from being dropped, and it comes supplied with a silicone base to help it stay upright on your janky workbench. Unfortunately the trigger head is still made from plastic, but it is compatible with the Snow Foam lance attachment for Muc-Off's Pressure Washer.
The Forever Bottle is sold as a bundle with several sachets of Punk Powder, each of which will make up 1 litre of Nano Tech Bike Cleaner. Just add water, and you've got an effective foaming bike wash that is eco-friendly and won't harm seals, cables, disc brake pads or rotors. These sachets are brilliant, and we reckon all bike cleaner should be sold like this, as it would cut down significantly on shipping.
The actual sachet (as in the pouch itself) is made from plastic-free, compostable materials and printed using vegetable inks. Combined with the FSC recycled card box it all comes in, Muc-Off claims it has cut out 92% of the single-use packaging that would have traditionally been used with this bundle. In the grand scheme this is only a small change, but hopefully it's a sign of things to come from Muc-Off and other brands in the cycling industry.
---
Quarq DZero Eagle Power Meter
At first glance, this may look like a stock standard crankset, but hiding in the bowels of the chainring spider is the Quarq DZero Power Meter. Under the hood are a series of strain gauges, and accelerometers taking readings as you pedal to calculate how many watts you're producing, within a claimed +/- 1.5% margin. Power meters have long been in the toolbelt of roadies and XC riders, but a growing contingent of mountain bikers are learning the wonderful ways of watts, and how useful they can be for performance on the trails — on the ups and the downs. If you don't believe us, just ask 2022 EWS World Champ Jesse Melamed.
Quarq, which is part of the SRAM brand catalogue, has been making power meters for 15-years, and while not brand new, the DZero is its latest watt-measuring tool. It's an all-inclusive package as the spider doesn't require a magnet to measure cadence, and Quarq claims its MagicZero software automatically calibrates the unit without backpedalling, or manual zero through your head unit. This also encompasses automatic temperature compensation, as without it, swings in ambient air temp can have an effect on overall accuracy.
The spider weighs 114g according to the Flow Scales of Truth TM,  and it's only compatible with 104BCD chainrings — the smallest SRAM makes in this size a 32T, however other brands like OneUp and Wolf Tooth go as small as 30t.
Powered by a standard CR2032 coin cell battery, the DZero is claimed to last 200-hours of ride time. Battery changes don't require any tools, just unscrew the cap, pop a fresh one in, and you're on your way.
Available in standard 49mm and 52mm Boost chain line, the DZero can either be purchased as the spider alone, or as a crankset, however, it's only compatible with SRAM's DUB system, so if you have anything other than a DUB BB, you're outta luck. Because of the eight-bolt mounting interface, you'll also need an XX1 Eagle crank.
---
SRAM HS2 CenterLock Rotors
To match the Centerlock hubs on those snazzy Bontrager wheels, we've also received some of the latest SRAM HS2 rotors with a Centerlock spline. Like the 6-bolt versions, these HS2 rotors use a 2mm thick stainless steel construction with a more consistent brake track. Along with black thermal paint on the rotor spires, the HS2 rotors are claimed to offer 7% more power over the previous model, while also providing quieter and smoother braking with better heat management.
At the centre of the rotors is an alloy carrier with a splined interface that matches up with a Centerlock hub mount. Compared to a 6-bolt rotor, installation and removal is significantly faster and much easier. It's also nice to see that lockrings are included with the rotors, since many Centerlock hubs and wheelsets don't come with them.
Though we've been impressed with the smoother and more powerful braking of the HS2 rotors, they do come with a weight penalty. That's especially apparent in this Centerlock version, with a 180mm rotor coming in at 211g. That's nearly 100g heavier than the previous CenterLine X rotors (125g claimed), so true weight weenies are unlikely to be swayed by the performance improvements.
---
2023 Cube Stereo Hybrid 160 HPC SL
We recently wrapped up our review on the Cube Stereo Hybrid 160 Actionteam, which proved to be a very plush and capable long travel e-MTB. It also featured an impressively high-end spec for the money, especially compared to the Specialized Levos and Trek Rails of the world.
That's all well and good, but what if you didn't want to spend five figures on a new e-MTB?
Shown here is one of the cheaper models in Cube's lineup. It's called the Stereo Hybrid 160 HPC SL, and it features the same carbon/alloy frame, Bosch motor and 750Wh battery as the Actionteam model. However, it manages to come in at a substantially lower price point thanks to its modest build kit.
Despite selling for well under ten grand, you're still getting a RockShox Zeb fork with a Charger damper, a Shimano Deore groupset, and high-end triple compound Maxxis tyres with a DoubleDown casing on the rear and an EXO+ casing up front. For riders who are looking for an e-MTB that offers plenty of power and long-distance capability, this is surely one of the best value options going.
We'll be giving the Stereo Hybrid 160 HPC SL a thorough workout over the coming weeks to see how its budget-conscious build kit fairs out on the trail. We'll also be using it for an upcoming feature about the Bosch Smart System, so stay tuned for a deep dive into what this e-MTB system is all about, and how to get the most out of it.