Here we are folks – it's the final Fresh Produce of the year! Does that make you happy? Sad? Excited? Terrified? All of the above? Sure it might be hard to believe, but we are finally on the homestretch of 2020, a year that many would like to forget, and for many different reasons. We'll avoid the clichés and skip over the well-worn idioms that have been drilled in to our subconscious over the past nine months, because we're sure you're all fed up with that. And, well, it's not in our nature to dwell on the negative. Sure it's been a challenging year in many ways, but it's also been bloody great in other ways too. Flow has continued to adapt, evolve and grow, and while things have been different, we're chuffed that we're still here doing what we love. We're chuffed that you're here too with us, and we hope you've enjoyed the bumpy ride along the way. Bumpy or smooth, we're looking forward to carrying that momentum into 2021, as we've got lots of exciting plans for the New Year and beyond. And with that, we invite you to raise your glass and join in a virtual cheers to celebrate both the end of the year, and the start of a new one!
With summer holidays well and truly on the way, we've got plenty of new stories and features on Flow to get you excited and inspired for the New Year. If gravity racing is your thing, then you'll most definitely want to check out the Bike Warrior event, a humongous 7-day enduro scheduled for February in the Victorian High Country. Thinking further south? See Canadian freeride legend, Brett Tippie, take on the Maydena Bike Park for the first time, and get a closer look at the enchanting Wilderness Trail. So much stoke in those videos!
In new bike news, the Santa Cruz Nomad 5.0 has just launched, perhaps the ideal vessel for somewhere like Maydena. That isn't the only new release from Santa Cruz though – the Californian brand has also expanded its e-MTB lineup with the latest Heckler MX and the new Bullit too. If an electrified backcountry adventure is on the agenda for your holidays, then check out the new Pivot Shuttle, which features the new Shimano EP8 motor and a huge 726Wh battery. Pwoar! And while we're talking electric mountain bikes, you'll want to check out our 9 Tuning Tips to get the most our of your Specialized e-MTB, lots of enlightening info in that one.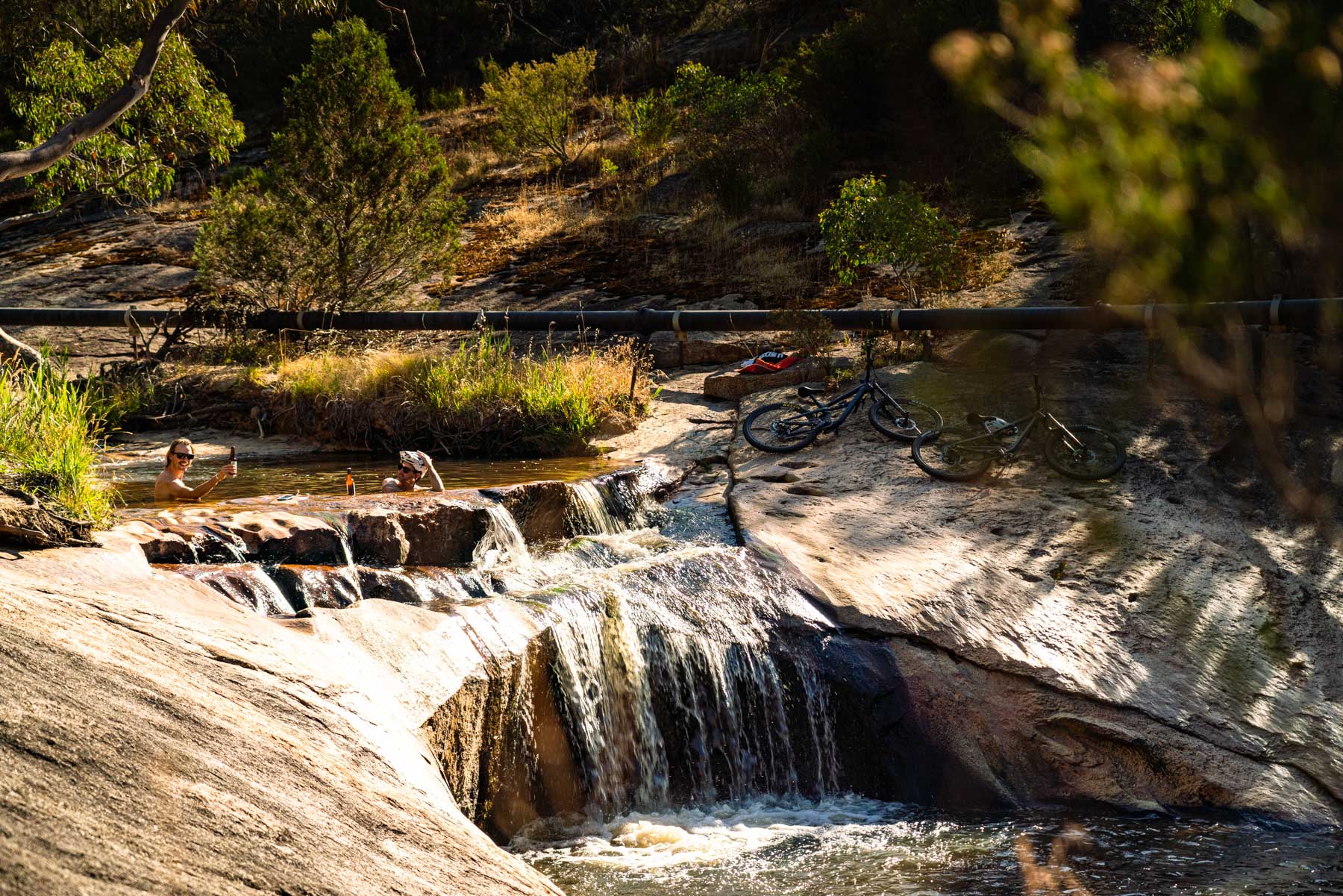 We've been plenty busy testing bikes too, including the brand new Canyon Spectral 29 that we took to Beechworth as part of the Ride High Country Test Sessions. If you haven't watched the video yet, make sure you check it out now – we had an absolute hoot putting that one together! Pivot also released a new Mach 6, and Flow got a world exclusive first test on what is one of the most refined and best-looking mountain bikes to date from the brand.
Alrighty folks, all up to date with everything in Flowville? Excellent, then it's time to get stuck into the latest edition of Fresh Produce. Don't rush this one though. Be sure to savour it, because this is the final one for the year. Enjoy, and we look forward to seeing all your lovely faces on the other side!
---
Crank Brothers Synthesis XCT 11 Wheelset
There's been a lot of buzz around the Crank Brothers Synthesis wheels since they launched in 2018. Admittedly much of the attention has been focussed around the more gravity-oriented offerings though. We've been really impressed by the carbon enduro hoops, but having had zero experience with the lighter options, we decided to get in a pair of the Synthesis XCT wheels to see whether their performance lives up to the reputations of their bigger siblings.
On test here is the premium Synthesis XCT 11 wheelset. These are built with Sapim CX-Ray spokes and Industry Nine Hydra hubs. Rear hub engagement has, get this, 690 engagement points. Pwoar! That's 0.52° of freeplay between each click, so it's pretty much instantaneous. Claimed weight for the Synthesis XCT 11 wheelset is 1,519g for the pair.
The other big story with these is the carbon fibre rim tech, which sees a unique layup and profile for the front and rear wheels. The front rim has a 26.5mm inner width, while the rear rim is 24.5mm wide internally. You also get different spoke counts, with the front using 28 spokes and the rear featuring 32 spokes. The goal? To provide a stiffer and faster-accelerating rear wheel, with a wider and more compliant front wheel that can support a slightly wider tyre. To see how that theory plays out in the real world, we'll be bolting these onto a go-fast bike soon, so hold tight for a full review coming after a summer of thrashing.
---
Crank Brothers Stamp BOA Shoes
The big news for Crank Brothers this week though is the arrival of an all-new mountain bike shoe range, which includes a total of nine different options for flat and clip-in pedal users. Here we've got the top-end flat pedal shoe; the Stamp BOA. It cuts a clean but performance-oriented profile, with a BOA dial and Velcro strap designed to keep your feet snug and secure. Crank Brothers has developed a sticky, low-rebound rubber compound called MC2, and the tread pattern has been designed to match up neatly with the brand's own Stamp flat pedal.
---
Crank Brothers Stamp 7 Flat Pedals
To go with our Stamp BOA test shoes, we've got a pair of Stamp 7 pedals. These come in both Small (EU37-43) and Large (EU43-49) sizes to suit different sized shoes, and the concave 6061-T6 alloy platform is equipped with 10 adjustable pins per side. Inside you'll find a forged chromoly steel spindle, which rotates on IGUS LL-glide bushings that are both serviceable, and replaceable. Claimed weight is 375g for the pair, and they're available in other colours too.
---
Albek Atlas Bike Case
Albek is a brand new company based out of Newcastle that's focussed on producing travel gear for two-wheeled enthusiasts. The current jewel in Albek's lineup is this mountain bike-swallowing bag called the Atlas. Using EVA foam to support and protect your bike, the Atlas is decked out with features including a lightweight moulded honeycomb base, replaceable wheels, lockable zippers, and a pedal pocket. All of the anchor points are adjustable to accommodate modern long-travel mountain bikes, and the separate wheel compartments will fit 29in wheels without drama.
---
Kids Ride Shotgun MTB Tow Rope
The crew at Kids Ride Shotgun have just released their latest product called the Tow Rope. It's designed for munchkins who are keen to join you on the trail, but could do with a helping hand on the way back up the hill. This shock-absorbing rope goes around your saddle, and connects to the stem on your kids bike. It's rated for up to 225kg, so it's suitable for big kids too. Maybe lasso that pal who just bought an e-MTB?
Flow-bro Waz has been razzing about with his young fella for the last couple of weeks – read about their experience with the Tow Rope in our feature here.
---
Thule Motion XT Roof Box
Our summer travel plans currently involve a little more driving than flying though, so to give the trusty Scooby-Doo a haulage upgrade, Mick's just scored himself a swish new roof box from Thule. This add-on pod gives you another 450L of storage space, which is mighty useful for those big family trips when you need to carry everything AND the kitchen sink.
---
Neutron First Aid Kit
First Aid isn't exactly a sexy product, but it's something we've been thinking about a lot more lately, especially on solo e-MTB rides where we tend to ride deeper into the bush, further away from civilisation. Good timing then, as Neutron Components has just sent us in this Ultralight First Aid Kit. Coming in at just 55 grams, this compact first aid kit includes various dressings, alcohol swabs, plasters, duct tape, steri-strips, gloves, and a handy reference guide to help you through a variety of pickles that you might find yourself in on the side of the trail. It's all wrapped up in a neoprene pouch that can be strapped onto your bike, or slipped into a pocket in your pack.
---
Krush Platinum Chain Lube & Illuminate Waterless Wash & Wax
Aussie company Krush has a whole variety of cleaners and lubricants in its product lineup, but this is the first time we've come across the Illuminate Waterless Wash & Wax. A waterless bike wash? Well, kind of. Krush admits that you wouldn't tackle a bike that's completely caked in mud – you'd clean the worst of that crap off first with a regular foaming bike wash. Instead, this stuff is really more for light cleaning duties, while keeping your bike looking schmicko in between those heavier washes.
According to Krush, the orange liquid is a high-tech polymer wax formula that features nano ceramic (Si02) particles that are designed to create a hard coat that repels water. Spray it on without water, and use a microfibre cloth to clean your frame and buff it to a nice shiny finish. It's safe to use on carbon and metal frames, and gloss or matt finishes. Probably best to avoid disc brakes and suspension seals though.
We've also got a fresh bottle of Krush Platinum Chain Lube. This is an all-conditions wax-based chain lubricant that's claimed to clean and lubricate your chain with each application, creating a water-repelling barrier that doesn't attract dirt either.
---
Lazer Jackal Helmet
Lazer has been making headlines recently, with ten of their helmets awarded a perfect 5-stars by Virginia Tech's helmet safety test facility. The latest lid from the Belgium brand is this robust and feature-packed number, the Jackal. There's a GoPro mount included, grip on the rear-end for goggle straps, a magnetic clasp, MIPS liner and is made up of seven different shells for a high-end appearance and classy finish.
First impressions so far are all very good, it's no lightweight but fits very well with loads of adjustability, offers great coverage around the head and its fresh appearance will certainly be popular for riders seeking the best protection on the trails.
---
DHaRCO Short Sleeve Jersey
Fresh new season threads from DHaRCO have arrived, with loads of new colours and snazzy prints just in time for summer. Shown here is the Short Sleeve Jersey in 'Camo Blades', which is made from a lightweight quick-dry fabric, and features mesh side panels for added ventilation. DHaRCO offers jerseys in short, 3/4 and long-sleeve options, with a tonne of zesty designs in sizes from Small through to XX-Large.
---
DHaRCO Gravity Pants
We've been riding in a pair of black DHaRCO Gravity Pants (or 'trousers' if you're one of those fancy types) since winter, though we're loving the new camo green colour option. They're available in clay red too, also in sizes from Small through to XX-Large. They're built from the same 4-way stretch fabric as the DHaRCO baggy shorts, so they're nice and flexible for trail riding, while offering your legs more protection from vicious thistles and overgrown bracken.
---
DHaRCO Padded Party Pants
Not everyone is into the wrestling suit vibe of bib shorts, and for those riders DHaRCO has the Party Pants. These are padded bike shorts, but unlike those bonus cheap liners that often come inside baggy shorts, these feature a legit, properly-shaped Coolmax chamois. There's an elastic waist band, with silicone detailing under the cuffs to keep them from riding up your thighs.
---
Hydragun Massage Gun
Because we're getting old athletes, of course we take post-ride recovery very seriously. As it turns out though, we're now learning that there are other ways to help your body recover aside from just consuming hop-based sports drinks alone. We were recently introduced to the wonders of this Hydragun – a massage gun that's designed to pummel your muscles to help relieve the knots and built-up tension that might be difficult to address via stretching alone. The Hydragun uses a rechargeable internal battery, and the pounding level is adjustable, and you can fit on all sorts of weird doo-dads onto the end of it that we've been assured are also for sports massage use. Best of all, you can operate it with one hand so you can continue holding a pint of hop-based sports drink in the other. Perfect!
---
2021 Merida Ninety Six RC 9000 & 8000
Merida recently unveiled its brand new Ninety-Six. A sleek full-carbon XC bike that's been some years in the making, the Ninety-Six features 100mm of rear wheel travel, along with a one-piece carbon swingarm that omits a pivot around the rear axle, and instead uses in-built flex through the slender seatstays. The space-efficient frame design can fit two water bottles, and Merida has also developed a clever bolt-on solution for carrying spares and tools. Geometry takes a big step forward for Merida, and is some of the most contemporary we've seen for an XC race bike.
The Ninety-Six will be available in four spec levels – three of which use a lighter build with a 100mm travel fork and faster-rolling tyres. Those are the 'RC' models. The fourth option is the blue bike on the right – that's the 8000, and it spices things up with a 120mm travel SID and 2.3in wide Maxxis Minion DHR II tyres to add a little more capability and versatility. We've just received one of each for testing, and we are very much liking the cut of their jib. Get a closer look at the two bikes in our detailed tech feature here.
---
BikeYoke Sagma Saddle
More often than not, mountain bike saddles are just slightly different variations of the same thing. Not this saddle from German brand BikeYoke though. It's called the Sagma, and it's got some intriguing technology underneath it that's designed to create a more comfortable perch for your toosh.
For a start, the whole saddle is actually sprung, with elastomeric shock absorbers separating the saddle base from the alloy rails. The absorbers are interchangeable, and you get softer and firmer options included. This system is designed to absorb both fine-tune vibrations and bigger impacts, which is why Wil has sought one out to put on his Cotic BFeMAX hardtail. It also allows the saddle to rock gently from side-to-side during pedalling, which BikeYoke claims also increases power transmission.
On top of the carbon reinforced shell you'll find a bumpy textured upper, which is made from idbeads™ foam. These slow-rebounding memory foam beads are claimed to further improve damping and vibration absorption, to help reduce pressure on long rides. The Sagma is claimed to weigh around 220g and it comes in two widths. Wil's gone for the wider 142mm option, as it's recommended for trail riders, while the narrower 130mm option is better suited to gravity riders who need the extra clearance. As to how comfortable it is? We'll be hitting the trail shortly to find out.
---
BikeYoke Divine SL Dropper Post
At less than 400g, the Bike Divine SL is claimed to be one of the lightest dropper posts on the market. It features a totally weight-optimised design with only 80mm of travel, which is just enough for XC racers and riders who are looking for a little more freedom when descending. Is 80mm of drop enough? Wil's had a load of experience with the Divine SL already, and found it to be a marvellous addition to his race bike – check out the detailed review here.
---
BikeYoke Divine SL Outer Tube
A clever design feature of the Divine SL is the fact that you can easily convert it between 30.9mm and 31.6mm diameters – all you need is the outer tube, as everything else is shared between the two sizes. That's exactly why we have the 30.9mm tube here, to convert a 31.6mm post we already have so we can fit it to a different bike. Neat!
---
BikeYoke 2-By Remote
BikeYoke also sent us its 2-By remote, which is an alternative design to the Triggy under-the-bar remote. Why 2-By? Well if your bike comes with a suspension lockout lever, or perhaps you're still using a front shifter, or you have an e-MTB with a space-hungry display unit, it's often tricky or even impossible to fit an under-the-bar dropper remote. And that's where this over-the-bar option comes in. It uses a large paddle that's made from 6061-T6 alloy to offer a solid feel with plenty of leverage, and a plastic split-clamp that's reinforced with a stainless steel band.
---
Camelbak Mule 3L
Rescuing Wil from his ageing collection of riding packs, Camelbak has sent in a few new-season options, including this lovely reworked version of the iconic Mule. Featuring 9 litres of storage along with a 3 litre Crux reservoir, the Mule is equipped for all-day trail rides, and features a large zippered main compartment along with an integrated tool roll. The suspended back panel and ventilated harness is designed to maximise breathability on hot, sweaty summer days, and of course it's fully adjustable to get it all snug and stable while you're bouncing downhill.
---
Camelbak Lobo 3L
The Lobo is a size down from the Mule. It also features a 3 litre Crux reservoir to keep you hydrated, and the bite valve is always within easy reach thanks to a magnetic clip on the shoulder strap. Inside, the Lobo also gets an integrated tool roll, but it shrinks the storage volume down to 6 litres, giving it a slimmer footprint and a lower weight than the Mule.
---
Camelbak Repack LR 4 1.5L
The lightest option of the bunch is the Repack – easily one of our favourite waist packs on the market. The reservoir is much smaller at just 1.5 litres, though even when full it's still quite stable thanks to the pack's wide profile 'wings' and adjustable waist belt. While it's a small pack, you get usable and easily accessible storage on either side of your waist, and there's room in the main compartment for a pump, spares, food, and even a lightweight jacket.
---
Camelbak Podium Bottles
For on-the-bike hydration, Camelbak has the excellent Podium bottle. These come in 600ml and 700ml sizes, and they feature a new tapered waistline that gives them a better fit with more bottle cages. On the right is the regular version, and on the left is the insulated version. The insulated one is a little bigger in size and it's more expensive, but it's the one we'd pick for hot Aussie conditions. Both use a high-flow squirty valve, which you can close entirely – say if you have the bottle inside a bag while travelling, and they come in a variety of colours.
---
Flow KustomCaps
While these aren't actually for sale, they are most certainly fresh enough to be included in Fresh Produce. It's a custom headset top cap that's made in the US by a company called KustomCaps. You can choose a domed or flat-top profile, and the cap is machined out of 6061 alloy before the logo is then laser etched on top. We reckon it's a rather classy way to finish off the cockpit on our bikes. What do you folks reckon?
---
2021 Canyon Stoic 4
Last but certainly not least, is another new test bike to arrive at Flow HQ this week. It's a brand spankin' new model for Canyon, and it's called the Stoic. Inspired by the UK hardcore hardtail scene, the Stoic is built around a tough-looking alloy frame that comes with heaps of mud clearance, aggressive tyres and a 130-140mm travel fork. Geometry is contemporary without being bonkers, and it's all mated to a working class build kit that skips the bling in favour of a more sensible price tag. Think of it as the cheaper, simpler, hardtail version of the Spectral. Make sense? No? Ok, get the lowdown on the Stoic in our story here.
---
Mo' Flow Please!
Enjoyed that article? Then there's plenty more to check out on Flow Mountain Bike, including all our latest news stories and product reviews. And if you haven't already, make sure you subscribe to our YouTube channel, and sign up to our Facebook page and Instagram feed so you can keep up to date with all things Flow!